The Leading Edge: May 2023 Wind Energy Newsletter
In this edition, we share midyear accomplishments, discuss Great Lakes offshore wind energy, hear from energy justice interns, and offer updates on modeling distributed turbines, competition results, and more.
News Stories
Current indicators point to Fiscal Year 2023 being a year of trailblazing accomplishments for NREL's wind energy program. Aligning with the U.S. Department of Energy's (DOE's) Wind Energy Technologies Office (WETO) priorities of creating clean energy jobs, combating climate change, and promoting energy justice, the National Renewable Energy Laboratory's (NREL's) wind energy program is on track to achieve an exceptional year of innovation across its entire portfolio.
By definition, an accomplishments report requires a look back at milestones met, goals achieved, and progress toward a shared vision. The Wind Energy Accomplishments and Midyear Performance Report Fiscal Year 2023 does all of that and more, reflecting on achievements so far this fiscal year (from October 2022 through the end of March 2023) and setting the stage for the groundbreaking research to come, a driver for advancing wind energy.
Managed by NREL on behalf of DOE, the 2023 Collegiate Wind Competition final event took place May 15–19, 2023, at the University of Colorado Boulder's Balch Fieldhouse in Boulder, Colorado, where Kanas State University earned the top spot at the 10th annual competition! Read the DOE competition update to find out about the contest-specific winners, including in the Turbine Design, Turbine Testing, Project Development, and Connection Creation contests. By participating in the competition, the teams prepared for careers in the growing wind and renewable energy workforce to support the nation's goal of 100% clean electricity by 2035 and net-zero carbon emissions by 2050.
DOE is now accepting applications for the 2024 Collegiate Wind Competition, which will take place in three phases over the course of the 2023–2024 school year. Interested teams should apply by 4:59 p.m. MT on June 15, 2023.
Interns Work To Bring Equity to Wind Energy
NREL's wind energy researchers recently released a report detailing the first three phases of NREL's Wind Energy Equity Engagement Series, which aims to better understand equity in wind energy through engagement with experts and communities.
Meet three interns who have contributed to NREL's growing portfolio of wind energy justice and equity work: Sabina Maniak and Clara Houghteling, who both graduated from University of Colorado Boulder's Masters of the Environment program, and Matilda Kreider, who earned a Master of Science degree from the University of Michigan with specializations in environmental justice as well as environmental behavior, education, and communication. In December 2022, Kreider transitioned to a staff researcher at NREL, and Houghteling will be joining NREL as a staff researcher this summer. Read what they each had to say about their work at NREL.
What has been your favorite part about your work at NREL?
Maniak: My internship at NREL provided a unique opportunity to engage with local-level work, but potentially generate federal-level impacts. I really enjoyed getting to dive deep into very specific subjects, and appreciated getting to work with people who are extremely passionate about their work and driven by similar principles, values, and overall excitement to learn.
Houghteling: It sounds cliché, but the people! I've really enjoyed working with talented, responsive project teams, and my mentors have been extremely helpful and supportive.
Kreider: I am really amazed every day by how exciting and worthwhile I find my work to be. I love working with my team of smart, kind coworkers to tackle problems and bring our ideas to fruition. Above all, I really love how much I learn every day. For a long time, I thought that working in the energy field meant becoming a policy wonk or technology expert who knows everything there is to know. But really, it is about knowing what questions you still need to ask.
Why did you choose to work on energy justice?
Maniak: Centering energy justice in conversations around deployment is critical to ensuring that our new energy systems do not perpetuate the same harms that other industries have generated in the past. I attended graduate school with the broad goal of supporting people through climate change and related infrastructure evolution, but an open mind of how exactly to achieve those goals. This wind energy equity work at NREL definitely threads the needle of my interest in climate resilience and infrastructure that actually supports communities, rather than just existing alongside them.
Houghteling: After studying history and sociology as an undergrad, I knew that I wanted to orient my career around social justice. Because our energy system is densely entangled with questions of land use, resource distribution, wealth creation, and climate change, moving the needle on systemic injustice now and in the future will require us to re-imagine how we generate and distribute energy. In part, energy justice means envisioning an energy system that meets our needs without sacrificing people (their health, homes, security, well-being, political autonomy, etc.). Working toward that goal helps us to reevaluate and reshape our political and economic structures, too.
Kreider: In the past, I thought I wanted to work on climate and energy on the national level, but I've learned that I love engaging and conducting research at the local level—it's where all the excitement is and where most energy justice work occurs. Creating better, more equitable relationships between people and energy systems is important to me, and I'm grateful to be part of a diverse web of people working together to give wind energy a more equitable local footprint.
What are your future career interests and goals?
Maniak: After a rewarding year at NREL, I have decided to take the plunge in local-level climate policy with Boulder County's Office of Sustainability, Climate Action, and Resilience. I'm looking forward to employing the community engagement and energy justice tools I learned at NREL and am excited to build a foundation of deployment knowledge that spans across different scales and industries. I'm not sure that I have a dream job, but I do hope that I'm always helping someone build resilience, decarbonize, and set themselves up for a better tomorrow.
Houghteling: After graduating earlier this month, I was offered a position as a staff researcher. I'm excited to take on more responsibility and to put my social science background to use by collaborating on community-oriented work throughout the lab.
Kreider: I'm looking forward to continuing to grow as a researcher, as I have during my first year at NREL, including taking on more responsibility within my projects and helping to shape our group's future work.
Interested in applying to an internship at NREL? Learn about NREL's internship opportunities available to both undergraduate and graduate students and how to join the lab's wind energy team.
On the Radar
Instead of building a costly prototype for testing, aeroelastic modeling can ensure distributed wind turbines are resilient, stable, and high performing by simulating airflow and turbine behavior. To improve both horizontal- and vertical-axis distributed wind turbines, NREL researchers, along with collaborators at Sandia National Laboratories and several industry companies, have launched a two-year Distributed Wind Aeroelastic Modeling project, which is funded by WETO. These updated modeling tools will help small- and medium-sized wind turbine designers design and certify optimized and reliable distributed wind turbines with competitive costs of energy.
Harnessing the strong and abundant wind resources in the Gulf of Maine with floating offshore wind energy technology could help meet the nation's clean energy goals. However, this region is also home to a large, economically substantial, and long-standing fishing industry. To minimize potential conflict with fisheries, engineers from the University of Maine developed a reduced-footprint, synthetic rope-chain hybrid mooring system to anchor floating offshore wind turbines to the seafloor.
Researchers at NREL released a report detailing their recent work to gather marine user feedback on the potential interactions of their activities with conventional chain-based mooring systems as compared to the new rope-chain hybrid mooring system. Their results indicate a modest increase in accessibility and acceptance for the new rope-chain hybrid mooring system design for a hypothetical single wind turbine thanks to its smaller footprint, and the potential to leave more space open for fishing activities. Additional considerations identified by participants included careful siting and marking of the turbines. As recommended, future work could consider potential interactions between marine users and arrays of floating offshore wind turbines in person or via various forms of media (e.g., video, virtual reality) to help them understand and minimize potential interactions.
Downwind: In Case You Missed It
A panel of wind experts gathered during an April 6, 2023, homage at NREL's Flatirons Campus, that expanded on the (free-to-download) book Clean Energy Innovators: NREL People Working to Change the World by the lab's Ernie Tucker. The event included Brian Smith, now NREL's wind laboratory program manager, who told the audience about his first day on the job as chief engineer at a wind farm in Palm Springs, California, in 1984 as a hungry 25-year-old engineer, driving a rusty Volkswagen Rabbit.
Likewise, Walt Musial, now an offshore wind expert who, like Smith, joined the lab (back when it was called the Solar Energy Research Institute) in 1988, became a 25-year-old product supporter at wind farms in Altamont Pass in California. Other wind energy stalwarts joining the panel were NREL researcher emeritus Bob Thresher, Group Manager Amy Robertson (who wanted to be an astronaut until testing out her dad's nauseating National Aeronautics and Space Administration gyroscopic flight simulator), and Senior Research Fellow Paul Veers (who spent many years at Sandia National Laboratories before joining NREL). National Wind Technology Center Director Daniel Laird and Distributed Wind Researcher Ian Baring-Gould were also on hand to field questions. Check out the full article on the wind panel event or the hour-long panel discussion on NREL's YouTube channel.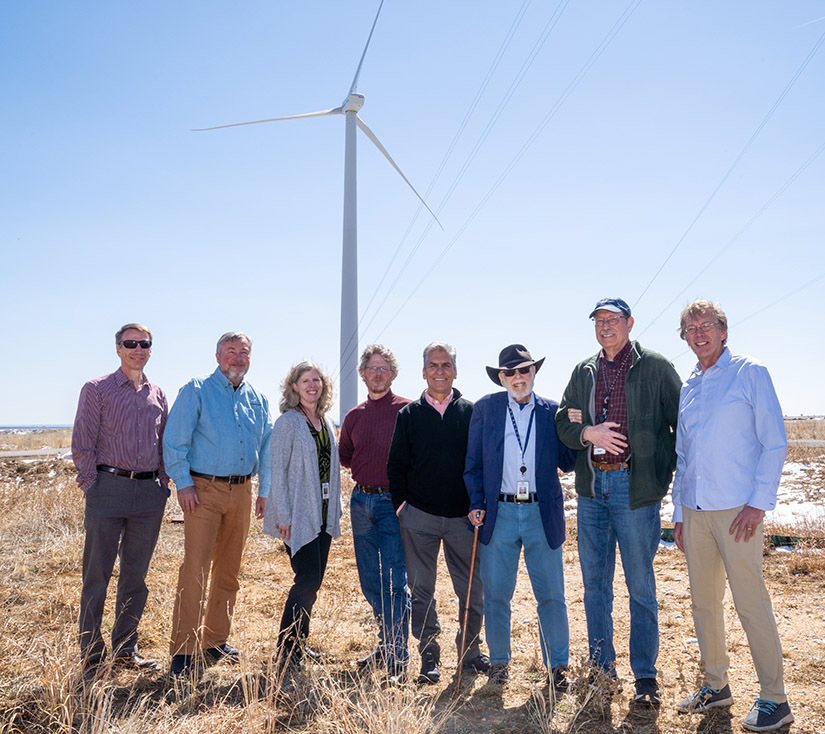 NREL's Advanced Research on Integrated Energy Systems (ARIES) and Energy Systems Integration Facility have recently released their Fiscal Year 2022 accomplishments reports.
ARIES, the nation's most advanced platform for energy system integration research and validation, was designed to support and accelerate the nation's transition to a decarbonized electric grid. Using ARIES, NREL and General Electric demonstrated how Type-3 wind turbines can restart a grid from an outage, in one of the listed ARIES accomplishments. One of the most-used wind technologies, Type-3 turbines can now supply baseline power to the grid without requiring fossil fuels or other resources to establish grid stability.
Among other mentions, the Energy Systems Integration Facility accomplishments report highlights that improved models, run on NREL's supercomputer, could help wind energy developers by providing more accurate data and addressing siting concerns, such as sound, wildlife, or visual constraints.
Join NREL and WETO researchers at upcoming events. Below are a few highlights.
Distributed Wind Energy Lessons Learned Workshop
June 6, 2023, 9 a.m. MT, Virtual
Join distributed wind industry insiders for a 4-hour workshop to discuss lessons learned in the industry through many years of ups and downs. Wind turbine manufacturers will share their experiences with field failures, warranty claims, and challenging market conditions; testing and certification experts will discuss their experiences evaluating technology in extreme conditions and partnering with manufacturers to test and certify their designs; and turbine service providers and installers will share stories of site visits, troubleshooting, logistics, and repair. Webinar discussion will inform NREL's Distributed Wind Aeroelastic Modeling project guidance document designed to inform turbine designs based on real-world failures seen in the field. Register to attend the NREL webinar on Zoom.
WINDExchange Webinar on Community Perspectives of Offshore Wind Energy
June 8, 2023, 1–2 p.m. ET, Virtual
This WINDExchange webinar will discuss perspectives on the various impacts of offshore wind energy projects on the coastal communities near where they are sited. Speakers will include Alison Bates (assistant professor of environmental studies at Colby College), Jacob Miller (tribal liaison for Vineyard Offshore), and Benjamin Gallinelli (vice president of the Southern New Jersey Development Council). Register to attend the WINDExchange webinar on Zoom and/or receive the recording after.
Collegiate Wind Competition 2024 Applications Due
June 15, 2025, 4:59 p.m. MT, Virtual
DOE is now accepting applications for the 2024 Collegiate Wind Competition, which will take place in three phases over the course of the 2023–2024 school year. Submit your application on DOE's heroX platform.
Remodeling the Competitiveness Improvement Project
Wednesday, June 21, 12 p.m. MT, Virtual
Join distributed wind energy experts and advocates for a workshop exploring innovative ways to improve the successful Competitiveness Improvement Project, which is funded by DOE and administered by NREL. This 2.5-hour discussion will cover award topic areas, scoring criteria updates, lab-based technical assistance, and diversity expansion. Register to attend the Competitiveness Improvement Project workshop.
NAWEA/WindTech 2023 Conference
Oct. 30–Nov. 1, 2023, Denver, Colorado
The NAWEA/WindTech 2023 Conference is taking place at the Omni Interlocken Hotel in Colorado in the fall. The event will feature presentations and posters in more than 20 scientific tracks, and offers workshops, meetings, and a graduate student symposium on Nov. 2–3, 2023. Book your lodging from the conference site.
NREL Adds Lab Space With New Building, Preps Other Projects, Wayne Hicks, NREL, May 23, 2023
News Release: Inflation Reduction Act Invests $150 Million in NREL Projects, NREL, May 22, 2023
Flying High With Renewable Energy, Kay Dahlke, Washington County Daily News, May 13, 2023
A Roadmap to Achieving 24/7 Carbon-Free Energy, Andrew Light and Lacey Shaver, Route Fifty, May 12, 2023
Long Beach, Calif., Unveils Plans for Biggest Wind Turbine Facility at any U.S. Seaport, Sharon Udasin, The Hill, May 9, 2023
American-Made Program Celebrates $200 Million Innovation Milestone at 2023 Earth Day Event, Spring Hericks and Daniella Frank, NREL, May 2, 2023
Analysis
Effects of Finite Sampling on Fatigue Damage Estimation of Wind Turbine Components: A Statistical Study, Wind Engineering (2023)
Shifting Demand: Reduction in Necessary Storage Capacity Through Tracking of Renewable Energy Generation, Advances in Applied Energy (2023)
Virtual Sensing of Wind Turbine Hub Loads and Drivetrain Fatigue Damage, Forschung im Ingenieurwesen (2023)
Grid Integration
Complementarity of Renewable Energy-Based Hybrid Systems, NREL Technical Report (2023)
Final Technical Report: Multi-Timescale Integrated Dynamics and Scheduling for Solar (MIDAS-Solar), NREL Technical Report (2023)
Solar PV, Wind Generation, and Load Forecasting Dataset for ERCOT 2018: Performance-Based Energy Resource Feedback, Optimization, and Risk Management (P.E.R.F.O.R.M.), NREL Technical Report (2023)
Energy Potential
Decarbonizing All-Electric Communities via Carbon-Responsive Control of Behind-the-Meter Resources, Advances in Applied Energy (2023)
Great Lakes Wind Energy Challenges and Opportunities Assessment, NREL Technical Report (2023)
Environment
U.S. Offshore Wind Energy Noise Reduction Associated with Installation of Fixed-Bottom Foundations: Workshop Report, NREL and Pacific Northwest National Laboratory Report (2023)
Software and Tools
A Simple Vortex Model Applied to an Idealized Rotor in Sheared Inflow, Wind Energy Science (2023)
Beyond 15 MW: A Cost of Energy Perspective on the Next Generation of Drivetrain Technologies for Offshore Wind Turbines, Applied Energy (2023)
Investigations of Correlation and Coherence in Turbulence From a Large-Eddy Simulation, Wind Energy Science (2023)
Stakeholder Engagement
Setting the Baseline: The Current Understanding of Equity in Land-Based Wind Energy Development and Operation, NREL Technical Report (2023)
Social Acceptance of a Reduced-Footprint Synthetic Mooring System for Floating Offshore Wind Turbines in the Gulf of Maine, NREL Technical Report (2023)
Technology
OC6 Project Phase III: Validation of the Aerodynamic Loading on a Wind Turbine Rotor Undergoing Large Motion Caused by a Floating Support Structure, Wind Energy Science (2023)
Want More?
Subscribe to The Leading Edge newsletter, and explore the latest news and accomplishments in wind energy at NREL.