NREL Adds Lab Space With New Building, Preps Other Projects
---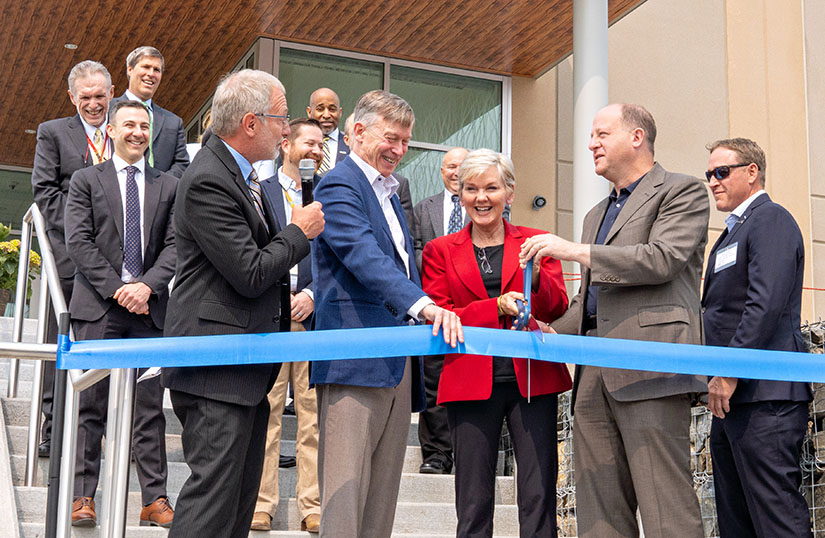 The sprawling campus of the U.S. Department of Energy's National Renewable Energy Laboratory (NREL) is dotted with buildings dedicated to the many sciences needed to power the country's push toward clean energy.
Researchers inside one building explore the dynamics of harnessing the sun for energy. Those in another are determining the best ways to convert biomass into sustainable aviation fuel. In still another, scientists explore the pathway to integrating various technologies onto the nation's electrical grid.
Even with the many laboratories inside all these buildings, space is at a premium.
Now, with a snip of an oversized ceremonial pair of shears, a new phase has begun for NREL.
The ribbon-cutting by Energy Secretary Jennifer Granholm and Colorado Gov. Jared Polis marked the official opening of NREL's newest building, the Research and Innovation Laboratory (RAIL). RAIL, which will house multipurpose lab space, is the first laboratory building to open at NREL's Golden, Colorado, campus since the fall of 2013.
The opening dovetails with the Biden-Harris administration goals of having the nation powered by 100% clean electricity by 2035 and reaching net-zero carbon emissions by 2050.
"NREL, with its goals of getting to net zero, is amazing," Granholm said. "We have real-world impacts that come out of this lab, and it's only getting better thanks to the expansion that we're here to celebrate."
The addition of RAIL will fill a need on campus, that of not having enough "wet" lab space where chemistry experiments can be performed.
"We actually have curtailed our research activities as a function of not having that wet lab space," said Dan Beckley, NREL's associate laboratory director for Facilities and Operations.
Adding about 15,000 square feet to the Golden campus, RAIL will help alleviate the problem. The facility is designed for ease of expansion to the north with the ability to add more wet lab space in the future. On a 178-acre campus dotted with research buildings devoted exclusively to a single field—batteries, biofuels, and solar, to name a few—RAIL will provide space for collaboration. Research efforts within RAIL will focus on plastics upcycling, next-generation batteries, and advanced energy materials.
"We have never had a lab envelope so big that it could entertain a collaboration exchange. Most of the time, those labs are very limited," said Michelle Slovensky, the Intelligent Campus program manager at NREL. "This is unique, and we're going to see what that exchange produces."
Land Swap Opened Doors to STEP
RAIL is not the only change happening at NREL. A land swap with the state of Colorado earlier this year gave the Department of Energy another 6.6 acres south of the existing campus. Once known as Camp George West, the Camp George West area was originally used 120 years ago as training grounds for the Colorado National Guard. The portion of Camp George West acquired under the land swap was most recently a correctional facility.
Renovations will transform the property into the South Table Mountain Energy Park (STEP). Initial tenants will be employees of NREL, such as Facilities and Operations staff. Work will be undertaken to renovate the interiors of the 26 buildings, upgrade all utilities, and prepare spaces for research purposes. STEP will eventually become home to NREL's Innovation and Entrepreneurship Center and Net Zero World Action Center.
Sandwiched between STEP and NREL's main campus will be the state of Colorado's Global Energy Park (Glo Park), an undeveloped parcel that is expected to become home to young companies working in the clean technology space. The state of Colorado swapped land with Jefferson County to acquire the parcel. Development of the site will start later this year with a projected opening date in early 2026.
"As its name implies, this state-of-the-art facility will be a global destination," said NREL Director Martin Keller. "I am very much looking forward to the new partnerships it will create, as well as the collaborations that will become deeper with proximity."
"The big vision from the governor to Martin to the federal government is they are trying to create this cleantech center, similar to that of a Silicon Valley," Beckley said. "They're trying to put a mark on the map that this is the go-to place for clean energy."
Slovensky said she envisions this clean energy center with NREL as the epicenter and its influence radiating outward with job creation and workforce development all part of the process. Young companies will be able to graduate from the incubator nursery at STEP to lease space at Glo Park.
"There are so many collaborators that want to sit with us in our labs, and we can't afford to do that because we have to serve our own researchers first," Slovensky said. "The fact that they can reside in Glo Park and come up the hill, if you will, or go down to STEP, it gives them a home within the energy ecosystem."
IRA Funds Financing NREL Projects
On the NREL campuses, many of the various projects already underway and on the drawing board are funded by $150 million in funding allocated by the federal Inflation Reduction Act (IRA). The funding will support 19 projects, from renovations within existing buildings to ground-up construction on new facilities, between the South Table Mountain Campus in Golden and the Flatirons Campus near Boulder. The money has been earmarked this way:
$93 million for modernizing research infrastructure

$51 million for laboratory renovations and deferred maintenance

$6 million for project management including planning, execution, and oversight.
A sizable investment will be made to the Integrated Biorefinery Research Facility (IBRF), located near the western edge of the Golden campus. Home to research into biofuels, the 75,930-square-foot building saw the addition of the North High Bay in 1994 and the South High Bay in 2010. The modernization project will see the older addition gutted and remodeled and research capabilities expanded.
"We're putting about a $20 million refurbishment into that facility, and it's going to give us the ability to use a wider variety of feedstocks and produce a wider array of fuels and chemicals," said Adam Bratis, the associate laboratory director for Bioenergy Science and Technology.
Researchers at the IBRF previously were limited to using corn stover and other agricultural residues for their feedstock, which in simple terms yields sugars that are then fermented and produce ethanol.
"Now we're opening up to a bunch of other feedstocks," Bratis said. "We can use plastics. We can use CO2. We can use waste materials. We're going to have the ability to use all kinds of waste carbon sources as our feedstocks to make fuels and chemicals and will have the increased biosafety level requirements to do that."
Additionally, the renovations will enable production of a wider array of finished fuels and chemicals than what NREL can produce today. Specifically, the laboratory will have the capability to use hydrogen in the facility and make flammable products such as on-spec sustainable aviation fuel and other industrially relevant fuels and chemicals in sufficient amounts to be tested in downstream applications including aircraft engines.
Tom Foust, director of the National Bioenergy Center at NREL, said the renovation will also give the laboratory the opportunity to replace what is now outdated equipment.
"As a national lab, you have got to have the latest and greatest facilities," he said. "You just can't be at the cutting edge of science if your facilities are outdated. To our credit, we did as good as we could, but a 30-plus-year-old facility is not really at the cutting edge of research."
Additional Buildings On Drawing Board
"Every campus has an evolution, and the needs grow," Slovensky said. "Think about cybersecurity. Advanced materials. Along the path you discover where you had gaps in research, and then you need more space to be able to complete that."
NREL is already planning another new building, although the proposed Energy Materials and Processing at Scale (EMAPS) facility is still in the earliest stages. Anticipated to measure 120,000 square feet and cost $165 million, EMAPS is likely to be built on the east side of the campus. The building is expected to be ready in three years. The new laboratory space is designed to help researchers minimize barriers to technology scale-up for new energy materials, processes, and devices for market.
About 25 miles north of the Golden campus, the NREL Flatirons Campus is preparing additional facilities as well. The 305-acre site once known as the National Wind Technology Center has expanded its capabilities beyond harnessing power from breezes. Research underway there involves renewable energy produced from solar and water as well as from wind. Flatirons is also home to the research platform known as ARIES, which stands for Advanced Research on Integrated Energy Systems. Among its other capabilities, ARIES allows researchers to explore how the continual connection of new devices will affect the electrical grid.
Construction is expected to start later this year on a Control Center facility, an 8,000-square-foot structure that will become the centerpiece of the campus upon completion in 2025. NREL is also adding a water line connecting the campus to a public water supply, which will end the need to truck water in. This will enable the Flatirons Campus to continue to grow and support more research work involving hydrogen.
"The Department of Energy's Flatirons Campus investment is making it possible to continue to expand our scientific research into the reliability of scaling variable renewable energy resources, energy storage systems, transportation electrification, hydrogen technologies, building and industrial decarbonization, and new energy management systems and controls," said Johney Green, associate laboratory director for Mechanical and Thermal Engineering Sciences.
"Our researchers need an integrated platform to conduct real-time, large-scale simulations and demonstrations," Green said. "The expansion of the Flatirons Campus provides the facilities and infrastructure needed to help our nation meet its energy decarbonization goals."