The Leading Edge: May 2022 Wind Energy Newsletter
In this edition, peer into the future of wind energy and learn about the first offshore leasing areas on the U.S. West Coast, distributed sources, taller turbines, and leadership behind the next-generation workforce.
News Stories
In a new assessment, NREL researchers Aubryn Cooperman, Patrick Duffy, Matt Hall, Ericka Lozon, Matt Shields, and Walt Musial propose options for dividing up the first two offshore wind energy leasing areas off the California coast. The report estimates that developing these sites could produce 4.5 gigawatts or more of clean energy for the U.S. grid—powering over 1.5 million homes.
This evaluation is the first for the West Coast and required novel consideration of floating wind turbine technology limitations, such as water depth and mooring spacing. This report adds to previous studies of California's offshore wind resources and costs of wind energy development.
Produced under an interagency agreement with the U.S. Department of the Interior's Bureau of Ocean Energy Management, the delineation scenario evaluations (and suggested options) will help the bureau maximize wind resources for commercial use, helping California transition to clean energy by 2045 and the United States to move closer to its 2030 offshore wind energy and 2035 clean energy goals.
Nearly 1,400 gigawatts of distributed wind capacity could be accessed today and bring clean power to millions of American households, according to NREL's Distributed Wind Energy Futures Study. That is enough energy to supply more than half of current U.S. annual electricity consumption.
Funded by the U.S. Department of Energy's (DOE's) Wind Energy Technologies Office (WETO), the comprehensive analysis explores potential opportunities for U.S. distributed wind energy in 2022 and 2035. New, high-resolution data and modeling techniques from dWind, a model within the Distributed Energy Market Demand Model (dGen™) suite, identified the best locations for distributed wind of all forms—including special consideration for distributed wind energy in underserved communities. Results reveal large areas of the country that provide economic power today and in 2035. But the right technology, cost, siting, and policy conditions are key to unlocking this potential.
"This study illustrates distributed wind energy's significant potential and economic viability," said NREL researcher and co-author Eric Lantz. "Optimistically, distributed wind energy could support terawatt-level wind power uptake and play a meaningful role in the U.S. energy future."
Other authors include Kevin McCabe, Ashreeta Prasanna, Jane Lockshin, Parangat Bhaskar, Thomas Bowen, Ruth Baranowski, and Ben Sigrin.
Anticipating how key features of wind power plants might look like a decade or more ahead of their installation can be critical for today's investment and energy system planning decisions. With funding from WETO and a partnership under the International Energy Agency Wind Technology Collaboration Programme, researchers Philipp Beiter and Eric Lantz from NREL, together with collaborators from the Lawrence Berkeley National Laboratory and DOE, elicited opinions from more than 140 of the world's leading experts about their expectations of future wind plant design in 2035.
Published in the journal Wind Energy, the article suggests that experts expect the height and blade length of wind turbines to increase even greater than previously forecast, with wind power plants located increasingly in areas with less favorable winds. However, they also expect lower levelized cost of energy. The authors identified five economic mechanisms that drive these design changes.
"Our research provides a much-needed benchmark for representing future wind technologies in power sector models," Beiter said. "By explaining the economics behind wind energy design choices, this article addresses a critical research gap."
Working To Build the Workforce of the Future
Chloe Constant wears a lot of hats. She leads NREL's Wind Stakeholder Engagement and Outreach and Workforce Development portfolios, coordinates wind-to-hydrogen research, is principal investigator of a project focused on optimizing the design of energy clusters offshore, and oversees business development for wind energy, particularly offshore.
Somehow, none of her hats blow off despite each of those jobs blowing winds at her from all angles. She manages research and development projects within NREL, works with partners, and helps stakeholders understand the economic and societal impacts of wind energy. While keeping a pulse on the priorities and needs of industry, she has a hand in all ends of the renewable energy pipeline—from emerging areas of research, like using offshore wind energy to produce hydrogen, to the deployment of improved technologies, like land-based wind turbines.
"Beyond being a clean source of energy, wind energy has some real tangible impacts on the people and communities around it," Constant says. She believes understanding economic and societal impacts and then maximizing the positive and mitigating the negative are essential to growing wind energy equitably.
"I wanted to work in a field that had a positive impact and that I could feel proud of being a part of," says Constant. "Renewable energy was that and more. The industry is changing so quickly, and I love that I get to be a part of that change. We are all here because we believe in the NREL mission, and that is super motivating."
Although she shares her motivation with her colleagues, Constant took a unique path to NREL. Previously, she worked in industry and held positions in public affairs, finance, and project development—in multiple countries. There, Constant picked up invaluable experience and knowledge of the challenges and needs of the industry and other stakeholders that she's been able to apply to the research laboratory.
"I like the variability of the work I do," Constant says. "There is no chance of being bored, and it keeps me on my toes." With her help, wind energy will continue to keep the next generation on their toes, too.
On the Radar
Congratulations to Kansas State University on winning DOE's 2022 Collegiate Wind Competition, administered by NREL! Over the course of the school year, 12 competing teams and four learn-along teams designed, built, and tested model wind turbines, developed project plans, collaborated with industry experts, and engaged with their local communities. This work helped prepare them for careers in the growing wind and renewable energy workforce to support President Biden's goal of net-zero carbon emissions by 2050.
Based on cumulative scores, Kansas State University claimed first place overall. Read the progress alert to see how other teams fared in the overall competition and in the Turbine Design, Turbine Testing, Project Development, and Connection Creation contests.
DOE's Collegiate Wind Competition helps prepare college students for jobs in the wind energy industry through real-world experience with wind energy technology, project development, finance, communications, and outreach. Each year, the competition identifies a new theme to address real-world wind industry needs. The 2022 theme focused on siting, outreach, and development challenges associated with fixed-bottom offshore wind energy projects. These challenges informed the teams' work as they created their turbine designs and wind project plans and engaged with their local communities.
An NREL team, including Jason Fields, Eric Simley, Nicola Bodini, Jordan Perr-Sauer, and Rob Hammond, has released version 2.3 of its Open Operational Assessment (OpenOA) software, which helps demystify wind power plant operations for wind plant operators.
This latest release includes an improved operational data quality-control toolkit, hourly energy production calculation, and automated date selection for long-term reference data. The crowd-sourced tool now also offers a wind power plant layout visualization feature, which was developed with the help of a wind power plant owner, and the first third-party integration (Intertrust's PlanetOS feature), which, although being sunset in August 2022, enables OpenOA users to include weather data in their operational analyses of wind power plants.
The open-source tool is available through GitHub. This work was funded by DOE's Office of Technology Transitions Technology Commercialization Fund.
June 17, 2022, 10 a.m. MT, Virtual: Deployable Wind Power for Defense and Disaster Response Workshop
Stakeholders are invited to attend this workshop—hosted by Sandia National Laboratories, NREL, Idaho National Laboratory, and University of Dayton Research Institute—to learn more about integrating wind energy in hybrid deployable energy systems and understanding the needs of the defense and disaster response communities. Register to connect with research, industry, academic, and government attendees at a workshop aimed at bringing wind energy manufacturers together with power-integrator end users. Learn more about the Defense and Disaster Deployable Turbine project, which is funded by WETO.
June 1–3, 2022, The Netherlands: NREL at the TORQUE Scientific Conference
If you will be attending the 2022 The Science of Making Torque from Wind (TORQUE) conference in Delft, The Netherlands, check out presentations by NREL researchers on a range of wind energy projects and topics, including:
Emmanuel Branlard (Dynamic Inflow and Unsteady Aerodynamics Models for Modal and Stability Analyses in OpenFAST)
Scott Dana (Lifetime Fatigue Response due to Wake Steering on a Pair of Utility-Scale Wind Turbines)
Paul Fleming (Serial-Refine Method for Fast Wake-Steering Yaw Optimization)
Matt Hall (An Open-Source Frequency-Domain Model for Floating Wind Turbine Design Optimization)
Jason Jonkman (Dynamic Inflow and Unsteady Aerodynamics Models for Modal and Stability Analyses in OpenFAST)
Patrick Moriarty (Design of American Wake Experiment Field Campaign)
Kelsey Shaler (Efficient Loads Surrogates for Waked Turbines in an Array)
Eric Simley (Investigating the Impact of Atmospheric Conditions on Wake Steering Performance at a Commercial Wind Plant)
PJ Stanley (Multi-Timescale Wind-Based Hybrid Energy Systems)
Eric Lantz (Grand Challenges).
Others are attending the conference or presenting virtual posters.
Downwind: In Case You Missed It
Three NREL-led efforts are featured in the DOE Spring 2022 Wind R&D Newsletter. The just-released Distributed Wind Energy Futures Study reveals that wind turbines that serve local customers and rural communities can profitably power hundreds of gigawatts today! Also, a massive atmospheric data collection project is capturing details on how winds shift as they travel from one wind turbine to another or from one wind plant to another. Finally, NREL demonstrates that a common variety of wind turbine can potentially stabilize the power grid. Read the full newsletter.
Meeting U.S. decarbonization goals is expected to require rapid deployment of additional wind energy. As more wind energy is deployed, social and ecological considerations of the surrounding landscape are becoming increasingly important—but research on the land-use impacts of wind deployment has been limited.
Through a comprehensive spatial analysis of U.S. wind power facilities deployed over the past two decades that was funded by WETO, NREL researchers Dylan Harrison-Atlas, Anthony Lopez, and Eric Lantz studied the emerging intersection of wind energy deployment and the environment. Their findings, published in Environmental Research Letters, advance the understanding of how evolving wind energy technology and wind power plant design are changing land-use requirements and informing technology innovation and future deployments.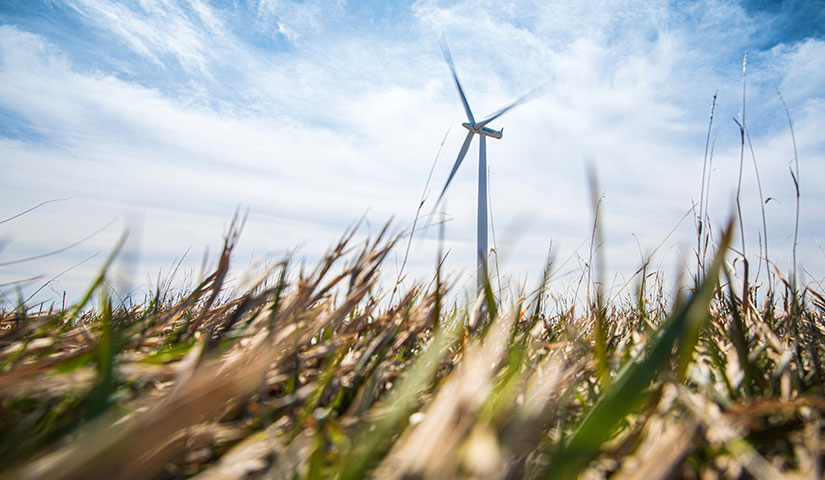 DOE is still accepting applications for the 2023 Collegiate Wind Competition! To expand the potential teams and schools competing in this annual competition, the organizers have implemented a new application process and timeline, which was recently covered at an informational webinar. Check out the webinar recording to learn more.
NREL researcher Matt Shields spoke to Resources Radio about the U.S. offshore wind supply chain and a new project to explore the needs to reach the Biden administration's offshore wind energy goal in 2030 and beyond. Listen to the podcast and read other mentions of NREL wind energy research in the news:
15 NREL Researchers Receive Distinguished Member of Research Staff Designation, NREL (2022)
Maine-made Offshore Wind Would Power Economy With Clean Energy, Clean Energy, Climate, Maine Environmental News (2022)
New FLORIS Release Significantly Increases Computation Speeds, TechExplore (2022)
NREL Explores The Dynamic Nature Of Wind Deployment & Land Use, CleanTechnica (2022)
NREL: Rapid growth of energy storage to enable high shares of renewable energy on US grid, Energy Storage News (2022)
NREL Studies Factors to Unlock Terawatt-Level Future for Distributed Wind, North American Windpower (2022)
NREL Study Demonstrates Wind Turbines in Grid-Forming Mode, Power Engineering International (2022)
NREL Tool Aims To Predict Interactions Between Soaring Eagles and Wind Turbines, Renewable Energy Magazine (2022)
OSW Advocates Urge California to Think Bigger, RTO Insider (2022)
Ports and Parts: Building a US Offshore Wind Supply Chain, with Matt Shields, Resources Radio (2022)
'Serious About Going Big' | California Sets Course for 20GW Floating Wind Build-Out, Recharge News (2022)
Small-Scale Wind Power Could Meet 'More Than Half' of U.S. Electricity Demand: NREL, Recharge (2022)
Study Finds Distributed Wind Energy Potential Equivalent to Half of National Electricity Demand, DOE (2022)
The Future of Distributed Wind in the United States: Considerations for Unlocking Terawatt-Level Potential, Alternative Energy Magazine (2022)
The Future of Distributed Wind in the USA, WindTech International (2022)
U.S. Distributed Wind Energy Potential Can Meet Half Of National Electricity Demand, CleanTechnica (2022)
U.S. Offshore Wind Says The Quiet Part Out Loud: Fossil Fuel Is Toast, CleanTechnica (2022)
Assessment of Offshore Wind Energy Leasing Areas for Humboldt and Morro Bay Wind Energy Areas, California, NREL Technical Report (2022)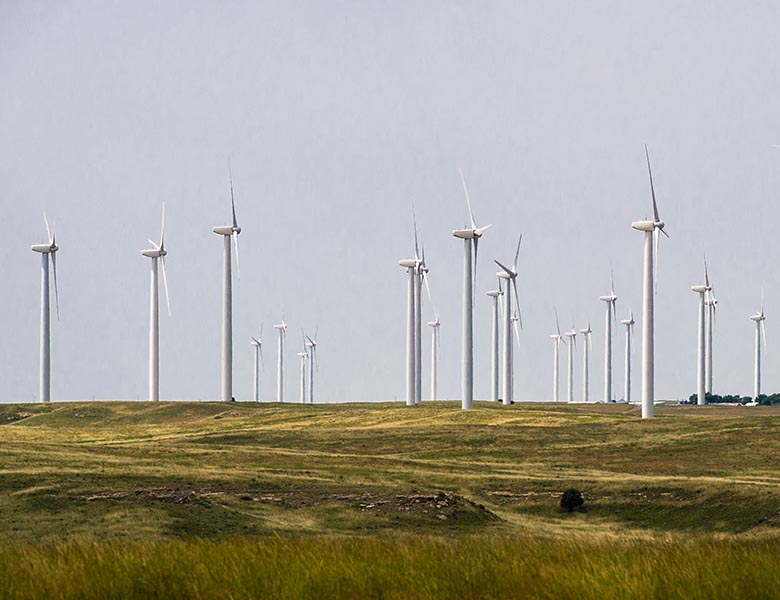 Counterfactuals To Assess Effects to Species and Systems From Renewable Energy Development, Frontiers in Conservation Science (2022)
Distributed Wind Energy Futures Study, NREL Technical Report (2022)
Dynamic Land Use Implications of Rapidly Expanding and Evolving Wind Power Deployment, Environmental Research Letters (2022)
Expert Perspectives on the Wind Plant of the Future, Wind Energy (2022)
Extension of the Generic Multi-Frequency Modelling Method for Type 3 Wind Turbines, IEEE Transactions on Energy Conversion (2022)
Numerical Investigation of the Influence of Shear and Thermal Stratification on the Wind Turbine Tip-Vortex Stability, Wind Energy (2022)
OC6 Phase I: Improvements to the OpenFAST Predictions of Nonlinear, Low-Frequency Responses of a Floating Offshore Wind Turbine Platform, Renewable Energy (2022)
Optimizing the Physical Design and Layout of a Resilient Wind, Solar, and Storage Hybrid Power Plant, Applied Energy (2022)
Policy Choices and Outcomes for Offshore Wind Auctions Globally, Energy Policy (2022)
System Modeling Frameworks for Wind Turbines and Plants: Review and Requirements Specifications, IEA Wind TCP Task 37 Report (2022)
Wind Turbine Response in Waked Inflow: A Modelling Benchmark Against Full-Scale Measurements, Renewable Energy (2022)
Want More?
Subscribe to The Leading Edge newsletter, and explore the latest news and accomplishments in wind energy at NREL.