The Leading Edge: October/November 2022 Wind Energy Newsletter
In this edition, we share news on wind energy workforce needs and opportunities and a researcher behind the effort, the first approved offshore wind energy guidance, and pop-up wind turbines for disaster and military use as well as past and upcoming events, media mentions, and publications.
News Stories
To meet U.S. goals of a 100% carbon-free electric grid by 2035, the wind energy workforce must keep pace with industry growth. This means closing the wind workforce gap, originally identified in a 2019 NREL study. Now, two new reports from NREL researchers explore the reasons behind the wind energy workforce gap and provide suggestions to connect employers with potential and current workers.
The reports involved surveys with employers, education and training programs, and students, recent graduates, and job seekers as well as evaluation of representative occupations and job postings. Findings suggest experience, geography, and hands-on training are key players in filling jobs. The reports suggested solutions, such as centralized and standardized job posting and retention efforts, which could help ensure the land-based wind energy industry has the workforce it needs to continue growing.
Experts at NREL have published a new report documenting the first national-level evaluation of the U.S. offshore wind energy industry's workforce gaps and opportunities. The study, supported by the U.S. Department of Energy's Wind Energy Technologies Office (WETO), examined what the blossoming industry might need to grow a domestic workforce (demand) as well as what educational opportunities are needed to train that workforce (supply), enabling stakeholders to take actions that will help the industry realize the greatest domestic job opportunity.
The study estimates that, from 2024 to 2030, the industry will need an annual average of 15,000–58,000 full-time workers, based on a 25%–100% proportion of domestic content (materials and goods made in the United States). To properly train this workforce, the study recommends developing strong collaborations between industry and educational/training programs, implementing standardized safety training, and cultivating programs and initiatives that create a diverse workforce and use existing workers in a region.
In war and disaster zones, quick andreliable power can save lives. Diesel-powered generators are convenient and easy to operate but require a steady stream of liquid fuel; shipments can come with steep emissions on top of the extra costs and risks. Over the past 4 years, a multilab team led by Sandia National Laboratories, along with NREL and Idaho National Laboratory, discovered how to fit a 20-kilowatt wind turbine—plus a few solar panels and batteries—in a standard shipping container. As a final step in the project, the project team hosted a workshop in June 2022 for wind turbine suppliers to meet their potential customers: military and disaster response organizations. Feedback encouraged testing, and some lower-risk trials are already planned to help bring easily and rapidly deployable renewable energy to remote locations.
Working on the Wind Energy Workforce
Jobs in wind energy are increasing. One of the dedicated team members behind NREL's investigations into how many of those jobs are needed, in what roles within the industry, and what challenges they might face is Jeremy Stefek, a workforce and economic development researcher. Learn about his job and the impact he hopes to have on wind energy through his career. (The following interview has been edited for clarity and brevity).
How did you find your way into studying the wind energy workforce?
For me, the connection between energy and people is my passion. When researching graduate school programs, I realized that NREL was in Colorado and close to the University of Colorado Boulder (CU Boulder), and I thought it would be super impactful to work with the lab. It so happened that there was an internship opportunity through my interdisciplinary graduate school program, the Masters of the Environment, at CU Boulder in the wind energy program that really bridged social science, economic, and societal impacts of wind energy—a perfect fit.
I grew up in a rural community in Texas, so understanding wind energy's challenges and benefits to the community really hit close to home. After my internship, I really started getting involved in more economic development- and workforce-related projects in land-based and offshore wind energy. But the internship was key for me getting into wind energy, which matches with a lot of our research findings; having an internship helps increase student interest and getting hired by wind industry employers.
What made you stay at NREL after your internship in 2017?
There are three things, in particular, that I like about NREL after nearly 6 years here:
The variety of projects I get to work on. I love that I'm working on different topics every couple months and often different topics at the same time. For one project, I'm seeking to understand how rural communities are affected by wind energy projects and how to make them more equitable. Then the next day, I'm seeking to understand how an offshore wind energy supply chain can affect the national workforce needs. It helps to always keep the work fresh and interesting, and I'm constantly learning new things.
NREL has given me the space and opportunity to grow as a subject matter expert in workforce and economic development from wind energy.
The people. Everyone is supportive of one another and accommodating. Everyone is driven to grow renewable energy in the United States.
Can you tell us more about your current research at the lab?
Now, I am a workforce and economic development researcher supporting wind-energy-related projects. I also work across technology areas to support and develop workforce and economic impact methods and models, such as the Jobs and Economic Development Impact model.
Although technology and research and development are super important to advancing clean energy, I think people and their decisions will also be a primary mover in renewable energy deployment. Increasing our social science research can help us inform how people think and feel about renewable energy, and we can help support them to increase their understanding of the technology impacts on their communities.
My recent publications include the U.S. Offshore Wind Workforce Assessment, which looked at the demand and supply of workers for the emerging industry. Defining the Wind Energy Workforce Gap looked at the reasons why wind energy industry employers have difficulty finding a qualified workforce and students report difficulty finding jobs. And the Land-Based Economic Development Guide is a resource to help rural communities understand the challenges and benefits of wind farms in their communities. A lot of my focus the next year will be on building out offshore wind energy workforce knowledge and helping connect stakeholders in communities.
Where do you hope to see wind energy and its workforce in the future?
I hope we put people first as we deploy more wind energy across the country. That includes ensuring that more wind energy installations are manufactured, constructed, and operated with a domestic workforce. And I hope that domestic workforce is more diverse and properly trained, and that deploying renewable energy can support communities with economic opportunities.
To that future workforce, I would say to always have confidence in yourself. We are all always learning new things and new ways to approach questions. We always don't have a perfect answer. Look for the ways to make your own small difference in the world.
On the Radar
The American Clean Power Association Offshore Compliance Recommended Practices: 2022 Edition received approval earlier this summer from the American National Standards Institute Board of Standards Review. The first-of-its-kind document provides common guidance, removes guesswork, and serves as an essential foundation for a sound, durable, reliable, and safe industry to help meet U.S. offshore wind energy goals and cover all stages of offshore wind farm development.
NREL has just launched a new version of two wind energy tools. Version 3.2 of FLOw Redirection Induction in Steady State (FLORIS), an open-source wind farm optimization tool that enables existing wind energy facilities to improve productivity and future projects to maximize profits by optimizing flow control strategies, such as wake steering. The team also launched Version 1.1 of the complementary FLORIS-based Analysis for Supervisory Control and data acquisition (FLASC) tool, which can be used for field data postprocessing, model analysis, and data comparison. The updates include new data and features, improved user experience, and fixes to the upgraded FLORIS platform (Version 3.0) and new FLASC companion.
NREL and the Business Network for Offshore Wind are providing an overview of the developing national offshore wind energy standards initiatives and its objectives at 11 a.m. ET on Dec. 13, 2022. The webinar will discuss five guidance documents for offshore wind energy projects, covering a range of project implementation activities, including project design, construction and deployment practices, operation, safety, and decommissioning while anticipating the new and evolving nature of offshore wind energy technology.
Downwind: In Case You Missed It
NREL's contributions to recent government initiatives to strengthen America's clean energy supply chains could help the country modernize the grid, lower power costs, and transition to clean energy. This research and development, funded in part by WETO, has involved performing deep-dive studies into different sectors' supply chains, including a report on wind energy, and working on improvements to existing production methods and materials for technologies, such as wind turbine blades. These and other efforts will help improve the efficiencies, workforce, cost, transportation, domestic input, and other aspects of manufacturing for renewable energy.
To examine what it would take to achieve a net-zero U.S. power grid by 2035, NREL leveraged decades of research on high-renewable power systems and used its publicly available flagship Regional Energy Deployment System capacity expansion model to study supply-side scenarios to reach a net-zero power grid by 2035. The study found a need for an additional 70–150 gigawatts of wind energy per year by the end of the decade, with wind energy and solar power combined providing 60%–80% of generation in the 2035 scenario with the least-cost electricity mix.
At the end of October 2022, NREL researcher Suzanne MacDonald joined three other experts to present a high-level summary of decision-making processes at the federal, state, and local levels for offshore wind energy siting and permitting. This summary focuses on the points at which community leaders, property owners, coastal residents, and other local stakeholders can meaningfully engage with these processes. Hosted by WETO's WINDExchange as part of the offshore wind energy basics webinar series, the webinar is now live on NREL's YouTube channel.
The American Clean Power Association's Resource and Technology conference, held Sept. 7–9, 2022, in Las Vegas, Nevada, brought together technical experts in wind energy, solar power, and energy storage for 3 days of technical presentations, which covered topics in risk mitigation, developing more accurate wind energy assessments, solar energy production modeling, wake and turbulence modeling in wind farms, and more. NREL's Jason Fields presented on wind farm performance as well as analytics and operational assessments. Heidi Tinnesand, another NREL researcher, spoke about the characteristics and development of a new Wind Integration National Dataset toolkit. She requested industry collaboration on meteorological tower data and made several new connections that were willing to talk about how to share their data. To discuss data sharing, please contact Heidi.Tinnesand@nrel.gov.
In a September 2022 Scientific American article about WETO's new floating wind energy contest, John Fialka interviewed NREL's offshore wind energy lead, Walt Musial. And NREL researcher Amy Robertson spoke to National Public Radio's Leila Fadel in November 2022 about whether offshore wind energy is the answer to a greener future in the United States, saying, "We can build much bigger offshore wind turbines than we can on land because the whole ability to transport large components through our highways and trains, it's just not feasible on land. But offshore, we have much more freedom."
Read more news featuring NREL wind energy researchers and projects:
DOE To Test Rapidly Deployable, Portable Wind Turbines For Military Use, Disaster Relief, Diana DiGangi, Utility Drive, Nov. 28, 2022
Compact Wind Turbines Could Support Disaster Relief and Military Missions, Staff Writer, U.S. Department of Energy, Nov. 22, 2022
Wind Energy in Australia Is Killing Thousands of Bats, but There Is a Solution, Petra Stock, Cosmos, Nov. 18, 2022
Growth in Offshore Wind Energy Offers Huge Opportunity To Create U.S. Jobs, Staff Writer, T&D World, Nov. 16, 2022
U.S. Can Reach 100% Clean Power by 2035, DOE Finds, but Tough Reliability and Land Use Questions Lie Ahead, Herman K. Trabish, Utility Dive, Nov. 15, 2022
Tools To Design Energy Systems Resilient to Natural Disasters: From Small Villages to Big Cities, Connor O'Neil and Moriah Petty, Energy Post, Nov. 9, 2022
Clean Energy Supply Chain Analyses, U.S. Department of Energy, CleanTechnica, Nov. 7, 2022
National Turbine Competition Stirs Up UTD Enthusiasm for Wind Energy, University of Texas at Dallas, The Dallas Morning News, Nov. 7, 2022
U.S. Must Mass-Produce Floating Wind, Curb Sea Risks To Hit Targets, Neil Ford, Reuters, Nov. 3, 2022
U.S. Must Spend on Ports, Work With Europe To Launch Floating Wind, Neil Ford, Reuters Events, Nov. 2, 2022
Study Charts Path Toward Growth in Offshore Wind Workforce in the USA, Staff Writer, Wind International, Oct. 21, 2022
Offshore Wind Jobs Are Set To Rocket, NREL Study Says, Staff Writer, Power Engineering, Oct. 20, 2022
U.S. Offshore Wind Energy Makes First Official West Coast Push, Mary B. Powers, Engineering News-Record, Oct. 19, 2022
NREL: Sharp Job Growth Needed To Hit U.S.' 30-GW OSW Goal, Robert Mullin, RTO Insider, Oct. 18, 2022
Floating Wind Turbines Off California Coast Soon Could Boost Power Grid, Brooke Staggs, The Mercury News, Oct. 10, 2022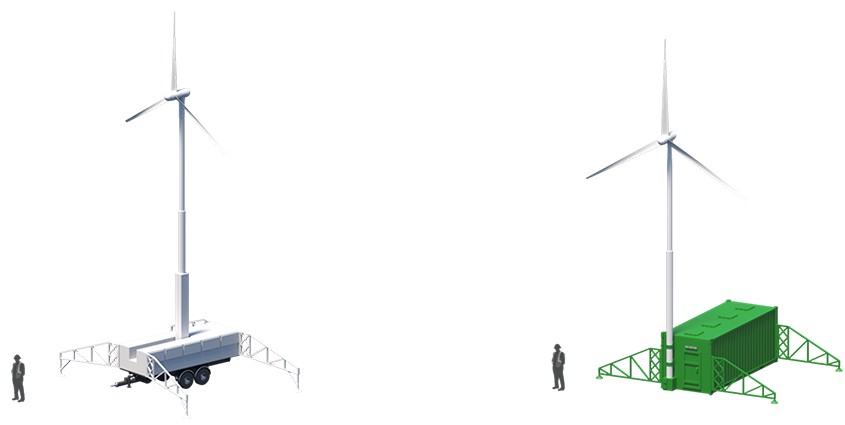 Workforce
Defining the Wind Energy Workforce Gap, NREL Technical Report (2022)
U.S. Offshore Wind Workforce Assessment, NREL Technical Report (2022)
Defining Wind Energy Experience, NREL Technical Report (2022)
Energy Potential
Wind Energy Costs in Puerto Rico Through 2035, NREL Technical Report (2022)
Update on NREL's 2020 Offshore Wind Resource Assessment for the California Pacific Outer Continental Shelf, NREL Technical Report (2022) (posted on the Bureau of Ocean Management's website)
Validation of Wind Resource and Energy Production Simulations for Small Wind Turbines in the United States, Wind Energy Science (2022) (Read more about this study from Pacific Northwest National Laboratory)
Software and Tools
Towards Multi-Fidelity Deep Learning of Wind Turbine Wakes, Renewable Energy (2022)
Acoustic Emission Measurement of a Wind Turbine Main Bearing, NREL Technical Report (2022)
Windfarm Operations and Maintenance Cost-Benefit Analysis Tool (WOMBAT), NREL Technical Report (2022)
Technology
Unleashing the Frequency: Multi-Megawatt Demonstration of 100% Renewable Power Systems with Decentralized Communication-Less Control Scheme, NREL Technical Report (2022)
Acoustic Emission Measurement of a Wind Turbine Main Bearing, NREL Technical Report (2022)
Verification and Validation of Model-Scale Turbine Performance and Control Strategies for the IEA Wind 15 MW Reference Wind Turbine, Energies (2022)
Want More?
Subscribe to The Leading Edge newsletter, and explore the latest news and accomplishments in wind energy at NREL.