First U.S.-Industry-Led Offshore Wind Energy Guidance Document Approved
ANSI's Final Approval of Best Practices Will Help Accelerate Industry Development, Shorten Regulatory Timelines, and Increase Worker Safety
---
The American Clean Power Association (ACP) Offshore Compliance Recommended Practices: 2022 Edition (OCRP-1-2022) received approval earlier this summer from the American National Standards Institute (ANSI) Board of Standards Review, the lead organization that oversees standards and conformity assessment activities in the United States.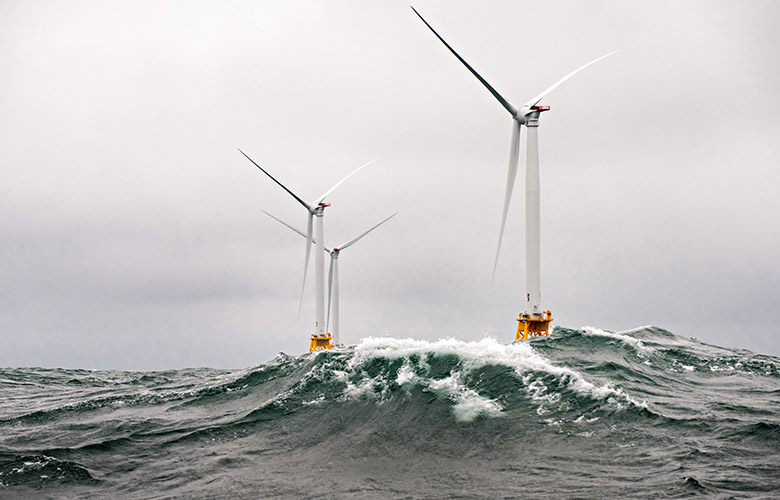 The approved document represents the culmination of a five-year effort by an industry-based standards initiative formed in 2017 under the ACP Offshore Wind Subcommittee chaired by Walt Musial, the National Renewable Energy Laboratory (NREL) offshore wind research lead.
"OCRP-1-2022 establishes a strong precedent for U.S. industry cooperation that I sincerely believe will help accelerate the U.S. offshore wind energy industry and our nation's push to decarbonize energy use," Musial said. "This could become one of the primary guidance documents for the development of offshore wind energy on the U.S. Outer Continental Shelf and could lead to shorter regulatory timelines and increased worker safety."
The U.S. Offshore Wind Standards Initiative is a collaboration led by NREL, the U.S. Department of the Interior's Bureau of Ocean Energy Management, the U.S. Department of Energy, the Business Network for Offshore Wind, ACP, and ANSI. The subcommittee comprises more than 300 members from various offshore wind industry sectors.
The First Compilation of Its Kind
Pointing to more than 200 existing industry standards and guidelines focused on the requirements for the development of a U.S. offshore wind energy project, OCRP-1-2022 covers all stages of offshore wind farm development—including design, manufacturing and fabrication, transportation and installation, operations and in-service inspections, and life-cycle planning.
"These recommended practices cover a broader scope than anything previously available to the offshore wind energy industry," Musial said. "Although OCRP-1-2022 leans heavily on the International Electrotechnical Commission's standards, it covers the entire life cycle of the project, from design of the turbine and substructure to end-of-life decommissioning. Regulators hold responsibility for all stages of development—from cradle to grave—and we've now provided them more comprehensive guidance in one document."
OCRP-1-2022 is the first of five documents to be published and was written by a consensus-based group of more than 100 offshore wind energy industry members, co-chaired by Rain Byars, the technical and delivery director for Atlantic Shores Offshore Wind (a partnership between Shell New Energies US LLC and EDF Renewables North America) and Graham Cranston, a DNV project manager and principal structural engineer.
"OCRP-1-2022 is the culmination of years of work for over 100 industry experts from around the globe and provides a comprehensive framework for current and future projects," Cranston said. "This framework is clear enough to reduce uncertainty in the codes, standards, and approaches to be applied for U.S. offshore wind power projects yet flexible enough to meet the specific needs of each."
The new guidance carefully adheres to a preestablished ANSI/ACP consensus standards development process, which includes balanced participation by key stakeholders, opportunity for public review and commentary, resolution for filed comments, and acceptance through voting by the governing ACP Technical Wind Standards Committee and the ANSI Board of Standards Review.
Because of that, OCRP-1-2022 can be officially recognized by regulators and referenced within the U.S. regulatory approval process.
"I am incredibly happy that we have finally reached this milestone, and I extend special thanks to the dozens of industry experts who contributed," Byars said. "For offshore wind energy developers like Atlantic Shores, this guidance will help clarify our project requirements and ensure safe operation."
OCRP-1-2022 represents an update to the American Wind Energy Association OCRP-2012, which refers to existing standards to facilitate the definition of best practices for the offshore wind energy industry.
"Standards serve as an essential foundation, on which a sound, durable, reliable, and safe U.S. offshore wind industry will be built. This guidance document has been years in the making and arrives at an opportune time to facilitate the timely buildout to meet the growing demand for offshore wind energy by states up and down our coasts," said Tom Vinson, ACP vice president of policy and regulatory affairs. "ACP expresses our gratitude to the more than 100 volunteers who participated in meetings, drafted portions of the document, and provided reviews and comments. The final product is improved as a result of engagement by these individuals."
Because OCRP-2012 no longer adequately addressed the regulatory requirements for the Bureau of Ocean Engineering Management, the Bureau of Safety and Environmental Enforcement, and the offshore wind energy development community, in 2017, the American Wind Energy Association Wind Standards Committee (later renamed the ACP Wind Technical Standards Committee) voted to approve the formation of the U.S. Offshore Wind Standards Initiative. Five working groups were formed to address the OCRP-2012 deficiencies.
"To meet the Biden administration's goal of 30 gigawatts of offshore wind energy by 2030, the industry is challenged with designing, manufacturing, and installing 2,100 turbines, foundations, and transition pieces in less than eight years," said Liz Burdock, Business Network for Offshore Wind president and CEO. "OCRP-1-2022 is an essential component to meeting the goal, providing common guidance, removing guesswork, and enabling required federal permitting design documents to be more quickly developed. This should help reduce overall permitting timeframes and put turbines in the water faster to help avert the climate crisis."
One of a Series of Five
The first of five offshore wind energy recommended-practice documents to be published, OCRP-1-2022 is the overarching flagship document for the U.S. Offshore Wind Standards Initiative and will help provide greater transparency, consistency, and certainty to the U.S. offshore wind energy industry's regulatory process.
The U.S. Offshore Wind Standards Initiative is working on four additional guidance documents that will address specific topics, including:
Floating offshore wind energy
Meteorological and oceanographic data requirements
Geotechnical and geophysical requirements for offshore wind energy technologies
Minimum requirements for submarine cables.
These documents will represent a comprehensive set of consensus-based guidelines under ANSI/ACP rules that navigates existing offshore wind energy industry standards and guidelines.
Combined, the five guidance documents will facilitate safe designs and the orderly deployment of U.S. offshore wind energy by accounting for unique U.S. geophysical, administrative, and environmental constraints, providing the U.S. Department of the Interior with recommendations for industry best practices.
The four companion documents are scheduled for public review and ANSI approval later in 2022.
Visit the U.S. Offshore Wind Standards Initiative for more information. Find the document at ANSI's webstore.
Explore NREL's offshore wind energy research, and subscribe to NREL's wind energy newsletter for news like this.