NREL Water Power Newsletter, The Current, Winter 2022
In this issue, catch up on NREL's water power successes in 2022 and upcoming projects, events, and news.
This quarterly newsletter highlights the latest from NREL's Water Power Program.
In This Issue
On Dec. 9, 2022, the U.S. Department of Energy (DOE) Water Power Technologies Office (WPTO) announced over $16 million in new projects to further hydropower and marine energy research and development. These awards encompass $5.6 million for hydropower projects and $10.5 million for marine energy projects across six national laboratories. The projects that the National Renewable Energy Laboratory is supporting include:
Development of CYSAT-Hydro, a cybersecurity situational awareness tool for hydropower
Harnessing ocean thermal gradients using thermoelectric-based submersibles for aquaculture and sea power applications
H2ydro-GEN, which enables reliable and resilient marine energy microgrids for remote, coastal, and island communities
Strategic environmental monitoring for DOE marine energy deployments
Development of thermomagnetic generators, novel heat engines that can power the blue economy
Advancement of the variable geometry oscillating surge wave energy converter (VGOSWEC) toward commercialization
Creation of a strategic road map for incorporating tools and data for water equity and water justice into hydropower projects.
Over the past year, NREL's water power researchers have been busy. They studied how climate change might impact the country's water supplies, helped build new marine energy devices (including one that could help with those diminishing water supplies), analyzed hydropower's role in a 100% clean energy grid, and inspired a new generation of students to pursue careers in water power. And there's more. Check out just a few of the lab's biggest accomplishments in water power from 2022.
NREL released an introductory video on marine energy to bring the lab's research off the page and into an easy-to-understand format. This video bridges the informational gaps between technical publications and high-level introductions and provides viewers insight into what marine energy is, what types of marine energy resources and technologies exist, and what challenges and considerations the field still faces. In addition, the video demonstrates how NREL's research is clearing a path for marine energy to make substantial contributions to our renewable-energy-powered future. Because marine energy technologies are still in the early stages of development, this video aims to share knowledge with the public and potential partners, outside of conventional outlets, to accelerate the growth of marine energy toward commercialization.
A new video on OpenEI demonstrates how the Portal and Repository for Information on Marine Renewable Energy (or PRIMRE) has consolidated marine energy data into one publicly available, searchable online library. The data include information such as wave heights or current speeds, device performances, and considerations for marine wildlife and ecosystems. Spearheaded by NREL researchers Jon Weers, Hanna Fields, Sean Morris, and Katie Peterson, PRIMRE collates information from seven "Knowledge Hubs," with more on the way. The goal of PRIMRE—which was created with funding from WPTO—is to make it easy for everyone in marine energy to get the data they need to accelerate the pace of innovation in marine energy and make it a more viable renewable energy technology.
Discovering the Ocean Through Data: NREL's Modular Ocean Data Acquisition System (MODAQ)
Data acquisition is playing a critical role in the expansion of marine energy research and development across the United States, and NREL researchers and a system called MODAQ are leading the charge. MODAQ, or the Modular Ocean Data Acquisition system, was created to support the advancement of marine renewable energy technologies by providing a comprehensive, verified, easily customizable, data processing and storage solution for marine energy devices. Learn more about the device and its capabilities.
A new NREL report, U.S. Hydropower Workforce: Challenges and Opportunities, provides an updated analysis of hydropower workforce trends based on data collected by NREL, WPTO, the Hydropower Foundation, and members of the hydropower industry. The report found that jobs in skilled crafts and trades and engineering services will be impacted by high retirement and turnover rates in hydropower in the next 10 years and identified six pathways to bridge the hydropower workforce gap: online learning; hands-on learning; diversity, equity, and inclusion; career pathways; the Clean Energy Talent Hub; and curricula and certifications. During the 4-year project funded by WPTO, members of the hydropower industry, academics, and students offered perspectives about the hydropower sector, career opportunities, and barriers that could hinder workforce growth.
The future of renewable energy relies on the next generation. To inspire students to explore renewable energy, NREL partnered with WPTO to create a comic book series and educational activities. A second volume of the Spark Squad comic is now available. In Volume 2, middle school students Jasmine, Aria, and Thomas are joined by Asher and his Uncle Frank as they explore a hydropower facility, where they learn how a dam operates and helps the environment. Complete the order form to get a free copy of the marine energy and hydropower comic book in the mail, or download PDF versions of Spark Squad and Spark Squad Volume 2. Use the Spark Squad activity sheet, and share a photo of solar, wind, and water joules around your neighborhood by using the hashtag #MyJouleJourney on social media and tagging NREL and DOE.
A patent was recently awarded to a new technology domain in marine energy conversion: distributed embedded energy converter technologies (or DEEC-Tec, pronounced deck-tech, for short), which can generate clean power from ocean and river waves, currents, and tides. Unlike standard single generators that convert ocean energy into electricity, DEEC-Tec uses many tiny converters to form one larger, often flexible energy converter (e.g., balloons that contract and expand or paddles that twist and bend in the ocean). The flexible nature of the DEEC-Tec domain means that it could be lighter and more cost-effective than traditional wave energy converters. In addition, DEEC-Tec could eventually transform sources of everyday energy, including almost all physical motions or dynamic shape changes, into electricity or other forms of usable energy.

To enable communities and developers to make the most of marine energy's potential contribution to the power grid, NREL's Marine Energy Atlas—a free, publicly available tool that allows users to access valuable information such as wave heights or current speeds—is undergoing enhancements. Recent updates include more comprehensive historical data to make future projections more accurate and a Capacity Factor Tool that allows users to upload their device information to estimate how much energy it could produce at a specific marine location. In the near future, the tool, funded by WPTO, will receive additional enhancements ,such as savable searches, data on larger regions, and, eventually, information on marine energy regulations and policy, marine ecology, and oceanography.
Although tidal energy has huge potential in the United States, the industry's technologies are still young (and expensive). To better understand how to grow tidal energy into an affordable clean energy resource, NREL partnered with the University of New Hampshire's Living Bridge project, which features a real-world tidal turbine installed beneath the Portsmouth Memorial Bridge. NREL researcher Aidan Bharath and his team are currently working on the turbine back in the lab, adding data-collecting sensors, trying different types of glue and protective coatings, and building custom components to increase the device's longevity. The resulting data set will be shared to DOE's Marine and Hydrokinetic Data Repository and can be used to improve marine energy models, such as OpenFAST, to help marine energy developers hone their designs.
Wave energy converters (WECs) have the potential to produce and provide drinking water in an emergency, extend the life of hurricane-monitoring tools, and advance other small-scale applications. NREL and WPTO recently collaborated on the development of the Small WEC Analysis tool, an online, publicly available graphical user interface that provides information about the performance of different types of WECs in various ocean conditions. The tool is especially helpful for anyone looking for a baseline measurement that indicates the amount of energy a particular WEC is expected to produce. Learn more about this first-of-its-kind database and what it could mean for advancements in WEC technology.
This fall, WPTO announced the winners of the second phase of the Hydropower Operations Optimization (H2Os) Prize. Teams have worked throughout the competition to develop high-tech solutions that could advance hydropower's contributions to a carbon-free power grid. Phase Two increased in difficulty, challenging competitors to consider additional storage and hydropower facilities, implement and satisfy water management requirements, and respect grid transmission constraints. As first-place winner of Phase Two, Team HydroFlex from the University of Utah was awarded $7,500; five other teams were awarded $1,500 each for their innovative ideas. Phase Three of the competition just concluded, with grand prize winners expected to be announced in January 2023.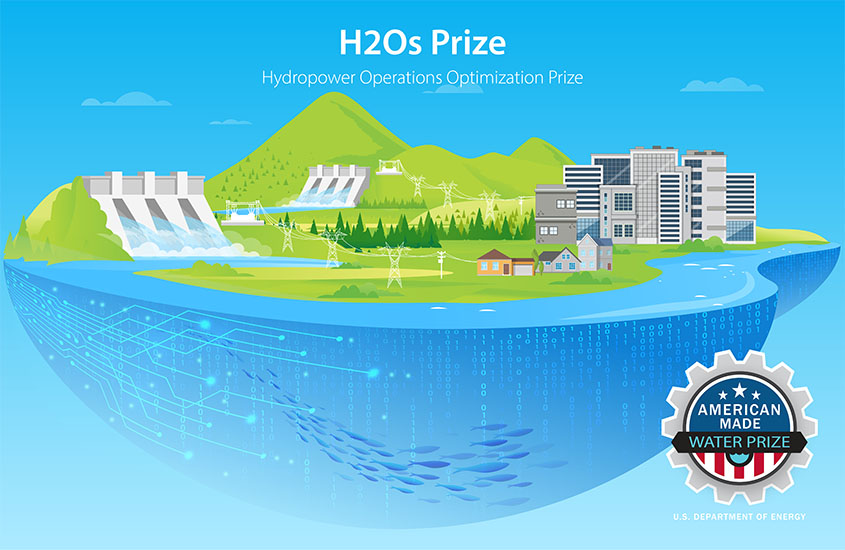 The three winning teams of this year's Powering the Blue Economy™: Ocean Observing Prize have been chosen: Maiden Wave Energy LLC's Rover won the top prize of $275,000, and two other teams shared the remaining $500,000 total prize pool. NREL's goal for this prize was to use marine renewable energy to revolutionize the way we collect data to understand, map, and monitor the ocean and more accurately predict hurricane intensity and paths. In the final SPLASH Contest, BUILD Contest winners will have the opportunity to continue developing their wave-powered ocean observing prototypes. The final contest focuses on direct laboratory mentorship for competitors, a testing campaign customized to competitor needs, and a final cash prize for competitors that successfully leverage that mentorship and complete their testing.
The inaugural Inclusive Energy Innovation Prize Summit was held Nov. 2–3, 2022, in Washington, D.C. Members of the 18 teams competing in Phase Two of the prize, along with industry leaders, NREL team members, and staff from various DOE offices came together to discuss building an equitable clean energy infrastructure. During the event, DOE Deputy Secretary David Turk sat down with WPTO Director Jennifer Garson for a discussion of the prize's role in the Biden administration's Justice40 Initiative. Teams competing in the community-based prize exchanged ideas and attended workshops to help them continue implementing their impact plans in preparation for their final pitch in May 2023.
The Furthering Advancements To Shorten Time Commissioning for Pumped Storage Hydropower Prize challenged innovators to propose new solutions, designs, and strategies that would reduce the time, cost, and risk of commissioning pumped storage hydropower projects. Teams presented ideas focused on improving construction equipment, using new construction management methods and advanced manufacturing techniques, and implementing other groundbreaking ideas. The prize winners have continued advancing their work to improve pumped storage hydropower development by testing, completing further analysis, and identifying potential sites for their technologies. See how their advancements could impact the future of hydropower.
In the early 2010s, Kerry Stout Grantham trekked along Maine's Appalachian Trail to find other hikers and ask them a few questions about a very different kind of energy than they had been using to scramble over Maine's chaotic, boulder-filled trails. "What do you think about wind turbines in the mountains?" Grantham would ask.
And what did she learn? "That thru hikers are really stinky," she said. "You had to position yourself upwind." She also learned that the hikers had seen all kinds of renewable energy plants on their travels, including hydroelectric facilities, wind turbines, and solar panels. And they were, in general, happy about it. Locals, on the other hand, were not.
Now, Grantham is the coastal energy systems lead at NREL. Although she's working at the same community-technology gap, Grantham is now focusing on marine energy technologies. And instead of stinky thru hikers, she's partnering with coastal, island, and remote communities that do want to bring these newer renewables home but are unsure how, exactly, to make that happen.
"Humans need a place to go and grow," she said. "How can we do that and protect our environment?"
Read more about Grantham's path from Cape Cod, Massachusetts, past dreams of being a hairdresser or marine biologist, through scuba diving on Saipan in the Pacific Ocean, to finally using her background in environmental science and policy to help balance human and environmental needs.
Catch up on all upcoming events, or explore these featured events.
Now Open, Online
NREL is performing technical assistance in support of DOE's Clean Energy Demonstrations. Tribes, community groups, nonprofit organizations, private or public companies, academic institutions, and state and local governments interested in pursuing clean energy projects on mine land are encouraged to apply for technical assistance to inform their decision-making. Eligible clean energy sources are energy storage, including pumped storage, hydropower, and compressed air storage; solar; microgrids; geothermal; direct air capture; fossil-fueled electricity generation with carbon capture utilization and sequestration; and advanced nuclear technologies. Technical assistance will vary based on specific project needs and intends to support any phase of project development, including concept development, planning, design, or execution. Apply for Clean Energy Mine Land Program technical assistance today.
Due Jan. 13, 2023, Online
The Testing Expertise and Access for Marine Energy Research (TEAMER) program, supported by the U.S. Department of Energy, is now accepting applications for the ninth request for technical support. Applications will be accepted through Jan. 13, 2023.
Feb. 14–16, 2023, San Diego, California
Oceanology International Americas, which was launched in 2017 as a gateway to the Americas and Asia regions, unites those involved in marine exploration, protection, and sustainable operations to share comprehensive, innovative solutions, content, and expertise ocean technology. NREL researchers will be joining members of oil and gas, fishing, aquaculture, and maritime security industries and nongovernmental and governmental organizations to present on and discuss the latest in marine energy. From NREL, Scott Jenne will present on the design and fabrication of a hydraulic and electric reverse osmosis wave energy converter, and Jenny Weigele and Ben Maurer will host a workshop seeking feedback on DOE's Ocean Observing Prize partnerships.
Hydropower Workforce Trends Workshop
March 13, 2023, 2–4 p.m. MT, Virtual
This spring, NREL will host a workshop on hydropower workforce trends to discuss common international hydropower industry workforce challenges and identify solutions and next steps. Registration for this science, technology, engineering, and mathematics and workforce development event will open in January 2023.
March 14–15, 2023, Palm Springs, California
Several NREL staff and researchers will be attending CEATI's International Hydropower Conference in Palm Springs, California. The focus for 2023 will be on the opportunities and challenges of retrofitting dams for extended life, extreme events and the increased need for flexibility, and opportunities for power plant modernization.
Visit the NREL Events page for more event information and registration details on upcoming workshops.
Agrivoltaics — Solar Panels and Tomatoes May Be Perfect for Each Other, CleanTechnica (Dec. 1, 2022)
Coastal Researchers See Potential in Capturing Ocean Energy, Coastal Review (Dec. 1, 2022)
Underground Water Battery To Bust Energy Storage Dam Wide Open, CleanTechnica (Nov. 30, 2022)
Cities Are Leaning on Proven Technology To Meet Climate Goals, ABC10 News San Diego (Nov. 14, 2022)
NREL Advances Data Collection Tools To Accelerate Development of Marine Energy Industry, Offshore Energy (Oct. 7, 2022)
Research Can Help Electric Utilities Account for Climate Change, The Mirage (Sept. 28, 2022)
Capitalism Versus Climate Change: The Technical Case for Energy Vault, Forbes (Sept. 27, 2022)
Extensive Coverage of NREL's Flexible Energy Converter Technologies (DEEC-Tec) in Offshore Energy (Sept. 23, 2022), InceptiveMind (Sept. 22, 2022), CleanTechnica (June 19, 2021), and more
Ocean Power: Undercapitalized Minnows (Ocean Power, Carnegie Clean Energy) and Big Fish (Enel), Seeking Alpha (Sept. 12, 2022)
See all the latest publications, or explore these featured publications.
Impact of Quaternary-Pumped Storage Hydropower on Frequency Response of U.S. Western Interconnection With High Renewable Penetrations, NREL Conference Paper (2022)
Advanced Hydropower and PSH Capacity Expansion Modeling, NREL Technical Report (2022)
U.S. Hydropower Workforce: Challenges and Opportunities, NREL Technical Report (2022)
A Multi-Model Framework for Assessing Long- and Short-term Climate Influences on the Electric Grid, Applied Energy (2022)
Hydropower Operation in Future Power Grid With Various Renewable Power Integration, Renewable Energy Focus (2022)
Igiugig's Journey Toward Sustainability, NREL Fact Sheet (2022)
Summary Report of Test Article for Waves to Water Prize: Electrical Power Take Off System, NREL Technical Report (2022)
Expert Elicitation for Wave Energy LCOE Futures, NREL Technical Report (2022)
Review of Wave Energy Converter Power Take-Off Systems, Testing Practices, and Evaluation Metrics, NREL Conference Paper (2022)
Techno-Economic Implications of Electrical Machine Scaling for Wave Energy Converters, NREL Conference Paper (2022)
Wave Resource Spatial and Temporal Variability Dependence on WEC Size, International Marine Energy Journal (2022)
A Novel Zero Discharge Supercritical Water Based Wave Energy Desalination System, International Conference on Ocean, Offshore, and Arctic Engineering (2022)
Want More?
Subscribe to The Current to get the next water power newsletter in your inbox.
For the latest from WPTO, sign up for its water power newsletters. Have a more general question or can't find what you're looking for? Send us an email at water.power@nrel.gov.