NREL Water Power Newsletter Winter 2021
In this issue, catch up on NREL water power news, successes, and resources from 2021.
This quarterly newsletter highlights the latest from NREL's Water Power Program.
In This Issue
Name This Newsletter
What's in a name? In NREL's first newsletter focused on all things water power, we invite you to help us choose a name by voting in our poll. Voting ends Jan. 16, 2021.
The Water Line
The Ripple
Ebb and Flow
The Current
Beneath the Surface
Suggest a new name!
The winner will be announced in the next newsletter.
Renewable Energy Discovery Island: Take a sneak peek at an interactive, educational three-dimensional animation from NREL and the U.S. Department of Energy (DOE) of a virtual renewable energy-powered island that—with help from the next generation of water power scientists—could soon become reality.
Hydropower News
NREL water power team members Aaron Levine, Taylor Curtis, Ligia Smith, and Jesse Cruce, along with researchers from Oak Ridge National Laboratory, published a new report, An Examination of the Hydropower Licensing and Federal Authorization Process. To develop the report, the research team collected and analyzed both quantitative and qualitative data on the current landscape of environmental regulations to identify which protections, bureaucratic hoops, or developer designs might hinder hydropower projects from earning a license to operate. For the qualitative data, the team sourced stories from a wide pool of regulators and developers. Now, its findings could help decision makers streamline the hydropower regulatory process without cutting critical environmental protections.
NREL's Vahan Gevorgian, David Corbus, and Greg Stark are developing the FlexPower hybrid power plant prototyping platform at the lab's Flatirons Campus. This tool will help researchers investigate how to best transition utility-scale renewable energy plants into more versatile, grid-connected plants that can provide energy storage as well as increased control over how much renewable energy they provide and when. Working in collaboration with Idaho National Laboratory and Sandia National Laboratories, the team will be investigating coupling renewable energy plants with a variety of energy storage systems, including hydropower, pumped storage hydropower, battery, hydrogen, flow battery, kinetic, and ultracapacitor storage. This research will demonstrate how hybrid power plants can help smooth the transition to an electric grid that is primarily powered by renewable energy.
As of 2021, hydropower produces 6%–7% of the nation's total energy. And DOE estimates that adding power to the more than 80,000 U.S. dams that currently produce none, as well as upgrading and retrofitting existing facilities, could more than double hydroelectricity and storage capacity by 2050. To help the hydropower industry meet this potential, NREL created the Hydropower Regulatory and Permitting Information Desktop (RAPID) Toolkit, an interactive, searchable online database of federal, state, tribal, and local hydropower regulations. NREL researchers Aaron Levine and Taylor Curtis update the database as regulations are confirmed, allowing developers to find the most recent federal and state policies in just a few clicks. Check out this story about the latest updates covered in the Fiscal Year 2021 RAPID webinar.
On Nov. 2, 2021, DOE announced funding for new national lab-directed projects to advance the HydroWIRES (Water Innovation for a Resilient Electricity System) Initiative and help maximize hydropower's contributions to a decarbonized, reliable, and resilient grid. One of the selected projects, Emulating Hydropower in a Controlled Real-World Environment at ARIES for Rapid Prototyping of Next-Generation Hydro-Controls, aims to de-risk new hydropower governor controls by developing a controlled lab environment for evaluation. In this environment, NREL researchers will be able to easily plug in real controller hardware to test under various grid conditions. This effort will utilize a variety of Advanced Research on Integrated Energy Systems (ARIES) tools, including digital real-time simulation, actual hardware grid controllers, digital governors, and a variable speed hydro-generator.
Find more hydropower news on our web page.
Marine Energy News
NREL researcher Levi Kilcher led a multilab team to collect data on the velocity, turbulence, and sediment at Alaska's Cook Inlet, the nation's largest tidal energy site. The project team—which included Pacific Northwest National Laboratory and Sandia National Laboratories and contracted with TerraSond Limited, Ocean Renewable Power Company, and Integral Consulting—will identify important details of the opportunities and challenges of turning these waters into a reliable power source. This data can help the industry design turbines that perform reliably in harsh environments and turbine arrays that maximize power production while minimizing impacts to marine life and the ecosystems.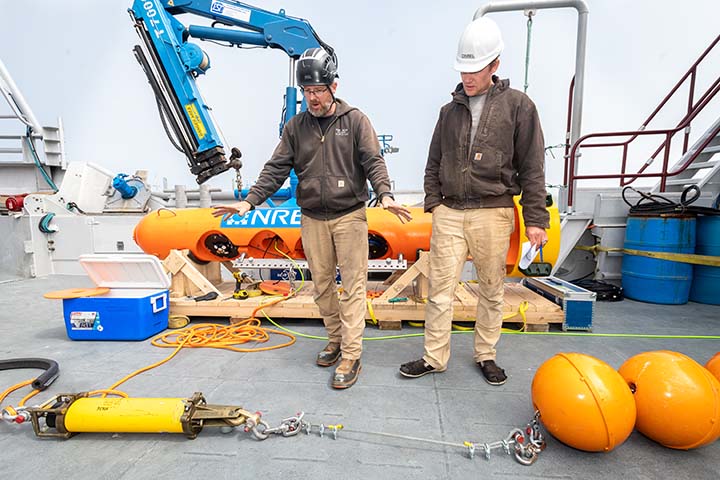 NRELians Rebecca Fao, Mark Murphy, Andrew Simms, Casey Nichols, Rob Raye, Scott Lambert, and Ismael Mendoza partnered with Columbia Power Technologies Inc. and DOE's Water Power Technologies Office (WPTO) to validate the SeaRAY autonomous offshore power system, which can make renewable energy from ocean waves while collecting live data for offshore industries. At NREL's Flatirons Campus, the team is prepping the device for a 6-month ocean trial at the U.S. Navy Wave Energy Test Site in Hawaii by emulating the operating conditions SeaRAY will face, including wave forces, and check how well the SeaRAY connects to a hardware-in-the-loop battery system. The first of its kind, SeaRAY can help power blue economy applications—such as offshore fishing and marine research—with carbon-free, renewable power from ocean waves.
An NREL team that includes David Ogden, Michael Lawson, Nathan Tom, and Thanh Toan Tran, as well as Yi-Hsiang Yu, received an R&D World magazine annual R&D 100 Award for its Wave Energy Converter Simulator code. A collaboration between NREL and Sandia National Laboratories, Wave Energy Converter Simulator is the first open-source code allowing wave energy developers to simulate wave energy converter dynamics and performance. This dramatically reduces the uncertainty around how wave energy converters will perform in marine environments, which can lower costs and reduce R&D cycle time in this pivotal and growing field. The simulator is one of two NREL projects to win an R&D 100 Award in 2021; including this year's winners, NREL has received 71 R&D 100 awards since 1982.
With funding from the DOE Technology Commercialization Fund , NREL researcher Nathan Tom is moving NREL's variable-geometry, oscillating, surge wave energy converter (VGWEC) closer to commercialization. VGWEC, which creates windows for waves to pass through so wave energy devices don't bear the full force of the ocean's power, can make wave energy less expensive, more productive, and more resilient in the ocean environment. The award allowed Tom to partner with the University of Massachusetts Amherst to build and validate the first small-scale prototype of VGWEC. This funding will continue to help the team move VGWEC from theory to practice and wave energy closer to widespread deployment.
Find more marine energy news on our web page.
Prizes and Competitions
Eight offices within DOE's Office of Energy Efficiency and Renewable Energy and the Office of Economic Impact and Diversity recently launched the new Inclusive Energy Innovation Prize, a $2.5 million competition that will fund up to 10 organizations or groups that support entrepreneurship and innovation in communities historically underserved in climate and energy technology funding. NREL researchers Tessa Greco, Amanda Morton, and Jenny Wiegele manage the prize to connect disadvantaged communities with this funding and provide support to those new to the application process. This prize supports the Biden administration's Justice40 initiative to put environmental and economic justice at the center of America's transition to a net-zero economy by 2050. Learn how to get involved.
DOE and NREL
announced the five winning teams
of the CREATE Stage that are invited to compete in DRINK, the fifth and final stage of the Waves to Water Prize. A 3-year, $3.3 million competition funded by DOE's WPTO and organized by NREL's Scott Jenne, Tessa Greco, David Greene, Chris Matthews, Amanda Morton, and Jenny Wiegele, this prize aims to accelerate the development of small, modular, wave-energy-powered desalination systems to provide clean drinking water for disaster recovery and for remote and coastal communities. In April 2022, these DRINK Stage finalists will test their wave-powered water makers in partnership with the Coastal Studies Institute at Jennette's Pier to see how the prototypes perform on the open ocean.
The DOE Marine Energy Collegiate Competition (MECC) provides students with real-world experience and industry connections that will help them prepare for future careers in the marine energy sector and the blue economy. To support this mission, NREL researchers Arielle Cardinal, Elise DeGeorge, Ben Maurer, Amanda Morton, Nathan Tom, Jenny Wiegele established a partnership between the MECC and the Interdisciplinary Environmental Association, an academic nonprofit committed to scholarly discourse between practitioners, students, and the motived public in the expansive field of environmental science and interdisciplinary studies. This partnership follows the MECC's joining forces with the Society of Hispanic Professional Engineers earlier this year. The MECC's growing portfolio of partnerships will increase engagement, create networking opportunities for the students, and ensure the competition continues to engage diverse talents needed for the future marine energy workforce.
At 1 p.m. MT on Jan. 12, 2022, join a webinar to learn about the Inclusive Energy Innovation Prize.
Jan. 25–26, 2022, join a webinar discussing how NREL is working toward integrated solutions to meet rising energy demands.
By 5 p.m. ET on Jan. 3, 2022, submit a letter of intent (with full applications due Feb. 22, 2022) to DOE's $54 million funding opportunity for small businesses.
At any time, explore the STEM Hydropower and STEM Marine Energy portals for workforce development opportunities, educational resources, and more.
Prizes and Competitions
The Energy Department Directs a Prize Challenge Program to Historically Underserved Groups, Federal News Network, Nov. 5, 2021
Delivering on Justice40, The White House, Dec. 2, 2021
Hydropower
New Report Examines the U.S. Hydropower Permitting Process, WPTO, Sept. 21, 2021
New Hydropower Report Identifies Opportunities to Reform the Licensing Process, Tech Xplore [via NREL], Nov. 1, 2021
Marine Energy
North to the Future: WPTO Helps Alaskan Partners Pursue a Clean Energy Future With Water Power, WPTO, Nov. 9, 2021
NREL: Turning the Tide for Renewables in Alaska, India Education Diary, Oct. 26, 2021
Turning the Tide for Renewables in Alaska, Tech Xplore [via NREL], Oct. 27, 2021
Publications
Hydropower
An Examination of the Hydropower Licensing and Federal Authorization Process
Permitting and federal authorization processes can increase the costs, risks, and timelines of licensing (or relicensing) hydropower projects. Now, a new report examines what factors affect this process and how.
Informing Cybersecurity Decisions With the Value-at-Risk Framework
A new tool informs cybersecurity investment decisions, maintaining the security and cost-competitiveness of the hydropower fleet and improving its potential to contribute to a secure, reliable, and resilient grid.
Marine Energy
Cook Inlet Tidal Energy Resource Characterization Effort
Cook Inlet, Alaska, contains one of the largest tidal power resources in the world. Midway up the inlet, the water flow accelerates as it squeezes between the eastern and western forelands. NREL researchers are collecting data near the East Foreland that will be released publicly and used by potential project developers to better understand the opportunities and challenges at the site.
Igiugig Site Visit Report
NREL conducted a site visit in winter 2021 with the Igiugig Village and other stakeholders to assist the community of Igiugig in refining its long-term energy strategy.
Want More?
Subscribe to get the next water power newsletter in your inbox.
For the latest from WPTO, sign up for its water power newsletters.