Energy Systems Integration Newsletter November 2018
NREL's Part in Grid Mod Program, Machine Learning Software Manages Millions of Devices, Mines and NREL Launch New Graduate Program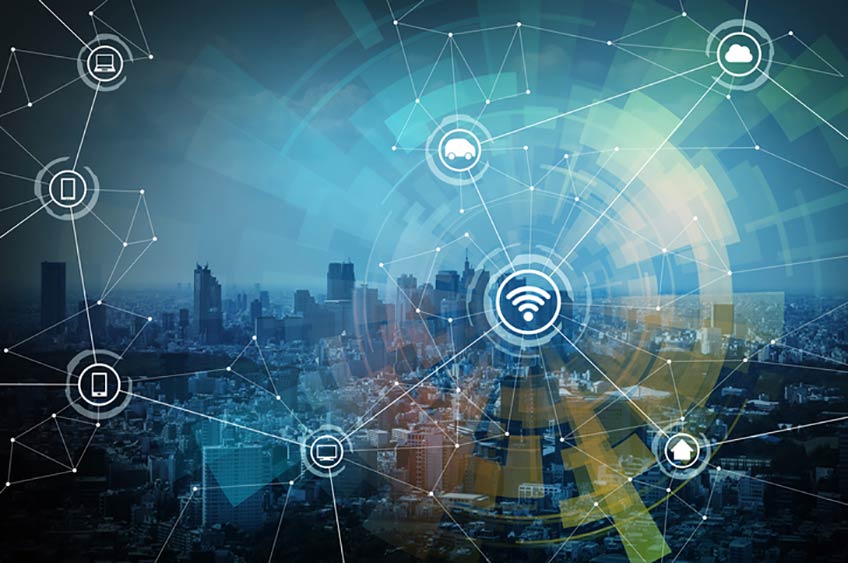 The challenge to modernize our grid is not a maintenance task or an everyday repair. The U.S. Department of Energy (DOE) Grid Modernization Laboratory Consortium (GMLC) is responding to a grid transformation unlike anything the nation has experienced. Pressure is coming from all sides for the grid to mature: from customers with new power electronics that act as distributed generation, from a changing climate that's exposing our susceptibilities, and from cyber threats that loom in the communications, linking millions of potential target devices. There's a lot of opportunity for progress, and the GMLC is taking big steps toward building national momentum on the issue. Read about the six NREL-led GMLC projects that represent a cross section of the GMLC work.
Balancing grid conditions for millions of interacting devices at a second timescale is not a one-person job. It's hardly a one-utility job, but a new NREL platform is changing what's possible for large-scale grid control. With funds from the EERE ENERGISE program, an NREL team has developed a novel control architecture named GO-Solar.
GO-Solar does a lot with a little: it estimates grid conditions from only a few measurements and forecasts the system conditions using machine learning techniques. Next it determines and sends the optimal control signals to the most relevant nodes to achieve system-level control objectives. GO-Solar testing has happened on real data from Hawaii's grid, with real hardware in the Energy Systems Integration Facility (ESIF), and using NREL's new cyber-physical co-simulation framework, HELICS.
The platform's development team recently returned from Hawaii, where they presented on the work's progress to stakeholders—representatives from EPRI, the University of Hawaii, Siemens, DOE, Xcel Energy, Enphase Energy, and Arizona Public Service Company, among others, attended.
Stay tuned for results on this important work.
Greg Martin is a group manager for the ESIF's operations engineering. Martin works on strategic visioning and planning for ESIF, and with his background expertise on power electronics and advanced inverters and power systems, he's bringing exciting new insights for future capabilities. Read our conversation with Greg to learn about the new capabilities he's working on at ESIF.
Powering our future society will require energy systems and infrastructure that are more expansive, secure, and resilient than they are today. It will also require thought leaders and innovators who can capably and creatively guide this vital energy sector transition.
To address these needs, NREL and Colorado School of Mines are piloting a novel Advanced Energy Systems graduate program in fall 2019.
Distributed energy resources (DERs)—such as residential PV systems, battery energy storage, and electric vehicles—have seen significant growth in capacity in recent years. When aggregated and called on to provide certain services simultaneously, DERs could provide the distribution grid with ancillary and other services that enhance reliability.
If emerging U.S. utility-led DER aggregation projects prove successful, new value streams could open for PV and other developing DERs, expanding the market.
A new NREL report presents case studies of five DER aggregation projects. The report compares lessons learned and identifies common challenges and solutions that other utilities might consider when developing next-generation pilots and programs.
Each one of the five projects featured in the NREL report demonstrated that DER aggregation can provide grid benefits, including frequency response, load shifting, and voltage regulation. Although project designs varied, the report identified five categories of common challenges and areas of consideration for future aggregation programs: distributed energy resource management system development and implementation, customer acquisition, DER deployment, communications with DERs, and DER performance.
Another recent NREL report presents an in-depth case study of a Pacific Gas and Electric Company (PG&E) successful technology demonstration of a distributed energy resource management system to aggregate and coordinate DERs. PG&E hosts more distributed PV systems than any other U.S. utility, and by 2030 it expects to host hundreds of thousands of new DERs.
PG&E recently deployed a distributed energy resource management system developed by GE Grid Solutions to manage PV and residential storage at 27 homes, commercial storage at three locations, and a PG&E-owned, utility-scale battery. The demonstration produced positive results across seven use cases while highlighting challenges and areas for improvement, which are addressed in the case study.
Integrating High Levels of Variable Renewable Energy into Electric Power Systems: Cities, states, and countries are setting aggressive renewable energy targets. But what are the technical challenges that must be addressed to achieve these goals? NREL's Ben Kroposki looks at that question in a recent article published in the Journal of Modern Power Systems and Clean Energy. The article examines the challenges with integrating ultrahigh levels of variable renewable energy into the electric power system, reviews a range of solutions to those challenges, and provides examples of ultrahigh variable renewable energy systems that are in operation today.
NREL's new high-performance computing system, Eagle, has landed. The supercomputer, which is 3.5 times more powerful than its predecessor Peregrine, is now installed and has passed testing in the ESIF. The hardware installation process took four long days of work that were captured and condensed into this time-lapse video. Now that the system is installed, other programming is being done to ensure that the system operates at full capacity before its official debut.
NREL's REopt™ Lite Web tool offers a new wind optimization module with default values for four wind size classes along with custom utility rate tariffs, a critical building load profile builder, and a user dashboard to help building owners and energy managers retain and refine their calculations. With this latest release of capabilities, building owners and energy managers can use REopt Lite to evaluate the economic viability of distributed wind alongside solar PV and battery energy storage at a site and compare PV, wind, and battery systems sized for optimum cost savings to systems sized for resilience in the event of a grid outage. Read the full NREL program news story.
Although global wind models are good first steps in predicting wind resources in various parts of the world, they are not accurate enough to predict project risk. For the country of Bangladesh, which has a national goal of generating 10% of its energy renewably by 2021, a more site-specific analysis of wind power viability was necessary. In collaboration with the U.S. Agency for International Development, NREL studied the risks and opportunities of developing wind power resources for the government of Bangladesh.
The analysis, Assessing the Wind Energy Potential in Bangladesh, supports the need for informed decisions by the government of Bangladesh ranging from policy and investment to reliable power sector planning. Research results will help reduce technical risk and encourage private sector investment in the emerging wind power industry in Bangladesh. Read the full story.
Baja California Sur Renewable Integration Study Mexico has set a goal of reaching 35% of total electricity generation from clean energy sources by the year 2024. This study considers the impacts of increased generation from wind and solar resources on the bulk power system for one relevant region of Mexico: Baja California Sur. Baja California Sur is electrically isolated, currently dependent on expensive, imported fuels, and its electricity consumption is expected to grow significantly. The Baja California Sur region has significant resource potential for both wind and solar power, and this study reviews what increased penetrations of each would mean for curtailment, costs, and grid conditions.
A Stochastic Downscaling Approach for Generating High-Frequency Solar Irradiance Scenarios The National Solar Radiation Database is the country's most frequently referenced solar data set, but one of its most depended-on data products is available only at a time resolution of 30 minutes on an approximate 4-km grid. Solar variability, however, is significant at finer timescales. This Solar Energy article presents a method for generating 1-minute data products from widely available subhourly solar data. The finer-timescale solar data include estimates for solar incidence under cloud cover and aerosol conditions.
Check the Stack: An Enabling Framework for Resilient Microgrids About 15 million critical infrastructure facilities, representing 15% of the national electric load, could be made more resilient with microgrids. According to this technical report, a 4-day grid outage at all these facilities could result in losses of more than $700 billion. With this in mind, the report surveys policies enacted by 13 states to encourage resilient microgrids. Finally, the report presents a framework for examining current state microgrid policies and guiding how states might consider future policies.
Ensuring System Reliability: Distributed Energy Resources and Bulk Power System Considerations The effects of DER growth in electric grids has provided both challenges and benefits and shows no signs of slowing. This feature article in IEEE Power and Energy Magazine reviews early informative examples of distributed resource topics, such as recorded grid events, market design updates, and developments around technical standards.
A Flexible Framework for Modeling Customer Damage Functions for Power Outages This paper in Energy Systems advances work around quantifying resilience. It derives cost estimates for an unexpected loss of power to both an example manufacturing plant and a fire station, with potential extension to a wide range of operating conditions. The method presented in the paper can help grid operators consider customer damages in their decision-making and help facility managers value various types of backup power systems.