Energy Systems Integration Newsletter July 2018
NREL's PRECISE Helps Interconnect Utility Customers' Solar PV, Envisioning Net Zero Emission Energy Systems, and Q&A with Fatima Al-Suwaidi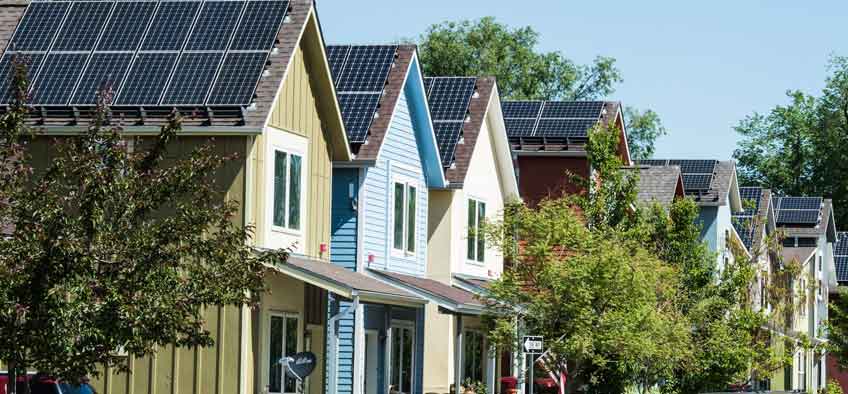 NREL's PRECISE Helps Interconnect SMUD Customers' Solar PV for Better Performance, in Half the Time
Preconfiguration, quasi-static time series, and autonomous operation are all features contributing to the expansion of distributed energy systems, thanks to advanced inverters and an NREL- and Sacramento Municipal Utility District (SMUD)-developed platform called PRECISE.
The tool, PREconfiguring and Controlling Inverter SEtpoints (PRECISE), is a technology that evolved from NREL's work at the Energy Systems Integration Facility (ESIF) with Hawaiian Electric Companies (HECO), inspired by the surge in customer interest to connect home-installed solar to Hawaii's grid. Like HECO, SMUD began to see a surplus in solar photovoltaic (PV) interconnection applications from residents in Sacramento in 2016, challenging the utility's ability to respond to each request in a timely manner while considering voltage control and grid reliability.
During this time, and as an outgrowth of the inverter studies performed in Hawaii, Engineer Adarsh Nagarajan had been exploring the idea of preconfiguring advanced inverters based on residents' locations, clusters, and seasonal weather patterns.
"I realized we could assume that even if an inverter has communications, we are not really trying to communicate with it every 10-15 minutes," said Nagarajan. "We could preconfigure the inverter and set modes for seasons. Then it would be done before it's even installed. You turn on the inverter, and it knows what to do."
With support from SMUD, Nagarajan and the PRECISE team began developing a planning and real-time operation platform that would enable distribution utilities to identify optimal inverter modes and settings, ultimately to maximize the cost-effective use of installed PV systems. The team found that the tool can dramatically reduce the time it takes to receive approval to install and connect PV systems onto the utility distribution feeder, from 10-15 days down to 5. PRECISE is now helping the Sacramento utility—and utilities in India—to seamlessly interconnect and integrate high penetrations of PV onto today's grid in a safe, cost-effective, secure, and reliable way.
Learn more about PRECISE by reading the full article on this story.
Envisioning Net-Zero Emission Energy Systems
As global energy consumption continues to grow—by some projections, more than doubling by 2100—all sectors of the economy will need to find ways to drastically reduce their carbon dioxide emissions if average global temperatures are to be held under international climate targets. Two NREL authors contributed to a recently published article in Science that examined potential barriers and opportunities to decarbonizing certain energy systems that are essential to modern civilization but remain stubbornly reliant on carbon-emitting processes.
Many sectors of the economy, such as light-duty transportation, heating, cooling, and lighting, could be relatively simple to decarbonize through electrification and use of low- or net-zero-emitting energy sources. However, some energy uses, such as aviation, long-distance transport and shipping, steel and cement production, and a highly reliable electricity supply, will be more difficult to decarbonize. Together, these sectors contribute 27% of global carbon emissions today. With global demand for many of these sectors growing rapidly, solutions are urgently needed, according to the article.
Read our full overview on this study.
NREL Analysis Explores Demand-Side Impacts of a Highly Electrified Future
NREL has released the latest analysis from the Electrification Futures Study (EFS), a multiyear research collaboration to explore the impacts of widespread electrification in all U.S. economic sectors—commercial and residential buildings, transportation, and industry.
The report, Electrification Futures Study: Scenarios of Electric Technology Adoption and Power Consumption for the United States, aims to support an integrated understanding of how the potential for electrification might impact the demand side of the U.S. energy system. The report characterizes futures with widespread electrification—the shift from any non-electric source of energy to electricity at the point of final consumption—and quantifies the impacts of electrification on amount and shape of electricity demand.
Get the key findings from this report.
Q&A with Fatima Al Suwaidi: Visiting UAE Engineer Details How NREL and Masdar are Helping Shape Her Career Goals
Fatima Al Madhloum Al Suwaidi is a visiting engineer from the United Arab Emirates (UAE), where she is a project engineer for the Middle East's leading renewable energy player, Masdar (Abu Dhabi Future Energy Company). She holds a Bachelor of Science in renewable energy engineering from the University of Sharjah and is currently a visiting scientist at the Colorado School of Mines.
Fatima is contributing to analysis work in the Integrated Applications Center at NREL. We sat down with her to discuss her research, which spans floating photovoltaics, sustainable transportation, and the energy-water-food nexus, with a specific focus on economic viability analysis. Read our full conversation with Fatima about her work at both Masdar and NREL.
Leading the Charge to Build a New Energy Future, NREL's Sheila Hayter Named President of ASHRAE
NREL's Sheila Hayter was recently installed as president of the American Society of Heating, Refrigerating and Air-Conditioning Engineers (ASHRAE) during the industry group's annual conference in Houston, Texas.
As part of her inaugural presidential address, Hayter revealed her term's theme will be "Building Our New Energy Future." It focuses on the important role buildings will play in our energy future as the traditional electrical grid continues to evolve toward a smart grid with advances in renewable energy.
"I plan to use this amazing opportunity as president to maximize every moment in ways that educate, spur new conversations, and shift the perspective on how buildings can impact our energy future," Hayter said. "Leveraging my NREL and ASHRAE experiences, I've been fortunate to be a part of the transition toward higher efficiency and incorporating advanced technologies in the built environment."
While serving as the Society's president, she will continue her role as a manager with NREL and will chair ASHRAE's Board of Directors and Executive Committee. Hayter is the second woman to lead the organization in more than 120 years.
NREL-Led Team Identifies Path for India to Achieve Its Renewable Energy Targets
The government of India has laid out an ambitious goal: 175 gigawatts (GW) of installed renewable capacity by 2022, including 100 GW of solar and 60 GW of wind. To determine the impacts of operating a power system with this level of wind and solar and identify actions to improve their integration, the government turned to a team of specialists from NREL, India's Power System Operator, and Lawrence Berkeley National Laboratory.
The result of this collaboration was a grid integration study that resolved critical questions about how India's electric grid can manage high penetrations of wind and solar generation. The study used specially designed weather and power system modeling to identify how India's power system balances generation and demand throughout the year. Compared to conventional power, India's key renewable energy options are more variable, less predictable, and are often farther from demand centers.
The study identified actions that are favorable for successful wind and solar integration and demonstrated that power system balancing with 100 GW solar and 60 GW wind is technically and economically achievable at 15-minute operational timescales with minimal renewable energy curtailment.
See NREL's India Renewable Integration Study page to learn more.
NREL Wins Best Presentation Award at Renewable Energy Conference in Japan
Researchers from NREL won the Best Oral Presentation Award at the Grand Renewable Energy 2018 International Conference in Yokohama, Japan, held June 17–22. The presentation, titled "Integrating More Solar with Smart Inverters," was a collaboration with HECO that detailed recent progress on the use of advanced inverter grid support functions in actual power grids in Hawaii.
Solar installations in Hawai'i have soared over the past decade in response to relatively high electricity costs from traditional generation coupled with incentives. These conditions made it cost-effective to install solar PV on residential homes and larger central-station PV plants, to the point where PV has reached over 50% of the installed generation capacity base on some islands. To make sure this inverter-based PV generation can maintain stable and safe operations, new advanced inverter functionality is being evaluated and demonstrated at significant scale across the islands.
See the winning presentation and paper from the conference.
See What's Coming Next at the 2018 Grid Modernization Initiative Peer Review
DOE's Grid Modernization Initiative (GMI) recently released an updated agenda for its 2018 peer review, which will be held September 4–7 at the Sheraton Pentagon City Hotel in Arlington, Virginia. Check out the agenda to view the dates and times of panel discussions, a poster session, and the formal project review. Secure your spot and register for the peer review today.
During the peer review, a portfolio of grid modernization activities across 13 programs will be reviewed, including 7 recently awarded Resilient Distribution Systems projects. The comprehensive review will look at the projects at a program level, provide lessons learned, and share best practices. A poster session will provide an opportunity for attendees to talk with the researchers and learn about the more than 80 projects in the portfolio. In addition, a dedicated session will discuss the 11 Pioneer Partnership Projects that ended earlier this year.
All GMI activities are guided by the Grid Modernization Multi-Year Program Plan (MYPP), which describes a portfolio of activities to help set the nation on a cost-effective path to a resilient, secure, and reliable grid that is flexible enough to provide an array of emerging services while remaining affordable to consumers. GMI leadership will unveil updates to the MYPP on the first day of the review.
For more information about DOE's strategic, comprehensive approach to grid modernization, visit the Grid Modernization Initiative section of the DOE website. To learn about the projects reviewed during last year's review, read the 2017 Grid Modernization Peer Review Report.
Please contact gmi@hq.doe.gov with any questions.
Resilience Week: Protecting Critical Infrastructures Across the United States
Unexpected events—such as weather-related disturbances or cyber-attacks to the power grid—can have impacts across cities, regions, or the country through interconnected critical infrastructure systems. Right now, many of those connections are invisible, making it difficult to put effective mitigation strategies in place.
In an effort to discuss how private and public partners can work together to ensure a secure and reliable flow of energy across the nation, Idaho National Laboratory and sponsors are hosting Resilience Week in Denver, August 20-23. Plenary sessions and speakers will focus on cybersecurity R&D for critical infrastructures, communications networks, and cognitive social sciences. ESIF tours will be held for participants at NREL on August 24, from 9 a.m. to 12 p.m.
Participants will also have the opportunity to engage in two resilience challenges! One game, a modified version of capture the flag in a virtual maze, challenges players to pass the "five gates of resilience." The other, the Grid Game, immerses players in a real-time simulation-based environment where they must compete with each other to grow the best microgrid in the universe.