Partnerships Electrify the Future of NREL Buildings Innovation
Diverse Collaborations With Communities, Utilities, Industry, and Others Strengthen NREL's Clean Energy Mission
---
Transforming homes, offices, schools, restaurants, hospitals, and everything in between to efficiently run on clean energy is a complex area of research. Each building presents a unique challenge—there is no one-size-fits-all approach.
As a federal laboratory, the National Renewable Energy Laboratory (NREL) partners with stakeholders across the building technology sector to help ensure that objective, science-based research accelerates a reliable, affordable, and equitable decarbonized energy system.
The diverse portfolio of partners assembled by the NREL buildings research team supports three key components of achieving ambitious clean energy goals: (1) driving cutting-edge research, (2) accelerating market transformation, and (3) facilitating community engagement to ensure technologies are feasible and relevant to a variety of building types and environmental conditions.
"Each new question posed by our partners could lead to the next scientific leap forward," said Marcus Bianchi, strategic partnerships lead for NREL's Building Technologies and Science Center. "Questions feed the system and force us to consider something we have not thought of before."
A willingness to listen to these questions and explore them through partnerships has led to NREL's long history of successfully collaborating to solve some of the toughest clean energy and energy efficiency challenges.
Taking Cutting-Edge Technology to the Next Level
NREL partners gain access to industry-leading research expertise, world-class facilities, and unique technical capabilities that can be critical to cleantech startups. Blue Frontier, an innovator in ultraefficient sustainable air-conditioning technology, leveraged NREL's capabilities to develop the first energy-storing, grid-interactive, all-electric air conditioner, with the potential to reduce CO2 emissions by up to 85% compared to traditional refrigerant systems.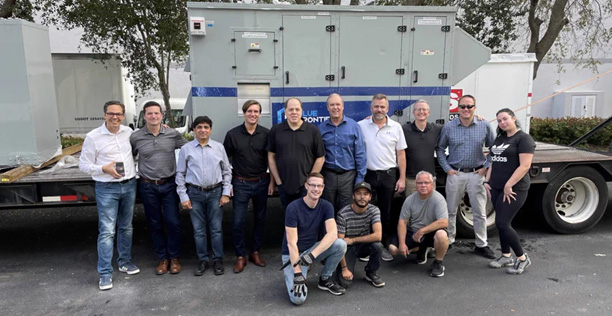 Blue Frontier's technology incorporates two NREL innovations in its heating, ventilating, and air-conditioning (HVAC) solution. The first is a cooling process using indirect evaporative air conditioning, which provides the cooling effect. The second is a concentrated salt solution (or desiccant) that controls humidity. The two processes are combined into a single conditioner system that cools and dehumidifies building spaces while using minimal electricity to run fans and pumps.
Eric Kozubal, senior mechanical engineer at NREL, said it has been a long road to this achievement. He developed the desiccant-enhanced evaporative air conditioner technology more than 10 years ago with NREL colleagues Ron Judkoff, Jason Woods, Steven Slayzak, and Jay Burch.
Kozubal explained that their goal, with support from the U.S. Department of Energy's Technology Commercialization Fund, was to combine several related NREL technologies into one package and produce a high-efficiency, environmentally friendly HVAC system for the mass market. The first prototype was developed and tested over the past two years at NREL under the Wells Fargo Innovation Incubator (IN2) program, with Kozubal's team focused on developing a commercial, production-ready design.
"The electrification of this technology is a real breakthrough," Kozubal said. "The combination of efficient electrical regeneration combined with simple, low-cost storage creates a system that saves up to 80% of energy costs and shifts the remaining energy to low-carbon sources."
Blue Frontier recently received $20 million from Bill Gates-funded Breakthrough Energy Ventures. This funding will enable the creation of a Blue Frontier HVAC pilot model possible within the next two years.
"The electric grid of the future desperately needs energy storage solutions like this," Kozubal said. "Blue Frontier and NREL are working to create a more economical alternative for utilities."
Pushing Heat Pump Systems to New Levels
Upgrading existing buildings to efficiently run on clean energy will help reduce our nation's carbon emissions. There are many solutions, including the introduction of efficient electric equipment and appliances, including heat pump systems.
For many U.S. households, heat pump systems can be a cost-effective option to improve home comfort while delivering energy and cost savings that make homes more affordable to live in. While there may be misconceptions about the rapidly evolving technology, heat pump systems have proven the ability to adequately heat homes through a range of temperatures. As technology continues to advance, heat pump systems will continue to perform at higher efficiencies and lower energy costs.
"Simply put, a properly selected and installed heat pump system will effectively heat a home, even in very cold temperatures," said Roderick Jackson, laboratory program manager for building technologies research at NREL.
Heat pumps are typically installed as part of a system with operating modes that can include electrical resistance heating as needed to meet heating loads.
"We are starting to see manufacturers bring heat pump technologies to markets with much higher operating efficiencies than we have historically seen," Jackson added. "It's an exciting time for the evolution of this technology, and it's important that we provide credible and objective research related to this area."
Work is underway with longtime partner Xcel Energy to investigate the performance of residential air-source heat pumps. The research will combine laboratory evaluation at NREL's Thermal Test Facility with field validation to provide a comprehensive perspective on energy demand and efficiency, while meeting heating demand at colder temperatures and higher altitudes.
"Combining field and laboratory evaluations can provide a more comprehensive view of heat pump performance in cold climates," said Jon Winkler, senior engineer at NREL. "In our lab, we are able to quickly switch between different modes of operation, collect data from high-accuracy sensors, and better control conditions. In the field, we can include human behavior and comfort factors."
NREL's integrated approach to buildings research goes beyond single components to consider the whole system and support equitable deployment of new technologies. Adapting the electric grid to support a large number of heat pump systems requires planning and investment to meet customer loads while maintaining reliability and affordability.
"Working with a utility like Xcel, which offers rebates for cold climate heat pumps, creates a feedback loop to better understand in real time how heat pump systems are installed and what happens as more are introduced to the grid before they are deployed at scale," Winkler added.
Calibrating Solutions To Work for Communities
There are many potential benefits and strategies to address energy systems integration and decarbonization at the community level. NREL's URBANopt™ (Urban Renewable Building And Neighborhood optimization) helps deliver solutions as an advanced analytics platform for high-performance buildings and energy systems.
"We are proud of the capabilities URBANopt has to offer and the potential it has to help communities improve efficiency, reduce demand, and increase resilience," said Ben Polly, innovation lead for the NREL Buildings Communities and Urban Districts research area and principal investigator for URBANopt.
A collaboration with the University of California–Irvine for a California Energy Commission-funded microgrid design project led the team to the Oak View community in Huntington Beach, California. The goal of the Oak View project was to improve the reliability and resilience of the electric grid by achieving zero energy through deep energy efficiency, on-site renewables, and storage combined with advanced community-scale energy system control.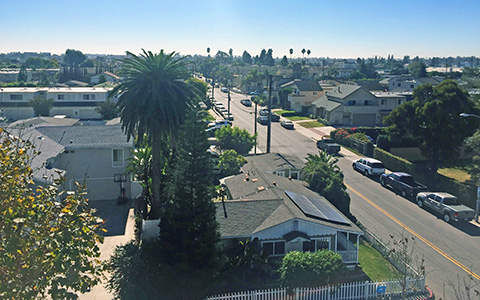 "URBANopt enabled UC Irvine and NREL to assess different scenarios for building energy efficiency, electrification, and optimal distributed resources for the community while identifying, quantifying and addressing impacts to the local electric distribution infrastructure," said Sammy Houssainy, mechanical engineer at NREL and principal investigator on the project.
"Building energy modeling provides an invaluable framework for predicting and analyzing energy consumption and building performance," said Katherine Fleming, software engineer at NREL. "For our analyses to be accurate and relevant to communities, we need to think critically about the model representations we are using. In our baseline data, we assumed comfort metrics that determine the energy consumption and what are considered standard household appliances."
During the on-site validation efforts by UC Irvine, Oak View community leaders, and NREL team members, it became clear that the baseline data for the building energy models needed fine-tuning. Many homes did not have cooling equipment, such as fans or air conditioners, and in the homes where cooling equipment was present, it was often not used in a way that provided ideal comfort for residents.
"We learned first-hand that prototypical building models based on industry standards are not always realistic, which meant we had to immediately rethink our assumptions," Fleming continued.
Fleming led regular communication between NREL's software engineers and community partners to gather information for potential improvements. Here, the team recognized the need to expand URBANopt's capabilities to capture nuances in the baseline data, including the presence or absence of appliances that had been previously included as standard, the ability to vary the number of occupants in a household, and a wider range of options related to indoor air temperatures.
"While projects like this help improve URBANopt's ability to represent more diverse neighborhoods, our work is not done," Polly added. "Equitable building modeling analysis is essential to our transformation to clean energy, and further improvements are needed."
Working Together for a Clean Energy Economy
NREL leverages one-of-a-kind facilities, software development capabilities, and data analytics expertise to solve the most pressing challenges facing the buildings industry. With state-of-the-art integrated research platforms and award-winning building scientists, NREL works with its partners to provide solutions based on a strong scientific foundation.
"We work hard to innovate cutting-edge technologies and expand our knowledge base, but we're also focused on evaluating existing technologies in an integrated fashion as we move toward a decarbonized future," said Achilles Karagiozis, director of the Building Technologies and Science Center at NREL. "We look forward to working with more partners and engaging a wider range of communities to make this happen."
Explore NREL.gov for more information on NREL Buildings research and partnership opportunities.