Clean Energy for Healthy Communities: Q&A With Dana-Marie Thomas
---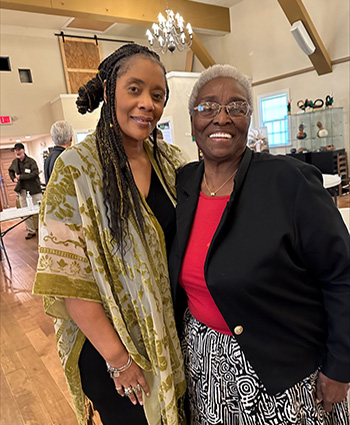 Dana-Marie Thomas believes that all communities should have access to clean, affordable, and reliable energy and that energy resilience is essential for promoting health and well-being. Thomas currently applies her expertise in policy, community health, and stakeholder engagement as a researcher in the Resilient Systems Design and Engineering Group at the National Renewable Energy Laboratory (NREL).
In this interview, Thomas describes how she works with communities across the country to advance their clean energy goals and the ways local leaders access expertise and resources from the Department of Energy (DOE).
How did your career path lead to NREL?
I have been a researcher and a professional in many different fields, but much of my scholarship has focused on public and community health, epidemiology, nutrigenomics, health disparities, and community-engaged approaches to identify environmental determinants of health among populations at greater risk of disease. This subject became personal when my family experienced prolonged power outages due to hurricanes in Florida, where I live. My 95-year-old grandmother relied on supplemental oxygen and certain foods for her health, and the power disruptions made me realize the critical link between energy, health, and equity.
The way energy is produced and consumed has a profound impact on public health outcomes, especially for vulnerable populations and underserved communities. Now that I work at the nexus of health and energy, I consider everything from air pollution and the impacts of climate change to how local governments can plan power systems that promote the well-being of the population.
What is your current role?
I'm a researcher in the Resilient Systems Design and Engineering Group, and many of the projects I lead or support include providing technical assistance to communities transitioning to clean energy. I collaborate with the local stakeholders and decision makers to understand the barriers and opportunities for achieving their energy goals and to address community vulnerabilities through resilient planning and design. I have also developed research and tools to inform implementation, governance, and metrics to measure return on investment.
What is one project you are excited about?
DOE's Clean Energy to Communities (C2C) Expert Match program connects local governments, tribes, electric utilities, and community-based organizations with experts at national laboratories. As one of the community leads for the C2C Expert Match, I act as a liaison between communities and subject matter experts, and I help to scope and monitor the work. I like that the project draws on my years of experience in stakeholder engagement and is designed to promote equity.
For example, I am matched with the largely agricultural community of Bealsville, Florida. The Black Farmers' Collaborative came to C2C to explore cost-effective and resilient solutions to the economic, energy, and agricultural priorities of its members and the surrounding community. Residents have also expressed environmental justice concerns over fertilizer runoff into water sources and other exposure to pollution. Bealsville farmers are considering two potential clean energy solutions⁠: agrivoltaics to make their farms more commercially competitive and solar photovoltaics on houses of worship as a hub for community engagement on clean energy.
Why is equity an important consideration in grid modernization and the clean energy transition?
Low- to moderate-income households comprise about 40% of households in the United States. Without including underserved households, we will not achieve an energy transition. The communities I work with may not have extensive technical expertise, but they know they do not want to be left behind. I am deeply committed to addressing issues of energy equity and community resilience.
What tools and resources at NREL may be helpful to planners interested in energy security and resilience?
SLOPE, or State and Local Planning for Energy, is a platform that helps communities and states gather, analyze, and apply data to explore what energy pathways are available to them. For example, SLOPE measures a community's energy consumption, the energy they could generate from renewable sources, CO2 emissions, and the economic implications of various energy strategies. The data also help communities quantify goals and track priorities so they can evaluate their policies and programs. Many of our resilience resources are available on NREL's Energy Security and Resilience Research website.
What do you like about working at NREL?
I get to think strategically, operationally, and tactically to solve unique challenges with my research team, and our holistic approach blends my interests in energy resilience, technology, policy, and health. At NREL, I feel I am making a difference in the world while also growing professionally. I have finally found my purpose: helping to advance the energy transition and leveraging innovative clean power technologies to promote human health.
What might your colleagues not know about you?
I adore butterflies. I come from a multiethnic background, and many of my relatives speak Spanish and Portuguese. I love listening to all types of music, especially Brazilian and classical. I love classic movies, too. My mother named me after the silver screen movie star Dana Andrews.
Learn more about NREL's support for state, local, and tribal governments.