Building Sustainable Energy Careers Through Summer Internships
JUMP Into STEM Winners Unlock New Career Opportunities and Impactful Research During Summer Internships at NREL
---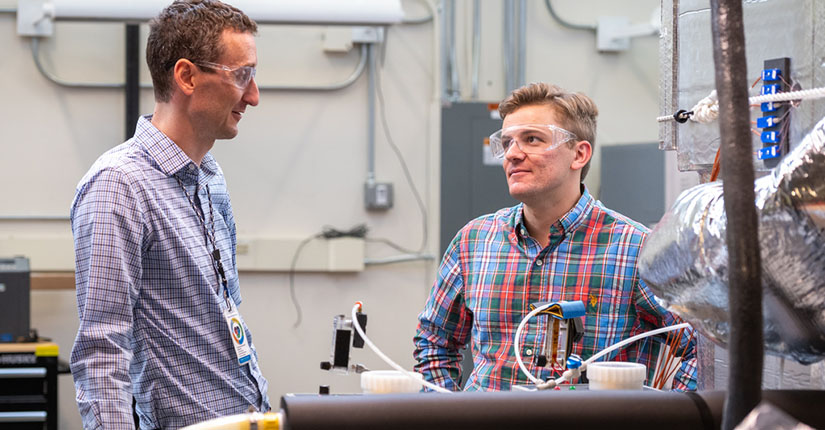 For many students, a paid summer internship is the capstone of their degree—an opportunity to flex their academic and research muscles in their industry of choice. But for Zackery Trahan, a master's student in the School of Architecture at the University of Louisiana at Lafayette and a studio director at an architecture firm, interning at the National Renewable Energy Laboratory (NREL) has led to some revelations about his future.
"I've realized that my degree is worth so much more," Trahan said. "I had a preconceived idea of what a research lab consisted of and how my studies in school didn't relate to that. But my plans after college in the winter have been completely tossed up because I really like what we do here at NREL. It gives a different sense of fulfillment compared to being at a firm."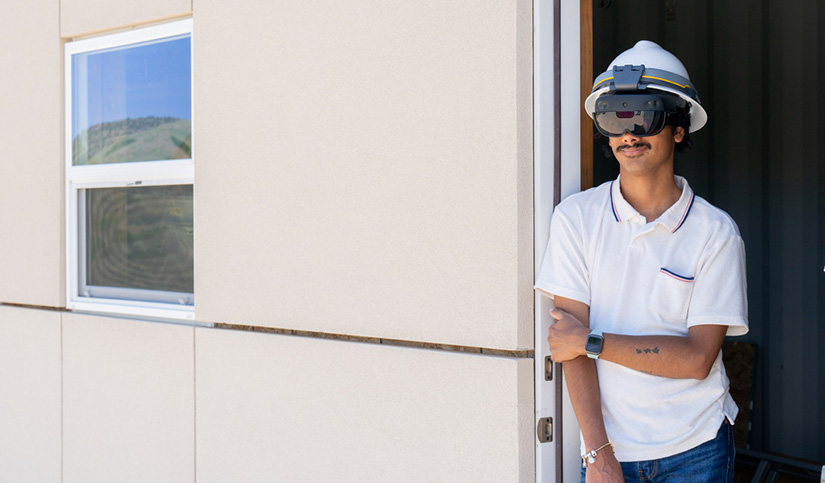 Trahan is joined by three other students who earned a 10-week paid internship on NREL's Buildings team this summer through JUMP into STEM: Andrew Fix from Purdue University, and Julia Ehlers and Danika Ratnapradipa from University of Nebraska, Omaha.
"I think this internship has been really groundbreaking for me in terms of seeing the other side of things," Ratnapradipa said.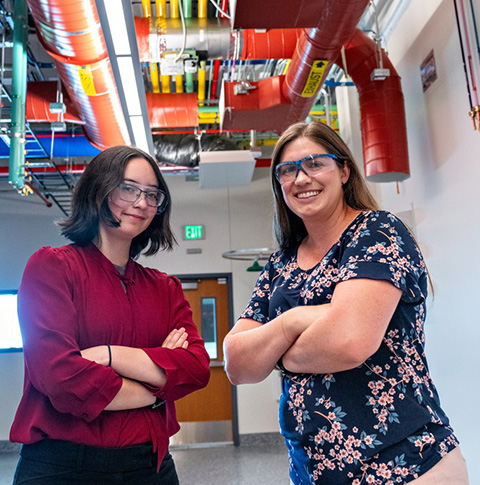 In addition to real-world research experience, internships like those offered to JUMP into STEM Final Competition winners can be an eye-opening experience for students who may not be aware of how buildings research can play a part in their careers. Whether it is an interest in sustainability, energy equity, or decarbonization, NREL's 2023 JUMP into STEM summer interns are finding that work in a national laboratory can help them meet their own goals.
"The whole reason I went into my major was for sustainability and to help protect the environment while also treating people with dignity," Julia Ehlers said. "I had never considered getting into research before this, but they're doing a lot of things here that I find so interesting."
It is not just interns who are making discoveries this summer. NREL mentors are seeing benefits too.
"Teaching is learning for us," said Willy Bernal Heredia, an engineer in NREL's Building Technologies and Science Center and one of Ehlers' mentors. "We had a really great experience with Julia. This was my first experience with JUMP into STEM, and we were very open-minded going into it—but it exceeded our expectations significantly."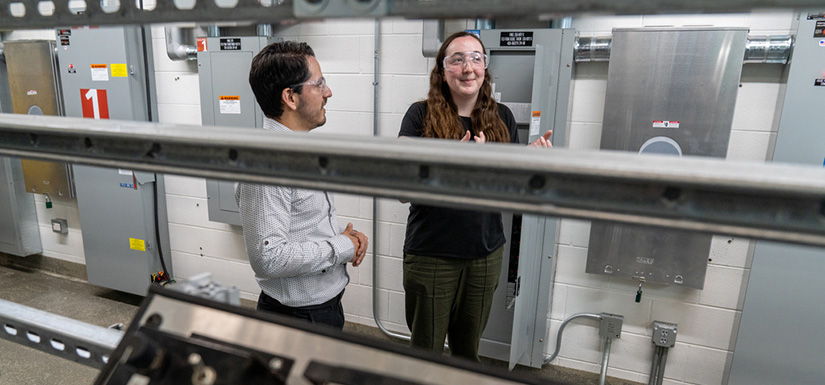 As the summer draws to a close, both interns and mentors reflect on the impact of their time at NREL.
New Career Pathways Uncovered
Julia Ehlers, University of Nebraska, Omaha
When a professor gave her class the option to take a final exam or participate in JUMP into STEM, rising junior Julia Ehlers said her entire class opted to submit to the competition. But for Ehlers, who had recently worked on a project on tiny houses, JUMP into STEM wasn't just a way to get out of taking a test.
"If it's an excuse to learn about something interesting in my niche, I'll take it," Ehlers said.
While at NREL, Ehlers is focused on increasing accessibility to household electrification by finding alternatives to expensive panel upgrades. Heating and cooling use the most energy in residential buildings, so Ehlers examined how building envelope upgrades that are designed to use less energy, like installing insulation in walls and roofs, could decrease the demand on the electrical panel. By creating less demand, there is an opportunity to install new electrical appliances like water heaters and cooking ranges without panel upgrades.
"I think Julia got a very good perspective as an architectural engineer for electric and mechanical solutions to the house, exploring her view and getting her research done to get panel capacity from an architectural perspective," said Omkar Ghatpande, a research scientist in NREL's Building Technologies and Science Center and another of Ehlers' mentors.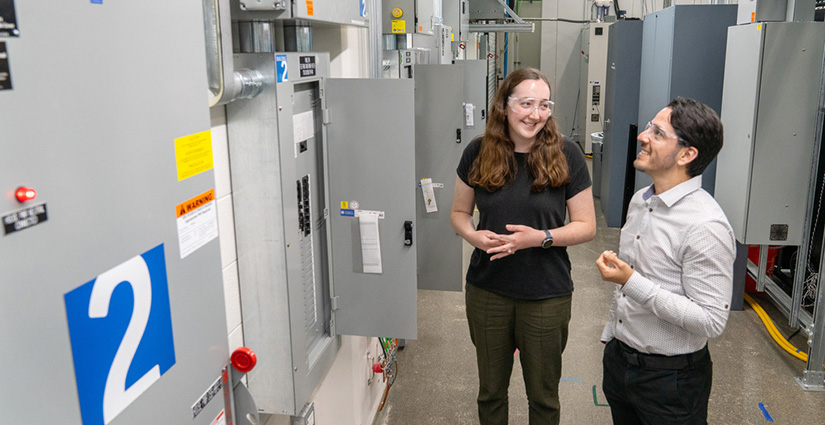 This is the second internship Ehlers has completed as part of her undergraduate program. She plans to return to school in the fall and eventually pursue a master's degree. From there, she is planning to explore the nonprofit realm, particularly those focused on the current housing crisis.
"The idea that I've gotten to explore everything in a research lab this summer has been cool," Ehlers said, reflecting on her internship. "Since I was here for a short time, I was able to focus on the little 'aha' moments and nuggets along the way instead of the end goal. Getting to explore that this summer has been amazing."
Andrew Fix, Purdue University
Doctoral candidate Andrew Fix was not necessarily seeking out a competition to participate in last fall or an internship to add to a busy summer. Nearing the completion of his degree in mechanical engineering, where his research focuses on energy efficiency in air-conditioning units, Fix ended up submitting to last year's JUMP into STEM challenges at the urging of a professor.
"Once we got into it, it was really fun," he said of the competition. "When we got past the first round and knew that we would come to NREL, it was exciting."
As an intern, Fix is working to help mitigate the energy inefficiencies associated with building dehumidification through air conditioners. Research at NREL shows that liquid desiccant fluids that interact with humid air to absorb water vapor can provide large energy efficiency benefits along with other benefits like energy storage.
To dive deeper into the potential of this technology, Fix's time is split between working on a complex modeling project that simulates the performance of a large desiccant system, while also testing a version of the system out in the lab. This includes simulating the system in a range of locations and building types.
"With research, it comes back to how important a problem is," Fix said. "Ten percent of all electricity globally is spent on cooling and ventilating buildings. A huge chunk of global energy is spent on dehumidification. There's a big push to reduce carbon and improve energy efficiency while lots of countries are gaining access to air conditioning. It's a critical field that needs to be improved rapidly in the next decade since it affects most people."
Fix plans to return to school to complete his Ph.D. in the fall. He is currently inclined to pursue a career in academia at a research university in order to continue his work and views this experience at NREL as a great way to meet future collaborators.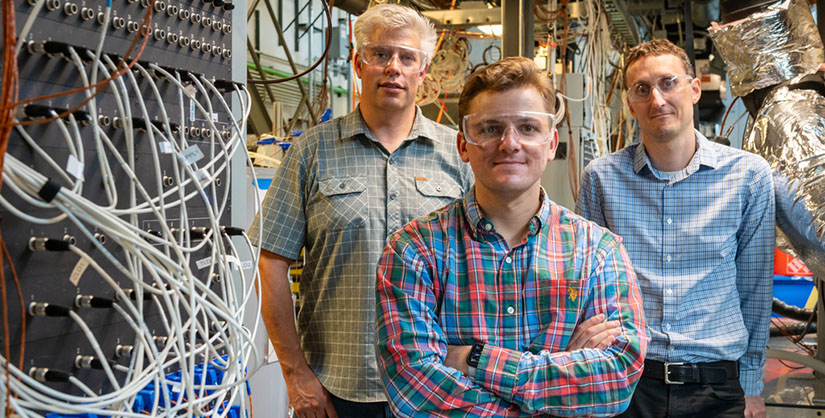 "We're really impressed with how quickly Andrew has gotten up to speed with what needs to be done," said Fix's mentor, researcher Jason Woods. "I always find that interns like Andrew ask questions that you forget to ask. Because of that, we received a new perspective on the project that I appreciate."
Danika Ratnapradipa, University of Nebraska, Omaha
Ratnapradipa, a rising junior majoring in architectural engineering, discovered the potential of heating, ventilating, and air conditioning (HVAC) research through JUMP into STEM and her internship with NREL's Residential Buildings Solutions and Scaling Group.
"JUMP into STEM gave me a better appreciation for the process of how things get implemented," she said. "It's not just thinking of a solution, but it's more so how you go about making it possible and making it available to everyone."
As an intern at NREL, she is working with the Federal Energy Management Program's (FEMP) Smart Labs team to create a template for the Smart Labs Toolkit that will enable anyone to better optimize lab ventilation and save energy. The program enables safe and efficient science through methodologies to manage high-performance laboratory spaces. Working with HVAC systems through the perspective of a national laboratory has shown her how this can tie into her own research interests and has allowed her to try her hand in a project management role.
"Danika's been a quick learner," said Rachel Romero, senior engineer and project lead in the Building Technologies and Science Center and Danika's mentor. "I think labs can be really complex programs to navigate, and she's learned very quickly and taken in a lot of information on other organization's ventilation best practices and brought them together in a single location, which hasn't happened before."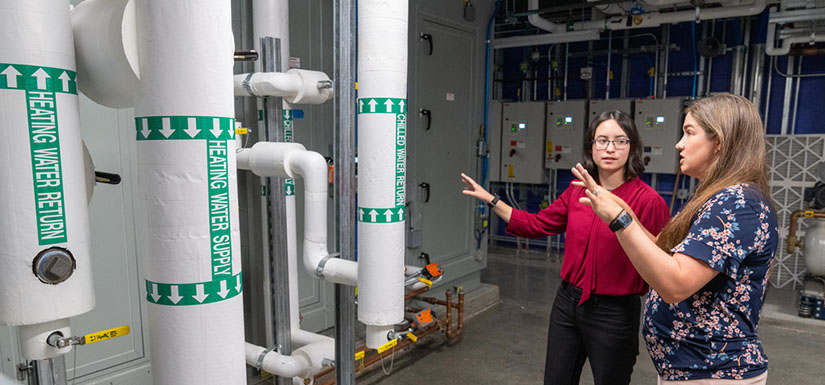 After completing her bachelor's degree, Ratnapradipa plans to continue onto graduate school and to secure a professional engineering license.
Zackery Trahan, University of Louisiana, Lafayette
Within the Commercial Buildings Controls and Analytics, Trahan is working to streamline retrofits for low-rise and mid-rise multifamily housing. Through this project, Trahan is working with Trimble's Architecture, Engineering, and Construction (AEC) teams to create 3D scans of buildings that require retrofitting. The data from these scans can then be sent to a panel manufacturer to create an easier process for builders and contractors to install the retrofitted panels onto buildings.
"I think Zackery brings a unique perspective," researcher and mentor David Goldwasser said. "We sometimes get caught up in the lab with what we're developing within these walls, but Zackery represents both industry as a studio manager and the next generation as a student. Internships like this show how students like Zackery can change the world and how they can make sure that what we're doing in the lab impacts the environment positively in a way that's equitable."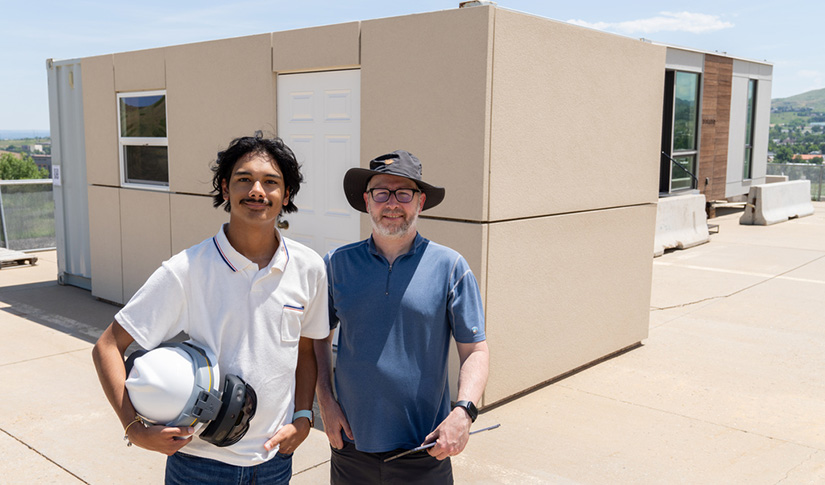 Trahan plans to return to Louisiana at the conclusion of his internship to complete his graduate studies. He also aims to become a licensed architect and achieve LEED Green Associate certification, a professional credential that signifies core competency in green building principles. His time at NREL has helped develop an interest in pursuing a career at a national laboratory or other research facility in order to continue working toward his career goals.
"This is definitely going to impact my career, no question about that," Trahan said of his time at NREL. "This internship has helped me understand that there are possibilities to achieve my career goals through research and also to be an advocate for other people, like future students that may go into architecture and don't even realize that there are career opportunities outside of a firm."
The JUMP Into STEM 2023–2024 Season Is Underway
While the summer may be coming to a close, the sixth annual JUMP into STEM is just getting started. The competition is open to teams of two to four students enrolled at U.S. colleges and universities. Mixed-major teams are highly encouraged. This means teams consisting of students researching different fields related to the building industry (e.g., architecture, engineering, public policy, computer science, economics, and more).
The competition is judged in two rounds:
Fall Semester Challenges: Student teams select one of this year's challenge topics and respond with a written solution. Challenge-level winners are selected from each of the three challenges. Challenge winners are awarded one-on-one mentorship opportunities.
JUMP into STEM Final Competition: Eligible challenge-level winners are invited to compete against each other in person at the Final Competition, which will be held at Oak Ridge National Laboratory (ORNL) on Jan. 25–26, 2024. Final Competition winners are offered a 10-week paid summer internship at NREL, ORNL, or Pacific Northwest National Laboratory.
2023–2024 Challenge Topics
You and Me, Carbon Free!
The objective of this challenge is to develop an innovative solution that will reduce carbon emissions from U.S. buildings (residential or commercial, new or existing). Problem statements can address embodied carbon emissions and/or operational carbon emissions. Innovative solutions should lead to significant reductions in carbon emissions and increased affordability for identified stakeholder groups to obtain new technologies.
Keepin' It Cool (or Hot)
This challenge focuses on developing an innovative solution for thermal energy storage for buildings to optimize energy utilization, enhance sustainability, and increase resilience. The solutions could involve (but are not limited to) integration of materials, systems, and controls for the storage and release of energy.
That's a Wrap!
The objective of this challenge is to improve the building envelope performance of new or existing residential buildings by reducing energy consumption in a cost-effective and accessible way.
JUMP into STEM Challenge submissions are due November 10.
Learn more at JUMPintoSTEM.org.