Announcing the 2023 JUMP Into STEM Final Competition Winners
Take a Look Inside the Exciting Conclusion to This Year's Collegiate Building Science Competition
---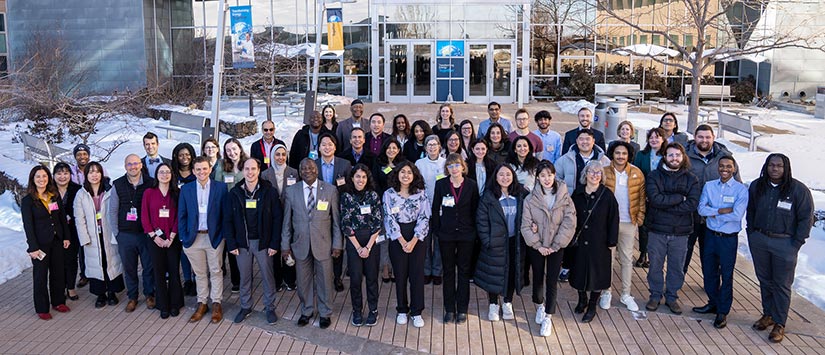 Students and professors from across the country, an esteemed panel of judges, and program supporters from the U.S. Department of Energy converged in Golden, Colorado, for the 2023 JUMP into STEM Final Competition. The two-day event included networking sessions, professor collaboration opportunities, early-career support, tours of the National Renewable Energy Laboratory's (NREL's) world-class facilities, and the main event: eight student-team presentations with unique solutions to the most pressing issues facing today's building industry.
"The JUMP into STEM student competitors are truly inspiring—they are accomplished in their work in the universities and come ready for the challenge," said Kim Trenbath, innovation lead and senior researcher in the Building Technologies and Science Center at NREL and director of the JUMP into STEM management team. "In addition to developing and presenting novel solutions to complex issues, they were also asked to consider how their solutions would enter the marketplace and do so in an equitable way."
Jongki Lee, a Ph.D. candidate specializing in architectural and environmental engineering at Illinois Institute of Technology, shared that he participated in the program because it serves as a bridge between what he studies in school and a future career path. "It's a good connection to the industry and an opportunity to get a taste of the research field," he said.
JUMP Into STEM Final Competition Day 1
"JUMP into STEM is a great opportunity—it gets you thinking about the different areas related to the future of buildings," said Musa Salaam, freshman at Clark Atlanta University, double majoring in aerospace engineering and physics. "Coming here has left me very hopeful. You meet all these people who have their Ph.D., and it makes you want to stay the course, because you see the outcome. Even if it's not what I came into college for, these are the people I want to be around."
NREL Campus Tour
JUMP Into STEM Finalists
2023 JUMP Into STEM Final Competition Judges
Fredericka Brown, Senior Advisor, Buildings Energy Storage, Pacific Northwest National Laboratory
Jennifer Mott Peuker, Assistant Professor, California Polytechnic State University, San Luis Obispo
Andrew Rodgers, Co-Founder, ACE IoT Solutions
Teams were invited to compete at the 2023 JUMP into STEM Final Competition based on exceptional submissions to this year's Challenge topics and interest in the chance to earn an internship at a national laboratory. Each of the eight student teams invited to the Final Competition had 20 minutes to present their innovative building industry solutions to the live audience and answer questions from the panel of judges.
Challenge Topic: Curb Your Carbon
Clark Atlanta University—Nicholas Bell and Musa Salaam
Illinois Institute of Technology—Jongki Lee, Minyoung Kim, and Susan Mon
Vanderbilt University—Arielle Kopp
University of Texas at Austin—Eliza Salmeron and Eesha Bilal
Challenge Topic: It's Electric
Purdue University—Andrew Fix, Dohyeon Kim, and Sarah Alkandari
Challenge Topic: Sustainable and Resilient
Metropolitan State University of Denver—Zach Parker, Jenni Kerns, and Lucas Guimaraes
University of Louisiana at Lafayette—Parker Vice, Gabe Hoggard, and Zackery Trahan
University of Nebraska—Anu Adeyemo, Danika Ratnapradipa, and Julia Ehlers
"The students are exceptional," said Yeonjin Bae, the Technology-to-Market subprogram manager at Oak Ridge National Laboratory and JUMP into STEM manager. "It was exciting to see students from various backgrounds and different majors bringing brilliant ideas together in such an impressive fashion."
The two-day event concluded with a live announcement of winners, who were each offered 10-week paid internships at NREL, Oak Ridge National Laboratory, or Pacific Northwest National Laboratory.
JUMP Into STEM Final Competition Winners
"Steel-Timber Composite Beam Machine"
Arielle Kopp
Vanderbilt University
To help with the reduction of embodied carbon in buildings while simultaneously improving their structural integrity, this solution proposes the use of composite steel-timber beams within the construction industry. The team from Vanderbilt University designed a machine that would be utilized at manufacturing plants to create composite steel-timber beams, which involves two channels, to cut and size the steel and timber and then funnel the refined materials into one channel.
"MyHP+: A Personalized User-Friendly Heat Pump Economic Analysis Tool for Homeowners and Building Operators"
Andrew Fix, Dohyeon Kim, and Sarah Alkandari
Purdue University
MyHP+ seeks to make heat pump sizing and financial assessment straightforward, removing complex barriers standing between homeowners/building operators and widescale adoption of heat pumps. These software solutions bridge the gap between cutting-edge research and real-world implementation, giving customers the power to take their energy efficiency and cost savings goals into their own hands.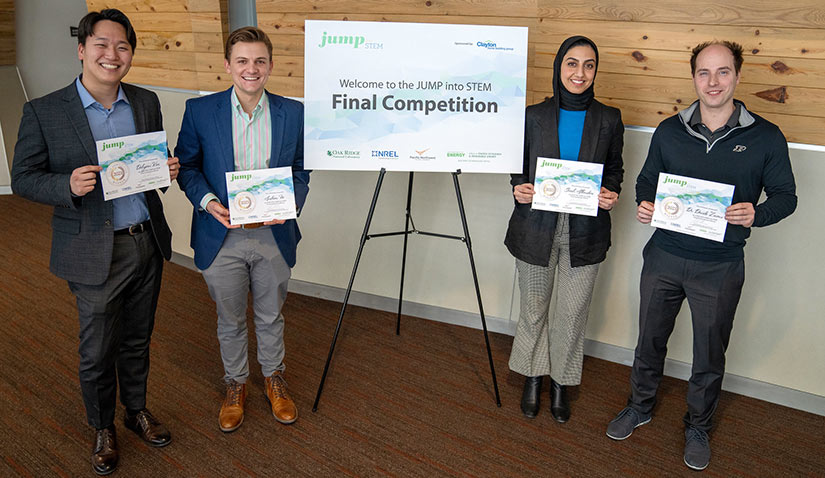 "The Fleet: Tiny Houses Repurposed in the Wake of Disaster"
Anu Adeyemo, Danika Ratnapradipa, and Julia Ehlers
University of Nebraska
This solution focuses on providing shelter to those displaced by natural disasters while keeping in mind their dignity and humanity throughout the process. By creating a fleet of tiny mobile homes to supplement and replace existing disaster relief shelters, upcycled ambulances and buses can be used to provide immediate aid in the wake of a variety of natural disasters.
"Eau-Tarp"
Parker Vice, Gabe Hoggard, and Zackery Trahan
University of Louisiana at Lafayette
The team from the University of Louisiana at Lafayette envisions a shift in the way manufactured homes are viewed to be both affordable and resilient. To serve the communities of manufactured homeowners throughout the Southern Gulf Coast, this solution provides a means to protect homes in the event of a hurricane or flooding conditions and thrive afterwards. By creating a system that allows a home to better withstand the harsh conditions and storing potable drinking water for families to use following the storm, the resiliency of the manufactured homes will improve.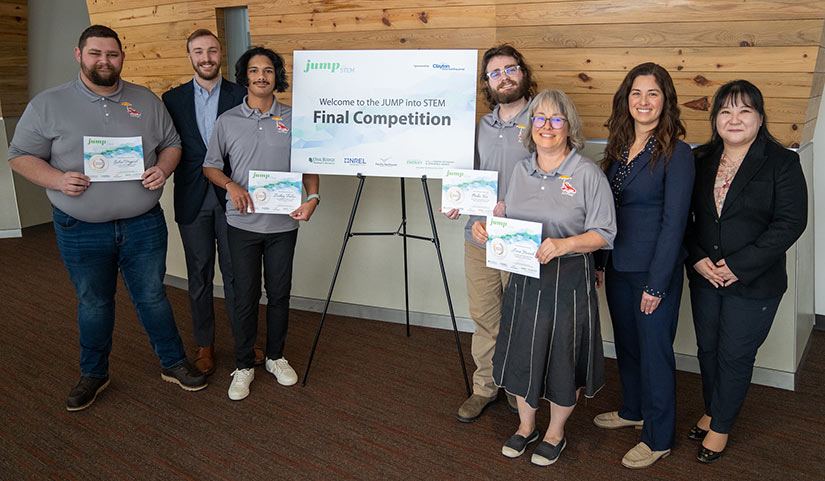 A Growing Opportunity for Building Science
Entering its sixth year, the growing collegiate competition invites student teams with a mix of majors across architecture, engineering, public policy, computer science, economics, and more to compete in challenges relevant to today's building industry.
"JUMP into STEM has given my students the opportunity to be exposed to the buildings sciences, to have hands-on experience in real-life scenarios, and to turn their ideas into reality," said Professor Olugbemiga Olatidoye of Clark Atlanta University. "The focus on diversity in JUMP into STEM is very essential because the problems in the world need diverse perspectives. You might be surprised to find that creativity and innovation comes from every aspect of our society."
Nelson Fumo, assistant professor in the mechanical engineering department at the University of Texas at Tyler, added that it is a wonderful opportunity for him to consider how his area of work could contribute to the goals of the Department of Energy. "And for my students, JUMP into STEM added excitement and an additional opportunity for them to work on a project that would typically just be for a grade—but now it's a chance to win a competition for a 10-week internship at a national laboratory," he said.
Stay tuned for information on competing or participating as a professor in JUMP into STEM's 2023–2024 season.
JUMP into STEM is supported by the U.S. Department of Energy. Visit the Building Technologies Office website for more on energy-efficient and clean-energy building initiatives.