---
NREL Partners To Identify Strategies for a More Equitable Clean Energy Transition in Los Angeles
LA100 Equity Strategies Identify Pathways for Underserved Los Angeles Communities To Reap Benefits of Transition to 100% Clean Energy
Nov. 16, 2023 | By Brooke Van Zandt and Julia Medeiros Coad | Contact media relations
---
Imagine the sun slowly rising over the vast metropolis of Los Angeles, a city that stretches from the ocean to the mountains. As Angelenos wake up for the day, they turn on lights powered by 100% clean electricity. Their homes are cool, protected from the sweltering heat of the California summer. Workers commute to their jobs via electric vehicles, buses, and bikes. Everybody knows that they have a voice in energy decisions of their city.
This is the future that the Los Angeles Department of Water and Power (LADWP) envisions for all City residents. Some think that this goal of clean air, well-paying jobs, economic opportunity, and affordable, accessible energy for everyone is a dream reserved for optimists. But researchers at the U.S. Department of Energy's National Renewable Energy Laboratory (NREL) disagree.
Developed over two years of community engagement, modeling, and analysis, the LA100 Equity Strategies project outlines strategic, community-driven approaches that can help that dream become a reality for Los Angeles.
When NREL released its Los Angeles 100% Renewable Energy (LA100) study in 2021, data showed that the city could reach its 100% clean energy goals as soon as 2035—but the study also revealed that improving equity in the clean energy transition would require intentionally designed policies and programs.
Following the release of the LA100 study, City leaders committed LADWP to achieve 100% carbon-free energy by 2035 in an equitable way, with minimal adverse impact on ratepayers. The City's pledge to produce electricity without generating harmful greenhouse gas emissions specifically prioritizes communities most impacted by environmental harm and aims to shift energy benefits to renters at equitable rates.
To develop implementation-ready strategies to further this goal, LADWP called upon NREL to lead LA100 Equity Strategies in partnership with the University of California, Los Angeles (UCLA).
"It was a momentous achievement to find feasible, 100% clean energy pathways in the LA100 study," NREL Director Martin Keller remarked. "But the new question became, how do we make sure every Angeleno is included and shares in the benefits of that huge technological and societal shift? People, not technology alone, create change. What makes the LA100 Equity Strategies project so powerful is how it reflects the importance of human factors in securing an equitable clean energy transition."
"We firmly believe—we know—that leading with equity is the only path to our city's decarbonized tomorrow," said Cynthia McClain-Hill, LADWP's board president. "Continuing our collaboration with NREL on LA100 Equity Strategies was a natural extension of their earlier successful, equity-focused LA100 research."
Centering People in the Process
NREL knows that an analysis process led by community voices is the key to creating equitable solutions.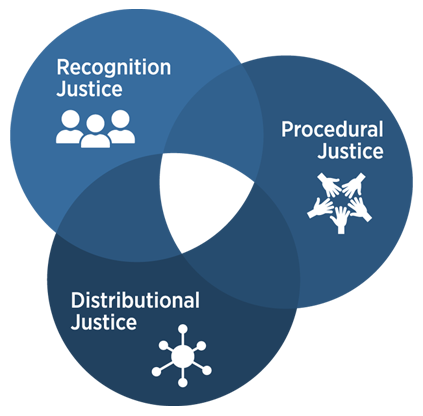 "Recognition justice, procedural justice, and distributional justice provided the foundational framework for our study," said Kate Anderson, NREL strategy lead and project lead for LA100 Equity Strategies. "This meant listening to communities to understand past harms and struggles and then inviting them to codesign and shape the resulting equity strategies."
"We knew we needed to hear from community members to achieve LADWP's goal of making clean energy affordable and accessible for everyone, " said NREL's Patricia Romero-Lankao, the LA100 Equity Strategies technical lead for community engagement and social science. "Set during the original LA100 study, these objectives included dispersing benefits equitably to include underserved, low-income, and historically marginalized communities. That's why engaging directly with community members at the start—and setting up feedback loops throughout the process—was so key to this work."
Out of these initial discussions, a Steering Committee and an Advisory Committee were formed. The Steering Committee was composed of leaders from 14 Los Angeles community-based organizations that are active in energy and environmental justice. This committee met monthly through the duration of the project to help guide the LA100 Equity Strategies team and facilitate listening sessions to elicit community input.
The Advisory Committee included representatives from 27 City of Los Angeles offices and subject-matter experts from City agencies, labor unions, and environmental organizations. They met bimonthly to provide feedback on the LA100 Equity Strategies methodology and results and to facilitate future cross-sector and interagency coordination.
Engaging Communities in the LA100 Equity Strategies Project
19 Steering Committee meetings
9 Advisory Committee meetings
15 neighborhood-specific community listening sessions in Spanish and English
Community-Identified Priorities
The LA100 Equity Strategies team used an iterative process to explore how community members framed energy problems, aspirations, and solutions.
Through the listening, analysis, and feedback sessions, the Steering Committee and underserved community members identified five priority areas for an equitable energy transition in Los Angeles:
Inclusive community involvement
Affordability and burdens
Access to and use of energy technologies, programs, and infrastructure
Health, safety, and community resilience
Jobs and workforce development.
These five community-identified priority areas guided the LA100 Equity Strategies team. Using information gathered from the committees and community-based organizations, the team identified more than 30 potential technology and infrastructure areas to address these priorities. These areas were combined with LADWP input to determine topics for the study's 17 chapters, which show how the community-identified priority areas could be addressed.
NREL: Recognition, Process, and Community Strategies
NREL: Program and Infrastructure Strategies
UCLA: Policy and Program Strategies
Actions To Rise to the Equity Challenge
NREL's engineers and social scientists have a history of collaboration, creating robust tools and processes that address technical, policy, social, and economic barriers to change. The LA100 Equity Strategies team integrated social science research techniques with rigorous data analysis and modeling to identify the benefits and costs of potential pathways, resulting in a range of equity-based strategies.
The strategies include eliciting community members' knowledge, making strategic technology and infrastructure investments, expanding existing programs, and designing new programs and policies to improve equity. Metrics to inform implementation and evaluation, and estimates for costs and benefits are also included.
"At NREL, we excel in cross-disciplinary collaboration and modeling future scenarios," said NREL's Megan Day, the study's technical lead for modeling and analysis. "Our 30-member modeling and analysis team integrated sociodemographic data into NREL's world-class tools to model equity metrics in a variety of scenarios and understand which strategies could best improve equity outcomes."
NREL created a detailed model of 50,000 representative Los Angeles homes across a diversity of housing types, efficiency levels, climate zones, and integrated renter and owner status, income, and disadvantaged community status to test various approaches to increase energy affordability and equitable distribution of clean energy benefits.
Analyzing such a wide range of information can be daunting, which is why the LA100 Equity Strategies team took additional steps to suggest a method for LADWP to prioritize the strategies.
The team found some strategies likely would be easier for LADWP to implement due to lower legislative barriers, LADWP control of implementation, the existence of related programs, and federal or state funding support. These are categorized as low-hanging fruit strategies.
In another category, foundational strategies are prerequisites for successful implementation of other strategies.
While high-impact strategies may have greater barriers to implementation, their demonstrable impact on achieving an equitable 100% clean energy transition makes them critical to achieving long-term equity.
Below are key strategies that address recognition, procedural, and distributional justice. Dive deeper into these strategies and their categorizations in the LA100 Equity Strategies Executive Summary.
Equity Strategies
Implement a collaborative platform for continuous engagement. (1) Formalize LA100 Equity Strategies' partnerships into long-term agreements to maintain a continuous feedback loop with community partners, and (2) allocate dedicated personnel and resources to codesign, implement, and evaluate energy equity programs.
Codevelop programs and services and improve transparency and continuity. Rely on dedicated personnel and the collaborative platform to engage residents in ongoing, consistent, transparent, and community-adapted outreach and communication that builds trust, buy-in, and a continuous feedback loop for decision-making.
Provide tailored outreach and education through local trusted messengers. Build on Community Partnership Grants and Science Bowl to (1) inform ratepayers about programs and technologies and (2) incorporate energy-related resources into community science and the community health workers (promotoras) educational methods.
Provide debt relief and prevent the accumulation of debt through utility bill management procedures and debt relief programs to address a primary barrier to energy affordability.
Expand workforce development programs that provide equitable access to tailored training and high-road jobs (i.e., jobs that provide family-sustaining living wages, comprehensive benefits, and opportunities for career advancement). These are crucial in the cross-cutting priority area of jobs and workforce development.
Distributional Justice
Implement simplified tiered or time-of-use rates and replace solar net metering with net billing. Under current rate and solar compensation approaches, average electricity bills increase more for low-income households than average households by 2035. Rate reforms reduce low-income electricity bills $15 per month by 2035, even when low-income bill assistance programs are eliminated. Switching to net billing reduces the cost shift from solar adopter (typically higher income) to nonadopter (typically lower income) that occurs with net metering.
Explore income-based fixed charges. This rate approach reduces low-income electricity bills by more than $110 per month and eliminates high electricity burdens for all customers by 2035.
Implement robust low-income bill assistance programs. Implementing low-income assistance programs that meet state standards for other utilities reduces LA's low-income household monthly bills by 22% compared to continuing current approaches.
Implement low-income customer on-bill tariffs for energy efficiency. Leveraging Inflation Reduction Act funds and on-bill tariff financing to install heat pump water heaters or enhanced insulation can reduce energy bills without upfront costs, credit checks, or homeownership for 150,000 and 72,000 low- and moderate-income customers, respectively.
Provide heat pump incentives in the Cool LA Program and auto-enroll low-income recipients in bill assistance programs to mitigate energy burdens. More than 30% of extremely low-income households in LA lack access to cooling. Heat pumps have high capital costs but provide up to 29% more energy-efficient cooling compared to window-unit air conditioners. Providing low- and moderate-income (LMI) households incentives can support equitable access to cooling. Bill assistance can help offset increased energy bills for households adding cooling.
Expand direct installation of cooling in low-income households without cooling, prioritizing multifamily buildings. An estimated 230,000 low-income households in LA lack access to cooling and are projected to experience more than two months of exposure to dangerous indoor temperatures by 2035. Multifamily renters have the most dangerous heat exposure in LA, particularly in utility outages. Access to cooling is the most effective intervention to reduce exposure for multifamily residents.
Partner with the Housing Authority to provide cooling and weatherization in public housing and implement mechanisms to mitigate rent increases and displacement associated with LADWP-supported upgrades elsewhere. Renter protections, "right to return" if renovations temporarily displace renters, and mechanisms to prevent short-term rent increases for multifamily rental properties receiving utility-supported upgrades could avert rent increases and displacement for non-public housing receiving low-income-qualified cooling and weatherization interventions.
Establish a low- and moderate-income (LMI) Shared Solar subscription rate. Enrollment in the Shared Solar Program currently requires a premium payment to achieve long-term savings. Implementing a reduced subscription rate for LMI customers and increasing the monthly subscription cap can reduce energy bills for LMI customers by an annual average of $480 per household.
Substantially expand Shared Solar capacity at identified economically viable ≥30 kW public and multifamily sites and allocate 50% of new capacity to LMI subscribers. LADWP solar net energy metering programs disproportionately benefit wealthier homeowners. Expansion of Shared Solar capacity with a discounted LMI rate would enable LMI, renter, and multifamily building households to access bill savings from solar energy and take this benefit with them if they move within the city.
Develop Shared Solar on economically viable ≥30 kW multifamily sites in low-income tracts eligible for 50% investment tax credit (ITC). NREL identified 607 economically viable sites totaling 255 MW of potential capacity that could expand equitable access to solar bill savings.
Expand at- and near-home electric vehicle charging access for low-income multifamily building residents and include low-voltage charging outlets. By 2035, approximately 20% of electric vehicle (EV) owners in LA are predicted to lack at-home charging access, 80% of which will be multifamily building residents. Adding 50,000 charging ports in identified areas without sufficient charging infrastructure would enable more equitable access to EVs. Including e-bike charging options, sidewalk improvements, and lighting improve community-prioritized safety and accessibility.
Provide vouchers or charging subscriptions for public EV charging for low-income households through partnerships with charging network providers or free access to LADWP-owned charging infrastructure. Adopting EVs decreases vehicle fuel cost burdens, yet public charging can cost an average of $300 more per year for households without home charging access. Lower-income households are especially sensitive to price differences.
Establish EV car-share, e-bike, and e-scooter programs in transportation disadvantaged communities to realize cost savings of 7% and reductions in travel time of up to 30% for households who do not own vehicles. Expanding infrastructure to support e-bike programs and use—particularly in the Panorama City, North Hills, Reseda, Winnetka, and Boyle Heights neighborhoods with low vehicle ownership rates and low transit access—would improve safety.
Increase LADWP used EV low-income incentive from $2,500 to $4,000, add a purchase price cap of $25,000 for all rebates, shift to point-of- sale discounts, and establish e-bike and e-scooter rebates. LADWP's investments in residential vehicle electrification and charging were the most inequitable of the programs analyzed, with 77% of residential rebates going to non-disadvantaged communities. Owning a standard-model used EV can reduce median income LA household costs by about 3%. Increasing the low-income used EV incentive could increase used EV adoption among LMI households by 50,000 vehicles by 2035.
Establish goals, a timeline, and a budget for electrification of LADWP's heavy-duty truck fleet, with a heavy-heavy-duty truck carve-out. Heavy-duty trucks in LA generate 51% of on-road transportation emissions of nitrogen oxides and 32% of particulate matter, which contribute to premature death and disease, particularly among disadvantaged communities. Heavy-heavy-duty trucks like fire trucks and dump trucks generate more than five times the near-road pollutant concentrations of other heavy-duty trucks. Traffic-impacted disadvantaged communities benefit 25% more from truck electrification than non-disadvantaged communities.
Establish a city-wide 2035 heavy-duty truck electrification target, a City-owned fleet truck electrification target, and purchase incentives. A goal of approximately 28,000 electrified Class 3-8 trucks in LA by 2035 aligns with state policies. More ambitious heavy-duty truck electrification would contribute proportionally to cleaner air and improved health outcomes.
Establish city-wide charging infrastructure targets aligned with truck electrification goals. Collaborate with city and regional agencies like Southern California Area Governments to optimally locate charging infrastructure. Charging infrastructure needs to meet truck electrification targets:
1,900–3,300 truck chargers by 2025
5,400–9,600 truck chargers by 2030
14,000–24,000 truck chargers by 2035.
Incorporate equity as a metric in prioritizing grid infrastructure investments. Load growth and technology uptake has been more prevalent in wealthier neighborhoods, resulting in inequitable grid investments. Incorporating equity metrics into upgrade prioritization—by using metrics such as grid stress, level of anticipated distributed energy resource (DER) adoption, and demographic data—is crucial to overcoming the inequities seen in current and projected grid stress and corresponding reliability.
Upsize transformer capacity by two to three times when replacing service transformers to accommodate electrification and DERs, particularly those serving customers with low capacity (<125A) service. Equitable access to vehicle electrification, home cooling, rooftop solar, and storage can require increased customer power needs that could be stymied by distribution service transformer limitations. Transformers are being replaced and upsized by factors of 1.6–2x. Load and DER changes may require 2–3+x increases.
Implement community-specific, equitable resilience strategies. Disadvantaged communities have historically lower grid resilience during disaster events, although this varies by neighborhood. Backup generation (such as photovoltaics and storage) and microgrids—supporting critical infrastructure such as hospitals, shelters, grocery stores, convenience stores, and banking—can increase resilience in neighborhoods where NREL analysis identified low resilience scores.
How Other Communities Can Follow LA's Lead
While the LA100 Equity Strategies project is focused on LA's energy transition, the methodologies and many of the strategies can be adapted to other communities that are undertaking an equitable energy transition.
Cities do not have to be as large as LA to benefit from its example. NREL's Accelerating Clean Energy at Scale (ACES) initiative scales NREL's community engagement model in small communities all the way up to regional collaboratives. The laboratory also supports DOE's Communities Local Energy Action Program (which facilitates clean energy deployment in low-income, energy-burdened communities), as well as the Clean Energy to Communities and Energy Transitions Initiative Partnership Project programs (community-designed and community-led projects that target local clean energy goals). Engineers and researchers with Clean Cities, another program that NREL supports, provide hands-on technical assistance to translate high-level policy goals into collaborative practices.
Get Involved
"LADWP's commitment is to make this transition in a reliable, resilient, affordable, and equitable way. Not only will our city lead with clean energy, we will lead with equity, as well," McClain-Hill said. "We're committed to engaging communities in the decision-making process and designing our energy future together."
You can visit LADWP.com/LA100ES for more information on the involvement of Los Angeles community members in the project.
Read the LA100 Equity Strategies executive summary to explore more high-level conclusions from NREL's extensive stakeholder engagement, modeling, and analysis. Dig into the study findings on the LA100 Equity Strategies website, which includes all chapters available for download.