Energy Systems Integration Newsletter: November 2021
In this edition, NREL demonstrates grid stability and black-start capabilities with grid-forming controls for wind turbines, defines long-duration energy storage, brings expertise to the annual Department of Energy (DOE) CyberForce competition, and more.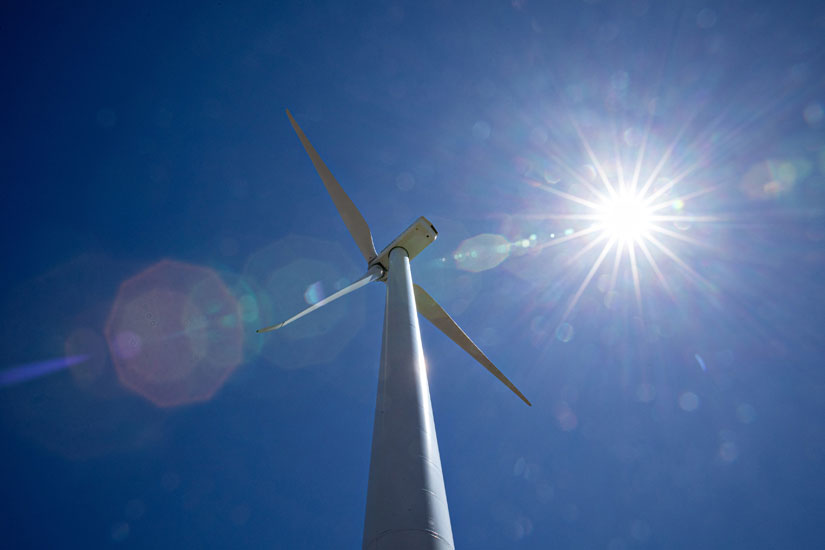 Grid-Forming Controls Demonstrated on Common Wind Turbine, Expanding the Role of Renewable Energy
In a first for the wind industry, NREL demonstrated grid-forming controls on a Type 3 wind turbine, a specific turbine technology that is widespread in land-based installments. With grid-forming controls developed by General Electric, the wind turbine was shown to provide fundamental stability and black-start capabilities, services that have traditionally been procured from fossil fuel-based generators. The achievement opens the door for Type 3 wind turbines to participate on the electric power grid in new ways.
Read the full story on the demonstration.
An Evolving Dictionary for an Evolving Grid
What do you think when you hear the term "long-duration energy storage"? There is no single definition for long-duration energy storage in the energy community. "Long-duration energy storage has become a larger part of stakeholder conversations that seek to understand the needs of the current and future grids and establish policy and market rules," said Paul Denholm, senior analyst at NREL. "Therefore, varying definitions can have important consequences."
In a new thought piece in the Storage Futures Study, Denholm and team describe the challenge of creating a single uniform definition for long-duration energy storage to reflect how it is used to support the electric grid. They conclude that it might not be possible to reconcile storage duration and application.
Read more about the challenges of defining long-duration energy storage.
NREL Provides Leadership in Red Team Coordination at Seventh CyberForce Competition
On Nov. 13, 2021, DOE held its seventh collegiate CyberForce Competition, challenging 120 teams from 105 universities to test their cyber defense skills. The University of Central Florida was announced the winner of this year's competition, which challenged students to protect a hydropower company from simulated cyber challenges.
The CyberForce Competition is part of DOE's CyberForce Program, managed by the Office of Cybersecurity, Energy Security, and Emergency Response. CyberForce seeks to inspire and develop the next generation of energy sector cyber defenders, where students can learn and practice skills that will be relevant to a career safeguarding the nation's critical infrastructure, including power plants and other energy facilities. Learn more about this year's competition by reading the DOE news article and visiting the CyberForce website.
Q&A With Eric Lockhart: Centering Community Needs Within Clean Energy Solutions
Eric Lockhart leads the Integrated Decision Support group at NREL, in addition to being the principal investigator for the Solar Energy Innovation Network. This project focuses on novel applications of solar and storage in domestic settings. Lockhart sat down to discuss the launch of the Solar Energy Innovation Network's third round and offer his insights into the importance of adapting energy solutions for customers and communities.
Read our full conversation with Eric Lockhart.
Innovating at the Speed of Cyber Threats
As modern energy systems evolve, so do the cybersecurity threats to those systems. To combat these increasingly sophisticated threats, NREL and DOE introduced the Clean Energy Cybersecurity Accelerator, a technology-accelerating program for deploying modern energy security by design. In a recent blog post, NREL Associate Laboratory Director of Energy Systems Integration Juan Torres discusses the accelerator and how the program will build partnerships to improve grid security.
Check out the full blog.
NREL's Kate Anderson Honored for Clean Energy Leadership
The U.S. Clean Energy Education and Empowerment initiative honored NREL researcher Kate Anderson for her leadership and achievement in the field of renewable energy. This program was created to help close the gender gap and increase the participation, leadership, and success of women in clean energy fields. The awards, given each year in eight categories, recognize mid-career women who have demonstrated outstanding leadership and accomplishments in clean energy while mentoring other women in the field.
Read more about the awards and Kate Anderson's accomplishments.
Colorado Mountain Homes Prepare To Pilot Autonomous Energy Management
NREL is taking the next steps in its groundbreaking partnership with Holy Cross Energy: installing its R&D 100 Award-winning foresee™ software in local homes to field-test smart energy management and community-level aggregation and coordination. The software will leverage physics-based modeling, machine learning algorithms, and advanced data analytics to provide the community homeowners of Basalt Vista with whole-home energy cost savings balanced with comfort, convenience, and grid benefits.
Read more about how NREL and Holy Cross Energy are advancing autonomous energy system research and demonstrating equitable decarbonization and energy savings.
Navigating Our Ever-Changing Electric Sector: The 2021 Standard Scenarios Outlook Is Here
NREL released the 2021 Standard Scenarios U.S. Electricity Outlook—an annually released suite of future scenarios for how the U.S. power sector could evolve through 2050. In its seventh year, the 2021 release includes 50 scenarios capturing a wider range of possible decarbonization pathways than previous years. The latest release performs sensitivities around three power sector decarbonization levels to demonstrate how power sector assumptions interact with decarbonization. "Every year, we fine-tune our scenarios to better represent the potential economic and environmental impacts of future electricity sectors," said Wesley Cole, NREL senior analyst and lead author. "We hope the scenarios are helpful to stakeholders who are navigating and influencing our ever-changing power system."
Learn more about the 2021 Standard Scenarios and join a webinar from 11 a.m. to 12 p.m. Mountain Time on Wednesday, Dec. 15.
NREL Paper on Solar Forecasting Wins Solar Energy Journal Best Paper Award
An NREL paper was recently awarded the Solar Energy journal Best Paper Award from the International Solar Energy Society. Since 1975, the award has been presented to papers that demonstrate significant pioneering contributions to solar energy literature for innovative concepts and approaches and whose quality and presentation have a lasting impact. The International Solar Energy Society announced the winners during its Solar World Congress 2021 in October.
An Efficient Method To Identify Uncertainties of WRF-Solar Variables in Forecasting Solar Irradiance Using a Tangent Linear Sensitivity Analysis looks at key variables that factor into the Weather Research and Forecasting model with solar extensions (WRF-Solar). The results could help improve grid integration practices for solar resources and improve solar power forecasting.
Publications Roundup
Three Benchmark Reports Describe Updates to Costs of Solar and Storage
NREL has published the latest cost updates to solar and storage units as part of several ongoing benchmarking efforts that are released annually. Results of each analysis are described in greater detail in a recent NREL story.
For solar photovoltaics (PV) and battery energy storage, this year's report on U.S. Solar Photovoltaic System and Energy Storage Cost Benchmarks: Q1 2021 showed a decrease in the overall costs of residential, commercial, and utility-scale systems—a consistent trend that NREL has documented for more than a decade; however, the past year saw an increase or no change to balance of systems costs, which is attributed to pandemic-related construction material costs. The increased balance of systems costs were offset by lower module costs, increased module efficiencies, and lower battery pack costs.
Another report initiated a new direction for NREL's cost benchmarking for floating solar PV: Floating Photovoltaic System Cost Benchmark: Q1 2021 Installations on Artificial Water Bodies. As the first of its kind, this report offers preliminary analysis of the cost factors in floating PV and how those compare to land-sited PV. The authors found that floating PV involves a cost premium compared to ground-mounted systems, with the largest contributor to costs being structural, such as floats and anchoring systems. Although this is only an initial study, future NREL benchmarking will explore the broader cost-benefit impacts of floating PV designs, including the effects of energy-water nexus opportunities.
Last, NREL released a techno-economic analysis of solar PV module costs, Photovoltaic (PV) Module Technologies: 2020 Benchmark Costs and Technology Evolution Framework Results, which calculates a minimum sustainable price for each PV technology—the minimum price that would sustain a manufacturer of each PV module. The report details prices for major commercial PV technologies as well as several niche technologies that remain on the horizon of widespread adoption.
Measurement Placement in Electric Power Transmission and Distribution Grids: Review of Concepts, Methods, and Research Needs
The strategic placement of sensing and measurement systems is quintessential to the safe, cost-effective, and reliable operation of electric power grids; however, the body of work on developing optimal placement strategies for these systems is minimal. To address this lack of guidance, Measurement Placement in Electric Power Transmission and Distribution Grids: Review of Concepts, Methods, and Research Needs, published in IET Generation, Transmission & Distribution, examines the state of the art for both transmission and distribution grids and provides a set of perspectives on placing measurement systems while identifying future research opportunities.
Resilience Assessment: Cape Cod National Seashore
The resilience assessment of Cape Cod National Seashore is a valuable case study for other national parks or land management entities interested in replicating the process. NREL used a proven methodology to score hazards, threats, and vulnerabilities and prioritize high-impact solutions. Two staff traveled to Cape Cod National Seashore in 2019 for a site visit, informal interviews, and an interactive stakeholder workshop that added nuance to their data analysis. The team brainstormed 30 solutions and mapped which ranger stations, boardwalks, roads, and other infrastructure are most exposed to coastal hazards and climate change factors such as erosion, storm surge, and sea-level rise. In addition, NREL used Cape Cod National Seashore energy consumption data to model cost-optimal options for installing solar photovoltaics and battery energy storage to improve the resilience of essential facilities.