---
Small Colorado Utility Sets
National Renewable Electricity Example

Using NREL Algorithms

Holy Cross Energy brings NREL algorithms out of the lab and into homes, setting a national example for grid control.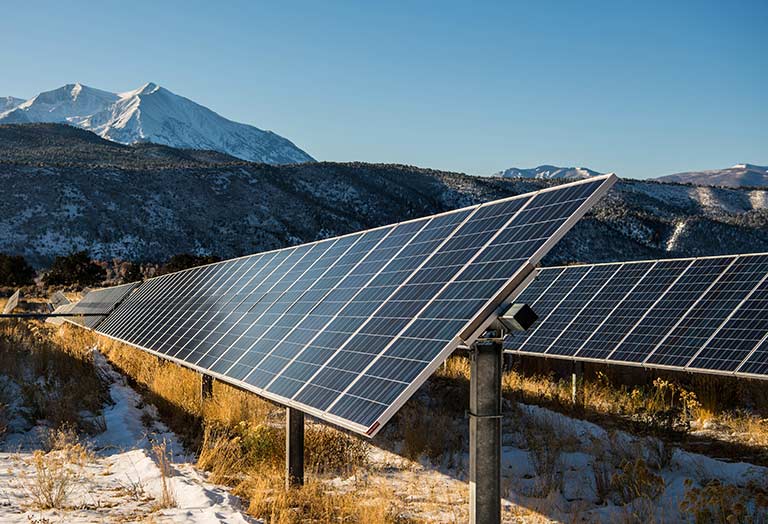 ---
Nearly every major U.S. city has set renewable energy goals that will require converting their vast urban centers to using new power systems in 10, 20, or even 50 years.
Within the U.S. Department of Energy's (DOE's) National Renewable Energy Laboratory (NREL), that future is much closer: in-lab simulations have validated how these new energy systems could look. But NREL testing and a city the size of New York are very different scales, so what works for a hundred in-lab devices may not translate to a real system of a hundred million devices.
The solution may lie somewhere between the two scales in the rural town of Basalt, Colorado—population 4,170. Within a neighborhood in Basalt's rugged foothills, NREL is testing one of its most novel grid operation solutions with the members of local electric cooperative Holy Cross Energy.
The partnership's "think big, start small" approach could help other cities adapt the same techniques with even greater reach.
Residential Start to Ratcheting-Up Grid Control
In the basement of a home in the Basalt Vista Affordable Housing Community, a group of next-generation power devices is steadily sharing electricity between solar panels, batteries, heaters, and vehicles connected throughout the neighborhood. The homeowner has no need to interpret the devices' blinking LED cues or Ethernet connections, because the system is autonomous. Its self-driving settings continually find the optimal allocation of power.
Other homes in the community are similarly configured. Together, they represent an autonomous energy grid and are helping test a solution to one of the greatest challenges facing renewable energy adoption across the world—the mismatch of when variable energy is generated and when it's consumed. In Basalt Vista, equipped homes can exchange energy and services with neighbors, matching generation and demand intelligently and on the fly while respecting the reliability limitations of the local grid. This is thanks to an approach that NREL developed under funding from DOE's vanguard research agency, ARPA-E, within the Network Optimized Distributed Energy Systems (NODES) program. The approach has been described as a virtual power plant and is the outcome of field-advancing algorithms that only existed in imaginations several years ago.
"This project came together because of ARPA-E's support for high-risk, high-gain projects from start to finish, all the way from brainstorming at the blackboard to actual implementations in our homes," said Andrey Bernstein, an NREL senior scientist and the NODES project lead.
But why Basalt and Holy Cross? As an energy cooperative that answers to its 43,000 member-owners, however unique and remote their power lines, Holy Cross needed a solution to make its distribution more resilient. The Basalt Vista homes have what Holy Cross Engineer Chris Bilby calls "dexterity"—a flexibility to work around consumer demands. It's a resilience asset that belongs exactly within Holy Cross' distribution system.
"Our location has its difficulties," said Bilby, who designed the Basalt Vista power system. "We have long cables across great distances and over mountainous terrain, and we have unusual load patterns shaped by ski season."
Not to mention natural disasters.
Among the various natural challenges facing Holy Cross, the area was caught in the winds of the 2018 Lake Christine wildfire, which charred the hills just beneath Holy Cross' transmission lines overlooking Basalt. The drama of a potential power outage during peak season invigorated Holy Cross to step-up its resiliency efforts. The timing was perfect. Just as Holy Cross was seeking a resilient path toward higher-penetration renewable energy solutions, part of their solution was being finalized a few hundred miles away in NREL's Energy Systems Integration Facility (ESIF).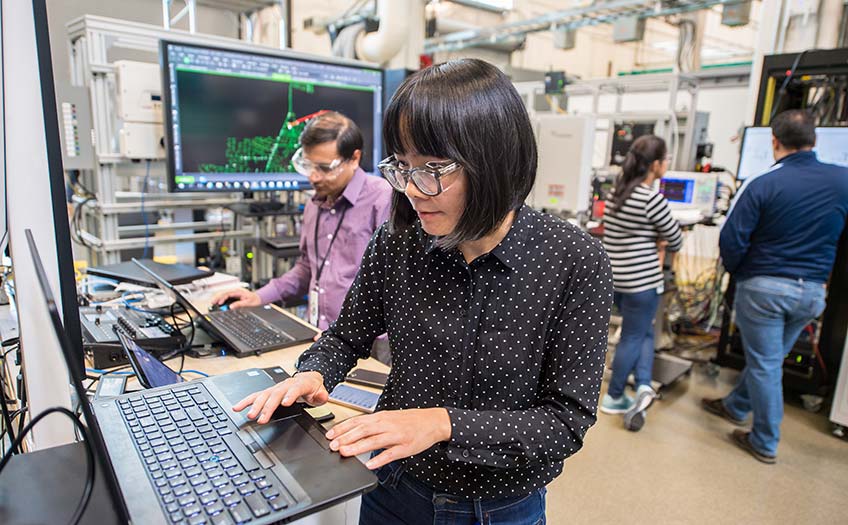 A Perfect Partnership at the Right Time
The CEO of Holy Cross Energy, Bryan Hannegan, refers to NREL's ESIF as a "distribution grid in a box"—a risk-free laboratory to run real power tests. Basalt Vista, meanwhile, takes the NODES algorithms "out of the box" and deploys them in real homes, albeit carefully. From one home, to four homes, and ultimately to 27 homes, Basalt Vista is safely scaling a grid architecture that could one day be the key for cities chasing higher renewable shares.
"NREL's unrivaled capabilities gave us the ability to see the project really work, before we deployed it in the field," Hannegan said. "This gave us the confidence we needed to put this project on our system, without negatively affecting our reliability of service."
The Holy Cross-NREL connection was no accident. Hannegan led the buildout and growth of the ESIF facility from 2013–2017, when he served as the associate laboratory director of energy systems integration at NREL.
So when Hannegan joined Holy Cross Energy, he already knew the insides of NREL's box, and he knew that the ESIF had resources to help Holy Cross reimagine its distribution grid; in particular, ESIF's Advanced Distribution Management System (ADMS) test bed coupled with its hardware-in-the-loop device testing capability.
"Having NREL as a partner changed everything," Bilby said. "With resources like the ADMS test bed and highly talented researchers, NREL could say, what if we have 160 Basalt Vistas instead? And how would that look over a year? NREL helps us to understand utility operating impacts and make a business case."
The partnership was also a breakthrough for NREL, where researchers had just created the NODES algorithms and were seeking an out-of-lab use case in which to test them. When Habitat for Humanity Roaring Fork Valley broke ground on its first-ever net-zero affordable housing community in Basalt, the controlled environment of a new development and an engaged utility like Holy Cross allowed NREL's algorithms to make their debut.
Algorithms for Grid Transformation—Dynamic, Efficient, and Scalable
The NODES algorithms enter Basalt Vista via distributed controllers from partner company Heila Technologies. Controllers located both inside the homes and outdoors in weather-proof casing are running NODES algorithms that direct the controllers on how to manage the residential distributed energy resources (DERs).
Applying the NODES algorithms to residents' homes in Basalt Vista has been a success; local generation and energy sharing increase resilience, and energy costs are down for residents. But the real gain is the data that Holy Cross will gather. Holy Cross is taking an active role alongside DER vendors in learning about its customers' energy use, an advantage that few utilities can claim. The results coming from the Holy Cross Energy (HCE) and NREL partnership illuminate a strategy for DER management, along with steps for others to follow.
"Our cooperative members are increasingly adopting DERs at their homes and businesses, and they are an option we want to offer our members in the future," Hannegan said. "As a distribution grid operator, HCE must enable these DERs to deliver on their promise to consumers, while also providing valuable services to our grid. Our partnership with NREL gives us real-world experience on how best to do that."
For utilities and customers that choose advanced management, NREL's algorithms are ready. The Basalt Vista development will soon grow to about six times as large, and NREL is still looking further.
"Technically, the NODES algorithms are ready for large systems," said Fei Ding, NREL engineer and project lead on the Holy Cross partnership. "We're now looking to other related use cases, such as dynamic DER aggregation: How can we aggregate these controllable devices dynamically and flexibly to address different needs and time-varying system conditions? And how can DER management be optimized to further increase the resilience and security of the Holy Cross distribution grid?"
A Nation Taking Note—A Path from Lab to Large-Scale
The test bed use case developed by NREL was intentionally selected to ease adoption for rural utilities and cooperatives nationally. Such smaller utilities are natural incubators of innovation and have a long tradition of collaboration with the DOE and its national laboratories like NREL. They're also notably nimble, able to move fast on new technologies. By working closely with the National Rural Electric Cooperative Association, the partnership will broadcast its results to electric cooperatives, which cover more than half of America's land and service more than 40 million people. For the other half of America's land, the results are just as useful.
"This is work that any electric utility can apply anywhere in the country," Hannegan said. "By using interoperable standards and commercially available components, we have worked hard to ensure that this work can scale and provide benefits in a way that will be meaningful on a national level."
The Holy Cross and NREL approach clears a path on a few fronts: customer participation in utility DER management; a functional demonstration of ADMS technologies; real-time autonomous controls for DERs; resilience techniques for disaster-prone districts; and, broadly, how utilities can adapt to renewable energies. Just as the ESIF was a pilot stage for Holy Cross' advancement, Holy Cross may serve as a pilot for other utilities, large and small, across the country.
Learn more about the ADMS capabilities at the ESIF and about the Autonomous Energy Grids research platform.