New Prizes Focus on Diversity, Equity, Inclusion, and Accessibility
Diversity, Equity, Inclusion, and Accessibility Principles Are a Cornerstone of the American-Made Program
---
The American-Made program, launched in 2018, features a collection of prizes designed to lower the barriers of entry to government funding, making the reward for great innovations accessible to all.
And now, the program's inherent goals—to leverage diversity, equity, and accessibility to accelerate the nation's collective problem solving—are being underscored across many of its prize themes, rewarding those whose innovations serve underrepresented and disadvantaged communities.
The American-Made program, which is administered by the National Renewable Energy Laboratory (NREL), developed these new prizes in part to help meet the goals of the U.S. Department of Energy's (DOE's) Diversity, Equity, Inclusion, and Accessibility (DEIA) Strategic Plan 2022, kickstarted by the Biden administration's whole-of-government approach to advancing equity.
"The American-Made program started with an open invitation to solve the nation's toughest energy and sustainability challenges," said Debbie Brodt-Giles, NREL's American-Made program's manager. "These prizes are designed to be accessible to anyone with a big idea, so they are a perfect vehicle to implement the DOE's DEIA initiatives. They offer the chance for every American to contribute to—and benefit from—the clean energy revolution. We can't think of a better way to leverage the expertise of everyday citizens to make change for good."
Indeed, everyday citizens—as well as schools, local governments, community nonprofits, and small businesses—are making good use of funding and support through the American-Made program. Sunny Awards for Equitable Community Solar enabled prize winners to deliver energy savings to low- and moderate-income households; through the Inclusive Solar Outreach Awards, teams were inspired to use innovative communications strategies to encourage solar energy adoption among low- and moderate-income residents; and bonus prizes are now part of both the Solar Prize and Energy Program for Innovation Clusters Prize, rewarding competitors who devise solutions that support individuals and communities from traditionally underserved and disadvantaged backgrounds and regions.
The Next Generation of Prizes Dedicated to Diversity, Equity, Inclusion, and Accessibility
In 2021, the DOE's Inclusive Energy Innovation Prize became the first prize solely dedicated to ensuring that—in support of the Biden administration's Justice40 Initiative—every citizen has a seat at the table as the country designs a clean energy future.
This $5.1 million prize centers around the premise that, as the nation invests in clean energy technology, improvements are needed to make the clean energy innovation ecosystem more inclusive and accessible to disadvantaged communities.
"We need to make sure that everyone is part of the clean energy transition and lower the barriers to access DOE funding for that transition," said Rukmani Vijayaraghavan, the innovation and market transformation advisor in DOE's Water Power Technologies Office who manages the Inclusive Energy Innovation Prize. "Our funding and programs benefit communities at the front line of the climate crisis, and we must work with people and organizations who best understand the unique needs and strengths of their communities."
The "What's Your Vision?" campaign, launched alongside the Inclusive Energy Innovation Prize, asked people to share their visions for an inclusive transition to clean energy. In
this video
, Phase One winners contributed their ideas.
To that end, the prize has already awarded funds to organizations for activities that support, build trust, and strengthen relationships and partnerships with disadvantaged communities while supporting workforce development and education that can expand access to clean energy jobs. The 18 competing teams will come together in June 2023 to share their progress and meet with potential partners that can help them continue their work beyond the competition.
Following the success of the Inclusive Energy Innovation Prize, the American-Made program recently launched several other community-focused prizes.
Premise: The rapidly expanding community solar industry is full of opportunity to serve low- and moderate-income households, providing meaningful benefits such as increased savings and grid benefits, opportunities for community ownership, and local workforce development.
Goal: To fast-track the efforts of solar developers to learn and grow their operations while incorporating these meaningful benefits. This prize is part of the larger Community Power Accelerator™ program, an online ecosystem that connects developers, investors, philanthropists, and community-based organizations so they can work together to get more equitable community solar projects financed and deployed.
Who Should Apply: Community solar developers, multifamily affordable housing providers, community organizations, real estate holders, general contractors.
Prize Pool: $10 million.
Prize Status: Apply by March 15, 2023.
Premise: Nearly 50 million Americans live in rural or remote areas where energy costs are often disproportionately high and service can be unreliable. The Energy Improvements in Rural or Remote Areas program, created by the Bipartisan Infrastructure Law, found that two of the primary barriers to improving rural and remote energy systems are the limited access to partners and funding.
Goal: To incentivize competitors to develop partnerships and financing strategies for clean energy projects that will benefit rural or remote areas. The primary goals of this program are to improve the resilience, reliability, and affordability of energy systems in rural or remote communities across the country with 10,000 or fewer people.
Who Should Apply: Entrepreneurs, university faculty and student groups, community organizations, tribal and local governments, financial institutions, industry professionals and others with ideas to help organize or finance a clean energy demonstration project in a rural or remote area.
Prize Pool: $15 million.
Prize Status: Apply by May 24, 2023.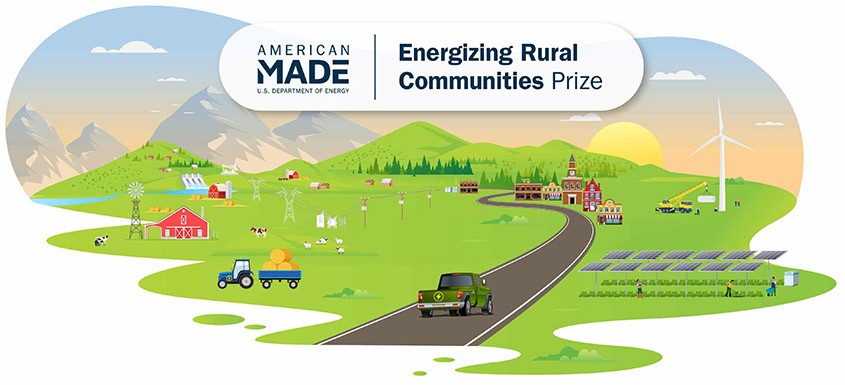 Premise: Implementing strategies that align with the Justice40 Initiative is best done within the communities who can identify the most pressing local energy challenges and benefit from solving them.
Goal: To help community coalitions—made up of nonprofits, city governments, school systems, and other community organizations—come together to develop a strategy to address a local clean energy opportunity or inequity. Strategies may include student education, workforce trainings, or implementation of new technologies that prioritize a shift to clean energy and remove undue burdens on the communities being served.
Prize Pool: $1.5 million.
Prize Status: Phase 2 closes in May 2023.
Learn more about all the prizes available through the American-Made program that are making innovation accessible to all.