Cultural Festival Brings NREL to Community of Aurora
Researchers Build a Lasting Relationship With Aurora Community Members at 10th Annual Global Fest
---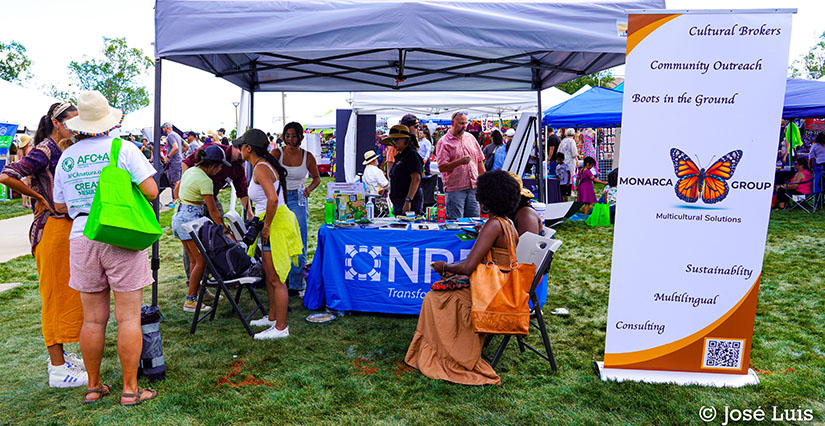 On a hot Saturday in August, thousands of community members from Aurora, Colorado, gathered for the city's 10th annual Global Fest, a celebration of Aurora's cultural diversity. Attendees were treated to a colorful display of national flags spanning from Mexico to Ethiopia, while vendors served up global cuisine and performers sang and danced in traditional garb.
While you may not expect to find a booth for the National Renewable Energy Laboratory (NREL) at a vibrant community festival, nestled somewhere between a lucha libre wrestling ring and an international fashion show, a new project about commercial building equity has researchers setting up at events like this to speak with Aurora's residents, as well as business and building owners.
"There were people from many different countries all over the world—refugees, immigrants, second- and third-generation families," said Isabel Langlois-Romero, a researcher in NREL's Building Technologies and Science Center and lead for this equity project. "People were taking their time to talk to different vendors. There was beautiful dancing and music. It was a super special event."
Though the festival was packed with activities, it did not distract Aurorans from stopping by to learn more about NREL, talk about sustainable energy, and complete a survey designed to understand which commercial buildings are the most significant to their community. As commercial buildings in the area undergo upgrades in order to meet efficiency and decarbonization policies such as building performance standards (BPS), knowing which buildings are most important to the community ensures resources flow to the correct places. Talking to building owners, tenants, and others in Aurora will help the U.S. Department of Energy (DOE) and jurisdictions craft effective BPS. Candid conversations and feedback are at the heart of this project, which is funded by DOE's Building Technologies Office.
Likewise, NRELians took full advantage of the Global Fest experience while in Aurora. Nicholas Long, another researcher in NREL's Building Technologies and Science Center, brought along his two daughters to help out at the booth and enjoy the festivities.
"The best part was when my 12-year-old would give the introductory pitch: 'Hi, are you a business owner or tenant in the city of Aurora? Can you help provide data for us?'" Long said. "It was cute to see my kids say those things."
It turns out community members were more than happy to provide their input, and the team was able to collect hundreds of survey responses. This data collection is part of a larger pilot project focused on commercial building equity in Aurora and across the country.
Located less than 25 miles from NREL's campus, Aurora is the third most populous city in the state of Colorado. It is also hailed as one of the most diverse cities in Colorado. That close proximity and diversity makes Aurora the perfect place to pilot this new equity-based project. For the research team, this project has provided a unique opportunity to interact directly with the community members who are able to voice their concerns, hopes, and general understanding of BPS.
"Aurora was chosen very intentionally for this pilot," said Ardelia Clarke, a researcher in NREL's Building Technologies and Science Center. "We want to make sure that the communities local to NREL gain awareness of BPS and are also heard. If we can't do this in our own backyard, how can we do it nationally?"
Clarke, who is focused on the equity data strategy and analysis of survey responses received for this project, emphasized that it is not just about listening to concerns or reviewing data—it is about finding the correct way to adopt energy upgrades in a way that will benefit all Aurorans while tangibly addressing the concerns raised by residents as well as business and building owners.
"NREL has decades of experience with commercial buildings in general, including multifamily housing. We also have decades of experience in making buildings more efficient," Long said. "The thing that we don't have is connections to local community experts on the ground."
Much of the success of this project so far has been credited to NREL's partnership with Monarca Group, a consulting organization that provides tailor-made solutions to help clients from organizations and government agencies engage effectively with underserved communities. Co-founded by Berenice Garcia Tellez and Jose Luis Ramos, the group has facilitated connections between the NREL research team and community members by attending events like this one.
"NREL is bringing a new perspective to the community," Garcia Tellez said. "Usually, researchers produce results but don't include the community in the conversation. NREL is being really innovative in that way, as well as contracting a woman-led and minority group like ours to help with the research. It's bold, and we applaud that."
"One of the things that impacted me the most was sitting down with business owners and discussing this project with them, and they're so happy to hear that this community group is working with this big organization to understand what they're doing at a personal level," Ramos said. "There's so much hope that we're going to get a final result that will be beneficial to this community."
Over the summer, the NREL project team attended more than 10 events, where they were able to connect with people ranging from high school students to long-time residents of Aurora to owners of multiple buildings. This provided an important platform that allowed the team to not only demystify BPS but also energy efficiency and renewable energy sciences in general. This included sponsoring an event for Good Business of Colorado to continue building the relationship between local business owners near NREL.
"From a technical standpoint, I love that this research is integrating both technical analysis on data as well as the grassroots conversations," Langlois-Romero said. "But on a personal level, I'm thankful for the opportunity to work with community members and to be rooted in dialogue about the real-world obstacles and opportunities people are facing to try and make energy upgrades."
This project resonates deeply with NREL researchers and members of the Monarca Group for different reasons, but ultimately it comes back to the people of Aurora. It provides a rare opportunity to connect with people on a personal basis, whether that is chatting with attendees about how renewable energy will ultimately help them or to express concerns that might otherwise be overlooked.
"I see it as a part of NREL's responsibility to communicate science to the community, especially the community that we're directly surrounded by," Langlois-Romero said. "We need to do so in a culturally appropriate and relevant way that inspires people and gets them excited about this moment in climate change history that we need to collectively address."
As the summer draws to a close, the research team will now focus on compiling hundreds of survey responses to distill data and create a final report on their findings. However, they hope this pilot project is used as a model for future NRELians to take a more hands-on approach to engaging with the communities they are working with.
"We're truly listening to the community," Clarke said. "Aurora now has new credibility for their concerns and needs related to energy equity by partnering with NREL."
While this work with Aurora is far from over, researchers are already contemplating future collaboration opportunities, all while keeping in mind the concerns and needs of this community. For these NRELians, this is just the beginning of the research they plan to do rooted in community perspectives.