Future Looks Bright for 20 Teams Selected as Semifinalists in Solar Prize Round 6
Startup Teams Awarded $50,000+ Each To Advance Their Solar Concepts
---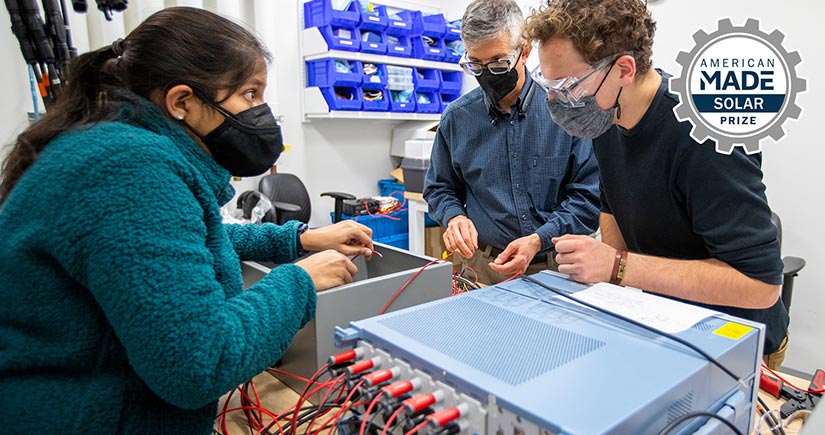 Now in its sixth round, the American-Made Solar Prize just announced the 20 teams chosen to move on as semifinalists in this year's competition. The teams were chosen for their game-changing solar energy ideas, including concepts to energize solar manufacturing, address obstacles that get in the way of wider solar adoption, or make installation and maintenance more efficient and cost-effective.
The U.S. Department of Energy announced the Solar Prize Ready! Contest semifinalists on Thursday, Dec. 8. The teams were awarded $50,000 and will now advance to the Set! Contest of the competition, where they will substantially advance their technology solutions toward viable and promising proofs of concept.
In addition, two teams were awarded a $25,000 bonus cash prize for their participation in the Justice, Equity, Diversity, and Inclusion (JEDI) Contest, which encourages solutions that enable underserved communities to overcome systemic barriers to solar deployment. Teams can participate in the contest for additional cash prizes at every stage of the competition.
The Solar Prize was designed to accelerate innovation in the solar industry through three consecutive contests: Ready!, Set!, and Go!. As competitors successfully move through the contests, they receive increasing financial support and resources, accelerating the entrepreneurial timeline from years to months and reducing the overall time it takes to transform concepts into early-stage prototypes ready for industry testing. Throughout the contests, participants can access impactful support through the American-Made Network, which is composed of national laboratories, energy incubators, and other resources across the country.
"Each round of the Solar Prize brings forward thoughtful innovations and ideas with the potential to change the way we approach solar energy production and deployment," said Garrett Nilsen, deputy director of the Department of Energy Solar Energy Technologies Office. "We've already seen winners of previous rounds successfully bring their concepts to market, meeting needs and clearing hurdles in the pursuit of more widespread solar adoption. Every year we look forward to seeing the fresh ideas this unique competition generates."
Set for Success
The semifinalist teams moving on to the second contest in Solar Prize Round 6 are as follows:
Photovoltaics
Systems Integration
Grid-on-a-Chip: Accelerating Solar Interconnection (Sunnyvale, California)

—

This team is developing a grid simulation platform that enables faster feasibility studies for interconnecting solar and other renewable energy resources to the grid. With this platform, simulations that used to take days to complete can now be completed in a few minutes. Learn more about their tech.
Second Life Solar (Signal Hills, California)

—

This team is developing a method for testing the health of decommissioned electric vehicle batteries that can be completed in 30 seconds, speeding up the 10-hour process typical of existing technology. This allows for fast screening of used batteries and certification for use in grid-scale solar storage. Learn more about their tech.
World's Most Reliable Inverter (Cary, North Carolina)

—

This team is developing a low-cost inverter that combines efficient, older technology with new control techniques to create a fully sealed inverter design that uses natural cooling. This allows for higher reliability and performance for utility-scale solar compared to other inverters on the market. Learn more about their tech.
Concentrating Solar-Thermal Power (CSP)
Deployable Off-Grid CSP Desalination with MEDAD (Honolulu, Hawaii)

—

This team is designing an off-grid, small-scale CSP desalination system that harvests heat from the sun to produce fresh water. This modular, affordable, and efficient desalination system can deliver potable water to areas with freshwater shortages. Learn more about their tech. (JEDI Contest Winner)
Finance and Business Models
Hail Cat

—

Identify, Quantify, and Mitigate Hail Risk (San Jose, California)

—

This team is developing a web-based software platform that allows solar developers and insurance companies to identify, quantify, and prevent hail damage. This enables sound financial assessments of potential risk-mitigation strategies and a rational basis for insurance prices and terms. Learn more about their tech.
Shared Data, Smaller Queues, More Interconnections (Portland, Maine)

—

This team is developing a cloud-based, collaborative data and modeling platform for developers and utilities to use shared data, models, and maps to site and size solar energy projects. This software will result in faster approval times and fewer projects clogging the interconnection queue. Learn more about their tech.
SolarBound Build Confidence Build Trust Build Solar (Fort Collins, Colorado)

—

This team is developing an online marketplace for appraising solar land value and generating portfolios for developers. This tool could increase the percentage of successful solar projects by mitigating risks for developers and customers. Learn more about their tech.
System Operations
Autonomous Solar Panel Inspections (New York, New York)

—

This team is developing software to automate drone piloting of solar field aerial thermography scans. Automating this process can lower the cost of each scan report, increase the frequency of inspections, and collect more data to improve the performance of solar farms. Learn more about their tech.
Latimer Controls Enables Intelligent Solar Power (Boulder, Colorado)

—

This team is developing an intelligent control software that enables utility-scale PV to provide power reliably and on demand. This will replace grid reliance on fossil fuels, drive higher profitability for PV operators, and generate revenue increases for solar asset owners with low capital cost. Learn more about their tech.
System Design
Advancing Agrivoltaics (Chicago, Illinois)

—

This team is developing a software that allows solar developers to optimize solar panel configurations on agrivoltaics sites. Their software estimates energy output from solar panels and the amount of sunlight crops receive, and helps maximize revenue for both solar developers and farmers. Learn more about their tech.
LEAF Solar Design Assistant (Akron, Ohio)

—

This team is developing a computer-aided design plugin that automates layout design of utility solar sites for solar engineers. This decreases the manual redrawing of strings for each project, reducing labor hours and costs. Learn more about their tech.
The teams will continue refining their concepts, then pitch and demonstrate their proofs of concept and prototypes to a panel of industry experts at the Set! Demo Day event in spring 2023. At the conclusion of Set! Demo Day, 10 finalists will be awarded $100,000, plus $75,000 in support vouchers. Select teams will also be awarded additional funds through their successful participation in the JEDI contest.
Learn more about the Solar Prize Round 6, and subscribe to the American-Made Newsletter for updates on Round 6 and future opportunities to get involved.