First Virtual JUMP into STEM Competition Showcases Student Solutions to Building Science Challenges
NREL Hosted 11 Collegiate Teams; 4 Winning Teams Announced
---
The JUMP into STEM management team designed the two-day virtual competition—held on Jan. 28 and 29, 2021—to replicate the experiences that students would have during an on-site competition. The first day was organized to help create a community experience by providing students the opportunity to learn from and network with building science professionals and fellow students.
Winning Student Presentations
Trisha Gupta and Vedyun Mishra, master's degree students in architecture at Syracuse University, presented their team's project, Enabling the Proliferation of Energy Auditing. The project addresses the need for accurate and cost-effective residential building energy audits by proposing the use of drones, infrared camera technology, and machine learning. The team's faculty advisor is Dr. Paul Crovella, assistant professor of Forest and Natural Resources Management at SUNY College of Environmental Science & Forestry.
Megan Bush, a senior architectural engineering student at North Carolina A&T State University, presented her team's project, Solar Powered Light Pipe with Integrated LED Lamps. The project proposes the design of a solar powered light pipe that illuminates interior building spaces with natural sunlight or backup LED illumination. The team's faculty advisor is Dr. Ray Tesiero, assistant professor of Civil, Architectural, and Environmental Engineering at North Carolina A&T State University.
Sarah Canastra, a second-year industrial engineering student at the Georgia Institute of Technology, presented her team's project, Load Shifting with Smart Water Heaters: Conservation Without the Cold Showers. The project addresses the challenge that residential peak energy consumption places on the electric grid by proposing to shift water heater energy use to off-peak times. The team's faculty advisor is Dr. Omar Asensio, assistant professor at the Institute for Data Engineering and Science of the Georgia Institute of Technology.
Bria Frazier, a dual-degree physics and electrical engineering student, and Zoe Landers, a dual-degree physics and civil engineering student, both juniors at Clark Atlanta University, presented their team's project, Triboelectric Floor Generator System. The project proposes the design of a flooring system that uses the triboelectric effect to generate a renewable source of energy. The team's faculty advisor is Dr. Olugbemiga Olatidoye, professor of the Dual Degree in Engineering Program at Clark Atlanta University.
Vedyun Mishra, Megan Bush, and Zoe Landers will intern at the National Renewable Energy Laboratory (NREL) this summer, while Trisha Gupta, Sarah Canastra, and Bria Frazier will intern at Oak Ridge National Laboratory (ORNL).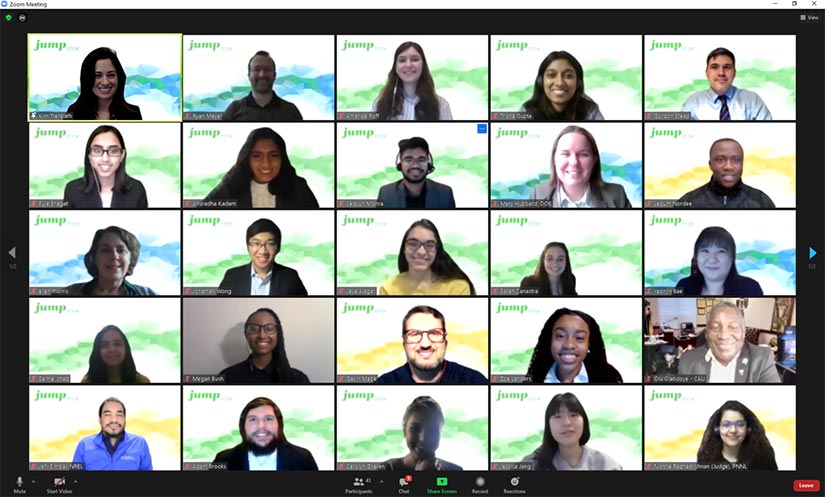 Competition Highlights
On the first day, an interactive career panel offered insights and career recommendations from building science professionals, representing the U.S. Department of Energy (DOE), NREL, and ORNL. These discussions gave the students, who are beginning to explore building science careers, unique insights into the opportunities and challenges ahead. Following the discussion, small break-out groups encouraged conversations between students and the panelists.
"It has been inspiring and motivating to hear from the NREL/ORNL team and other competitors," noted University of Georgia student Gordan Stead. "This experience challenges and motivates me to apply for internships and jobs in the building sciences."
An hour-long student networking session followed, where they connected with fellow future building science colleagues. To keep interest levels high, JUMP into STEM trivia and gift card giveaways were sprinkled throughout the day, along with virtual video tours of NREL and ORNL.
By the first day's end, a JUMP into STEM community experience was forming, as the students created connections and shared excitement. "Various activities, such as welcome remarks, the interactive career panel, networking sessions, and ORNL and NREL tours, enriched this virtual competition," said Dr. Yeonjin Bae, ORNL manager of JUMP into STEM. "All the activities contributed to an event that was more informative and interactive than a simple competition."
The second day jumped right into student presentations. Virtual event attendees included professors, classmates, and families of the competitors. Eleven teams with 19 total competitors had 10 minutes each to present their solutions to one of three building science challenges. A team of judges drawn from the building science community evaluated the presentations based on their technical, innovation, and diversity merits. The presentations provided students with an opportunity to learn from others as well as gain confidence with public speaking. As University of Tennessee Knoxville student Adam Brooks noted, "This has been a good experience for me to fine-tune my presentation skills, especially in a virtual event."
Four winning teams were chosen, and six students were awarded paid 10-week internships at NREL and ORNL.
"I am so proud of the 11 student teams who presented," said Dr. Kim Trenbath, NREL's JUMP into STEM manager. "In addition to presenting their ideas to the audience, the 19 student competitors attended all the events, including student networking, a career panel, and virtual tours of NREL and ORNL."
The JUMP into STEM management team worked to ensure that the virtual event was meaningful and memorable for the student competitors. Their efforts show that building community and supporting program goals can be accomplished in diverse settings.
As Trenbath noted, "The JUMP into STEM competition is evidence of a future with a balanced and diverse workforce that is capable of solving climate challenges. I'm proud that we are able to bring these talented minds together in a student competition. Teams with diversity of thought and background are needed to create solutions and processes that are effective and equitable." Planning for next year's competition has already begun.
DOE's JUMP into STEM (which stands for Join the discussion, Unveil innovation, Make connections, Promote tech-to-market) competition inspires students from diverse backgrounds and an interdisciplinary mix of majors to address real-world building science issues using creative problem-solving skills. JUMP's long-term goal is to increase the diversity of building science professionals so that many perspectives contribute to the clean energy transition. The competition is jointly managed by NREL and ORNL.