Industry Growth Forum 2023: Faster, Smarter, More Connected
---
At the 2023 National Renewable Energy Laboratory (NREL) Industry Growth Forum (IGF), former Solid Power CEO Doug Campbell relayed a joke he heard during his 2013 IGF pitch competition that stung.
The audience member said: "You can't call yourself a cleantech investor unless you've lost your shirt on a battery investment." Ten years later, Campbell returned to the IGF as a major success story with Solid Power's batteries poised to revolutionize the electric vehicle (EV) market.
In its 28th year, the IGF is the premier event for cleantech entrepreneurs, investors, and partners from industry and the public sector to build relationships, showcase innovative technologies, and identify disruptive business solutions.
"The theme—faster, smarter, and more connected—is what we need to jump-start cleantech 2.0," NREL Director Martin Keller said during his opening remarks. "We need to make as much progress in the next 10 years as we did in the past 30 years. Bringing all these connections together, this is how we accelerate new technology to the market."
This year, the IGF sold out for the first time, convening more than 700 attendees, all focused on commercializing cutting-edge and economically viable cleantech to achieve positive environmental impacts. Attending startups also enjoyed candid conversations during one-on-one meetings with investors, scheduling more than 2,300 meetings across the two days.
NREL's Innovation and Entrepreneurship Center (IEC) hosts the IGF and manages several other programs including the Wells Fargo Innovation Incubator (IN2), the Shell Gamechanger Accelerator™ Powered by NREL (GCxN), the Clean Energy Cybersecurity Accelerator (CECA), Chevron Studio, Energy I-Corps, and West Gate.
"People like you, the innovators and the builders, make us faster, smarter, and more connected," IEC Director Trish Cozart said during her opening remarks. "Cleantech as an industry is shifting. We can take the lessons learned from cleantech 1.0 and apply them in a way that accelerates the future."
IEC programs had a major presence at the event. West Gate's Renewell Energy and GCxN's Ionomr both pitched their tech, as well as Friendlier, part of the Canadian Technical Assistance Program. Two IN2 portfolio companies, UbiQD and Yotta Energy, were among the 40 presenters in the pitch competition, and BlocPower participated in a panel discussion. IN2's Blue Frontier, Community Energy Labs, Glass Dyenamics, Kit Switch, LiquidCool Solutions, NeoCharge, New West Genetics, Shifted Energy, and simuwatt also attended, meeting with investors.
For the pitch competition, a panel of investors scored the companies that pitched their technologies after a panel of more than 150 climate-tech investors selected 40 innovators from 189 applicants earlier in 2023. Judges awarded UbiQD the best overall venture at the end of the event, one of six total awards.
Startup Success Story
During his panel discussion, "Cleantech Take Two: Studies of Success," Campbell talked about returning to IGF after 10 years.
"I was on this stage exactly a decade ago pitching what became Solid Power," he said. "I led that company for over a decade through its IPO in late 2021."
Solid Power creates solid-state batteries for EVs to replace liquid-electrolyte batteries, lowering costs and extending range. When Campbell took the company public, its value was $1.25 billion. He credits the IGF experience as crucial to his success.
"You got feedback in real time," Campbell said in an interview. "It was instrumental in shaping our fundraising strategy."
Now, Solid Power is working with both Ford and BMW to qualify the batteries for public use. Campbell recently stepped down as CEO and has found a new purpose, mentoring other startups to foster their growth.
"We have to transition to a clean-energy economy," he charged the IGF attendees. "We have to do it through innovations. That's what we as Americans do. That is our competitive advantage."
Energy Equity
Cynthia McClain-Hill's keynote speech began with a video that showed the vast difference between high-income and low-income earners in Los Angeles, with Ray Charles singing "Them That Got" over the images. It swung from Tesla charging stations and majestic homes, to crumbling buildings and people living in tents on sidewalks.
"No one understands equity better than those who feel that they 'ain't got nothin' yet,'" she said quoting Charles. "We won't be able to be successful in reaching our clean energy goals unless everyone is along for the ride. We have a long way to go and not a lot of time to get there, and we can't afford to be late. Leading with equity will ensure we all will arrive at the same time."
McClain-Hill, the board president of Los Angeles Department of Water and Power (LADWP), gave a powerful keynote address talking about LA100, the groundbreaking study NREL released in March 2021 that detailed how a city the size of LA can achieve 100% renewable energy.
"If our residents resist the change to clean energy, it could put us decades behind in reaching our clean energy goals," McClain-Hill said. "As we talked to members of our community, especially underserved communities, they had questions. Not just can we do it, but how do we do it, how do we not leave any community behind?"
That is why NREL and LADWP ran the two-year LA100 Equity Strategies Study, scheduled to be completed this summer.
"Equity is good business, in addition to being the right thing to do," McClain-Hill said in an interview. "It's problematic if 40% of people who are expected to pay the bills don't feel included. You cannot bring about a cleaner future without asking people to change the way they live."
She concluded her IGF remarks with a strong message to the assembled investors, entrepreneurs, and industry professionals.
"We need to focus more on the have-nots than the haves," McClain-Hill said. "The challenge is yours to meet, and I'm absolutely confident you can. You can make history by building a future that learns from the mistakes of the past. And most of all, lead with equity."
Cleantech Investors
Tina Tosukhowong, investment director for TDK Ventures, is a long-time IGF attendee and big fan. TDK Ventures co-sponsored the Investor Happy Hour on May 1 and is the corporate venture arm of TDK Corporations.
"You get access to prescreened, early-stage startups, and you meet people who are like-minded," she explained. "There's no better way to discover what's the next big thing than having this time allotted for investors to get together."
One of the most significant parts of the IGF is the one-on-one meetings startups have with investors. This allows Tosukhowong to have real conversations about new technologies.
"Meeting face-to-face is always more valuable than reading a description," Tosukhowong said. "Some startups even bring a demonstration. NREL is the center of gravity. They pull the startup community together, and IGF specifically is a unique place. When you are talking about climate, this is the place you need to be."
Spring Lane Capital co-Founder Rob Day used his keynote address to critique the investment model for the cleantech industry, spotlighting what he sees as a gap in funding for entrepreneurs.
"Investors need to stop dividing the world between hardware and software," Day said during his speech. "We can scale faster by using more of the language of project developers and project finance."
It is a message Day continues to repeat, hoping both investors and entrepreneurs will start to speak the language of all the different steps of the capital ecosystem.
"Innovation is not an end to itself. We need to be making an impact," Day said during an interview. "It's time for the investor ecosystem to work together and help entrepreneurs scale."
Spring Lane Capital prefers to aid companies at the start of the commercialization phase, helping with scaling.
"We really look to be that bridge between early developments and mainstream project finance," Day said. "This is how entrepreneurs and investors should think when working toward the promised land of mainstream infrastructure rollout."
Decarbonization on the Horizon
Donnel Baird, CEO of BlocPower, came to his panel discussion on "Cleantech Take Two: Studies of Success" with a message about the importance of embracing climate tech now.
"The future of the human race is in our hands," Baird said in an interview. "We have all the hardware and software capability that we need to dramatically reduce emissions, so we should. There's no tech problem. It's only a problem of will."
Buildings contribute to 30% of emissions, Baird explained during the panel. That is why BlocPower has contracts with three U.S. cities, as well as working with about 22 others, to decarbonize every single building. BlocPower pulls out all the fossil fuel components, replacing them with electric counterparts such as heat pumps, hot water pumps, solar panels, and more.
"We turn buildings into Teslas, making them all electric," Baird said during the panel. "If we are successful, then we can share and open source with cities around the world and hopefully inspire a global movement."
San Jose, California, is BlocPower's biggest project, as the 10th largest city in the United States, and it is on a tight timeline: six years to complete.
"We worked with around 5,000 families in Brooklyn, New York," Baird said during an interview, "and we learned some lessons. We ended up reducing emissions for 3% of the apartment buildings in New York City. We just have to do that again and then add it up, and that's how you do all of San Jose."
In New York, BlocPower also ran a $100 million project with the city to hire young people with criminal backgrounds. BlocPower trains them to install and work with clean energy technologies.
"We took young people who had been incarcerated in Riker's Island and took them back there to install a solar component in the parking lot," Baird said during the panel.
Lessons Shared
Baird said he felt energized by those he shared the stage with, including Campbell, Cristine Handel, head of Global Business Development and Sustainability at Syngenta and formerly of IN2 portfolio company CoverCress Inc., and moderator Phoebe Wang, investment partner for Amazon's Climate Pledge Fund.
"The great thing about cleantech is everybody you talk to wants you to be successful," Baird said. "That's the fun part—the positivity, encouragement, and enthusiasm."
Baird also spoke honestly about the funding issues in the cleantech ecosystem, hoping to inspire the industry to embrace them.
"We're all going to burn if we don't solve some of these problems," Baird said after the panel. "This convocation of investors and entrepreneurs under the NREL umbrella is the perfect place to have open, honest conversations around the new ways we should collaborate to expand clean energy across America."
Campbell left the stage excited about making new connections at the event after a 10-year absence and looking forward to talking with entrepreneurs aiming to duplicate his success.
"I've been through everything [they've] been through," Campbell said. "Got questions? Throw them at me."
On Tuesday afternoon, Tosukhowong held one of her final meetings of the day with Hunter McDaniel, founder and CEO of IN2 portfolio company UbiQD. UbiQD creates quantum-dot-laminated glass that absorbs sunlight and collects it as electricity to power buildings.
Tosukhowong listened attentively as McDaniel brought her up to speed—continuing a conversation that began long ago.
"When we invest, we want to bring strategic value to the company beyond capital," she said. "We have the best relationships when it's an equal-win opportunity."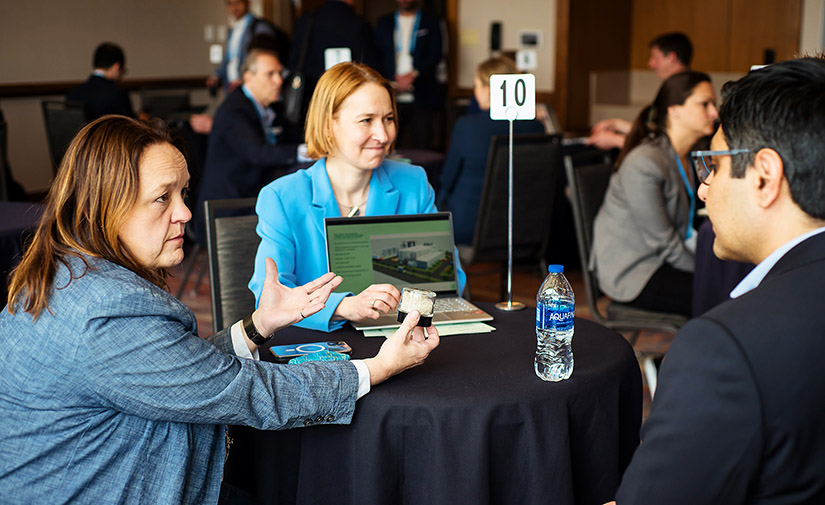 Faster
Faster, part of the event's theme, means not just connecting investors and startups more quickly, but also accelerating technology into the market.
"Climate solutions and the broader climate-tech industry all need to move faster," Baird said. "'Faster' defines what needs to happen as a goal for the whole industry, what needs to happen in every building in America."
Tosukhowong agreed, pointing out that there is no time to wait.
"We are running out of time," she said. "We never have enough money to spend on climate tech, and it's the only problem that really matters."
Smarter
For McClain-Hill, smarter means putting energy equity at the forefront.
"It's just smart to think about how you engage and bring everyone along," she said. "You don't want to force people to participate in efforts that ultimately don't help them. It requires us to look at this not just through the lens of the investor, or entrepreneur, but through the lens of the end users."
More Connected
"You can never be connected enough—networking is critical," Campbell said. "Solid Power came about through connecting at various events with social and professional networks. There are investors I met during my first IGF that, even to this day, I am still connected with."
For Tosukhowong, mentoring new startups through the pitching process is key.
"I just pay it forward," she said. "Looking back 15 years ago when I first came into cleantech, I didn't have the skill I have today, and I wish someone had shown me the ropes. Now, I'm in a position to make this impact. If we can do this as a community, it comes back and benefits all of us."
To learn more about next year's IGF, set for May 1–3, 2024, visit nrelforum.com.