GEM Fellowship Brings Diverse Top-Tier Talent to NREL
---
A fellowship at the National Renewable Energy Laboratory (NREL) is packed with hands-on renewable energy research with world-class mentors. And for 24 NREL interns, the GEM Fellowship is an opportunity to increase representation in their fields.
The Graduate Education Minority (GEM) Fellowship organization recruits underrepresented minorities in science, technology, engineering, and math (STEM) who are in graduate school or interested in going to graduate school. In the 10 weeks of a summer internship, the GEM Fellowship provides an opportunity to highly qualified students in need of financial support to pursue an advanced education.
NREL's 2021 class of GEM fellows is the largest in the laboratory's history with the program.
"NREL is committed to our GEM partnership and striving to be a pipeline to recruit, attain, and support diverse talent," said NREL Associate Laboratory Director for Mechanical and Thermal Engineering Sciences and former GEM Fellow Johney Green. "Our commitment to these top-tier students continues to grow, as apparent by our largest class of GEM fellows to date."
Eric Allee: Building Relationships in Building Science
A new feature of this year's program is a dual mentorship initiative with the Department of Energy's (DOE's) Building Technologies Office (BTO). Six of the 24 NREL GEM fellows are a part of this inaugural program—the largest group of BTO fellows in the national laboratory system.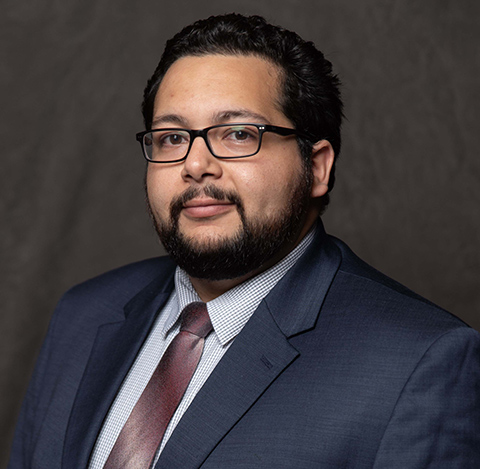 Participating in the unique dual fellowship with BTO is Eric Allee, who completed his Bachelor of Science in electrical engineering from the University of Arkansas at Fayetteville and will be pursuing his Ph.D. through GEM at his alma mater.
"It's the most cohesive internship I have been a part of," Allee said. "I'm being exposed to so much more than any other internship program I have had. I'm not only seeing the research side, but I'm also included in how the administrative side works."
Allee is using NREL's open-source tool Building Electrical Efficiency Analysis Module, or BEEAM, to run simulations of distribution systems, analyzing power losses for residential buildings. With NREL's Kim Trenbath and BTO's Wyatt Merrill, Allee is performing comparative analysis between AC and DC distribution systems for residential homes and developing documentation to ensure the tool is easy to use for those unfamiliar with it.
Allee knows a thing or two about feeling in unfamiliar territory. Originally from San Antonio, Texas, he attended San Antonio College but transferred to Arkansas, away from everything he knew and far from his family, after meeting a professor who offered him a job.
"I had no family near me. I was new and didn't have any friends. It was a big shift," Allee said. "My first semester was terrible. But I was able to stick through it."
Powering his drive to succeed was Allee's desire to get a good job and avoid returning to one he did not enjoy. Allee began his collegiate career at Texas A&M University, but, right out of high school, he was not prepared for college and ultimately took seven years off. During those years, Allee refused to become stagnant. He worked in retail and food service, saving money to return to school.
"The experience really gave me the motivation to stick through school, no matter how hard it was," Allee said. "I didn't want to go back to work at the restaurant."
Allee is aware of the opportunity afforded to him through the GEM program. Another NREL employee familiar with that opportunity is NREL Buildings Laboratory Program Manager Roderick Jackson, who was mentored by Green and awarded the 2016 National GEM Consortium Alumni of the Year. Jackson credits the GEM Fellowship for helping him gain exposure to the national laboratory environment and further develop his career.
"Many of these early-career candidates with great technical expertise do not have prior knowledge of the national labs," Jackson said. "Through this BTO partnership we have the opportunity to open more doors for underrepresented groups in the crucial building science space."
By coming to NREL, GEM students continue to pursue their passions in STEM while cultivating a vast network of resources designed to help prepare them for future endeavors.
Breanna Shi: Machine Learning With Biofuels and Beyond
Since Breanna Shi will be only 20 years old when she completes her master's in mathematics and computational biology from the University of Minnesota, she has a lot of future endeavors to prepare for. At age 17, Shi graduated high school and secured her associate's degree. Two years later, she received her bachelor's in mathematics at Stetson University.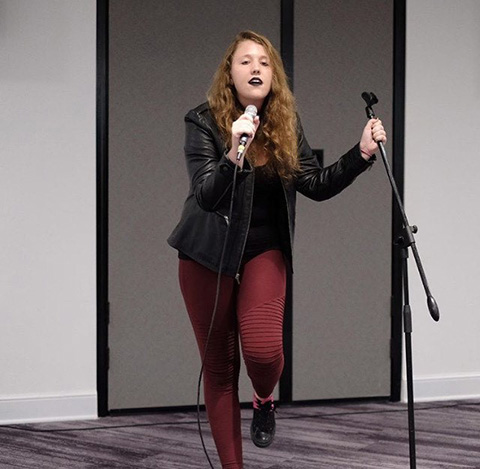 While at NREL, Shi is diving into machine learning with NREL's Yannick Bomble and John Yarbrough. Through machine learning, Shi is teaching a computer to recognize specific proteins in biofuels. Her work is building off a machine learning technique Yarbrough used to help reduce the effects of wind turbines on animals such as bats and birds.
"The research I'm doing has broad impacts and can be used in a lot of different applications," Shi said. "It combines my interest of biology and my mathematical and computer science skills." While math and science are the skills Shi is using most at NREL, she hopes to incorporate her other skills, like performing, to reach people and make STEM subjects more approachable. In addition to excelling in school, Shi hosted a late-night rock and roll radio show, performed in open-mic nights, was the youngest tutor at her school's Tutoring Center, and is currently teaching courses.
"I want to make mathematics and science entertaining for people," Shi said. "I like to combine performance and technical aspects to reach people. That's what I would hope to bring when I become a professor."
Shi's mother, who is Puerto Rican and Jewish, is a teacher, which Shi says contributes to her desire to become an educator. In fact, Shi credits much of her success and path to her current fellowship to mentors like her mother. This is something Shi hopes to pass on to the next GEM fellows.
"A lot of good mentors in my life brought me to NREL," Shi said. "A person who is from a background similar to mine may not be aware of the things that are out there, and GEM connects you with resources you might not have known about. It's played a connecting role for me."
Kevin Rivera Cruz: Solutions Through Energy Storage Technologies and Mentorship
Kevin Rivera Cruz would also not be at NREL without his mentors. At just two years old, Rivera Cruz lost his father and was raised by his mother and grandparents. Rivera Cruz's uncle, who was a chemical engineer, also played a significant role in his life and choice to enter a STEM field. Rivera Cruz attributes any success he has to his uncle's mentorship.
"I had the best opportunities in Puerto Rico because my uncle stepped in," Rivera Cruz said. "I owe everything to his efforts. He's my role model and boosted my curiosity in chemistry."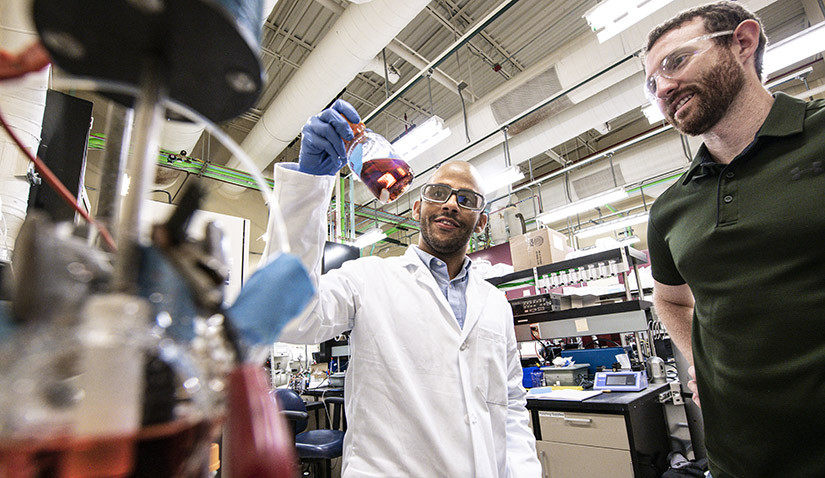 While completing his bachelor's in chemistry at the University of Puerto Rico, Cayey Campus, Rivera Cruz found his next mentor and his new passion. Professor Dalvin Mendez introduced Rivera Cruz to a path in chemistry research; through this opportunity, he participated in various research opportunities and conferences in both the continental United States and Puerto Rico. From these experiences, he decided that his next career step was to obtain his Ph.D. in inorganic chemistry. Now at the University of Michigan, he is mentored by Professors Charles McCrory, an experimental electrochemist, and Paul Zimmerman, a computational chemist.
The GEM fellowship opens a door for him to reach more students and become a mentor while also pursuing his research passions. Rivera Cruz is already mentoring others at Michigan and Puerto Rico by engaging with undergraduate students and strive to increase diversity, equity, inclusion, and belonging within academia.
"My passion is mentoring because I believe I am the man that I am today because I had mentors in my life," Rivera Cruz said. "I'm Black, Hispanic, and identify as a part of the LGBTQ community—there's not a lot like me. I believe being a mentor or teacher can show others like me that they can do it too."
Working with NREL's Mike Carroll, Rivera Cruz is researching batteries, a subject very personal to him. While in Puerto Rico, Rivera Cruz has lived through many natural disasters, specifically hurricanes. In 2017, Hurricane Maria devastated the island in what Rivera Cruz described as the most traumatic experience of his life, leaving him and his family without electricity for six months.
"From that, I felt the need to move from the complete dependence on fossil fuels electricity to cleaner renewable energy sources and batteries to create a microgrid for a more localized solution," Rivera Cruz said. "Being able to work in this field and being constantly reminded that the island struggles with power by my family back home only fuels my desire to work on this problem."
Multilaboratory Energy Planning Support for Puerto Rico
NREL provides Puerto Rico stakeholders with tools, training, and modeling support to enable planning and operation of the electric power grid with more resilience against further disruptions. Since Hurricane Irma and Hurricane Maria in September 2017, NREL has partnered on this effort with DOE and other national laboratories.
Learn more about this program.
Sarah LaVallie: Wind Research Drives Hope for Tribes
Despite being far from Puerto Rico, the challenges of improving one's community connect all the way to Sarah LaVallie in North Dakota near the Canadian border where, as a member of the Turtle Mountain Band of Chippewa, she grew up on a reservation.
"It was a pretty impoverished area, and you could see people not be able to afford heat in the winter," LaVallie said. "I see renewable energy being really impactful. This is something close to my heart and has fueled my desire to contribute to this field."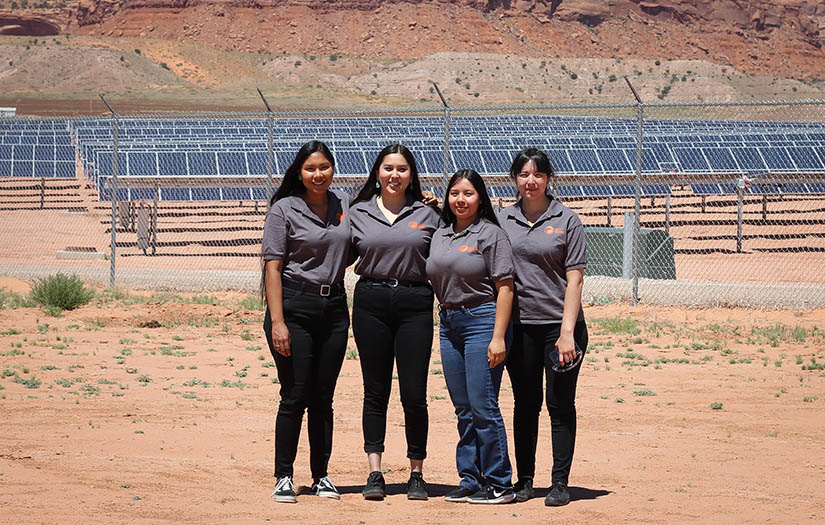 Before joining NREL, LaVallie learned about the laboratory through an internship with the DOE Office of Indian Energy's summer internship program. That experience not only introduced LaVallie to NREL through her use of tools like the Wind Prospector and NREL's Tribal Energy Atlas, but it also solidified her desire to work in renewables.
"I was reading a lot of research from NREL and used a lot of the maps and tools from NREL for my internship," LaVallie said. "After that, it became a goal of mine to work at NREL someday."
LaVallie's NREL mentor, Nick Johnson, is particularly qualified to assist her. He too is Native American and was an NREL intern and a DOE Office of Indian Energy intern. Johnson now leads NREL's Big Adaptive Rotor Project (BAR), which aims to maximize the advantages of large-scale rotors and their potential for increased energy generation.
While at NREL, LaVallie is contributing to the BAR project by investigating the impact of different wind profiles at elevations above 400 meters and determining their effects on loads for increasing wind turbine rotor sizes using OpenFAST aeroelastic simulations.
From a young age, LaVallie was interested in STEM, but she credits her mother and father for imparting a strong desire to protect the environment. LaVallie's mother was very involved in efforts to preserve the tribe's clean water. Her father taught her about the environment and its importance.
After graduating from North Dakota State University with a bachelor's degree in mechanical engineering, LaVallie moved on to the University of Minnesota where she is pursuing a master's in science, technology, and environmental policy. Through the GEM Fellowship, LaVallie can pursue her passions and give back to her community.
"I'm really grateful that I received this fellowship," LaVallie said. "It's really impactful for a lot of us. It's a great community of multicultural scientists and engineers, and it's very empowering to be a part of it and support each other."
Amy Chacon: Community and Support Fuel Innovation
After moving across the country from Brooklyn, New York, to Colorado during the pandemic, Amy Chacon was searching for community and was finding it difficult. But she is not intimidated by difficulty. That is one of the reasons she found herself at NREL, where she has been able to find community in the times of lockdown and social distancing.
At NREL, Chacon is working with Gina Fioroni on diesel fuel compounds with the goal of reducing greenhouse gas emissions from large vehicle transportation. Before coming to Golden, Colorado, Chacon had never worked in fuels research before.
"The research has big implications and is a top priority," Chacon said. "It impacts a lot: large transportation includes aviation, marine transportation, and heavy-duty vehicles."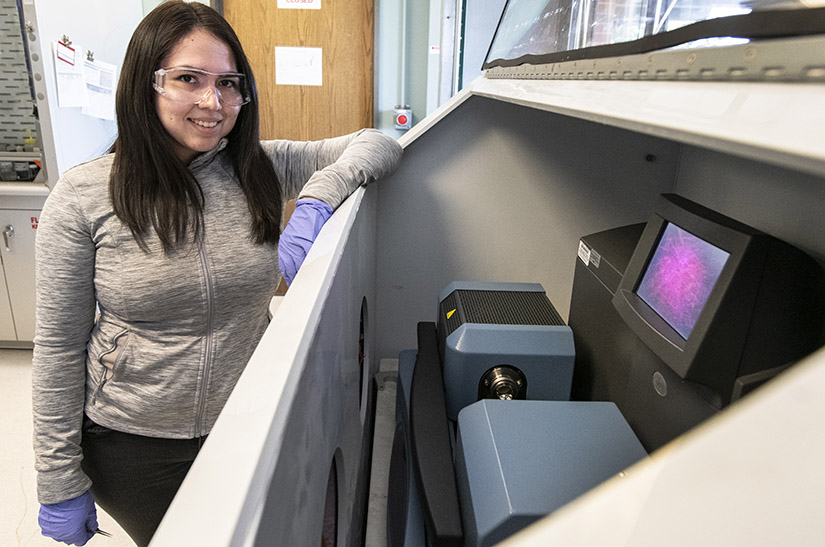 While she is new to fuels, much of Chacon's undergraduate research had environmental implication that helped spur her interest in renewable energy and green technology. At the City College of New York, Chacon researched eco-friendly surfactants that could help with the remediation of large marine oil spills and using chemicals to reduce the size of spills.
Her interest in chemistry comes from a person close to Chacon. Her godfather is a chemical engineer who encouraged her to pursue her interest in science and math—and to not be intimidated.
"He was one of my inspirations for even going into the major—a very difficult major," Chacon said. "Being able to see how hardworking he is and how inspired he was by his work, it just inspired me as well."
It is not just the work that can be difficult, Chacon said, but also the barriers for many people like her. With the help of the GEM Fellowship, she has been able to make connections and overcome many of those hurdles.
"In the simplest way, the GEM Fellowship has opened up opportunities for me, and without it I wouldn't be getting my master's right now," Chacon said. "Being Hispanic and a woman, it has been quite difficult to find jobs. Having the degree isn't enough, and the GEM Fellowship has helped me find a new opportunity."
GEM Fellows' Advice to Future STEM Students

Amy: Always be persistent, no matter what, because there are always going to be challenges. Always be open to new opportunities as well.
Breanna: It's hard, but you can do this. It's not out of your reach. If you put the work in, you will see the rewards.
Eric: You're going to feel stupid at times, but it's all attainable with a little bit of willpower and support and supporting others will get you through it all. If it's something you want to do, stick with it.
Kevin: Our planet needs us. We need more eager students in the STEM fields who have different experiences, different motivations, and different backgrounds to reach a cleaner energy transition.
Sarah: Don't be afraid to ask questions and ask for help when you need it! It's also extremely valuable to network and get involved with extracurriculars related to your field of interest.
Learn more about NREL's commitment to diversity and internship opportunities.