New Prize Doubles Down on Success of Earlier Community-Based Prizes
The New Community Energy Innovation Prize Expands Prize Pool to $7.49 Million To Drive Community-Led Solutions
---
After the groundbreaking success of the Inclusive Energy Innovation Prize and the Community Clean Energy Coalition Prize, the U.S. Department of Energy (DOE) is launching a new challenge that combines the two prizes, this time expanding the reach to community organizations, manufacturers, nonfederal government entities, and college students.
The three-phase $7.49 million Community Energy Innovation Prize will continue to encourage the transition to a just and equitable clean energy economy by offering three prize tracks: the Clean Energy Ecosystem Track, the Manufacturing Ecosystem Track, and the Collegiate Track. By broadening its reach, the prize aims to bolster grassroots community organizations, accelerate innovation in the manufacturing sector, and inspire and mentor collegiate students.
Winners from the previous prizes have demonstrated trailblazing progress in the shift toward a clean energy future—from accelerating microgrid deployment in rural and low-resourced communities in Puerto Rico to providing workforce training and community-based solar to Westside Atlanta residents.
"The diverse projects implemented by the winners of each of these prizes were a testament to what's possible when people come together to create community-based solutions," said Julie Baker at the National Renewable Energy Laboratory (NREL). "We know that this new prize will ignite even more progress toward critical community efforts surrounding clean energy."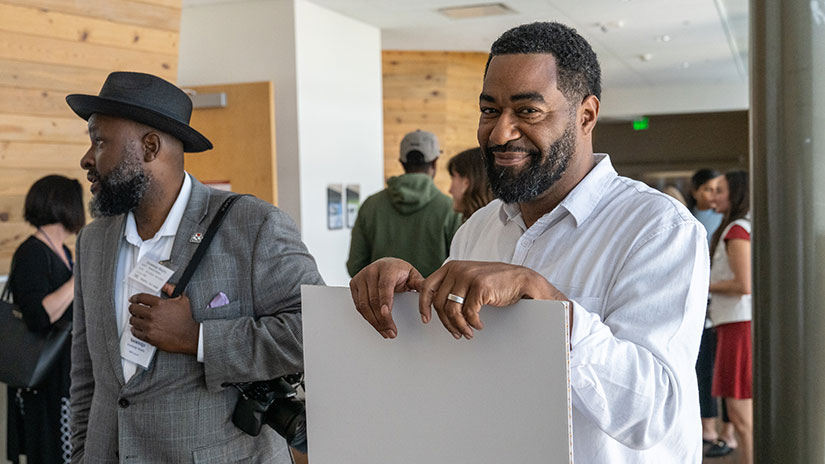 How the Prize Works
The Community Energy Innovation Prize, part of the American-Made Challenges program, is administered by NREL and receives support from DOE's Office of Energy Efficiency and Renewable Energy, including the Advanced Materials and Manufacturing Technologies Office and DOE's Office of Economic Impact and Diversity.
The prize will serve as a "front door" to DOE's clean energy funding programs and opportunities for academic institutions, nonprofit organizations, grassroots organizations, and private companies—with the goal of ensuring accessibility to funding opportunities and fostering a more inclusive ecosystem of competitors.
The Community Energy Innovation Prize consists of three tracks:
Clean Energy Ecosystem Track: A total prize pool of $4.86 million is available to eligible applicants with experience in supporting environmental, climate, and energy justice. This track encourages community-led projects across a wide range of clean energy initiatives, technologies, and areas of focus that advance local clean energy transitions.
Manufacturing Ecosystem Track: A total prize pool of $2.18 million is available to eligible teams that include at least one organization that can reasonably represent the interests of the manufacturing sector. This track encourages teams to bring together public, private, and community stakeholders to address key barriers to advancing manufacturing innovation, business models, and market development in underserved communities.
Collegiate Track: A total prize pool of $450,000 is available for student-led teams working alongside a community partner and an academic institution on a project related to an equitable clean energy transition. This track of the prize was inspired by the success of other NREL-administered collegiate competitions, all of which provide valuable hands-on experience and professional connections that students can carry with them into the clean energy workforce.
Competitor Resources:
FAQ
Applications to compete in the
concept phase
for all three tracks are
now open
. Collegiate Track submissions are due Nov. 3, 2023, and Clean Energy Ecosystem and Manufacturing Ecosystem Track applications are due Feb. 2, 2024.
Students interested in participating in the Collegiate Track are encouraged to join an informational webinar on Oct. 2, 2023, at 3 p.m. ET. Interested Clean Energy Ecosystem and Manufacturing Ecosystem Track competitors are encouraged to learn more at a webinar on Oct. 12, 2023 at 3 p.m. ET.
Stay up to date on the Community Energy Innovation Prize on the prize's HeroX page, and learn more about similar competitions on the American-Made website or by subscribing to the American-Made newsletter.