Building Better Blades: Renewed Funding Supports Wind Turbine Blade Innovations at NREL
Additional Research Will Enable NREL To Advance Sustainability and Efficiency in Blade Manufacturing
---
Wind turbines are getting bigger, and so are turbine blades, which need to be made of durable materials if they are going to keep functioning for 20 or more years. And at the end of their lifespan, it is essential that those durable materials be reused, not tossed in a landfill.
Working out how to efficiently and cost-effectively manufacture bigger turbine blades, ideally using recyclable materials, is the challenge that a group of researchers at the National Renewable Energy Laboratory (NREL) are tackling now.
A new round of funding from the Institute for Advanced Composites Manufacturing Innovation (IACMI) will help propel their research for the next five years. NREL is one of six institutions receiving a portion of $30 million in research funding from IACMI—a partnership between the U.S. Department of Energy's Advanced Materials & Manufacturing Technologies Office and the University of Tennessee Research Foundation. NREL will receive $4.1 million to oversee the wind energy technology area of IACMI, which is focused on identifying innovative composite materials and streamlining the manufacturing process of wind turbine blades.
"Our main objectives are to drive advancement of technology around longer, lighter-weight blades that can capture more energy and, thus, lower the levelized cost of wind energy," said Derek Berry, senior wind technology engineer at NREL and the director of IACMI's wind energy technology area.
This is the second round of funding distributed to IACMI, building on an initial $70 million that was awarded in 2015.
"Our work with IACMI has already gone a long way toward making future wind turbine blades recyclable," said Daniel Laird, who oversees the research as director of the National Wind Technology Center at NREL. "With this renewed funding, NREL will be able to continue pushing new, more efficient, and more sustainable technologies toward commercialization."
The Colorado Office of Economic Development and International Trade (OEDIT) has also committed to matching the $4.1 million of federal funding to advance research over the next five years, with the goal of supporting the creation of a Colorado-based ecosystem of jobs and industry around composite materials, which will play a key role in the clean energy economy.
Creating a Better Composite
Although other materials have been tested in the past for use in turbine blades, the industry has converged on the idea that, because of their strength and lightweight properties, composites—defined as two or more materials that when combined are stronger than the individual materials—are the best for this application.
Traditionally, blades have been produced with thermoset resin systems, which often require heat to cure the composite material. The ensuing chemical bond must be strong enough to withstand years of use in turbulent environments.
The result? A bond that becomes very difficult to break down at the end of the turbine blade's life—and a whole lot of blades that are difficult to recycle.
Fortunately, change is coming, in the midst of a shift in public sentiment about sustainability and manufacturers' desire to ensure that their "green" technologies deliver on that green promise.
"When we started our work with IACMI in 2015, I sat down with wind turbine and blade manufacturers and asked them if the recyclability of their blades was a priority," Berry said. "They all said no. Now, it's at the top of their list. There's been a sea change in the way manufacturers are prioritizing sustainability."
NREL researchers are now looking into other options for composites, including a thermoplastic resin system that polymerizes (or bonds) without the use of added heat, potentially making it easier to separate later and, therefore, much more recyclable.
Speeding Things Up
Another crucial facet of the NREL team's efforts involves exploring the potential for increased automation in various stages of the turbine blade manufacturing process. The current approach is manual-labor intensive, requiring workers to often perform difficult jobs, sometimes at height, in the blade factory. Automating some of these production steps, especially the finishing processes of trimming, grinding, and sanding, could lower costs, speed up the manufacturing cycle time, and produce more consistent quality.
"We want to ensure the quality of every blade going out the door is the best it can be," said Berry, who feels strongly that automation will help them get there.
In the past, automation has been too expensive and too slow, but progress is being made, he said, little by little. "Only recently have we been able to make significant headway in terms of automation," Berry said. "But there's still plenty of research to be done."
Expanding NREL's Manufacturing Research Capacity
The initial round of funding from IACMI kick-started research not only into automation but into other areas of manufacturing, too. Berry said the funding, along with support from NREL and Colorado's OEDIT, was key to standing up and expanding the capabilities of NREL's Composites Manufacturing Education and Technology (CoMET) Facility.
"Everything you see in CoMET was catalyzed by our IACMI funding," Berry said. "For the first few years, most of the work done in the building was for IACMI projects. Now, it's expanded to incorporate water power and other manufacturing projects, too."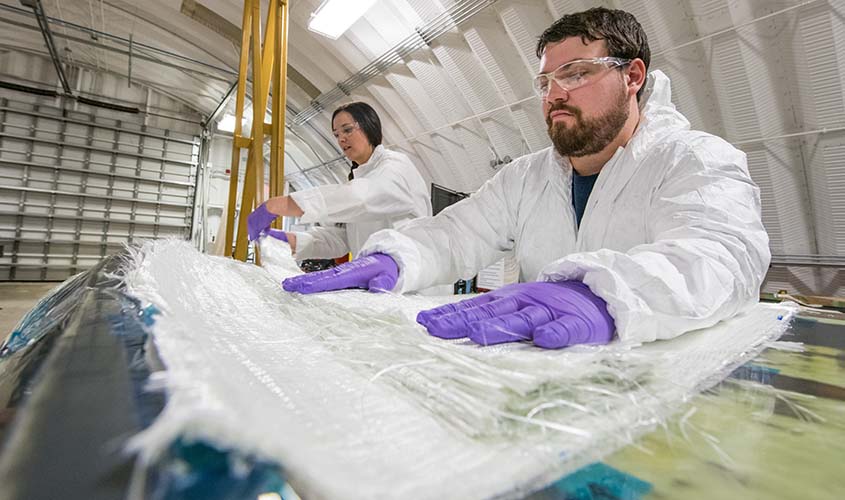 CoMET, a long Quonset-hut-type building that sits on NREL's sprawling Flatirons Campus just outside of Boulder, Colorado, is filled with composites samples, machinery, and, of course, turbine blades.
Since its initial funding in 2015, CoMET has become a hub of partnership as industry researchers work alongside NREL researchers to scale up their prototypes, validating and refining along the way. After they have successfully scaled up new technology at CoMET, NREL researchers often head back to the industry partner's own facility to work with them as they turn production prototypes and innovative materials into full-scale processes and turbine blades.
"One of the most important things about CoMET is the public–private partnerships it facilitates," Berry said. Through these collaborative relationships, he said, "We're de-risking the use of advanced materials and manufacturing processes and providing a really important path to commercialization."
Next Steps
As the new funding becomes available, Berry and his team are working to identify which research projects are most valuable to the U.S. wind energy industry. No matter where the new projects are focused, the quality of the wind turbine blades will always be a priority.
Quality, Berry said, is key to lowering costs, because more resilient turbine blades naturally require less operations and maintenance work (i.e., less time spent monitoring and repairing blades in the field).
This is especially important as the country moves to deploy more and more offshore wind turbines, which require boats, barges, and cranes for maintenance workers to service their massive blades. As a result, part of the focus for this next iteration of IACMI research will be to ensure NREL's research translates to offshore applications as well.
Ultimately, NREL's role in IACMI is to help accelerate wind energy deployment everywhere by streamlining the production of the turbines needed to make that happen. "It all comes down to reducing the levelized cost of wind energy," Berry said.
Learn more about NREL's turbine blade manufacturing research and wind energy research, as well as opportunities for partnership with NREL through CoMET.