Advanced Computing Powers 300-Plus Clean Energy Projects
---
As highlighted in the National Renewable Energy Laboratory's (NREL's) Advanced Computing Annual Report for Fiscal Year 2022 (FY22), high-performance computing (HPC), efficient data center operation, and state-of-the-art data visualization have demonstrable effects on advancing critical energy-efficiency and renewable-energy research.
HPC capabilities supported more than 300 key projects across the U.S. Department of Energy's (DOE's) research areas, including projects spanning every technology office within Energy Efficiency and Renewable Energy (EERE).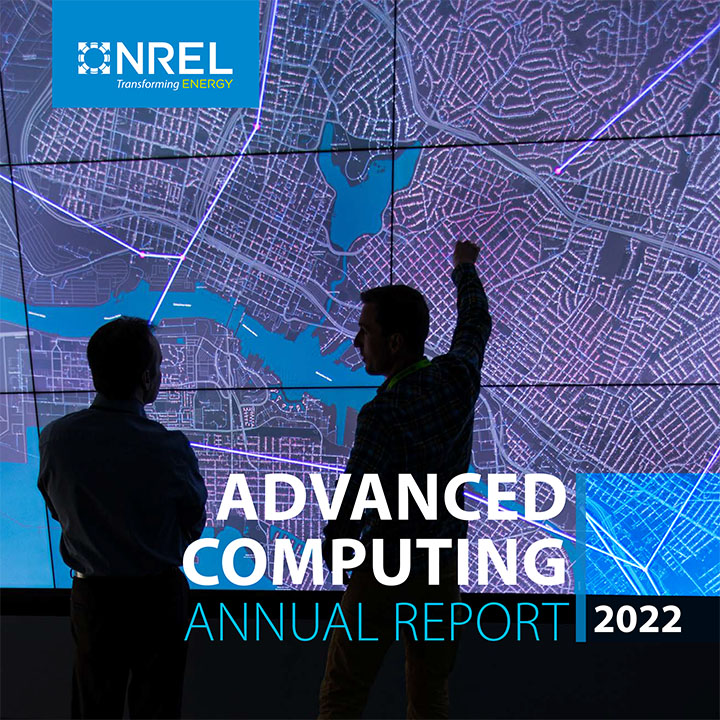 Read the highlights or download the full report to learn how NREL's researchers, scientists, and engineers led powerful computing for DOE, including:
More than 200 modeled scenarios that empower researchers to explore the trade-offs of varying transmissions buildouts during the initial phases of a multiyear project to produce transmission expansion recommendations for the United States
High-accuracy simulations of molecular dynamics that created a multiscale model to guide the manufacturing of high-pressure membranes for water desalination
Solar, wind, and hydropower data sets that help advance Puerto Rico's path to 100% renewable energy.
As the dedicated computing facility for EERE, NREL plays a critical role across the EERE research portfolio. To stay at the cutting edge of the latest advancements in HPC technology, NREL is preparing for the installation of its next-generation HPC system in the laboratory's Energy Systems Integration Facility (ESIF) data center.
The new supercomputer, Kestrel, will complement the current supercomputer, Eagle, during the transition. When completed in fall of 2023, Kestrel will accelerate energy efficiency and renewable energy research at a pace and scale more than five times greater than Eagle, with approximately 44 petaflops of computing power.
Learn more about advanced computing capabilities at NREL, get updates about Kestrel in the countdown to Kestrel blog, and peruse our infographic showing how Kestrel and Eagle stack up.