American Society of Mechanical Engineers Designates NREL Researcher as Fellow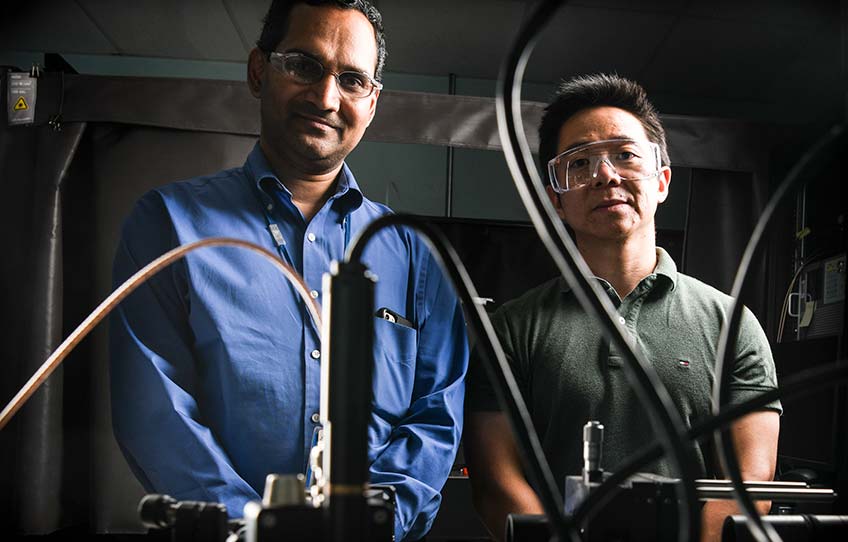 Sreekant Narumanchi, the National Renewable Energy Laboratory's (NREL's) acting manager of the Advanced Power Electronics and Electric Machines (APEEM) group in the Center for Integrated Mobility Sciences, was recently selected as an American Society of Mechanical Engineers (ASME) fellow. This recognition honors his extensive involvement with ASME and his excellence in mechanical engineering research at NREL.
A member for nearly 20 years, Narumanchi has found tremendous value in ASME's professional network. In 2015, he led the first-ever power electronics and electric machines topic at the ASME InterPACK conference, where he organized sessions for the event as topic chair. His involvement steadily expanded from there, culminating in his role as InterPACK's general chair in 2019. Today, he serves as the associate editor of ASME's Journal of Electronic Packaging.
Like other ASME fellows, Narumanchi's engineering achievements are significant. His research accomplishments in advanced power electronics and electric machines at NREL have been featured in more than 70 peer-reviewed journals and conference papers and recognized with various awards. As the APEEM manager, he leads a group of researchers focused on the thermal, electrothermal, mechanical, and reliability aspects of power electronics and electric machines for electric-drive vehicles, as well as for other energy efficiency and renewable energy applications. In 2016, his work with wide bandgap power electronics received an R&D 100 Award for enhancing the performance of electric-drive vehicles.
"Sreekant is very well known and well regarded in the microelectronics thermal packaging research community," said Yogendra Josh, the Georgia Institute of Technology professor who sponsored Narumanchi's nomination. "His team has established a national reputation for their contributions in the area of vehicle electronics thermal management. Within NREL, they are leading heat transfer technologies and materials thermal characterization efforts for power electronics applications."
Narumanchi believes that his work with ASME has been crucial to his professional success at NREL, crediting the network with initiating new opportunities for the APEEM group. Some of the current projects within the group started as proposals in collaboration with other ASME members from General Electric (GE), Stanford University, and Georgia Tech. Narumanchi has encouraged many of his colleagues to participate in ASME as well, in the form of authorship on technical papers, presentations, and posters at the InterPACK Conference and in the Journal of Electronic Packaging, as well as several organizational roles within the InterPACK conference.
"I am very grateful for this recognition and for the support I have received from ASME and colleagues internal and external to NREL," said Narumanchi. "It is a significant honor to join many illustrious colleagues with this distinction."
At the laboratory for more than 15 years, Narumanchi was the first NREL researcher to receive ASME's K-16/Electronic and Photonic Packaging Division Clock Award for outstanding contributions to the science and engineering of heat transfer in electronics. Alongside his continued work with the ASME Journal of Electronic Packaging, Sreekant is looking forward to continuing to evolve the APEEM group's focus as electric and autonomous vehicles, power electronics, and electric machines become more prominent features in society.