USAID-NREL Partnership Newsletter – Winter 2020
Read our Winter 2020 issue for updates on our country activities, events, global technical platforms, and resources.
The USAID-NREL Partnership addresses critical challenges to scaling up advanced energy systems through global tools and technical assistance, including the Renewable Energy Data Explorer, Greening the Grid, the International Jobs and Economic Development Impacts tool, and the Resilient Energy Platform.
10 Years of Technical Leadership
As we round the corner on a 10-year alliance between the U.S. Agency for International Development (USAID) and the U.S. Department of Energy national laboratories, we reflect on the many accomplishments that have been achieved through the USAID-NREL Partnership and the great strides that have been made in countries such as the Philippines, Lao People's Democratic Republic (PDR), Bangladesh and many others. As we embark on the next phase of our collaboration, we are expanding our impact to more stakeholders around the world to provide best-in-class technical assistance, tools and resources to deliver clean, reliable, and affordable power in the developing world.
This targeted technical assistance, provided through our four global technical platforms—the Renewable Energy Explorer, Greening the Grid, the Resilient Energy Platform, and the International Jobs and Economic Development Impacts model—offer a breadth of information on key technical topics related to advanced energy planning and grid modernization. In addition to tools and resources, each platform features an Ask an Expert service, which connects power system stakeholders in developing countries to our network of experts who can provide remote consultation and advice at no cost.
We appreciate all the partners, stakeholders, and users who cross paths with our work and we look forward to continuing to support advanced energy deployment across the globe.
As we assume leadership of the USAID-NREL Partnership, we wish to thank Dr. Jennifer Leisch for her years of guidance on this program and her keen vision that helped make the USAID-NREL Partnership the robust portfolio it is today.
Jeremy Foster and Sarah Lawson
USAID, Office of Energy and Infrastructure
Featured News
New Guidebook Informs Next Generation of Grid Integration
NREL's grid integration experts, with support from USAID, shared the processes and best practices for high-quality grid integration studies in a new guidebook for practitioners across the globe. The guidebook, Variable Renewable Energy Grid Integration Studies: A Guidebook for Practitioners, synthesizes the past decade of lessons learned and approaches for conducting high-quality grid integration studies.
"This guidebook will inform the next generation of grid integration studies," said Ilya Chernyakhovskiy, NREL researcher and guidebook coauthor. "It will help teams and project leaders to build on NREL's experience delivering high-quality analysis and insights, and to build consensus among in-country stakeholders around ambitious renewable energy targets."
Grid integration studies help power system planners understand the broad, system-level issues that may arise with increased variable renewable energy sources on the power grid and the operational pathways that may support higher levels of renewable power.
Read more about the guidebook and the USAID-NREL Partnership's grid integration work.
---
What's New in Global Technical Platforms
Renewable Energy Explorer
Renewable Energy (RE) Explorer provides renewable energy data, geospatial analysis tools, and technical assistance to support data-driven renewable energy decision making.
Learn more by visiting the RE Explorer website.
Data Catalog Serves as Central Inventory of Renewable Energy Resource Data
Are you searching for high-quality renewable energy resources and related geographic information system (GIS) data? The RE Data Explorer Data Catalog (RE Data Catalog) is a central location for research and discovery of the renewable energy resource and GIS data that powers the RE Data Explorer tool. It also serves as a place for researchers to contribute data in support of the RE Explorer project. One of its unique features is its open-source nature. Any individual or organization can access the catalog and submit or download data from RE Explorer at no cost. This includes data from key contributors such as the Danish Technical University, the World Bank, and the World Resources Institute.
The RE Data Catalog accepts a variety of file formats. The RE Explorer team of data scientists, analysts, cartographers and web developers then curate the submissions to maintain the data's accuracy, authenticity, and usefulness. The information stored within the catalog can enhance data-driven decisions to support low-emission energy development.
Access the RE Explorer Data Catalog.
Greening the Grid
Greening the Grid is a platform for expertly curated information, tools, and technical assistance to support countries in power system transformation and grid modernization. Greening the Grid addresses technical challenges around grid modernization and advanced energy integration through the Grid Integration toolkit, the Renewable Energy Zones toolkit, and the Distributed Photovoltaics toolkit.
Learn more by visiting the Greening the Grid website.
Analysis Indicates Economic Benefit in Deploying Distributed Photovoltaics in Indonesia
A new report, titled
Distributed Photovoltaic Economic Impact Analysis in Indonesia
, presents a holistic overview of the economic impacts of deploying distributed photovoltaics (DPV) in the Java-Bali region of Indonesia.
Like other countries in Southeast Asia, the Government of Indonesia aims to increase its use of renewable energy in the near term from various technologies, including grid-connected DPV. While a small amount of DPV has been installed to date, the policy landscape is shifting to be more supportive of DPV deployment. However, questions remain as to how DPV deployment might impact customers, utilities, and Indonesia's economy.
The report assesses topics such as electricity tariffs, system prices, utility revenues, and the jobs and economic development impacts associated with scaled-up DPV installation. The report asserts there are tangible benefits to scaled-up DPV deployment but notes the current regulatory framework must continue to adapt to more efficiently process higher volumes of DPV projects.
Resilient Energy Platform
The Resilient Energy Platform provides expertly curated resources, training materials, tools, and direct technical assistance in planning resilient, sustainable, and secure power systems. The platform enables decision makers to assess power sector vulnerabilities, identify resilience solutions, and make informed decisions to enhance power sector resilience at all scales.
Learn more by visiting the Resilient Energy Platform website.
Quick Read Series Offers Accessible Insight to Targeted Resilience Topics
As countries face an ever-growing array of natural and human-caused threats, there is a heightened need to enhance power system resilience. With that in mind, the resilience experts on the USAID-NREL Partnership team produced a series of technical quick reads about targeted resilience topics.
The series provides accessible and engaging insights about key subject areas for developing a resilient power system, including technical and institutional solutions for resilience, energy security, finance for resilience planning, cross-border trade to support resilience, and power system threats and impacts. These quick reads don't demand excessive time or deep technical understanding, but still offer substantial relevant technical information and analysis.
Browse the quick reads on the Resilient Energy Platform website.
Lao People's Democratic Republic Vulnerability Assessment and Resilience Action Plan Released
In partnership with the Lao PDR government and USAID Clean Power Asia, the USAID-NREL Partnership developed the
Lao Power Sector Vulnerability Assessment and Resilience Action Plan
that details the vulnerability assessment process and describes key prioritized actions to increase Lao PDR's power-sector resilience incrementally over time.
The Lao power sector is facing risks related to natural, technological, and human-caused threats that may interrupt the provision of electricity or lead to chronic undersupply of power. To address risks, policymakers, planners, and system operators of the Lao PDR conducted a power-sector vulnerability assessment and resilience planning process to safeguard their systems.
Country Support
Country Support
In addition to the technical platforms, the USAID-NREL Partnership addresses country-specific challenges through targeted, fully customized technical assistance. These activities, often based on the technical platforms, address technical energy sector challenges that may include planning, policy formulation, and market barriers.
Standards for Microgrid Performance Monitoring Provided in Power Africa Analysis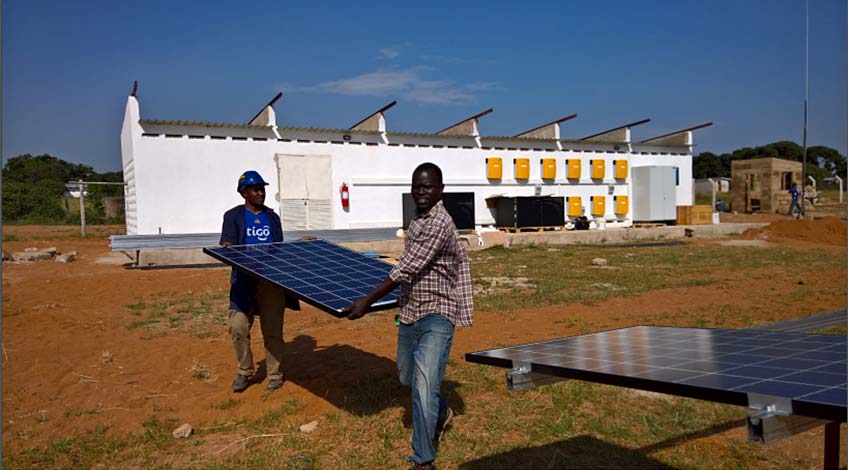 USAID's Power Africa and NREL recently published
Performance Monitoring of African Microgrids: Good Practices and Operational Data
, which provides a standardized list of performance monitoring indicators for mini-grid data collection and reporting.
Microgrids are expected to play a critical role in providing energy access to the roughly 600 million people in sub-Saharan Africa who currently live without electricity. Increased investment in the sector is necessary but hindered by a perception of risk, a lack of proven business models, and a limited understanding of the actual performance of operating systems. This analysis serves to bolster investor confidence, validate business models, and demonstrate efficient and proper performance of microgrid operating systems.
Bangladesh Technical Assistance Continues with a Focus on Private Sector Support
With funding from USAID and in partnership with the Government of Bangladesh, NREL, with in-country partners, led an assessment to quantify the wind resources in Bangladesh. Beginning in 2011, the Bangladesh Wind Resource Mapping Project collected multi-year wind measurements and validated a wind modeling effort for high-quality nationwide wind resource assessment at various turbine hub heights, resulting in a key report titled,
Assessing the Wind Energy Potential in Bangladesh
.
Bangladesh has used the outputs of this wind resource assessment to shift into the second phase of renewable power planning – engaging private sector interest and investment. The USAID-NREL Partnership has supported this phase by hosting workshops, trainings, and roundtable discussions with both private sector and government stakeholders to address the current opportunities and barriers to renewable energy planning and integration.
Meet Our Team
Andrea Watson—Building Teams To Solve Energy Challenges Globally
Andrea Watson leads NREL's work with USAID, which focuses on assisting countries with policy, planning, and deployment support for advanced energy technologies. Her technical background ranges from researching the use of renewable energy in the Chilean mining industry to installing renewable projects in rural areas of the western United States. Watson's expertise also lies in strategic planning, change strategies, and decision-making support as applied to clean energy projects and programs.
Read more about Watson and her work.
Events
REGISTER: Clean Energy Technical Solutions for Power Sector Resilience
Clean energy technical solutions, such as distributed generation, energy storage, and smart grids, can enhance resilience across the grid system to help provide more reliable power to end users. These and other cutting-edge technologies and approaches are enabling countries to better prepare for and address threats to the power system.
Join NREL's power system resilience experts in an upcoming webinar covering how clean energy technical solutions can enhance grid resilience. Hosted live on March 26, 2020 at 8:00 am MDT (3:00 pm CET).
Register to attend the GoToWebinar.
WATCH: Conducting High-Quality Grid Integration Studies: An Overview of Lessons Learned and the New Practitioner's Guidebook
This pre-recorded webinar evaluates approaches for designing an effective grid integration study, including best practices for working with stakeholders, developing scenarios, and choosing appropriate models. It also includes a review of the methodology behind a real-world grid integration case study from India and highlights key topics from the new grid integration studies guidebook produced through the USAID-NREL Partnership's Greening the Grid platform.
READ: Load Factor and Unserved Energy in Pakistan
A recent webinar that included experts from NREL, Argonne National Laboratory and Pacific Northwest National Laboratory looked at the fundamentals of load factor, the ratio of total energy generated by a power system to the maximum possible generation over a set amount of time, and unserved energy, customer energy demands that a power system is not currently supplying. The webinar also includes case studies and observations from various countries as well as an overview of load forecasting in Pakistan.
Read the Load Factor and Unserved Energy Webinar presentation.
Subscribe to our Newsletter
To stay up to date with the latest news, updates, and events from the USAID-NREL Partnership, subscribe to our quarterly newsletter.
Subscribe