Decision Support for Tribes
NREL provides resources and direct assistance to tribal governments, supporting energy technology delivery and connecting them with world-class science and analytics.
To provide decision support, NREL partners with Native American tribes and Alaska Native villages, the U.S. Department of Energy (DOE), and other federal agencies, nonprofits, and intertribal organizations.
Tribal Community Collaboration
NREL works hand-in-hand with tribal communities, helping them journey toward a clean energy future.
Clean Energy Potential on Tribal Lands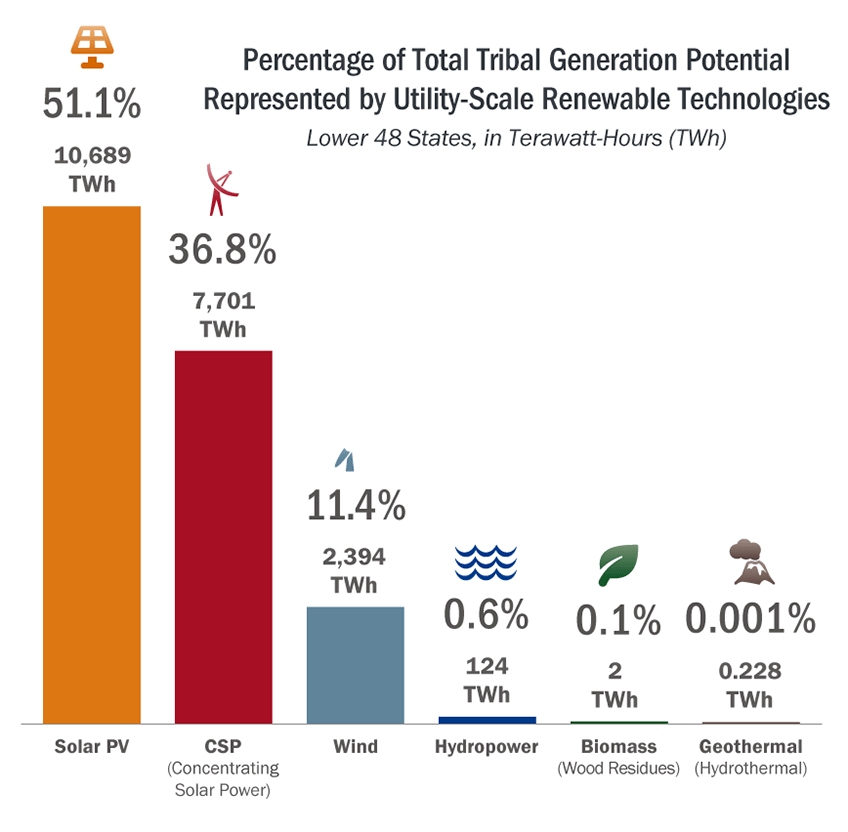 Tribal lands comprise approximately 5.8% of the total U.S. land base, but represent an estimated 6.5% of the total U.S. utility-scale renewable energy technical potential. This is according to an NREL report, Tech-Economic Renewable Energy Potential on Tribal Lands.
With a high value placed on community self-sufficiency and self-determination, tribes and Alaska Native villages are well positioned to lead the clean energy market by providing scalable sustainable community models that are transferable to state, local, and national governments.
Programmatic impacts reflect NREL's ability to connect world-class science and engineering research with tribal governments to directly access the benefits of energy development for their members and create groundbreaking replicable models for broad adoption of innovative energy technologies.
Look for examples of NREL work on the DOE Office of Indian Energy News and Blog.
For guidance on tribal energy projects, see the DOE Resource Library and DOE Education and Training offerings.
Tribal Decision Support Programs
To connect tribes with credible, timely, and actionable scientific information on which to base their energy decisions, NREL provides the following tailored programs.
Technology and Market Analytics
NREL provides credible research and analytics to identify impactful opportunities for energy development on tribal lands. For example, see the DOE report, Geospatial Analysis of Renewable Energy Technical Potential on Tribal Lands.
Drawing on NREL's deep scientific and technical knowledge related to energy, and core capability of energy analytics, NREL provides tailored information to tribal leaders and other stakeholders to inform energy decision making.
Direct Technical Assistance
NREL has been working with tribes to solve clean energy challenges since 1995, with more than 300 high-impact interactions occurring since 2012. Currently, tribes have cost-free access to NREL expertise through DOE's Office of Indian Energy.
NREL also offers fee-based technical assistance. Learn more about NREL's Technical Support Services.
Capacity Building
To effectively deliver clean energy technologies to market, governments, program administrators, and technology end users, NREL provides technology, market, and stakeholder communications strategy trainings to tribes. For recent trainings, see DOE Office of Indian Energy Workshops.
Resilience Assessment and Planning
NREL provides renewable energy community assessments to identify climate vulnerabilities and help develop solutions. Leveraging extensive experience in disaster planning, response, and recovery, NREL works with tribes to develop community-specific plans and strategies to reduce vulnerability and increase resilience.
Featured Tools
Tribal Energy Atlas
Query data by tribal land and conduct simple analyses of demographics, installed capacity, utility-scale renewable energy technical potential, and more