Technology Transfer Working Group Advances Commercialization of National Laboratory Innovations
---
Every day, researchers at U.S. Department of Energy (DOE) national laboratories make progress on tackling our planet's most pressing energy and climate issues. But because the federal government does not manufacture final products, it needs to transfer science and engineering innovations from the lab to the marketplace, where the private sector can produce, scale, and distribute vital clean energy technologies.
The DOE Technology Transfer Working Group (TTWG) is charged with promoting the commercialization of taxpayer-funded discoveries to make a broader impact on our clean energy future.
In mid-April, TTWG held its two-day spring meeting at the National Renewable Energy Laboratory's (NREL's) Golden, Colorado, campus, where a full agenda of speakers, including DOE Chief Commercialization Officer and Director of the Office of Technology Transitions (OTT) Vanessa Chan presented. More than 110 stakeholders from all 17 national laboratories gathered including commercialization managers, licensing executives, legal counsel, and agreement specialists to identify best practices and address challenging technology transfer issues.
Leading by Example: NREL Prioritizes the Path to Market
On day one, NREL Director Martin Keller and NREL Associate Laboratory Director (ALD) for Innovation, Partnering, and Outreach Bill Farris set the stage for everyone. They shared a sense of urgency not only for innovating and developing critical new technologies but also specifically for partnering, commercializing, and getting those technologies into the marketplace where they can be adopted and generate real impact.
Keller used NREL's three critical objectives—Circular Economy for Energy Materials, Electrons to Molecules, and Integrated Energy Pathways—to explain how NREL is working to tackle some of the world's most pressing energy problems. He made sure to rally everyone in attendance in the push for an expedited energy transformation and point out the importance of their specific roles.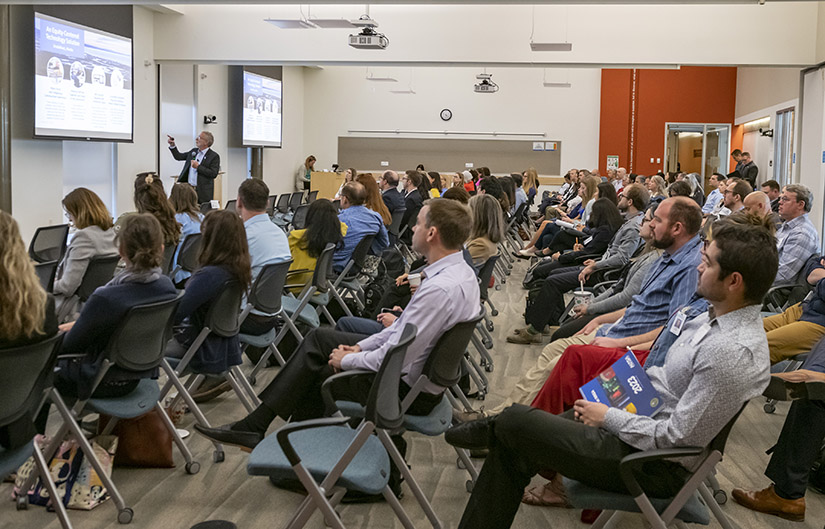 "It will require new ways of bringing all these companies together," Keller said. "We are doing really cool research, but can we go back and say, 'Yes, we made an impact on our mission'? The key is to partner with other organizations to get the technology into the market. We need to be driven, by not just the science but to make sure we get all the science into the market, and that's all of you, so you better get going."
Farris revealed some of the keys that have helped NREL to so much success with commercialization and partnerships, beginning with an acknowledgement of the vitality of DOE's investment in the laboratory.
"We couldn't do what we do without the DOE investment: $17 billion invested in NREL, the facilities and people here at NREL," Farris said. "We don't exist without the government's interest in this mission space. It's all about impact. There are so many potential partners out there in the world. We look for partners who are doing something interesting, hard, has never been done before—those are the partners we chase. We have to get a contract of some sort to get a partnership. We'll get out of the way on intellectual property. We'll team with other labs."
Updates From DOE
Kelly Lefler, acting chief of staff to the DOE Under Secretary for Science and Innovation, took the stage and picked up where Keller and Farris left off, stating matter-of-factly to the tech transfer professionals in attendance: "We can't operate in our past mode. We have to make these direct connections between the discoveries of the Office of Science to applied research to demonstration and deployment."
Perhaps the most invigorating presentation of the TTWG's opening day was Chan's in-depth and insightful update. She discussed a couple new initiatives: Pathways to Commercial Liftoff—a series of living reports that will provide a common understanding of what it will really take to achieve private sector "liftoff," with a fact-based approach that addresses knowledge gaps around critical commercialization barriers—and the new Adoption Readiness Levels, which she said offered a more detailed look at the technologies and that DOE Golden Field Office Director Derek Passarelli later said enabled apples-to-apples comparisons.
Reflecting on a boost for support for renewable energy in recent years, Chan said: "Under this administration, DOE has been positioned at the forefront of tackling the climate crisis and is leading the deployment of clean energy technologies at scale using historic levels of funding and new authorities. OTT has been revitalized, and we're collaborating across the department to increase the commercial impact of our research and development investments."
She continued to list OTT highlights, touching on the:
Chan also recapped DOE's visit to the Consumer Electronics Show (CES) and an important action item that emerged from the passing of the CHIPS and Science bill.
"We went to CES for the first time in a really meaningful way and were able to showcase a lot of the lab technologies that were there. [Secretary Granholm] gave a keynote there," she said, "And we're working hard to stand up the 501c3 of Foundation for Energy Security and Innovation (FESI), part of the CHIPS and Science Act."
Chan was one of a small group of guests invited to tour NREL's campus where she heard presentations from NREL leadership and visited the new Research and Innovation Laboratory, set to open soon.
2023 DOE TTWG Awards Ceremony
To close the meeting, the current and most recent TTWG chairs, Eric Payne, senior license executive from NREL, and Julienne Krennrich, director of the Innovation Partnerships Program at Ames Laboratory, presented the awards for outstanding tech transfer efforts across the national laboratory complex. In order of presentation, the winners for 2023 are as follows:
TTWG Member of the Year
Licensing Associate from Princeton University, Chris Wright
Best in Class: Intellectual Property (IP) Management
Senior Licensing Executive from NREL, Erin Beaumont
Best in Class: IP Licensing
Senior Commercialization Manager from Idaho National Laboratory, Jon Cook
Best in Class: Partnering
Senior Agreements Manager from Oak Ridge National Laboratory, Susan Ochs
Best in Class: Economic Development
From Sandia National Laboratories:
TRGR/NMSBA Project Manager, Judy Hendricks
TRGR/NMSBA Project Manager, John Martinez
Licensing Executive, Robert Westervelt
From Los Alamos National Laboratory:
TRGR/NMSBA Project Manager, Julia Wise
CRADA Specialist, John Rogers
Best in Class: Innovative Tech Transfer
From Lawrence Livermore National Laboratory:
Business Development Executive, Hannah Farquar
Special Advisor, Roger Werne
Best in Class: Early Career
Technical Business Development Specialist from Sandia National Laboratories, Jess Jungwirth
Technology Transfer & Intellectual Asset Management Specialist from Idaho National Laboratory, Paige Price
Best in Class: Single Purpose Facility
From Ames National Laboratory:
Director of Innovation Partnerships Program, Julienne Krennrich
Assistant Director for Licensing & Business Development ISURF, Craig E. Forney
Best in Class: OTT Director's Award Innovative Lab Technology Transfer
From Lawrence Livermore National Laboratory:
Business Development Executive, Hannah Farquar
Special Advisor, Roger Werne
These individuals represent a small facet of the massive amount of work it takes to guide scientific innovations from the national laboratories to the marketplace. By focusing on commercialization, DOE is ensuring that its investment in lab-developed technologies will continue to strengthen our economy and the clean energy transition.
Learn more about the TTWG and NREL's strategic partnerships.