NREL Demonstrates New Wind Turbine Blade Manufacturing Methods and Technology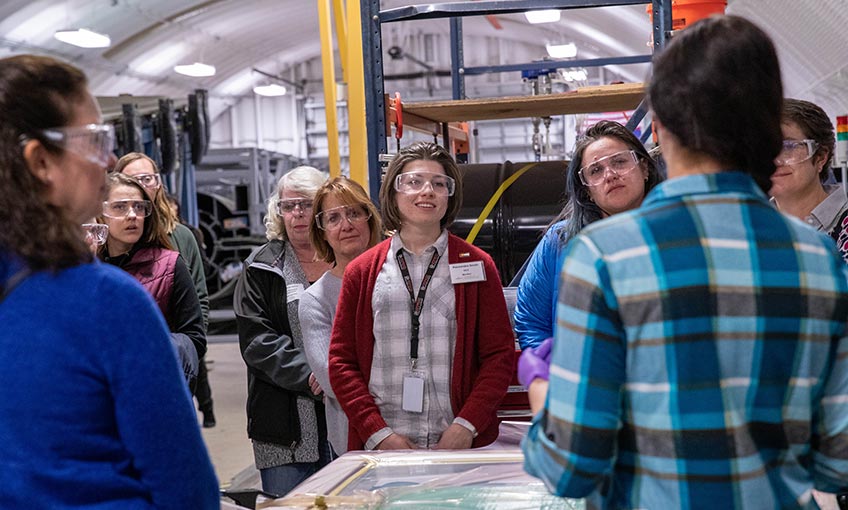 In late-February, researchers at the National Renewable Energy Laboratory (NREL) Flatirons Campus demonstrated a new, advanced material used to manufacture wind turbine blades to manufacturing industry representatives during a Women in Manufacturing (WiM) event at the Composites Manufacturing Education and Technology (CoMET) facility. NREL partnered with the WiM Association's Colorado Chapter to organize and host the event, which included a tour and networking reception.
Led by NREL Senior Engineer Derek Berry, the group first toured the CoMET, which supports new, innovative approaches to wind and water turbine manufacturing. Attendees learned about the facility's scope of research and manufacturing capabilities, with thermoplastic resin systems as the key driver in the research of innovative materials. During the tour, Berry emphasized the facility's focus on minimizing end-of-life wind turbine blade waste by enabling the design and production of turbine blades using thermoplastic resins—a component that can reduce overall manufacturing costs, minimize production cycle time, and has the potential to be recycled. The CoMET is supplied with the necessary materials and equipment to support and conduct this advanced research.
Robynne Murray, a research engineer at NREL, demonstrated a smaller-scale infusion process using a thermoplastic resin system to simulate how large wind turbine blades are made. Berry and Murray answered questions about the design, manufacturing, construction, and assembly of turbine blades throughout the tour.
"This event spotlighted NREL's knowledge, technology, and innovation in manufacturing research through the work taking place at the CoMET," said David Snowberg, an NREL senior mechanical engineer. "Women in Manufacturing represents an important audience for our work, and we're happy to share our exciting research with this group."
After touring the CoMET, the WiM group walked across the street to NREL's Structural Testing Laboratory to see where turbine blade evaluation takes place. Equipped with hard hats and protective eyewear, the group learned of NREL's structural blade research, which evaluates structural performance, strength, and durability.
The 34 event attendees represented manufacturing and engineering; building materials, infrastructure, banking, and finance; technology; nonprofit organizations; law; chemicals, food, and beverage; and other industries.
WiM offers resources and connections for women in manufacturing and encourages a more diverse representation in the industry.
Learn more about CoMET and find out how to get involved with the Women in Manufacturing Association.