Largest Generator Validation Yet at the National Wind Technology Center
---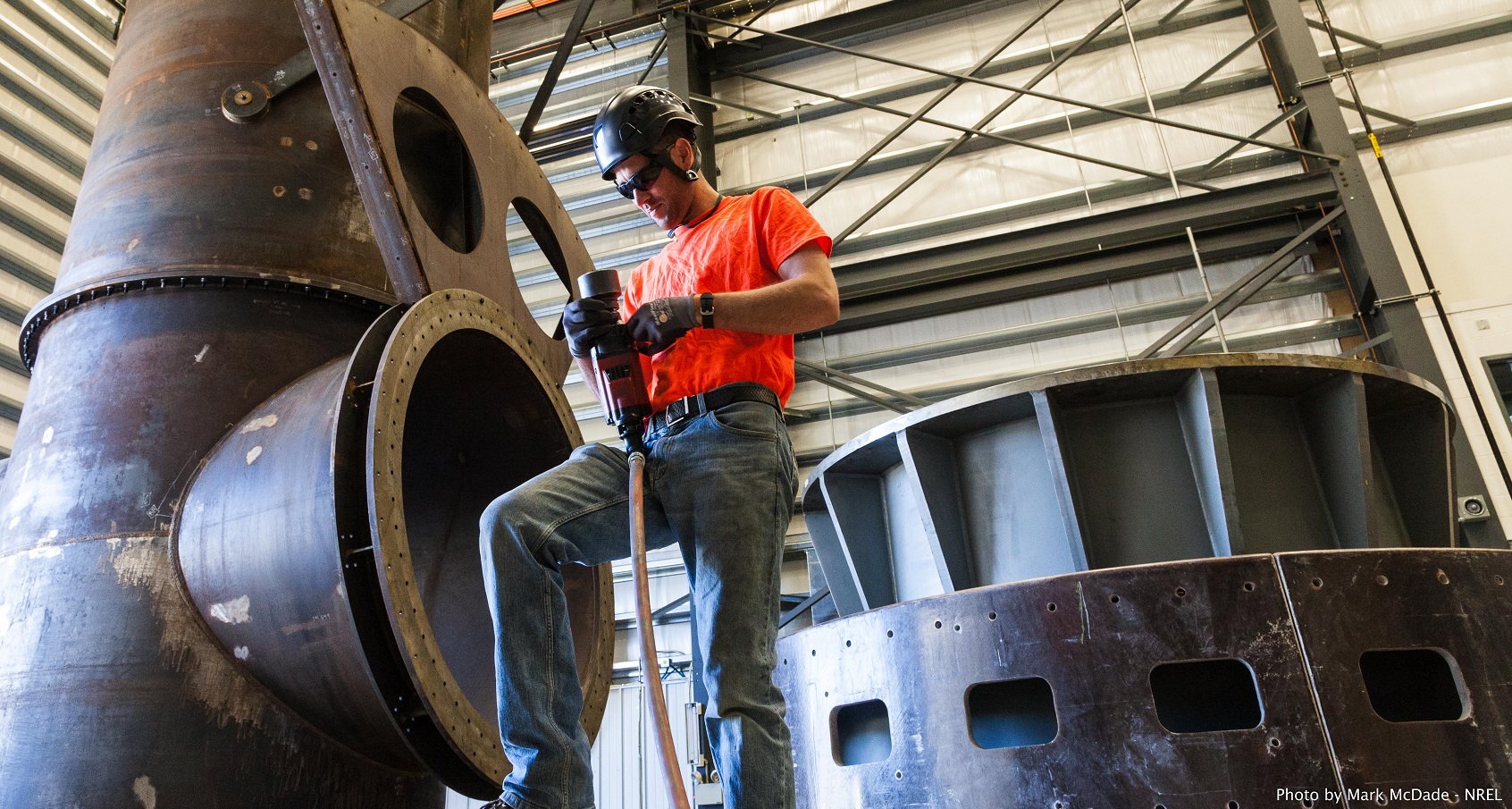 The Columbia Power Technologies generator being assembled in the NWTC 5-MW dynamometer high bay. Photo by Mark McDade, NREL
The National Wind Technology Center's (NWTC's) dynamometer test facility recently welcomed one of the largest generators ever validated on its 5-megawatt (MW) dynamometer. Columbia Power Technologies is partnering with the NWTC to characterize a direct-drive wave energy generator.
Columbia Power is developing an innovative wave power technology called the StingRAY. The StingRAY is designed to survive the hostile ocean environment and reliably deliver electricity at a competitive cost while having a low environmental impact. The patented technology is scalable. It can be sized and deployed in a wide range of applications, from powering oceanographic sensors to generating megawatt-scale electricity in wave farms for electric utilities.
As part of its product validation and risk mitigation efforts, Columbia Power is validating its power take-off system at the NWTC. This land-based effort, which is cosponsored by the Energy Department, will occur prior to an open-water demonstration of the StingRAY wave power system scheduled for 2017 at the U.S. Navy's Wave Energy Test Site in Hawaii. The large-diameter, direct-drive, permanent-magnet generator, which is the focus of this validation, was built with Columbia Power's novel air-gap control system design. The work was awarded through a U.S. Department of Energy Funding Opportunity Announcement. A cooperative research and development agreement protects the intellectual property.
"Physically, the generator has a diameter that's as tall as a two-story building," said Mark McDade, NWTC project manager. "We're confirming mechanical integrity, water tightness of ocean seals, and electrical compatibility with the grid. It will be in our facility for several months," he said.
In addition to its size, this generator is unique to the NWTC because its intended use is in the ocean—using wave energy to harness power and produce electricity—and because the facility typically focuses on wind turbine generators. "It oscillates back and forth and seldom makes a complete revolution," said the NWTC's Robert Thresher, Research Fellow at the National Renewable Energy Laboratory, "whereas a wind turbine turns continuously in one direction."
The Columbia Power Technologies' generator is also slower than most wind turbines. "It makes one cycle every 8 to 20 seconds—about 7.5 back-and-forth cycles per minute," said Thresher. "And, it's a direct-drive generator, which means there's no transmission or gearbox so there are many fewer moving parts that can increase maintenance. The 5-MW dynamometer will simulate the ocean forces that the Columbia Power Technologies' generator will experience under sea conditions."
The National Oceanic and Atmospheric Administration website states that, "In 2010, 123.3 million people, or 39% of the nation's population, lived in counties directly on the shoreline. This population is expected to increase by 8% from 2010 to 2020."
But despite the fact that the increase in population along the shoreline suggests real potential for wave energy, it is still a relatively new technology, according to Thresher. "Wave energy, or ocean energy as they call it in Europe, was first explored by researchers at the University of Edinburgh during the first oil crisis in the 1970s. That research stalled in the 1980s, and the European Union reinitiated research on the topic about 15 years ago."
In its 2015 Annual Report, Ocean Energy Systems, an initiative of the International Energy Agency, stated that "some forms of ocean energy may be constant enough for baseload electricity generation," but most forms are "reasonably forecastable and reliable, such that both diversity and security of supply can be enhanced." The report also said that worldwide there is the potential to develop 337 gigawatts of ocean energy by 2050.
Thresher admits it's challenging to cost-effectively harness this technology. "It requires large forces to produce power from the ocean's waves," he said. "Columbia Power Technologies is taking a big, innovative step with the development of this very large, direct-drive generator. We're trying to help them eliminate some of the risk in that innovation by validating it here at the NWTC's 5-MW dynamometer facility."
As shown in the photo, Columbia Power Technologies' contract employee, Kelen O'Hearn, assembles the test stand to prepare the company's direct-drive generator for characterization at the NWTC's 5-MW dynamometer facility. According to Mark McDade, validation of this particular generator is part of the facility's annual operating plan for fiscal years 2016 and 2017.