Transforming Energy Through Internships
NREL's Internship Programs Offer Unique Experiences and Valuable Research Impact
---
For 45 years, the National Renewable Energy Laboratory (NREL) has been innovating energy efficiency and renewable energy technologies with the help of highly qualified interns. Thousands of interns have walked the halls—virtually and physically—and assisted researchers over the four decades.
"We could not do what we do at the lab without interns," said Marcus Giron, NREL undergraduate internship program manager.
The NREL internship program offers undergraduate and graduate students the opportunity to:
• Gain access to state-of-the-art systems and seasoned mentors
• Strengthen skills through professional development
• Hear from world-class experts and top executives during lecture series
• Learn about NREL lab buildings and the work going on by taking virtual tours
• Have fun and engage with other interns by joining clubs and resource groups.

Learn more about the undergraduate and graduate internships.
The NREL internship programs offer a variety of opportunities to talented, diverse undergraduate and graduate students interested in science, technology, engineering, and mathematics (STEM).
Danelle Wilder, postdoctoral and graduate student program manager, has been recruiting interns to the laboratory for 12 years and has seen a lot of changes over that time. NREL is attracting interns from smaller schools, as well as from farther locales. As NREL has expanded with the addition of the Flatirons Campus and Cold Climate Housing Research Center, the need for interns has also expanded.
"The intern program has grown drastically along with NREL's growth," Wilder said. "With that, NREL's recruitment of interns has changed from a focus on Colorado universities to nationwide and, in some cases, worldwide."
One of the biggest changes in the program over 45 years was the introduction of virtual internships.
Direct Air Carbon Capture Analysis From Home
That shift to remote working was very important for Brittney Hoang. Hoang's grandmother needed assistance, and thanks to the flexibility of the internship, Hoang was able to return home to be with her.
"I'm really glad it worked out," Hoang said. "I'm learning a lot, and I'm grateful for the flexibility."
Home for Hoang is Texas, where she a sophomore at the University of Texas–Austin studying chemical engineering. Her interest in energy and the environment was with her from the start, but getting into chemical engineering was not her first choice. She initially tried mechanical engineering, but her path shifted. That shift opened her eyes to the larger energy landscape.
"There's so much more than wind and solar. Those were the main things I was interested in from a mechanical engineering perspective, but I just realized there was so much more," Hoang said. "Chemical engineering chose me, I guess."
With her mentor Josh Schaidle, Hoang is researching direct air carbon capture and sequestration. Through literature review and analysis, she is identifying opportunities to develop strategies and technologies that could move the needle on decarbonization and carbon capture.
Hoang's internship is through the Minority Educational Institution Student Partnership Program, which offers talented undergraduate and graduate students internships with the Department of Energy (DOE) and its national laboratories. The program reaches out to minority students across the country at minority-serving institutions and other colleges with large minority populations.
"I wasn't expecting to get this internship at all. But I thought it was better to try and not get it than not know at all. So, I just went for it."
That is also her advice to anyone hesitant about getting into STEM. "Go for it. There's nothing scary about science."
From Interns to Full-Time Researchers
Of the thousands of interns who did go for it, many have returned to work at NREL after they finished their internships.
"I can look at any directorate, and there are former interns that are now employees," Giron said. "It really does feed our workforce."
One of those former interns and now full-time NREL employee is Ann Greenaway. Greenaway was a Science Undergraduate Laboratory Internship (SULI) intern in the summers of 2010 and 2011. The program provided new opportunities for her and solidified her career path.
"By the end of my first internship at NREL, I was convinced that I wanted to get a Ph.D. in order to come back to work at the lab," said Greenaway, who currently works on photoelectrochemical carbon dioxide reduction.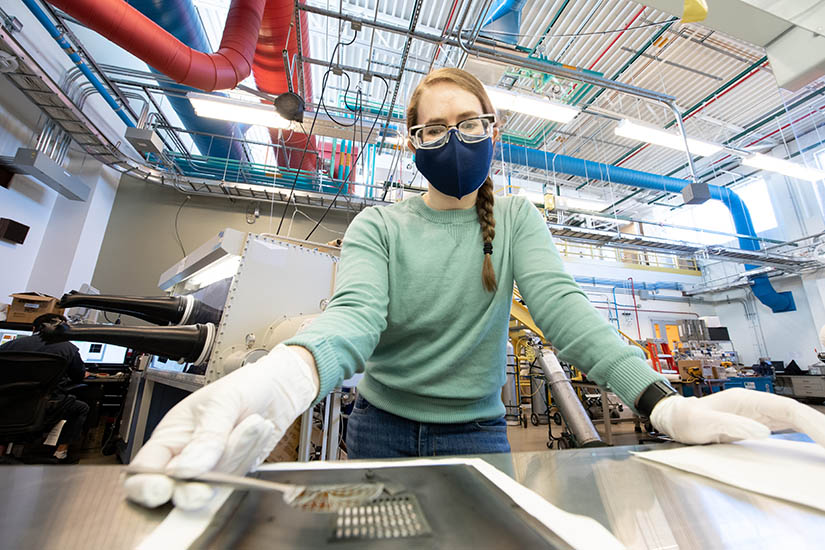 Riley Abel is also a former SULI intern turned full-time NREL employee. Abel's 2015 internship placement was with the Fuels and Combustion Sciences Group, a great fit, considering that his previous career as a master automotive technician had provided skills that aligned nicely with the laboratory environment.
Abel and Greenaway both credit their internships with opening their eyes to laboratory work.
"My undergraduate institution didn't have a lot of scientific equipment, so working at NREL was my first real exposure to what a larger lab looked like," Greenaway said.
"The professional development and guidance provided by the laboratory and my assigned mentor allowed me to experience what engineering was like firsthand," Abel echoed.
Abel, who now conducts research on hydrogen production, power, and storage, shared that the internship with NREL expanded his network and skills, setting him up for success in his return to the laboratory.
"Being able to work with individuals from around the world who share the same passion of research in renewable energy captured my heart," Abel said.
Greenaway also found community and purpose with the people at NREL. She is a founding member of NREL's Full Spectrum Network, an employee resource group (ERG) that supports LGBTQIA+ staff.
"It was really important to me to be a part of Full Spectrum as it developed, starting in 2019, to help build community and connections among LGBTQIA+ employees of NREL's multiple sites. I was also a part of the larger development of NREL's ERGs, and I'm very proud of how far we've come in a few short years!"
Building a Better Wind Turbine Blade With Robotics
Purpose is what drives Hunter Huth in his current internship at NREL's Flatirons Campus.
"I see a lot of people who get into STEM because of the good degree and paycheck after, but it's way more exciting if you actually believe in what you're working on," Huth said.
Huth, who is getting his master's degree in robotics at the Colorado School of Mines, found the NREL internship combines his passion for meaningful work with his passion for robotics. With his mentor Casey Nichols, Huth is programing a robotic arm to perform the finishing work on wind turbine blades.
Blades are now reaching enormous heights, and finishing them is a crucial step. Finishing includes cutting off excess material, grinding down the blade so it is smooth, and, finally, sanding. The process is difficult, time consuming, and manual.
"It's a very grueling job. You need a respirator with all the fiberglass flying around," Huth said. "We're trying to do it faster and safer."
The robot will perform all three functions and could be used in other applications. While Huth is focused on programming for wind turbine blades, the robot could be used on water turbine blades as well.
Huth's robotics work extends from wind farms to outer space. Before joining NREL, Huth had an internship with NASA, designing and prototyping a rover that could fly and drive on other planets.
This type of previous internship experience is crucial in advancing research, believes Geraly Amador, an education program manager with the laboratory.
"NREL's interns are able to bring valuable knowledge and experience gained, along with their personal ideas, to continue the growth and advancements in the industry," Amador said.
Improving Recycling Through Machine Learning
However, the broad range of internship opportunities at NREL means prior experience is not necessary. Kai Hernandez knows that firsthand.
"Ever since I was a little kid, I've always been interested in computers. But I wasn't sure how computer engineering played into renewable energy and the environment," Hernandez said.
Now, he is working on a crucial problem of our time: recycling. With his NREL mentor John Yarbrough, Hernandez is writing a computer script for 3D cameras to recognize and separate trash into what can and cannot be recycled, using machine learning.
Hernandez is studying computer engineering at Fort Lewis College in Durango, Colorado. His initial interest was in video game design, but he changed tack to the broader computer engineering major. Hernandez's mentor at Fort Lewis shared information on a STEM Core internship with NREL.
STEM Core aims to build student engagement and interest in STEM-based careers through programs that emphasize the real-world context in STEM curricula, instruction, and opportunities at leading STEM employers.
At first, during the internship application process, Hernandez was intimidated, but he soon found there was nothing to be worried about. And that is the advice he has for anyone interested in working at NREL.
"You never know. You've got to take a shot," he said. "You might get it, or you might not, but just go for it."
Future of the Laboratory and Interns
NREL relies on undergraduate and graduate students who "go for it." Over NREL's 45 years, the laboratory and the internship program have undergone many changes. But one thing remains certain according to Giron.
"Interns are the future of this lab," Giron said.
The enthusiasm for the science and mission of NREL is something each class of interns brings to the laboratory. As we continue to transform the way the nation and the world use energy, NREL will continue to need diverse, motivated interns to help along the way.
Learn more about NREL's internship opportunities.