CoMET Aids Researchers and Partners in Reaching the Stars—and the Market
---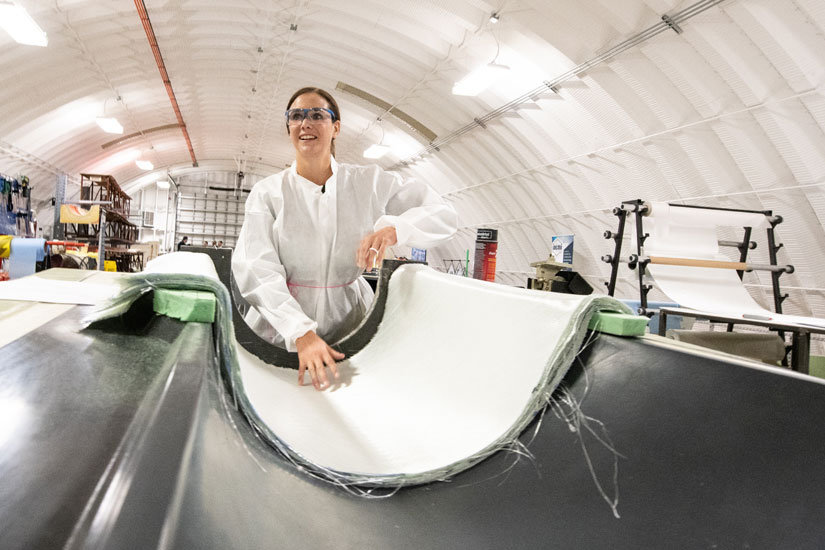 In October, NREL's advanced thermoplastic resin system for wind turbine blades captured an R&D 100 Special Recognition: Market Disruptor Award. These prestigious awards honor pioneering advancements in science and technology. How did this concept progress from idea to award-winning innovation? It all began at NREL's Composites Manufacturing Education and Technology Facility, or CoMET, for short.
CoMET opened its doors in 2017. The 10,000-square-foot facility expands NREL's composite manufacturing research capabilities by enabling researchers to design, prototype, validate, and manufacture large-scale composite structures in one location. Researchers can "go big" and develop the large-format, industry-relevant-scale composite structures that a smaller lab simply cannot accommodate—everything from car doors to rear stabilizers for an airplane.
The cutting-edge research space is the result of a funding partnership between the U.S. Department of Energy Advanced Manufacturing Office (DOE-AMO), the Institute for Advanced Composites Manufacturing Innovation (IACMI), the state of Colorado, and NREL. Boasting first-class facilities for large-platform composite research projects, like those needed in the wind and water power industries, CoMET is open to industry partners, university researchers, and everyone in between.
And central to CoMET's ethos is collaboration.
"The CoMET Facility at NREL is a collaborative space for us and our partners—from those at other national labs to the private sector—to innovate the wind and water power materials and processes that advance the industries," said NREL Water Power Researcher Robynne Murray.
The CoMET Facility's manufacturing capabilities and highly trained staff are available to industry, manufacturers, and universities for research and development, processing trials, testing and validation, and materials and manufacturing innovation.
Designed to work in conjunction with NREL's design, analysis, and structural validation capabilities, CoMET brings to the table, essentially, the ability to expedite innovation.
Next-Gen Facilities Beget Next-Gen Technologies
The development of a circular economy for composite materials is gaining traction among research, industry, and government, and CoMET is playing a key role in making this ambition a reality. Hosting promising research into recyclable-by-design wind turbine blades, as well as the potential reuse of fiberglass from decommissioned blades, the advancement of tomorrow's technologies is happening at CoMET today.
Tapping into a wealth of fundamental wind energy science research, development, and validation activities and collaborations with industry partners, such as General Electric (GE) and TPI Composites Inc., NREL and Arkema Inc. have developed a novel approach to manufacturing potentially recyclable wind turbine blades, rendering renewable energy more sustainable than ever before while lowering costs.
Thermoplastic resins, combined with thermal welding techniques pioneered by NREL and partners, offer the potential for stronger, less expensive, and longer wind turbine blades, increasing energy capture, decreasing energy and transportation costs, and increasing blade reliability—critical to advancing the wind energy market.
But these benefits are not limited to the wind energy industry alone.
Thermoplastics could revolutionize marine energy, automotive, aerospace, and countless other industries and applications, ushering in a new era of next-generation materials, fabrication, testing, and welding techniques.
Until just a few years ago, however, building a large-scale thermoplastic composite blade was nothing more than a glimmer in the eyes of a few researchers. Up until that point, there had only been small-scale demonstrations of this material.
Employing the cutting-edge capabilities of the CoMET Facility, NREL researchers—alongside industry partners—set out to change this.
Putting Thermoplastics to the Test
Although thermoplastics are widely used across many industries to manufacture everything from airplane panels to furniture, flooring, and more, employing thermoplastic resins in the context of the energy industry, specifically large-scale turbine blades, was wading into uncharted territory.
Thermoplastics refers to plastic materials that soften and sometimes liquify when heated, returning to a rigid, solid state when cooled. The Arkema Elium resin is a two-part liquid reactive thermoplastic that makes it infusible in the same process as a typical epoxy resin, without requiring heated molds. This allows manufacturers to swap out epoxy for thermoplastics without having to purchase new equipment, such as the tools or blade molds, or modify the production process, making this a cost-effective and attractive proposition.
But first, researchers had to answer the question of how thermoplastics would hold up in the turbine blade manufacturing process, particularly when built on a larger scale—and CoMET provided just the space to do so.
"The size of the CoMET itself positions NREL to do multiscale composite research that covers basic science and larger scale manufacturing that is applicable to industry," Murray said. "Wind and water has been our focus, but future work could include other composite industries, such as vehicles or aerospace."
To test this groundbreaking approach and materials, NREL researchers constructed at CoMET a 9-meter (m) turbine blade to demonstrate manufacturability and then a 13-m blade that they put to the test. Employing the structural validation facilities at NREL's Flatirons Campus, they validated the 13-m blade for strength and other performance characteristics.
These next-generation thermoplastic composite blades build off the successes of the business-as-usual epoxy blades and transform them into an environmentally friendly, cost-effective blade of the future. Specifically, the researchers found that the process and material demonstrated potential for:
Recyclability. The Elium thermoplastic composite blades exhibit the potential to be recycled, reducing landfill waste and disposal costs, as well as costs related to loss of materials.
Thermal Welding. Materials can be thermally joined, enabling the manufacture of potentially stronger and lighter blades.
On-Site Manufacturing. Blades can be built on-site, allowing for the development of larger blades at greatly reduced transportation costs.
Ease of Repair. Unlike epoxy blades that necessitate traditional grinding repairs, thermoplastics can be reheated at just the point of repair and reshaped.
Marine Energy Applications. Thermoplastic material performs better than traditional materials in seawater, making this material a game changer for marine energy applications.
Reducing the equipment capital costs associated with blade production by up to 30% due to room temperature curing process and employment of Elium resin that neither overheats nor damages expensive tooling.
Decreasing the critical cycle time during production by up to 20%, resulting in reduced labor costs.
From Wind to Water: Validating Thermoplastics' Potential for the Marine Energy Industry
Of the multitude of applications for thermoplastics, marine energy holds particularly exciting possibilities within the realm of renewable energy.
Thermoplastic tidal turbines have been found to enjoy the same benefits as thermoplastic composite wind turbine blades. Additionally, they also possess improved seawater saturation properties and exhibit a stronger mechanical recovery after being dried following saturation when compared to their aluminum and epoxy competitors. These thermoplastic tidal blades could hold the key to increased durability, longevity, reliability, and strength of tidal turbine blades.
NREL researchers are employing the CoMET Facility to manufacture and structurally validate thermoplastic-fiberglass composite blades for Verdant Power's tidal turbine system in New York's East River.
These blades will get a taste of seawater in 2021 when they will be deployed to the New York site to evaluate loads during a 6-month period of operation. Following deployment, the blades will return home to CoMET for an investigation into the effects of seawater on the thermoplastic materials.
From enabling rapid prototyping of new blade materials and production methods to full-scale blade component tooling and fixtures and more, CoMET equips tomorrow's cleantech titans with the tools they need to succeed.
Learn more about NREL's thermoplastics research, CoMET's capabilities, and how you or your organization can partner with us.