Early-Stage Companies and Investors Agree: IGF is the Place to Be in Cleantech Startup Ecosystem
---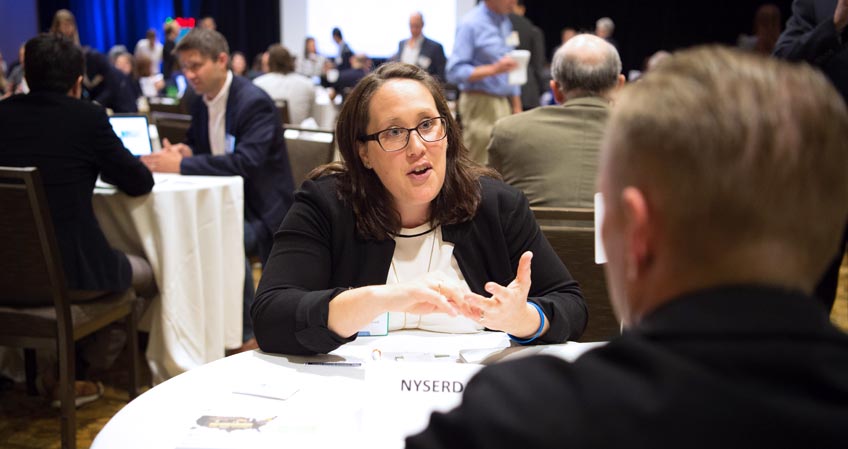 If you were to pass by the door leading to the Industry Growth Forum (IGF) on the morning of May 9, you'd feel a palpable buzz of activity. Pausing in the doorway, you might think you were catching a glimpse at a massive speed-dating event. A bell sounds and half of the people sitting at numbered, round tables begin to stand and circulate. Your first clue to the real purpose of the event might be the business attire—the second might be the technological prototypes and models carried by some of the participants.
The connections and relationships being formed at this event aren't romantic ones, but they have the potential to be just as impactful on the lives of those involved—and ultimately, our energy future.
The mission of the IGF, facilitated by the Innovation and Entrepreneurship Center (IEC) at the U.S. Department of Energy's National Renewable Energy Laboratory (NREL), is to foster a collaborative community of thought leaders and build relationships among NREL experts, cleantech startups, investors, accelerators, incubators, and other cleantech industry leaders. The event is designed to help move technology to market through increased funding opportunities, mentorship, networking, and investor-entrepreneur interaction.
The first IGF nearly 25 years ago was designed as an answer to questions NREL often received: investors asking the laboratory about new technologies and entrepreneurs looking for leads about investors. According to NREL Associate Laboratory Director for Innovation, Partnering, and Outreach Bill Farris, "Small businesses know that we understand technologies and what it takes to move the technology through a maturation process, and getting technologies to market. Investors know that we are constantly seeing new companies—new, interesting technologies—and they're looking for investment opportunities. So, if we can pull those two communities together, great things happen."
Since the first IGF, the effort has resulted in billions of dollars of investments into startup and early-stage companies. "This event started in the 1990s and primarily featured energy generation and efficiency technologies—it has grown to include everything from blockchain to batteries," said IEC Director Richard Adams. "Since our 16th IGF in 2003, we've had almost 400 innovative cleantech companies take the stage, which have collectively raised $6.4 billion in funding post-IGF. Of these almost 400 companies, 63% are still active today."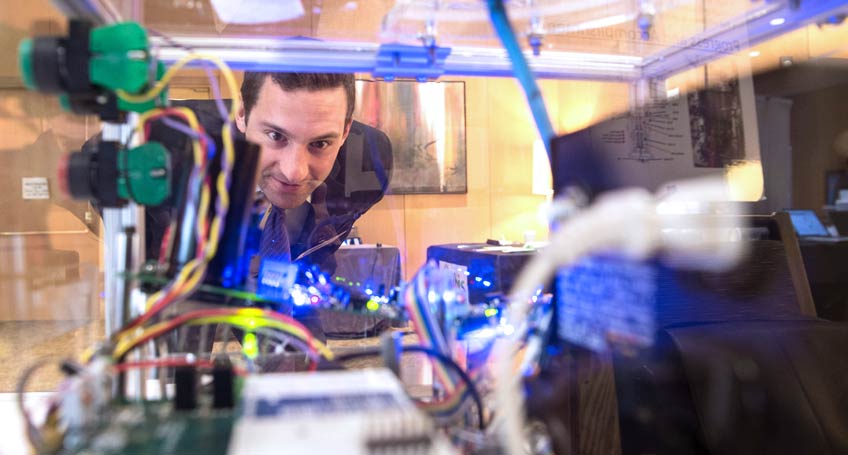 Face-to-Face
Tim Woodward, managing director of Prelude Ventures, has attended the event every year for more than two decades. His participation has ranged from the one-on-one "speed-dating" meetings to judging startup presentations to moderating panel discussions. "I've always been involved with investment funds active in the new energy economy, and NREL has always been an active participant in that ecosystem," he says.
Woodward joined Prelude when the firm was founded in 2013 as an evergreen fund investing specifically in the cleantech sector. He explained that, unlike structured venture funds, which have a finite timeline, evergreen funds have a "more distant horizon" and added flexibility in the types and sizes of investments they can make in promising companies.
What keeps Woodward coming back to the IGF year after year are the invaluable face-to-face networking opportunities with the high-quality startups, corporations, and fellow investors NREL convenes. "You come out of the event each year with four or five companies to follow up with that you might not have engaged with in the same way if you were just looking at a submitted business plan," he explained. "You get a little extra time to hear about what makes their business interesting and unique."
Woodward often advises companies in Prelude's portfolio to attend the event, too. "We've had multiple cases where companies in our portfolio have attended the IGF on our recommendation to meet potential investors, and those companies raised capital," he said. "We've also had a couple of companies that, through the IGF, got connected with folks at NREL who were able to help out in a technology development or validation capacity through other laboratory programs."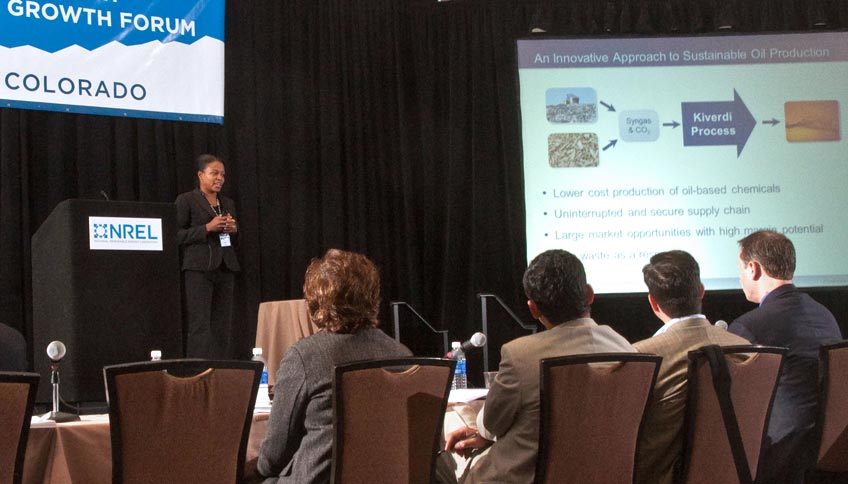 Partner Up
Another IGF benefit Woodward cites is the opportunity to network with companies that could be good partners or co-investors. Indeed, representatives from the investment and acquisition arms of large corporations often share goals with venture capital firms. Harry Miller, director of emerging technologies at Dresser-Rand (a Siemens business that supplies rotating equipment solutions to global energy industries), calls the IGF "one of the 'go to' places to see new technology developments in the renewable and energy-efficiency space."
"Siemens is always looking for innovation and new technology that complements our existing product lines and aligns with our company strategy," Miller continued. "The NREL IGF's showcase approach of using presentations by new tech companies that are judged by a panel of investors—and companies like Siemens—provides a unique opportunity to learn more about technologies that have the potential to change the market. When we do find a company that captures our interest, we look to partner or invest in that technology moving forward."
Alice Havill, chief operating officer of Vartega—a Golden, Colorado, company specializing in the recycling of advanced materials such as carbon fiber—said that as a result of Vartega's participation in the IGF, "we've seen a growth of partnerships—both technical and from an investment perspective. We've gained name recognition in investment circles and technology circles, so that we can grow beyond Colorado and even grow beyond the United States."
Another IGF success story comes from Be Power Tech (now Blue Frontier), a Florida-based company developing air conditioners that are powered by natural gas and generate electricity. Representatives from the company met participants from a venture capital firm and eventually closed an undisclosed funding round. "It was a matter of meeting someone who knows someone who knows someone," said Chief Executive Officer Daniel Betts. "It was a bit serendipitous and based on the networking opportunities provided by the IGF format."
Get Connected
Representatives from Emrgy, a women-owned startup that transforms waterways into local energy sources, attended the event for the first time in 2018 with similar goals. The Atlanta, Georgia, company had sought advice from NREL on power electronics and power control for its South Boulder Canal Project near the laboratory, and based on a recommendation from its NREL contacts, registered to participate in IGF.
"We weren't 100% sure what to expect," said Emrgy Senior Technical Sales Engineer Madeleine White. "We had been attending other industry events for brand awareness, networking, and marketing—but at IGF we were really hoping to get an idea of who we should team up with before diving into international markets."
According to White, the contacts Emrgy established at the event were invaluable in helping the company reach this goal. "It was very helpful for us to get the perspective of the impact funding folks on our technology/business model and how it would or wouldn't translate in different international markets," she said.
White added that she was pleasantly surprised by the supportive atmosphere that permeated all aspects of the event. For example, one of the contacts Emrgy made there was so impressed by the company's vision and the potential impact of its work that he has continued to stay in touch, making valuable introductions to others in the industry and providing advice. "He has been so gracious, filling our inbox with golden nuggets that are helping us hone our international strategy," White said. "And at the event, even though you're participating in a competition, everyone is supportive of each other and wants to see good ideas succeed."
As part of its participation in last year's event, Emrgy Founder and Chief Executive Officer Emily Morris was selected to pitch the startup's business plan to a panel of investors at the IGF's sister event, Emerging Markets Day (taking place this year on May 8)—and was chosen by popular attendee vote as the winner of the Emerging Markets Day People's Choice Award. Since this win—which awards technical assistance from NREL—Emrgy is continuing to grow and is planning dozens of hydropower projects across the United States and in strategic international markets.
NREL Director Martin Keller sees NREL's "convening power" as part of the laboratory's DNA—and the IGF in particular as a key element of NREL's efforts to advance clean energy technologies along the path to commercialization. "I think it's really important that we continue to be the world leader here in the United States to drive innovation forward ... because this new innovation, the early-stage research will lead to new ideas, to new products, for new U.S. companies in the future."
NREL's IEC supports the clean energy innovation pipeline by accelerating the transfer of renewable energy and energy efficiency technologies into the marketplace—and the IGF is just one part of its mission to bring together emerging clean energy businesses, the financial community, NREL technical expertise, and the broader clean energy ecosystem. Learn more about programs the IEC leads in collaboration with partners: The Wells Fargo Innovation Incubator and the Shell GameChanger Accelerator Powered by NREL.