Ian Baring-Gould is Engaging in the Power of Communities
---
If you played a real-world version of the TV show "Where in the World is Carmen Sandiego?" based on Ian Baring-Gould's deployment travels for the U.S. Department of Energy's (DOE's) National Renewable Energy Laboratory (NREL), the result would use up much of the world map.
"I've been on every continent, over 70 countries now, largely for the laboratory," said Baring-Gould, who works at the National Wind Technology Center (NWTC) at NREL.
His journeys coincide with the expansion of renewable energy technologies globally. Baring-Gould is amazed at the progress of renewables, particularly wind, over the past few decades. He's seen it firsthand. At the NWTC he serves not only as wind technology deployment manager, but also as technical director of stakeholder engagement activities and manager of the laboratory's distributed wind research and testing portfolio.
"It's just staggering, the explosion of the wind industry, and how we've gone from a technology (when I got here) of 80 cents per kilowatt hour, and now dropping to the point where wind is arguably the cheapest electron you can put on the grid," Baring-Gould said. He added that "solar technologies have also seen significant reductions in cost—and with DOE and industry, we are working hard to provide similar cost reductions in distributed wind, providing more energy options across the United States and around the world."
Baring-Gould himself concentrates on deployment, which is "about how you articulate those positive impacts and benefits of wind development." That's where his background comes to the fore. "We don't have to sell the idea of renewables," he said. "We're there to educate and tell people about renewable energy, and that includes the warts. We talk about the positive and negative impacts and let people make up their own minds."
A "Lucky" Arrival at NREL
Baring-Gould's arrival at NREL was "complete luck," he said. "When I was at the University of Massachusetts, Amherst (UMass), I was in a renewable energy program focusing on wind energy," a pioneering program more than four decades old.
Because of that, there were strong links between NREL and the university professors. "The research we were doing at UMass was for NREL," Baring-Gould said. "As a grad student, I was part of a contract to develop a computer software for isolated power systems," including microgrids and control strategies.
Baring-Gould also helped install the then-largest wind turbine on the East Coast before coming to NREL in 1995 as a student intern to finish out the code development, sponsored by DOE and the laboratory. Once at NREL, he joined the Village Power program in which laboratory staff were exploring ways to provide power to off-grid communities.
At that time, the thinking was that renewable energy technologies were too expensive for the main grid. The Village Power program looked at places where the cost of power was already high—places such as remote villages that were used to importing diesel fuel. Early on, Baring-Gould and colleagues searched for the best ways to reach those communities through renewable technology scale-up. Such analysis "continues to play a role in my career today," he said.
His engagement in rural electrification has been a thread throughout his career—and reflects his desire for rewarding community work. "NREL is a community—the researchers, the teams I'm part of," he said, adding that, similarly, "the work I do is community power."
His field is different from a lot of what NREL does. "It's really bringing power to people who don't have it—or lowering the cost of power to improve lives," he said. "One of the reasons I was really drawn to this challenge is that it touches communities in Alaska, Africa, and other places," he said.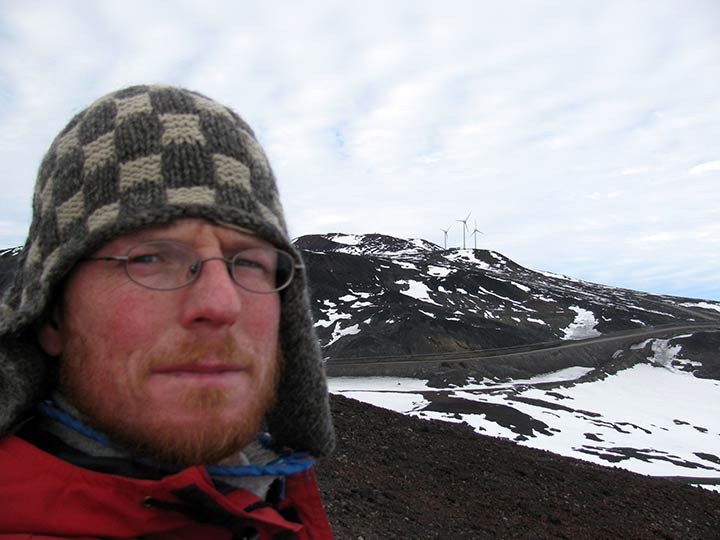 NREL Strategic Energy Analysis Center Director Dan Bilello, who has worked in the Philippines with Baring-Gould, said, "NREL is really fortunate to have a smart, experienced road warrior like Ian representing the laboratory around the globe."
Not only does Baring-Gould have the capacity to make physically arduous journeys, he pushes the envelope mentally, too. "Ian has the amazing ability to keep the global picture in mind while also memorizing detailed budget numbers," said Suzanne Tegen, a former NREL colleague who now serves as assistant director of Colorado State University's Center for the New Energy Economy. "Some of my favorite memories at NREL are the brainstorming sessions Ian and I had. We would walk around in the [NWTC office] trailer talking through potential projects and pushing ourselves to think new thoughts. Sometimes my brain hurt afterwards, but there were always good outcomes, and both NREL and our team benefited from Ian's vision and ideas."
Brian Smith, NREL's laboratory program manager for wind energy and partnership manager for the NWTC, mentions that Baring-Gould has an unmatched skill set for the job. "Ian is unique for his in-depth technical understanding of renewable energy technologies used in a variety of applications across the world, from homes to businesses to communities to large power plants to remote villages," he said.
Smith also noted that Baring-Gould communicates easily with industry stakeholders, high-ranking government officials, the general public, engineers and scientists, and the next generation of the energy workforce: K-12 and university students.
Away from the laboratory, Baring-Gould is active outdoors. In particular, his volunteer work with the Rocky Mountain Rescue Group (RMRG) provides a personal compliment to his tasks at NREL. He sees his commitment to the Boulder rescue group as community-based—the same as his assignment at NREL. "It all kind of revolves around community engagement," he said.
Just as he discovered the sport of crew by chance in college, he also stumbled into the rescue world in 1995. "I wandered into a store and saw a table with folks looking for volunteers," he said. RMRG filled his desire for an outdoor connection. "It provides a contrast to work at NREL. Here, we spend a lot of time behind a computer screen. The stuff in the rescue world is a lot of the same problem-solving—using engineering skills. Yet every situation is new, and every problem is different, and it's all in the spur of the moment."
The Future Gets Brighter
Baring-Gould believes the next 20 years will be exciting. "There's going be a huge reimagining of the grid and changes in the way things are done," he said. "Renewable energy is a major part of the solution: cost-effective, domestic, clean—all of these things critically important to every country. Distributed energy sources such as wind and solar will allow us to change how we think about how we get all of our energy, not just electrons. How NREL can use expertise to apply knowledge to the world is going to be amazing to be a part of."
And it all comes back to the art of problem-solving. "Whether taking someone off a cliff," he explained, setting up a rural microgrid, or pulling together in a boat, it's all equal. "If you've done it right, it looks beautiful and has symmetry," he said—and he sees that beauty spreading.
"The work we do at NREL doesn't just impact people in the United States, it impacts everybody—the family in Kenya, folks in Pakistan, or China, or India, or wherever. Huge ripple impacts across the world," he said. "I have faith. I am an optimist. Even though there are bumps in the road—we'll get there."