Energy Secretary Perry Digs into Research at NREL, Emphasizes Importance of Partnerships
---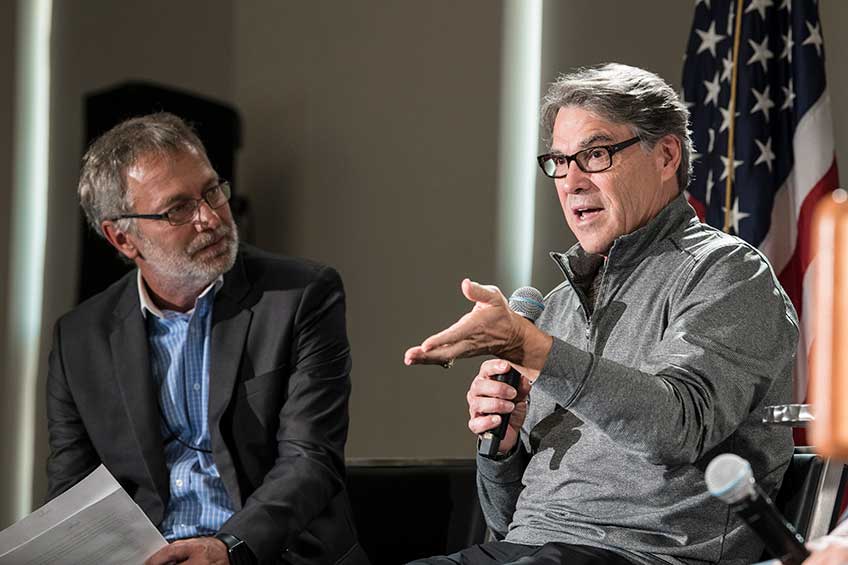 Throughout a visit to the U.S. Department of Energy's (DOE's) National Renewable Energy Laboratory (NREL) on Aug. 14, Energy Secretary Rick Perry emphasized the importance of national laboratories collaborating with universities and industry to help carry cutting-edge technologies to the marketplace.
"I'm a big supporter of public-private partnerships," Perry told DOE and NREL employees during a town-hall meeting. Before addressing staff, he met with representatives of more than 120 companies on campus for the laboratory's second annual Partner Forum. In his remarks to attendees, he discussed the partnership opportunities available at NREL "so that we can collectively put product in front of citizens."
Also during the half-day visit, the former Texas governor toured the site of the soon-to-be-updated supercomputer at NREL's Energy Systems Integration Facility, explored the hydrogen fueling station outside the building, and experimented with perovskite solar cells. Since his confirmation as secretary in March 2017, Perry has made a point to see each of DOE's 17 national laboratories. His stop at NREL was his 14th laboratory visit.
As the longest-serving governor in Texas history with more than 14 years in that role, Perry encouraged the development of wind energy across his native state. Texas today ranks as the largest producer of electricity from wind in the United States.
"I'm a blessed guy to get to do what I do, getting to serve as the Secretary of Energy," Perry said. "The best job I ever had in my life was being the governor of Texas. But the most interesting job—the coolest job—I've ever had in my life is the one I'm presently doing."
In addition to cool science, public-private partnerships played a recurring role in Perry's remarks.
"All too often in the past, government's kind of been over here in this silo and the private sector's been over here in this silo and universities have been over here in this silo," he said during the town-hall meeting. "The private sector and universities historically have done some things together, but we've never really coordinated as well as we should, from my perspective."
Regarding bringing corporate partners to NREL, Perry told employees: "The point is, if resources are important—and they are—then go find a good private-sector partner." He called working with companies and universities "common sense approaches."
NREL Director Martin Keller said the laboratory has more than 700 industry partnerships. "This is in the culture of our laboratory. We're doing cutting-edge research, but we also want to team up with industry to bring this technology to the marketplace."
Keller showed Perry around campus along with U.S. Sen. Cory Gardner, R-Colo. Perry referred to the national laboratories overseen by DOE as "17 jewels," and expressed admiration for the work being done at NREL. He seemed particularly impressed with the laboratory's perovskite research after trying his hand at creating his own high-efficiency solar cell, painting perovskite ink onto a glass substrate.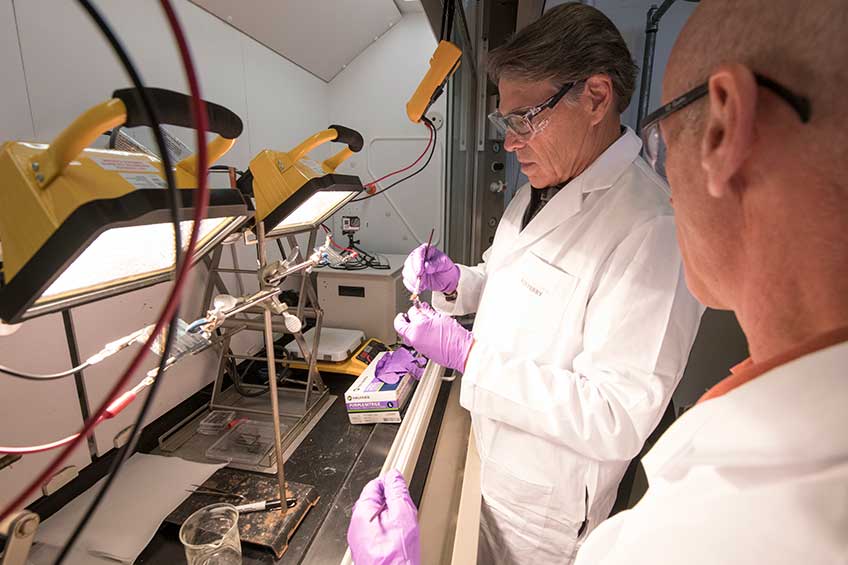 "I'm proud to be a small, small cog in this big wheel that you all play an extraordinary role in," he said. "Secretaries of Energy come and Secretaries of Energy go, but the fact is, this is one of the constants in the constellation of laboratories. NREL will continue to shine, you will continue to be a leader, and the world will continue to be a better place because of what you're doing here."
Perry described NREL's research as "stunning" and told employees: "I hope you walk out of here really knowing that you matter in people's lives."
The secretary emphasized the importance of a secure electrical grid and noted how the delivery of electricity has evolved from a one-directional flow of electrons.
"It used to be just a big old generator … and you only had to worry about energy going one way," Perry said. "My, how that has changed."