NREL Innovation Showcase Helps Move Start-ups Closer to Market
---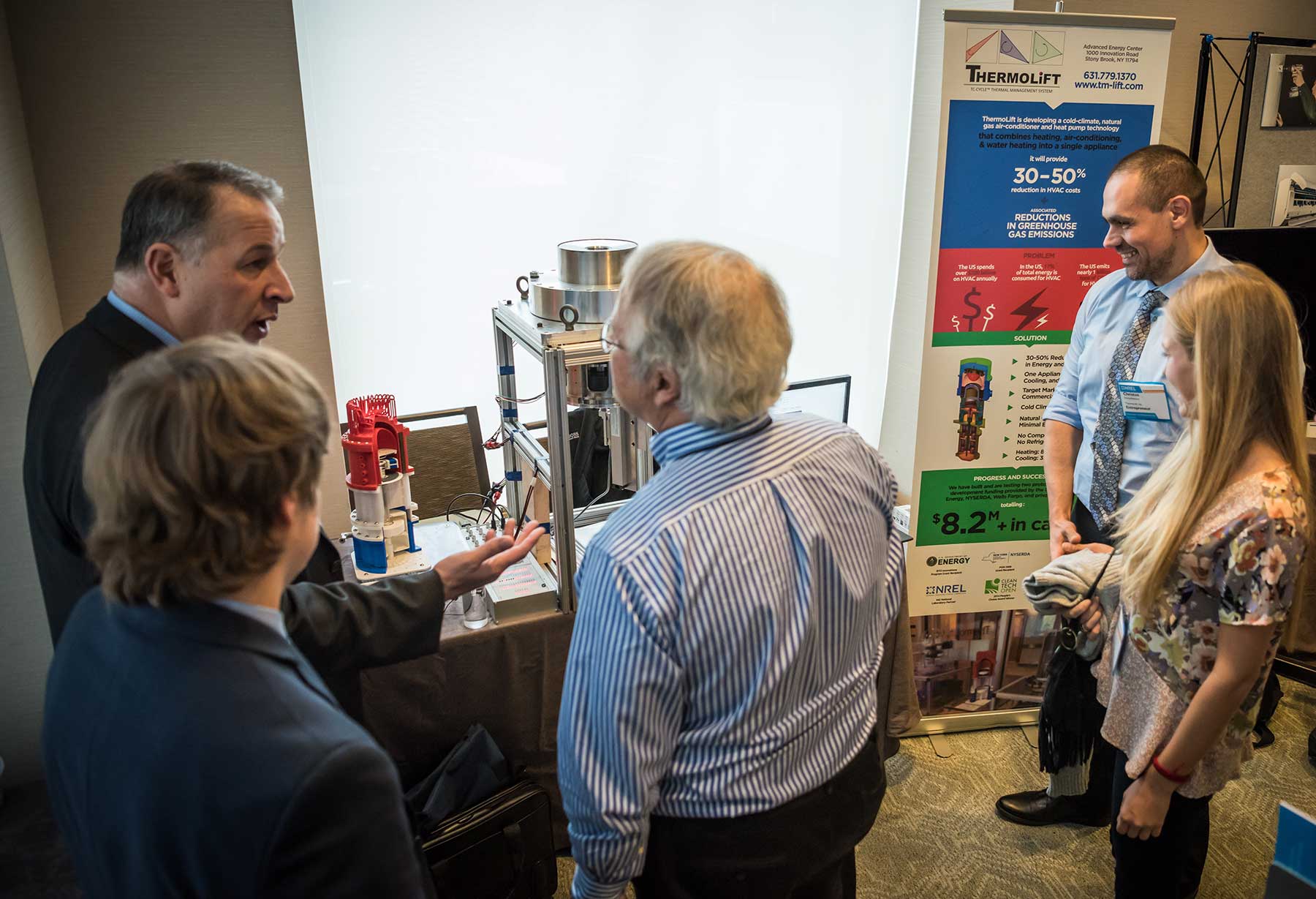 Through several programs at numerous Department of Energy (DOE) National Labs, researchers are working with clean technology entrepreneurs on the innovative technologies that will shape our nation's clean energy future; but this type of big thinking extends far beyond the research lab. The National Renewable Energy Laboratory (NREL) is focused on ensuring that nascent technologies make it out of the lab and into the marketplace where they can have real-world impacts.
To this end, early in October, NREL invited more than 120 targeted investors, incubators, entrepreneurs, and industry partners to gather in Beaver Creek, Colo., to hear about the latest cleantech innovations and help accelerate their path to market. NREL's Innovation and Entrepreneurship Center (IEC) hosted the inaugural Innovation Showcase, which was made possible by several sponsors including Wells Fargo, Constellation, Silicon Valley Bank, Colorado Advanced Manufacturing Alliance, Oregon Best, Carnegie Mellon University Scott Institute for Energy Innovation, and the Colorado Energy Office. The event convened key players in an intimate setting with a goal of sparking "next steps," conversations. The Beaver Creek meeting provided a relaxed and open environment conducive to focused interactions. Activities included targeted presentations by 17 entrepreneurs developing technologies at or in partnership with the national labs; followed by feedback and suggestions from investors and incubators, technology demonstrations, and multiple networking opportunities. Watch a summary on the Innovation Showcase on YouTube.
To kick-off the event, NREL's Laboratory Director Dr. Martin Keller explained how the National Laboratories help industry conceive innovative ideas, develop concepts into prototypes, and improve and integrate technologies. "This event is about helping drive and bring that technology into the market," he said.
"This is a unique opportunity to showcase the innovative programs that directly target resources at start-ups and highlight productive ways to work with these startups. NREL's Innovation and Entrepreneurship Center (IEC) is at the center of these opportunities," said Richard Adams, Director of NREL's IEC.
Creating a robust pipeline of technical, business, investment, and partnership resources is essential to supporting early-stage entrepreneurial companies as they grow and commercialize their technologies. NREL and 16 other National Laboratories are one piece of the innovation ecosystem. By connecting with industry, the vast resources of the laboratories can be put to work to accelerate technologies in their path to market.
Investor Andrew Beebe from Obvious Ventures commented, "My partners and I are all former entrepreneurs. What is most exciting about these events is sitting down and getting to know the entrepreneurs who are going to build the future of clean energy."
Partnerships between cleantech entrepreneurs and other key players in the innovation pipeline are driven by several notable programs. Participants from each of these programs presented their clean technology solutions during the Innovation Showcase.
Cyclotron Road lets entrepreneurial researchers advance energy technologies until they can succeed beyond the research lab. Participants in the program receive a stipend and health benefits for up to two years, access to labs, educational events, mentorship, and participation in a community focused on technology entrepreneurship.
Lab-Corps focuses on establishing a set of proven training methods to equip DOE lab scientists with a better understanding of the commercialization process and identifying private sector opportunities.
The Small Business Vouchers pilot lets small businesses tap into National Laboratory assets to overcome critical technology and commercialization challenges.
The Wells Fargo Innovation Incubator (IN2), supports early stage companies through technology incubation and testing at NREL. For select technologies that successfully meet lab milestones, an opportunity exists to beta test within a real world environment, and conduct a pilot in select Wells Fargo locations.
By convening these key members of the innovation pipeline, the Innovation Showcase aimed to facilitate relationship building and connections that will lead to future partnering opportunities for these entrepreneurs. The Showcase provided an opportunity for participating entrepreneurs to present their technologies and receive real-time feedback from potential partners and investors.
"This event has a tremendous impact for the companies that are presenting because they have the opportunity to get feedback from the audience but also to have the opportunity to be heard by some of the strategic partners that are going to be so critical for their next steps, said Johanna Brickman of Oregon Best, a potential strategic partner and event sponsor.
The Innovation Showcase was designed to be a complimentary event to NREL's Industry Growth Forum, which attracts 350 leading cleantech investors, corporate partners, and global energy companies looking for strategic investments and partnering opportunities. The annual event features presentations from 30 emerging clean energy companies, provocative panels, one-on-one meetings, and organized networking opportunities. Entrepreneurial companies ranging from university and laboratory spinouts to commercially ready clean technologies from across the globe apply to present at the Forum.
Through events like the Innovation Showcase and the Industry Growth Forum, NREL's IEC fosters an ongoing and extensive connection with early-stage businesses to stimulate an innovative and entrepreneurial cleantech environment, facilitate robust access to capital for investors, and accelerate the commercialization of clean energy technologies.
"What I see as success for our business is when we really nail down and solve a pain point for our customer and they start buying our product," said Peter Frischmann of Sepion Technologies, a portfolio company of the Cyclotron Road program. "So the day that something that we make is actually in a product that helps consumers, is the day when I will consider our business to be on the path to success."
The IEC will once again convene the clean energy ecosystem at the upcoming Industry Growth Forum scheduled for April 13 and 14 in Denver, Colo. Applications to present are being accepted through December 5. For more information, visit www.nrelforum.com.
—Written by Tina Eichner