Wave Energy Gets Ready for a Big First
Researchers Help Seven Marine Energy Companies Prepare for the Ocean
---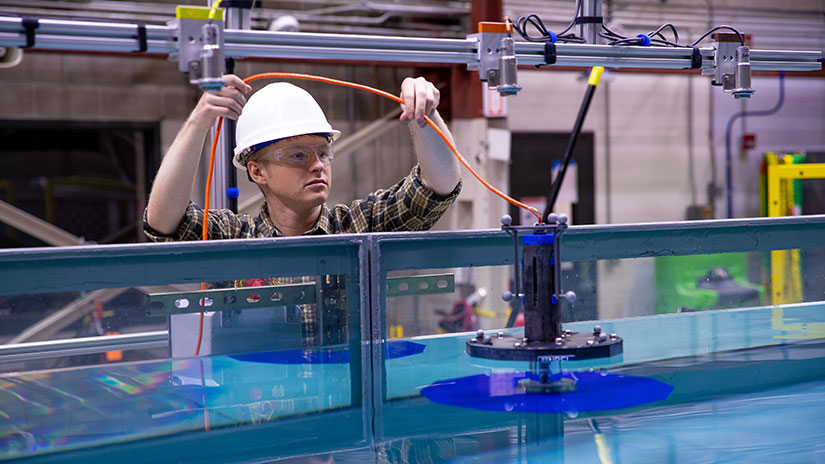 If you tried the egg drop challenge as a kid, this is what you might remember: You built a vessel from straws, cotton balls, and other bits and bobs. Then, you nestled a raw egg inside. And finally, the most memorable bit: a Humpty Dumpty drop from at least 6 feet.
Maybe your egg survived. Or maybe it cracked and splat (along with your ability to form healthy attachments). But testing new inventions does not need to be so cutthroat. Today's experts have both digital and physical tools to help make sure prototypes are prepared to survive their plummets—or, in the case of budding marine energy devices, their plunges into the ocean.
Now, researchers at the National Renewable Energy Laboratory (NREL) are helping four promising wave energy devices prepare to survive a big first. The four will be the first technologies to face the waves at PacWave South, a new grid-connected wave energy test site off the Oregon coast that opens in 2025.
NREL's pre-PacWave lab support, which is funded by the U.S. Department of Energy's Water Power Technologies Office, will help ensure these four devices—as well as three additional earlier-stage designs—can either edge closer to commercial success or ace their open-ocean trial.
And the upcoming PacWave trials can help more than just individual devices get that edge; they could also help build confidence in the entire wave energy industry.
"Wave energy resources are predictable and reliable," said Michael Lawson, the marine energy group manager for NREL's water power research and development program. That makes wave energy a dependable partner for other, more variable renewable energy resources, like wind energy and solar power. Because of that, Lawson said, "wave energy could help support our country's transition to clean energy."
But first, wave energy technologies must become more cost-effective and durable to survive a salty, sometimes blustery ocean.
What Puts the Wave in PacWave
The United States' marine energy resources—the energy available in our waves, ocean and river currents, and tides—equates to about 60% of the country's annual electricity needs. While we cannot capture all that power, in part because we cannot blanket our waters with tech, we can harness a portion of it. But first, researchers must validate and refine today's technologies by subjecting devices to both lab-fabricated waves—generated in wave tanks or with large instruments and even wave-emulating software—and, eventually, the real thing.
To access the real thing, wave energy developers need test sites, like PacWave or the U.S. Navy's Wave Energy Test Site in Kaneohe, Hawaii. The Hawaii site offers a gentler transition from lab to ocean. Their waves are about four times less energetic than those that roll through PacWave South.
"PacWave's test site will expose devices to the harsh ocean conditions necessary to rigorously test their performance and reliability," Lawson said.
But those conditions mean testing at PacWave South can be a riskier—though necessary—step for the four wave energy devices.
That is where NREL comes in. With help from the laboratory's water power experts and instruments, four companies—CalWave Power Technologies Inc., C-Power, Littoral Power Systems, and Portland State University (working with Aquaharmonics)—will put their prototypes through rigorous testing to see if they can withstand extreme waves, corrosive salt water, and the constant pressure exerted by wave after wave after wave. And three other companies—Dehlsen Associates, Integral Consulting, and Oscilla Power Inc.—will receive feedback on their wave energy designs so they can hone them before building a prototype.
All that data can help each technology developer improve their device's energy production, endurance, and potentially even reduce their technology's cost—in short, NREL's support can help make sure their inventions do not go splat.
Better By Design
NREL's experts offer a slew of wave-energy-related guidance. They can, for example, stress-test different components to see how long they might endure, check how a device might operate once connected to the grid, calculate a technology's economic potential, or collect data on a prototype during operation (often with a custom-made Modular Ocean Data Acquisition system, or MODAQ).
Like fingerprints and ears, no two wave energy devices are exactly alike. That is why each of the four PacWave-destined wave energy devices will receive specialized support. NREL experts will, for example, search for flaws lurking in testing plans, designs, instruments, or physical components. With luck (and, more importantly, expertise), these final checks will help ensure each device functions as intended during its PacWave trial.
Several companies will receive a custom MODAQ, a cousin of the one NREL researchers built for C-Power's autonomous offshore energy device. Integral Consulting will receive guidance on how to use large marine energy data sets to model and validate their early-stage technology design. And the final two companies, Dehlsen Associates and Oscilla Power Inc., will work to hone their designs, which could one day end up riding the waves at PacWave. At NREL, experts will help the two companies model how their ideas might operate in real waves.
"Developing marine energy technologies is inherently complex," Lawson said. "We try to make it just a little bit simpler."
Want to take advantage of NREL's end-to-end testing capabilities? See what else you can do, learn more about the motion platform and wave tank, and get the latest on NREL's facilities when you sign up for NREL's water power newsletter, The Current.