NREL Hydropower Research Informs Discussions on Capitol Hill
U.S. Senators and Panelists Cite Laboratory's Work in Recent Hydropower Hearing
---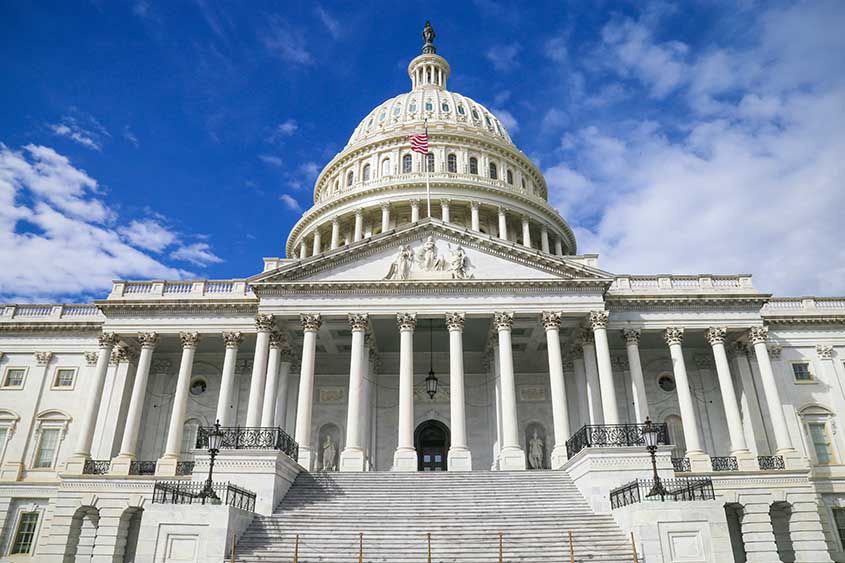 In a recent hearing held by the U.S. Senate Committee on Energy and Natural Resources, Colorado Senator John Hickenlooper smiled when he heard the National Renewable Energy Laboratory (NREL) mentioned yet again. "I appreciate that shout out," Hickenlooper said during his testimony. The laboratory, he continued, is "something we're very proud of in Colorado."
It might not be unusual for a Colorado senator to heap praise on the state's national laboratory. But during a hydropower hearing held on Jan. 11, 2022, NREL's water power work earned national appreciation. Discussing hydropower's essential role in a 100% clean energy future, U.S. senators and expert panelists frequently cited NREL's research, especially when discussing how to overcome current challenges that impede the industry's growth.
One topic came up again and again: hydropower licensing.
Roughly 30% of hydropower licenses will expire by 2030, said Malcolm Woolf, the president and chief operating officer of the National Hydropower Association. But, because the licensing process takes an average of 7.6 years and about $10 million for paperwork alone, about a third of hydropower owners were considering decommissioning their facilities. Those statistics came from a recent NREL report, "An Examination of the Hydropower Licensing and Federal Authorization Process," which examined factors that can increase the time, cost, and risk to license a hydropower project.
Scott Corwin, the executive director of the Northwest Public Power Association, also praised the report, specifically the insights it provides regulators and developers to streamline the licensing process. Corwin said that, today, it can take longer to relicense a small hydropower facility than a nuclear power plant.
In addition to the citations mentioned above, senators and expert panelists, including Jennifer Garson, the acting director of the U.S. Department of Energy's Water Power Technologies Office, referenced how NREL is helping to:
Examine how hydropower can complement intermittent renewable energy sources, like solar power and wind energy, and help integrate them into the nation's evolving grid (Senator Hickenlooper and Acting Director Garson, at 1:39:30 in the webcast video)
Provide regulators and industry representatives with the data needed to inform the hydropower licensing process (Corwin, 28:40 and 1:46:20; Senator Mike Lee of Utah, 1:43:10; Senator John Hoeven of North Dakota, 1:45:40; and Garson, 1:48:30)
Measure and evaluate, through the Water Innovation for a Resilient Electricity System (HydroWIRES) Initiative, how hydropower and pumped storage hydropower can contribute to a reliable, resilient energy grid (Garson, 17:40)
Evaluate hydropower's alternative values, like recreation and irrigation (Garson, 1:02:20)
Accelerate the development of novel water power technologies, like those that use river currents to generate clean energy for the isolated Alaskan village of Igiugig (Senator Lisa Murkowski of Alaska, 1:31:45)
Analyze how to increase hydropower productivity through small technological updates that increase the efficiency of preexisting facilities (Corwin, 1:47:05).
Working with NREL, Garson said, the Water Power Technologies Office is looking at how hydropower can help integrate more renewable energy sources—like solar power and wind energy—into an evolving power grid. "Through modernization of the existing U.S. hydropower fleet, adapting to the changing needs of our nation's power system, and meeting the challenges of climate change head-on, hydropower can be the keystone to a fully decarbonized power system by 2035."
NREL, of course, is not the only national laboratory exploring hydropower's future. The committee also discussed several grid assessment projects championed by the Idaho National Laboratory and the Pacific Northwest National Laboratory. Garson specifically called out a tool the Pacific Northwest National Laboratory recently developed for the hydropower industry to accurately estimate the costs and value of a pumped storage hydropower project.
Meanwhile, NREL's researchers are currently working on: a tool to assess pumped storage hydropower's availability and costs; upgrades to the Regulatory and Permitting Information Desktop Toolkit, an online database of hydropower regulations; analyses of future power sector scenarios to guide the nation's transition to 100% clean energy; a tool to assess how shifts in water levels could impact hydropower availability; an assessment of how pumped storage hydropower's longevity compares to that of batteries; and, finally, modern pumped storage hydropower designs that could decrease a project's cost, risk, and time.
Curious to know more about hydropower's role in a clean power grid? Stream the hydropower hearing or read each speakers' opening remarks on the Senate Committee on Energy & Natural Resources web page. And sign up for the NREL Water Power Newsletter.