Collaborative Database Maps Lithium-Ion Supply Chain Landscape
---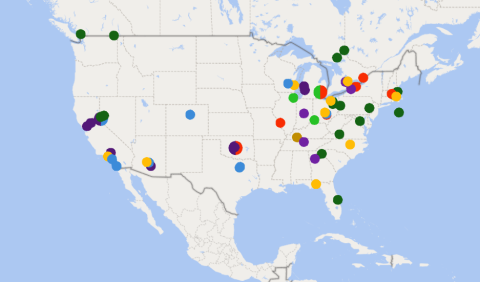 When charting a course toward a decarbonized future, it is important to understand the existing and emerging manufacturing capabilities for energy storage technologies, such as lithium-ion batteries—the predominant choice for cell phones, laptops, electric vehicles, renewable grid components, and even critical defense applications. Developing a secure supply chain—from material extraction to manufacturing battery cells and packs—is essential for a competitive edge in lithium-ion domestic and global markets.
Enter the Lithium-Ion Battery Supply Chain Database, an ongoing collaboration between NAATBatt International and the National Renewable Energy Laboratory (NREL) to identify every company in North America involved in building lithium-ion batteries from mining to manufacturing to recycling. First released in September 2021 and funded by NAATBatt International, this database is the first comprehensive directory of its kind. A recent update in 2022 significantly expands on the database, concluding several months of extensive work by a team of NREL researchers and support from three NAATBatt committees—Manufacturing in North America, Battery Recycling, and Battery Markets.
Establishing a Domestic Battery Supply Chain
Long before powering your electric car, lithium-ion batteries undergo a multistep manufacturing process interlinking separate specialized facilities. Different companies might focus on specific phases of battery development, such as mining or processing raw materials, manufacturing electrodes or cells, and assembling complete battery packs. Currently, U.S. consumers rely on global coordination to maintain a consistent supply of lithium-ion batteries for various applications. The U.S. Department of Energy's National Blueprint for Lithium Batteries aims to change that by instead establishing a domestic supply chain for lithium-based batteries.
"One of the early challenges we identified when assessing the strengths and gaps in the North American lithium-ion supply chain was insufficient data about domestic companies involved in every aspect of battery manufacturing," said NREL Senior Energy Storage Researcher Ahmad Pesaran. "This database is an initial step in better understanding the lithium-ion battery market and its North American players."
Designing the First-of-Its-Kind Database
To create the Lithium-Ion Battery Supply Chain Database, researchers explored business directories, trade show information, market data, and literature and reports to identify existing companies within the lithium-ion supply chain. The team also performed extensive outreach through direct calls, interviews, and a questionnaire encouraging companies to clarify information about their facilities.
As a result, the database now identifies more than 480 companies and over 560 facilities within North America's lithium-ion supply chain, including mining, material processing, manufacturing, research and development, services, end-of-life management, and product distributors. For each facility, the database lists key information about the company, location, workforce, and products and services. In addition, the database summarizes critical information such as installed battery manufacturing capacity and material production capability, plans for future capacity, types of chemistries and processes, and expansion plans by sector (e.g., transportation, stationary). The updated database also boasts advanced search and mapping capabilities to visualize the evolving market.
"This database brings a unique value to the booming lithium-ion battery market, which is bolstered in part by growing electric vehicle sales," Pesaran said. "We've already received significant interest in this database with more than 800 new downloads from users."
Coordinated Updates Support Industry Growth
NAATBatt and NREL are sharing the complete database with the public, industry, investors, and decision makers to spread awareness of the status of the North American lithium-ion supply chain and promote collaboration to identify strengths, gaps, and potential investments. Continued updates to the database over the next few years will document the growth of the capabilities and facilities across North America.
NOTE: The value and accuracy of the database will depend on new information from industry members. For inclusion in future updates, companies are encouraged to reach out to LIB.SupplyChain@nrel.gov.
Learn more about NREL's energy storage and sustainable transportation research. And sign up for NREL's quarterly transportation and mobility research newsletter, Sustainable Mobility Matters, to stay current on the latest news.