Science Bowl Encourages Next Generation of Scientists Through Competition and Education
A Fossil Ridge High School team has become the winners of the 31st annual Colorado Regional High School Science Bowl, unseating last year's champions, Cherry Creek High School.
The winning team, coached by Jesse Oswald, includes Jackson Dryg, Ethan Lin, Sophie Wang, Ryan Zhang, and Aarav Shah. Announced by Derek Passarelli, acting deputy assistant secretary for Department of Energy operations and the DOE Golden Field Office director, the Fossil Ridge team won with 84 points in the final round.
With only one team member who had competed in a High School Science Bowl previously, the relative newcomers from Fossil Ridge High School excelled in the competition. Despite that, the team was prepared, taking full advantage of the virtual format that removed the main speed component of buzzer entry from the competition.
"We've always counted on our knowledge rather than buzzer speed to get us through," said 10th grader Sophie Wang.
Agreeing, Coach Jesse Oswald believes the game has changed in the Science Bowl world, but knowledge is still the most important.
"The kids had more time to talk it through and think through problems," Oswald said. "It's been interesting to see how the competition has changed."
Obstacles Become Opportunities
The students were not the only ones who had more time to think through things this year. The NREL Education Team entered the 2021 competition better prepared for a virtual format than the previous year. The 2020 competition was a test of the education team's problem-solving skills and quick thinking to convert a traditionally boisterous in-person competition into a virtual format, but this year the team had a full year to prepare.
"That time has allowed us to test out the video conferencing platform, to more effectively communicate expectations to coaches and volunteers, and to train everyone involved in an effort to limit issues that will inevitably arise when planning a large online event like the Science Bowl," said Tom Mason, NREL's STEM education outreach coordinator.
In conjunction with the National Science Bowl, NREL offered training opportunities for each volunteer role multiple times since December. To make it as easy as possible for volunteers, the education team provided training opportunities at a variety of times throughout the day, during the week and on weekends, and provided recorded videos for volunteers to review on their own time.
"Our volunteers are generally well versed in using technological tools, so it hasn't been too hard to prepare them—mostly just little nuances, tips, and tricks here and there," Mason said. "We've tried to ensure that everyone involved is comfortable using the video conferencing platform by running practice sessions and more."
While Ben Simonds, a science instructor and Science Bowl coach at Colorado Early Colleges (CEC) Inverness, was able to practice with his team in person because the school has been moving forward with in person learning, his team faced other challenges.
In a competition for young people, CEC Inverness is among the youngest. Simonds' team is comprised of all freshman and one sophomore, and only came together about a month before the Science Bowl.
"It has been hard to prepare them for a competition where they are going up against students who might be three or four years older and more experienced than they are—particularly a competition as difficult as Science Bowl," Simonds said. "They have had a great attitude, and I hope they continue to view the competition as a learning experience to prepare for when they have more science classes under their belt and can make a real run for the title!"
Congratulations, Colorado High Schoolers
The 2021 Colorado Regional High School Science Bowl had 14 schools competing for the top prize.
Centennial High School - Pueblo
Cherry Creek High School - Greenwood Village
Colorado Early Colleges Aurora - Aurora
Colorado Early Colleges Inverness - Englewood
Fairview High School - Boulder
Fossil Ridge High School - Fort Collins
Gilpin County School - Black Hawk
Horizon High School - Thornton
Mountain Vista High School - Highlands Ranch
Peak to Peak Charter School - Lafayette
Poudre High School - Fort Collins
Ridgeview Classical Charter Schools - Fort Collins
Rock Canyon High School - Highlands Ranch
Rocky Mountain High School - Fort Collins
Students were asked three rounds of 18 questions during the preliminary rounds, with the top 16 teams advancing to the elimination rounds, where the competition grew more intense. Eventually, the final four teams of Fossil Ridge High School, Rock Canyon High School, and two Cherry Creek High School teams answered a total of 108 questions before determining the teams to compete in the final round of two.
Two Cherry Creek teams finished in second and third place, while Rock Canyon High School rounded out the competition winning fourth place.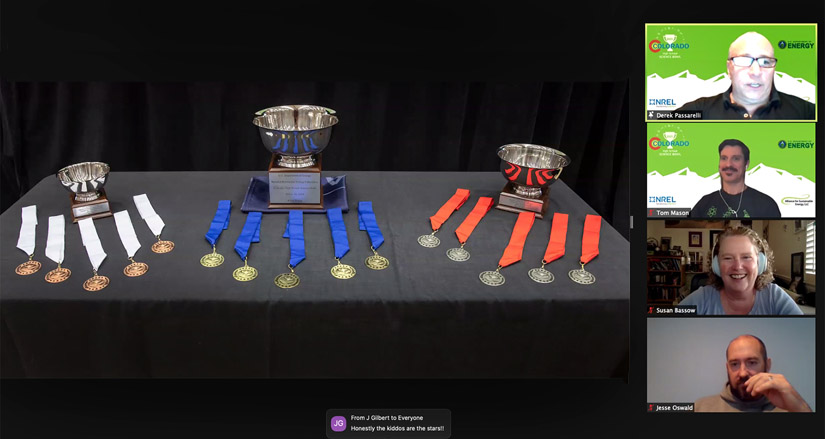 The questions covered a wide range of STEM topics including biology, chemistry, mathematics, physics, earth and space sciences, and energy, including questions about the DOE's 17 national laboratories.
The Fossil Ridge High School team now moves forward to the preliminary rounds of the National Science Bowl—also being held virtually—later this month. As teams advance at the national competition, they are eligible to earn funding to support extracurricular STEM activities at their schools.
Three Decades of Competing and Building Confidence
After 31 years of science bowl competitions, it is important to keep the competition interesting and educational. This year, while it is only the second-ever virtual competition, virtual environments have become commonplace and somewhat tedious for students, many of whom have had classes moved to an online format.
"This year, we will have a couple NREL interns present their research to the participating students the Friday evening before the competition and their presentations will be surrounded by a virtual tour of NREL and a fun 'School from Home Family Feud' game," Mason said.
NREL designers make each year unique from an aesthetic standpoint by creating new graphics, t-shirts, stickers, and video conferencing background images—a newer addition. Additionally, there are new workshops and opportunities for students to learn about NREL, the Department of Energy, and some of the latest renewable energy research from the laboratory.
For many students, the Science Bowl is not only a way to gain knowledge and compete against their peers, but also an opportunity to make connections and build confidence.
"A lot of the kids attracted to a competition like Science Bowl often feel alone and find it difficult to make friends at school. The team gave a lot of those kids a place to belong and have a large group of friends that support them," Simonds said. "I have seen kids grow in confidence and happiness as they compete as part of a team."
The Future of Energy and Education Outreach
A critical part of NREL's mission is educating the next generation of scientists and encouraging interest in STEM, and this year's Colorado High School Science Bowl competition is no different, but it also taught another lesson—resiliency in the face of obstacles.
"It's important that our NREL staff and volunteers—as well as those from the DOE and our volunteer community members—demonstrate that, even in the midst of difficult times, we can pull together, be resilient, and continue the tradition of an annual event that showcases their talents and their amazing knowledge of science," Mason said. "And we can all have a good time doing it!"
Dr. Martin Keller, NREL's director, echoed this message of the importance of STEM education and hope for the future. Keller shared NREL's mission of advancing the science and engineering of energy efficiency, sustainable transportation, and renewable power technologies and providing the knowledge to integrate and optimize energy systems, while encouraging the competitors to join that mission.
"By participating in the Colorado High School Science Bowl, you are making an important investment in your future, college, and career experiences," Keller said. "And down the road, we will need all of you to save our planet."
A similar gentle nudge toward climate and renewable technology careers came from Colorado Senator Michael Bennet, who contributed a welcome message to the competitors.
"Regardless of the outcome, I hope all of you stay interested in science, because we need it as a state and as a country," Bennet said. "Pick any challenge we face in the 21st century. Whether it is the record wildfires we've had over the last year due to climate change, the rise of artificial intelligence, or the risk of another pandemic, we can't address them without a renewed commitment to science. That's a long way of saying, 'Keep it up.' Don't lose your curiosity about the world as you drive to make it better."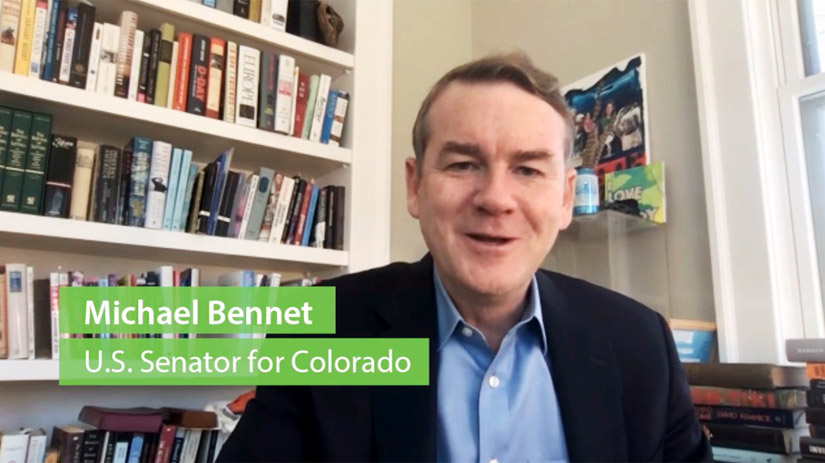 These messages of encouragement from leaders in science and policy, as well as the presence of NREL employees and scientists who volunteer as moderators, scorekeepers, and more for the High School Science Bowl do not go unnoticed, according to Simonds.
"The kids see Science Bowl as a true science event where some of the top researchers in the country have set aside their time to ensure quality and accuracy in the competition," Simonds said. "It also gives a chance for the students to see that a job in science involves more than just performing experiments and looking at data—there is a large element of outreach and public relations as well."
Some of the Fossil Ridge High School team members may follow that advice and find themselves at NREL in a few years. Multiple students on the winning team indicated a strong interest in computer science and biology, which are invaluable in the clean energy transition, and expressed their belief that climate change is the biggest scientific issue of their time.
Learn more about NREL's education programs and upcoming STEM opportunities.