NREL Research Team Analyzes COVID-19 Manufacturing Supply Shortages
CARES Act Funding Helps Researchers Identify Pinch Points
The early days of the ongoing pandemic were marked by shortages of personal protective equipment and coronavirus testing materials. It was a Herculean task to track down toilet paper and hand sanitizer, much less masks and COVID-19 tests.
To help overcome those challenges, a National Renewable Energy Laboratory (NREL) research team led by Samantha Reese and Alberta Carpenter identified pinch points in the manufacturing process due to simultaneous shortages and increased demand for face shields, N95 respirators, and materials used in coronavirus tests. The goal was to gather information that could help inform ways that researchers in the national laboratory complex could help solve supply-chain problems.
With funding provided by the Coronavirus Aid, Relief, and Economic Security (CARES) Act from the Department of Energy (DOE) Office of Science through the National Virtual Biotechnology Laboratory, a consortium of 17 DOE national laboratories focused on response to COVID-19, the NREL team, which also includes Karlynn Cory, Madeline Crouse, Jeff Logan, Lin Simpson, and Panos Datskos, gathered and analyzed information from both public and private stakeholders. One key area was identifying companies in the United States that manufacture the consumables needed for COVID response (i.e., PPE and test swabs).
Major manufacturers such as 3M and Honeywell were easy to identify, whereas smaller companies were identified using literature searches and Thomasnet, an online registry of American manufacturers.
"There's a misconception that everything comes from overseas," said Reese, a senior engineer and analyst in NREL's Clean Energy Manufacturing Analysis Center. "That's not actually true."
An example of the work's outcome was regarding COVID-19 test swabs. The team learned that only two companies in the world manufactured the nasopharyngeal swabs: one in northern Italy—a country hard-hit by the virus in the early months of the pandemic—and another in Maine. The swab shortage was acute from the start, and the DOE laboratory complex had helped create 3D-printable versions of the swab to address that issue.
Yet, in interviews with the team, health-care providers expressed hesitancy using the 3D-printed swabs because they were not sure if the new swabs would pick up the same viral loads as traditional swabs. Their feedback inspired testing at the Lawrence Livermore National Laboratory to prove the effectiveness of 3D-printed swabs.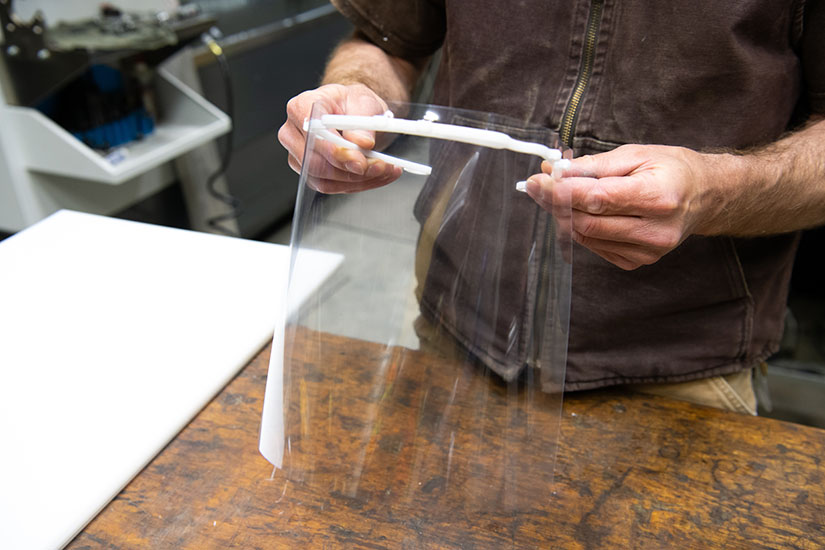 Regarding N95 masks, researchers discovered a supply shortage for melt-blown material, the critical filtration component used to make the respirators.
"In some cases, we don't actually solve the problem," Reese said, "but it gives justification to a lot of these different projects trying to quantify how cotton could compete with the melt-blown [material]."
That understanding supported two other CARES Act-funded projects at NREL. Peter Ciesielski's team is researching how a nanocellulose coating on cotton masks can improve particle filtration efficiency. And Yannick Bomble's team is creating an enzyme coating that can capture the virus on the surface of the mask.
If these teams are successful, Samantha said, they will help alleviate the public need for N95 respirators and free up those resources for medical professionals.
So far, Samantha and Alberta's team has only provided their findings to DOE via internal reports, and they anticipate publishing a journal article soon that will be accessible to the public.
"We have really appreciated the opportunity to help contribute to solving COVID-related issues," said Carpenter, who leads NREL's efforts for strategic analysis for the DOE's Advanced Manufacturing Office. "As we move forward, the team hopes to continue to provide researchers information they need to creatively solve the ongoing challenges COVID is affording."
Learn more about manufacturing analysis at NREL.