Patent Protection Awarded to NREL's EcoSnap-AC Technology
---
A cool, award-winning technology developed by scientists at the National Renewable Energy Laboratory now holds patent protection.
The EcoSnap-AC Heat Pump System offers a radically different way to cool a home. The device relies on an indoor and outdoor part that uniquely snap together with a connection through a wall. The result eliminates leaking air that comes with a window-mounted unit, reduces noise, and operates with more efficiency.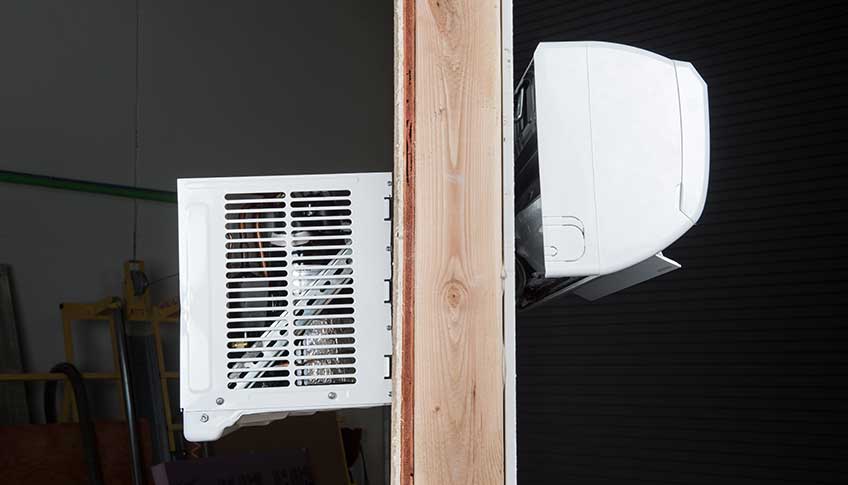 The inventors of this new kind of AC device are Chuck Booten, a senior engineer; Jon Winkler, a senior research engineer; and David Roberts, manager of the lab's Residential Buildings Research Group.
"This is a pretty big deal for EcoSnap," said Booten, who joined NREL in July 2010. "Serious investors or licensees value an issued patent a lot more than a patent application."
The Department of Energy, which funds most of NREL's research, in 2015 accepted Booten and Winkler into a program – now called Energy I-Corps – designed to help them find the best path to commercialization for EcoSnap. They wound up building a prototype unit. But because NREL isn't a manufacturer, bringing EcoSnap to market requires a commercial entity to license the technology and commercialize a product.
EcoSnap received national attention in 2016 when it received an R&D 100 Award – an honor likened to the "Oscars of innovation" – from R&D Magazine. NREL has been pursuing patent protection for EcoSnap since 2015.
More information about EcoSnap can be found on the Lab Partnering Service website.