NREL Supports Agtech Innovation Through IN²
New Cohort of Five Agtech Companies Will Validate Their Innovations with Donald Danforth Plant Science Center
---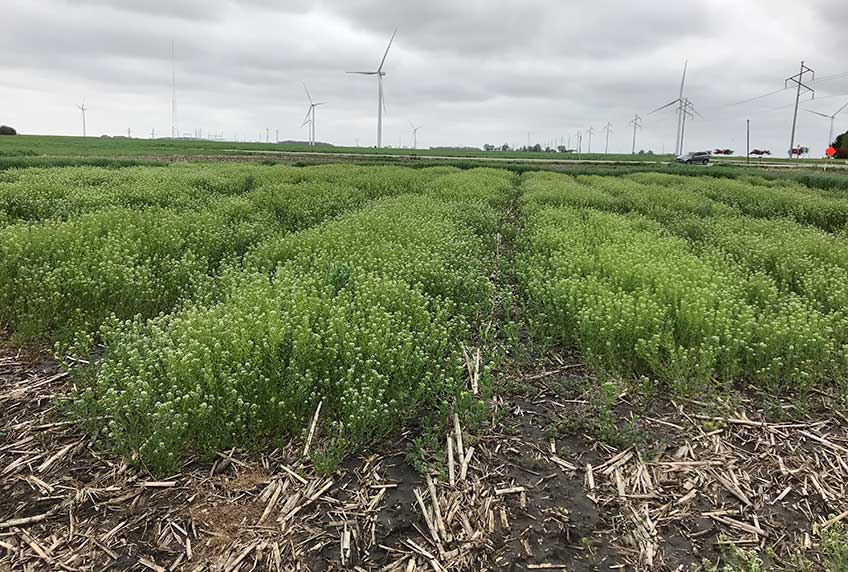 Between research projects on agrivoltaics, sheep-friendly solar, and optimizing the energy-water nexus, the National Renewable Energy Laboratory (NREL) is increasingly connecting the dots between food and energy. Now as co-administrator for the Wells Fargo Innovation Incubator (IN2), NREL will be implementing its expansion into digital agriculture.
IN2, a technology incubator now supporting its fifth cohort of companies, is partnering with the Donald Danforth Plant Science Center (Danforth Center), the world's largest independent plant science institute. With IN2's new focus on digital agriculture, five early-stage companies will receive up to $250,000 in non-dilutive funding to further develop and validate their technologies with Danforth.
Launched in 2014 with an initial focus on supporting scalable solutions to reduce the energy impact of commercial buildings, IN2 expanded its focus in 2018 to advance the agriculture industry, which accounts for approximately 70 percent of the water and 14 percent of the energy used worldwide.
"We are very excited to be working with the Danforth Center to test and validate our next cohort of companies," said Trish Cozart, IN2 program manager at NREL. "Looking at the how our food, water, and energy resources can be used more efficiently and effectively is a big part of the mission of this program. We look forward to working with these companies and the Danforth Center in addressing that challenge."
Portfolio companies selected are advancing technologies that focus on crop production and sustainability. They are:
Aker Technologies (Chicago): Automated crop-scouting process that captures and analyzes the presence and intensity of pests and pathogens below the crop canopy.
CoverCress (St. Louis): Winter crop that covers soil over winter, protecting it from harsh conditions, while producing a low carbon intensity crop for renewable fuel and food.
Intrinsyx Bio (Los Altos, Calif.): Plant probiotics that increase crop yield, reduce excess fertilizer, and improve soil and water conditions.
RNAissance Ag (St. Louis): Safe, effective, and environmentally sustainable insecticide for precision pest management.
SolGro (Arlington, Texas): Nanoparticle film designed to increase crop productivity through light conversion on greenhouses.
As an invitation-only program, IN2 finds and selects companies through its Channel Partners, a curated network of incubators, accelerators, and universities across the United States that refer startups to the program. Once referred, companies participate in a highly competitive application and selection process to determine which will be invited into the next cohort of participants. For a complete list of IN2 portfolio companies and Channel Partners, visit in2ecosystem.com.