NREL Staff Recognized by DOE for Outstanding Achievements at 2017 Annual Merit Review
---
The U.S. Department of Energy recently honored four NREL staff members for their outstanding achievements at the Annual Merit Review and Peer Evaluation Meeting.
Hydrogen Production and Delivery Award – Todd Deutsch, James Young, and Myles Steiner
NREL's photoelectrochemical (PEC) research team, including Todd Deutsch, James Young, and Myles Steiner, was recognized for their outstanding scientific achievement—a new world record in solar-to-hydrogen (STH) conversion efficiency in their innovative PEC device structure. Building on NREL's previous PEC record of 12.4% STH conversion efficiency established in the 1990s, the team implemented state-of-the-art innovations in materials synthesis and surface engineering to optimize performance, achieving the new world record of 16.2% STH conversion efficiency. This important accomplishment is recognized in their 2017 peer-reviewed article published in the prestigious Nature Energy journal.
See the full list of 2017 Hydrogen and Fuel Cells Program Award winners.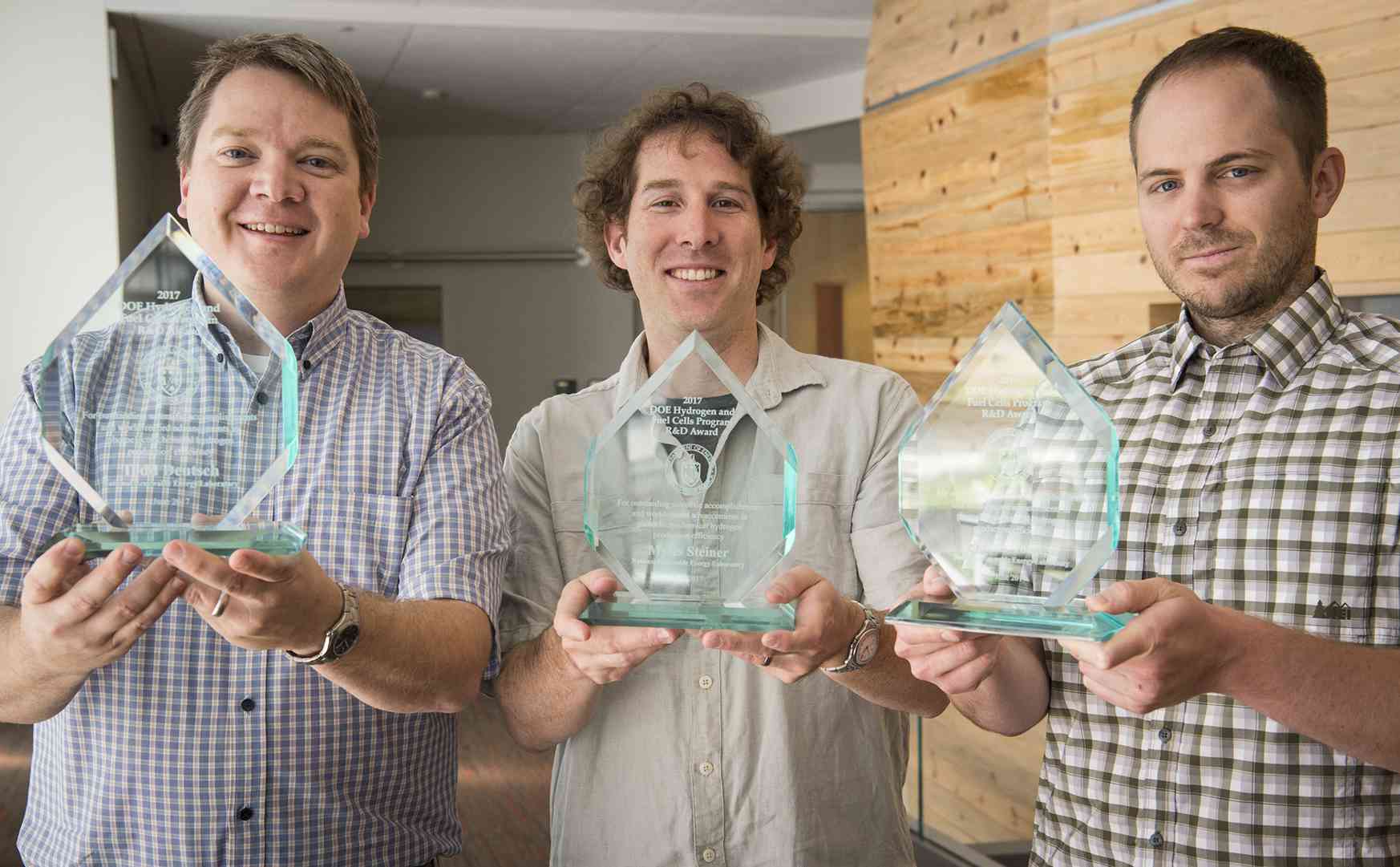 Vehicle Technologies Office Distinguished Achievement Award – Matthew Keyser
Matthew Keyser was recognized with a Vehicle Technologies Office Distinguished Achievement Award for his technical leadership in support of DOE's Hybrid and Electric Vehicle Battery R&D Program. His work on battery thermal management and safety has earned four R&D 100 Awards and five patents. His accomplishments include developing a first-of-its kind Battery Internal Short Circuit Device in collaboration with NASA to better-understand failure modes, particularly overheating, in lithium-ion batteries. And the innovative Isothermal Battery Calorimeter developed by Keyser and colleagues was licensed to NETZSCH and is being sold commercially to test large format Li-Ion cells and batteries that are used in electric vehicles, aircraft, stationary power backup, and storage applications.