NREL, SDG&E Collaboration Expands Resiliency in Borrego Springs, Yields Nationally Scalable Results
---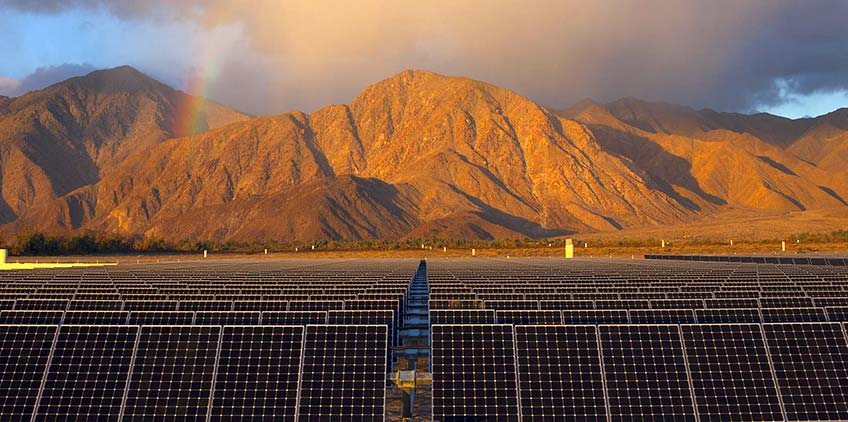 Some of the United States' most beautiful and geographically diverse locations are also marked by extreme weather occurrences, which can create disturbances on the electric grids that supply them with power. Borrego Springs, California, is one of those places.
Borrego Springs is northeast of San Diego—and to help address the high-risk environment, San Diego Gas & Electric Company (SDG&E) operates a microgrid there. In collaboration with the U.S. Department of Energy's National Renewable Energy Laboratory (NREL), SDG&E is able to remain on the forefront of advanced microgrid technology.
Microgrids are self-powered electric grids that can operate independently or connect to the larger grid. They play an important role in resiliency, in part, because they are able to disconnect from the main grid during outages and continue to operate independently. Energy resiliency in places such as Borrego Springs is especially important.
"Borrego Springs is on the eastern edge of our service territory," said Tom Bialek, SDG&E chief engineer. "You get these monsoonal rains that occur and cause flash floods, and there's a lot of talk in our region on energy resilience because we're in an area that faces significant wildfire threats. Due to our complex topography and strong Santa Ana winds, San Diego and Southern California are the most conducive to rapidly expanding wildfires anywhere in the United States and perhaps the world. These winds get to be hurricane force. That's what people don't appreciate. We're looking at Category 1 to Category 2 winds down over the mountaintops coupled with low humidity and dry, dead fuel. In this environment, all it takes is a single spark and fires will spread very, very quickly. From a resiliency perspective, that's why this is really important."
What NREL is working with SDG&E to better understand is how a microgrid controller with advanced technology would perform, specifically with the Borrego Springs microgrid. NREL is able to explore this safely at its Energy Systems Integration Facility (ESIF), which is home to an important and unique capability. The ESIF houses NREL's megawatt-scale microgrid test platform, which allows utilities such as SDG&E to connect their microgrids and run a variety of simulations.
"We have an amazing modeling and simulation capability to bring in feeder data from SDG&E and be able to answer 'what if' questions with multiple devices, not just with a single component, utilizing our power hardware-in-the-loop capability," said Martha Symko-Davies, Energy Systems Integration laboratory program manager. "That's the key of what ESIF can do: de-risk and implement the technology in Borrego Springs."
Annabelle Pratt, NREL principal investigator on the project from the Power Systems Engineering Center, said collaboration was key to this project. NREL had to obtain the modeling data from SDG&E to set up the simulation. NREL also needed the controller. For this project, Pratt, Kumaraguru Prabakar, and the rest of the team had controller hardware and two megawatt-scale inverters in the loop.
How Distributed Energy Resources Impact Operations
Microgrids are smaller, more flexible, and offer quicker response and control, but Bialek noted, when compared to larger grids, operators have less time to react to disturbances.
"Everybody talks about these high-penetration renewable energy environments," he said. "If you look at what that means, what you're doing is basically backing off spinning generators and you're going to a power electronic grid where you've got very little inertia left in the grid. You have to look at how the system responds in that environment and it's very different from what we see normally. From my perspective, there are lessons to be learned on both ends."
Part of what NREL is simulating in the test with the Borrego Springs microgrid is the number of distributed energy resources, including rooftop solar photovoltaics—for that high-penetration renewable energy environment.
"We will typically roll generators during extreme events to power local areas or communities," Bialek said, "but in this case, we're looking to leverage the rooftop solar in Borrego Springs and there are 3 megawatts at this point and a 26-megawatt array in Borrego (owned and operated by a third party). Longer term, our goal is to transition off generators to a renewable-based microgrid."
Lessons Learned through This Project
ESIF High-Impact Projects like this collaboration between NREL and SDG&E produce far more than just a road map for a single utility to expand a microgrid. They serve the entire industry and advance important technologies in new ways, generating data and ideas that other researchers can use. Symko-Davies said understanding the data and lessons learned through this process is crucial.
"The goal is for others to have this data so they can learn," she said. "What we do here is so critical to others. The ability to do power hardware-in-the-loop and having the 2-megawatt grid simulator to de-risk and answer those 'what-if' questions are key. That's what distinguishes us from other national labs. If you don't de-risk this and make sure it's credible, people start questioning the technology. It can ruin the whole market for what we're trying to do."
Symko-Davies emphasized the importance of this information and these lessons as nationally scalable from both technical and economic perspectives. In Borrego Springs, Bialek said what they're already seeing is providing valuable information and it's given SDG&E a better appreciation for the challenges.
"The original thought," he said, "on this last version—which NREL has been testing controllers and doing real-time simulation work on—we thought would be easy, have no problems, and quickly get us to a 100% renewable energy environment. What we found was there are still a lot of things we don't understand or appreciate, but we're a lot closer because of the work we've done together."
Lessons learned from this project also helped establish the first set of Institute of Electrical and Electronics Engineers standards around microgrid controller testing and gave the NREL team reassurance for future projects of similar scale.
Speaking about the prospect of embarking on future projects of this complexity and scale, Pratt said, "We have much higher confidence that we can—and we also have a much better understanding of the technical capability challenges."
While NREL researchers have the expertise to understand and develop these innovative technologies, they need help from partners to move these technologies to market and create impact.
"How do we think about where we want to be in the future?" Symko-Davies said. "How do we reach these goals? If we don't do the research here and connect with utilities like SDG&E, we don't get our tech out of the lab."
One of many challenges coming up for research, she said, is to figure out how to put multiple microgrids together. NREL has worked successfully in collaboration with SDG&E for several years. The teams are also working together to research and test needs surrounding energy storage sizing and placement.