America's Wind Energy Future Looks Seaward
---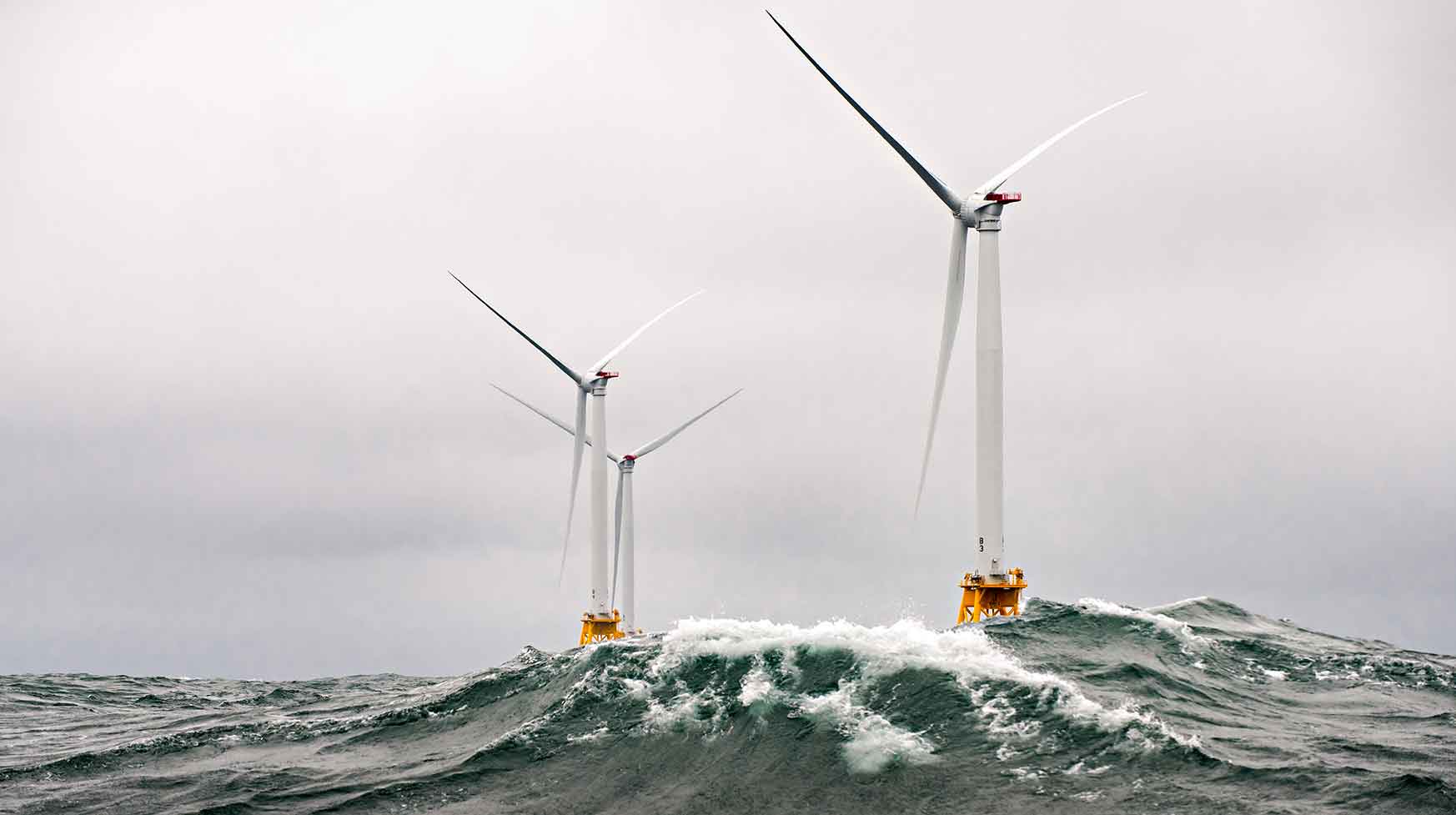 Located 2.8 miles off the coast of Rhode Island, the Block Island Wind Farm is the United States' first commercial offshore wind plant. Its five turbines are capable of generating a total of 30 MW of power—enough to allow the Block Island Power Company to turn off its diesel-operated generators. As of May 1, 2017, the island's 2,000 electric customers receive almost all of their energy from offshore wind—and the island uses only a fraction of the power produced. (An undersea cable delivers excess energy to the mainland.)
Nearly 2,000 miles away at the foot of the Rocky Mountains, researchers at the U.S. Department of Energy's National Renewable Energy Laboratory (NREL) are looking toward the future of offshore wind, applying the National Wind Technology Center's (NWTC's) vast engineering and analysis expertise to help facilitate additional large-scale generation in U.S. coastal waters.
"Looking toward offshore wind resources is essential as we seek to bring more efficient, reliable, and cost-effective renewable energy generation online," said NWTC Director Daniel Laird. "NREL's deep experience with these technologies, having already enabled the current growth of land-based wind energy, uniquely positions us to continue to lead the way as we head offshore."
Block Island Leads the Way
Bringing a $300-million offshore wind farm to life means navigating a web of regulatory and policy hurdles. But for Block Island, which burned through about one million gallons of diesel fuel last year, the change will allow island residents to avoid significant energy costs in the long term—more than $25 per month per capita.
Other states are looking offshore, too. Massachusetts passed energy diversity legislation in 2016 that allowed for the production of 1,600 MW of offshore wind by June 2027. In New York, Governor Cuomo has committed the state to developing 2,400 MW of offshore wind by 2030.
"These are encouraging signals," said NREL Energy Markets and Policy Analyst Philipp Beiter, whose work focuses on offshore wind technology.
NREL analysis has been vital to expanding offshore wind, both in the United States and abroad: Market analyses assess the cost and economics of existing novel technologies to inform state and local decision makers. NWTC researchers also characterize offshore wind resources to identify promising locations for future plants. For example, high winds off the coast of New England, in combination with the region's high electricity rates and state policies, provide a unique opportunity for offshore wind development.
Building a New American Industry
Although important, the turbine is only the tip of the iceberg when it comes to offshore wind technology. The full system requires specialized manufacturing and installation for components such as the towers, blades, and substructure—which in turn require specialized facilities, as well as technicians that understand the intricacies of offshore wind and are, ideally, located near the installation site. The components must be delivered to a nearby port, loaded onto a vessel designed for offshore wind installations, and secured in open water.
"With more than 13,000 MW installed over the past 15 years, the offshore industry is booming in Europe," said NREL Manager of Offshore Wind Walter Musial. Indeed, European countries have established a dedicated supply chain and a fleet of large vessels, some of which were used during the construction of the Block Island Wind Farm. But the Merchant Marine Act of 1920—also known as the Jones Act—strictly limits the use of foreign-flagged vessels in the United States. New marine operation strategies, including a U.S.-flagged installation vessel, could be the next step.
"We're trying to learn lessons from Europe and determine how to best apply them to the U.S. industry," Musial said—but applying these lessons requires buy-in from manufacturers. NREL analysis of offshore wind's economic potential helps validate the market for those looking to dip a toe in the offshore wind industry—such as manufacturers in the Gulf States, a region that offers a built-in supply chain for offshore development including existing manufacturing capabilities and port infrastructure. This—plus its shallow, warm waters and smaller waves—could make the Gulf Coast a promising region for offshore wind.
"It seems to be a bit of a chicken-and-egg problem," Beiter said. "Developers want to see market viability of an existing project pipeline before investing in training workers, procuring port space, and modifying production to serve the offshore wind industry." The success of the Block Island Wind Farm is an important step toward building investor confidence in offshore wind.
Floating Turbines for Deep Pacific Waters
Investment in the manufacturing supply chain isn't the only development needed to make offshore wind a success for the United States. Shallow waters off of Northeast and Gulf Coast states make fixed-bottom turbines a good match—but taking advantage of the strong winds in the deeper waters off the Pacific Coast and further off the Atlantic shelf requires innovation.
Those turbines need to float.
Fixed-bottom turbines are either drilled or held into the seabed with gravity. Floating wind turbines are not rigidly fixed into the seabed, so they will likely be easier to install. Other advantages could include limiting at-sea construction and permitting installation regardless of siting or sea depth. Also, compared to traditional, fixed-bottom technology, the floating prototype concepts have been pricey. Beiter and Musial predict the two technologies will converge, cost-wise, by 2030, assuming continued investment and research.
Floating turbines are still a few years away in the United States, but the technology is already being deployed in—you guessed it—Europe. The first commercial floating wind farm, consisting of five 6-MW turbines, is currently under construction off of the coast of Aberdeen, Scotland—and more prototypes are underway with the help of NREL-developed engineering tools. "Optimizing" floating technology for commercialization, however, will require further development of these tools and design methods.
Offshore Wind for a Better Grid
Bumper-to-bumper traffic isn't the only type of congestion in cities like New York, Boston, and Washington, D.C. The flow of electricity from generators to consumers presents an ongoing challenge for utilities in such cities—but an influx of offshore wind promises to detangle some of that congestion. Many load centers in the Northeast are coastal, so connecting to electricity generated offshore could help those regions avoid new transmission requirements. Building wind turbines offshore "injects energy into the hardest-to-reach parts of the electric grid system," Musial said.
Building an offshore wind future comes with a set of unique challenges to overcome, much like the turbulent waters and sudden squalls that vessels must navigate at sea. But NREL researchers are developing the tools, not only to make offshore wind possible for the United States, but also to boost its performance, increase its reliability, and decrease its cost, ensuring the future remains bright for this promising technology.
Learn more about NREL's offshore wind research.