US Department of Energy Announces Heliostat Prize Semifinalists
---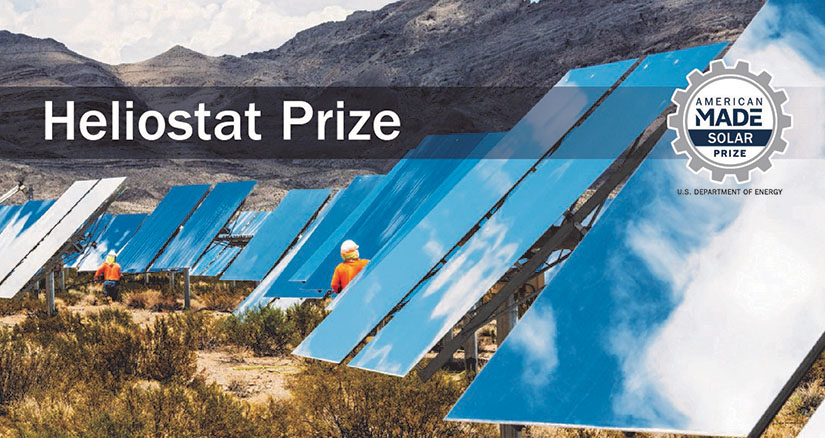 Today, the U.S. Department of Energy (DOE) announced nine semifinalists for the American-Made Heliostat Prize, a three-contest challenge designed to accelerate technology innovation of selected heliostat components.
The nine semifinalists were selected from the first phase, or concept phase, of the challenge. In the concept phase, competitors identified and developed promising technologies for one of the following components: heliostat structures, mirror facets, and wireless control systems.
"We are excited by the potential in the nine proposed projects by our semifinalists," said David Haas, concentrating solar-thermal power senior technical advisor for DOE's Solar Energy Technologies Office (SETO). "The proposals represent innovative approaches and potential new technologies that could further advance heliostat capabilities nationwide. We are excited to see where they take these projects in phase two of the challenge."
Semifinalist teams receive $100,000 and work with DOE national laboratories and other American-Made Network resources to move their proposals into phase two of the challenge, where semifinalists will work to substantially advance their technology into an initial design. In the final phase, up to three design winners will work to substantially advance their design, perform initial testing of the components from the design phase, and build a prototype or partial prototype.
The Semifinalists
Heliogen
Project Name: Testing & Deployment of Fully Wireless Heliostats
Location: Pasadena, California
This team is building a physical network of thousands of wireless devices at a test site in Lancaster, California, to understand the viability and robustness of several wireless technologies. The study will include the testing and validation of various inexpensive, widely available wireless communication technologies.
Idealab-SwRI CSP Innovators
Project Name: Ultra Low-Cost Concrete Heliostat
Location: San Antonio, Texas
This team has partnered with Southwest Research Institute to develop a heliostat constructed from precision‐cast concrete. This design is low‐profile to minimize wind loading when stowed, self-ballasting to allow for minimal installation labor and site prep, and made of the lowest-cost construction material available.
KVA Technologies
Project Name: Lightweight High Strength Martensitic Structures
Location: Borrego Springs, California
This team will utilize lightweight, high-strength structures made with chromium steel containing no nickel to replace the standard steel heliostat structure. The improved design will reduce heliostat costs while increasing durability and strength.
Low-Profile Disc Tracker Genesis
Project Name: Low Profile Disc Tracker (LPDT)
Location: Miami Beach, Florida
This team is developing a concept for heliostats that can stow low to the ground and has a single gear for two types of tracking. This novel design will simplify installation, lower transportation costs, and increase resilience to adverse weather conditions.
Mark Ayres Engineering
Generic Heliostat Field Control System
Location: Los Angeles, California
This team is developing a concept for a commercial, off-the-shelf heliostat field control program. The system will optimize all aspects of field operation including preheating, tracking, and stowing.
Multiscale Systems
Project Name: Thermoplastic Composite Heliostat Structures
Location: Worcester, Massachusetts
This team is developing a novel heliostat facet utilizing thermoplastic composite in a sandwich-type design. The composite panels contain high-fiber content for added strength and protective additives for weatherability.
Quantum Optics Applied Research
Project Name: Retroreflectors for Closed-Loop Heliostat Feedback
Location: Naperville, Illinois
This team is developing a novel heat-tolerant quartz-glass retroreflector for use in automated, closed-loop, heliostat calibration. This reflector will enable simultaneous feedback to each facet within the plant's field of heliostats.
Solar Dynamics
Project Name: DREAM: Design for Manufacture and Assembly (DFMA) Redesign for Economical American Manufacturing
Location: Broomfield, Colorado
This team is developing a DFMA-optimized version of their novel SunRing heliostat that merges simple high-volume component manufacturing, advanced automotive joining technologies, and containerized automated assembly cells. By eliminating welding, tight part tolerances, and on-site manual labor, this next-generation SunRing will enable lower-cost manufacturing of U.S heliostats.
Stellenergy
Project Name: Heliopod II Mirror Facet
Location: Albuquerque, New Mexico
This team is developing a novel concept heliostat facet utilizing solar film and plastic structures. This novel facet structure will reduce weight and individual facet cost.
The design phase of the competition opens in November 2023, with winners announced in February 2024. For more information, follow the Heliostat Prize on HeroX.