Turning Mining Waste Into a Sustainable Concrete Replacement
$4.38 Million in New Funding Expands NREL Partnerships With Industry and Academia To Develop Revolutionary Mineralization Process and Reduce CO₂ Emissions Within Construction Industry
---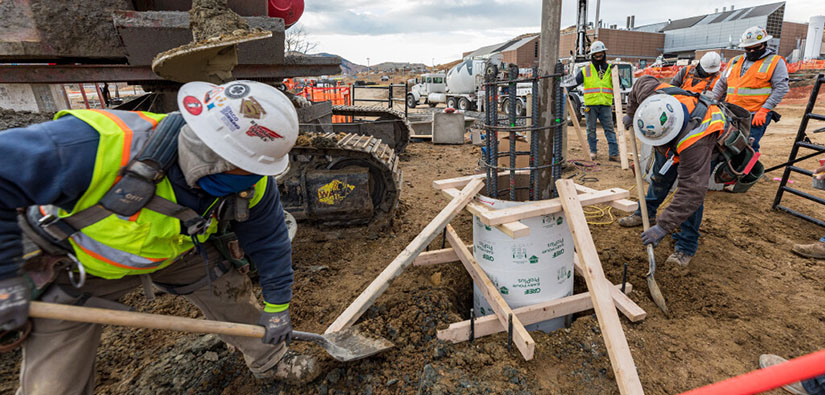 The National Renewable Energy Laboratory (NREL) is leading a three-year $4.38 million collaborative project from the U.S. Department of Energy's Fiscal Year 2022 Office of Fossil Energy and Carbon Management Technology Commercialization Fund to turn mining waste materials into a more sustainable concrete replacement.
NREL Building Technologies and Science Center Researcher Kerry Rippy is managing the project with NREL Materials Science Researcher Robert Bell, along with substantial support from industry partners.
The Rapid Electrochemical Mineralization to Form Dolomite (REMineD) project will use renewable electricity to drive reactions between mining waste materials, known as tailings, and carbon dioxide (CO2) from the air. This reaction will form materials like dolomite for further use as sustainable concrete. The long-term CO2 sequestered in this concrete will offset the CO2 footprint of mining and building projects.
"Mineralization is currently attracting a lot of interest. Similar studies are underway across the globe," Rippy said. "The REMineD project stands out because it can use less pure, lower-concentration CO2, reducing the cost of carbon capture. It can also use a broader range of tailings, made possible through renewable electricity, which provides energy for the reaction."
The building construction sector is responsible for a significant amount of total annual greenhouse gas emissions in the United States, making it an important target for decarbonization—as well as one of the most difficult sectors to decarbonize.
"Concrete production is a very carbon-intensive process, and so is mining," Rippy said. "One challenge both sectors face is that not all emissions can be easily avoided—some are a fundamental part of the process. For example, CO2 is a product of the reaction to form cement. That makes carbon-negative technologies like REMineD, which can offset CO2 emission, essential to help the United States achieve a net-zero-carbon economy by 2050."
NREL will work with primary mining partner Newmont and its Metallurgical Services Laboratory in Englewood, Colorado, to analyze a diverse range of tailings. Mining waste samples will also be provided for analysis from the Doe Run Company, Sibanye Stillwater, and the legacy tailings sites managed by the Quapaw Nation.
Blue Planet Systems Corporation and researchers from the University of California–Los Angeles, Lawrence Berkeley National Laboratory, and the Missouri University of Science and Technology will help develop reaction methods, including efforts to simultaneously extract more residual trace elements (including valuable minerals or toxic materials) from the mine tailings.
The result is a carbon-negative aggregate. As a first step toward commercialization, the company Colorado Earth will form this aggregate into blocks to serve as more sustainable concrete construction materials. The blocks are designed to meet American Society of Mechanical Engineers standards.
A More Sustainable Future
Rippy said it is a win-win process.
"Mining companies see REMineD as a pathway toward a net-zero-carbon goal. The project is also supported by the Quapaw Nation, who see it as a potential solution to the negative consequences of legacy zinc and lead mining on their tribal lands," she said.
Newmont's director of processing, Frank Roberto, said carbon sequestration in tailings supports a long-term direction for the mining industry.
"Waste rock and tailings are the largest component of residues from our mining operations, and the work for direct air capture of CO2 through tailings carbonation provides a unique opportunity to reduce our emissions and others throughout the value chain," Roberto said.
Ultimately, the resources developed by REMineD could be deployed on-site at remote mining locations. The project will result in faster and more efficient ways to develop the dolomite aggregate from a wide variety of tailings, additional revenue streams from the further recovery of valuable rare earth elements, and the production of more sustainable building materials.
The Department of Energy's Office of Technology Transitions works in partnership with the Office of Fossil Energy and Carbon Management to provide ongoing Technology Commercialization Fund opportunities designed to accelerate carbon dioxide removal technologies.
Learn more about related buildings research at NREL.