Southeast Asia Wind Resource Data Set Released Through the Renewable Energy Data Explorer
NREL's Geospatial Data Science Team Used Machine Learning To Create Fine Spatial Resolution Wind Data for Southeast Asia
---
A high-fidelity time series wind resource data set for all Southeast Asia is now available through the Renewable Energy (RE) Data Explorer.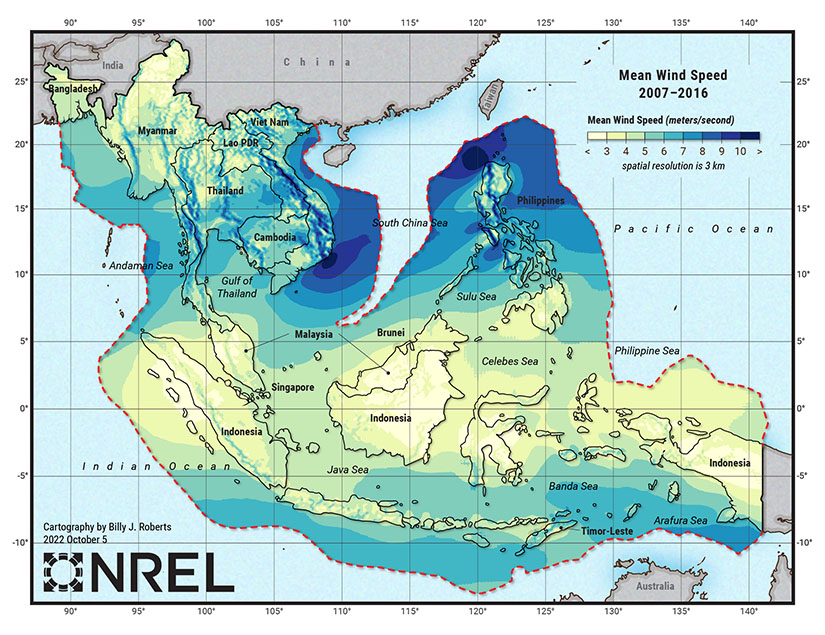 With a 3-km spatial and 15-minute temporal resolution and a 15-year record, this is a first-of-its-kind public data set for the region. The data set can be accessed or downloaded through the RE Data Explorer, a geospatial analysis tool for visualizing and analyzing renewable energy resource potential.
The release of this wind resource data set for Southeast Asia follows the 2021 release of a complementing solar resource data set covering the same region.
Development of both the wind and solar resource data sets was made possible through support from the United States Agency for International Development's (USAID's) Regional Development Mission for Asia (RDMA). USAID RDMA and the National Renewable Energy Laboratory (NREL) work together through the Advanced Energy Partnership for Asia, a multiyear program designed to enable advanced energy systems for secure, resilient, and sustainable economic growth across Asia.
"Energy is at the center of finding sustainable pathways that address climate change effectively. Most countries in Southeast Asia and around the world have net zero carbon emission commitments that will require a transition to a decarbonized energy system," said Scott Bartos, regional energy advisor for USAID's Regional Development Mission for Asia.
"High-quality data form the very foundation of good public policy and smart investment decisions," he continued. "In Southeast Asia, it's so important that all stakeholders have easy access to accurate data that will 'light the way' along sustainable energy pathways."
Building Blocks of Wind Data
High-resolution time series wind data for Southeast Asia were not previously publicly available. Analysts, developers, and researchers had to choose between coarse time series data or high-resolution average data that did not provide a time series.
Using existing data and models, NREL researchers changed how wind resource data are produced. Global climate data provide useful insight for wind energy but at coarse resolutions. The fifth generation of the European Reanalysis data set (ERA5) represents historical weather and climate conditions across the globe using satellite and modeled data. However, at a resolution of 30 km, the ERA5 data set is too coarse for wind energy applications.
The Weather Research and Forecasting (WRF) model is considered the best-in-class meteorological model and is commonly used to produce wind resource data, but it requires immense computational resources. NREL researchers used the WRF model to refine the ERA5 data by iteratively increasing the resolution to 9 km. This significantly increased the resolution; however, beyond 9 km, NREL researchers found that the computational burden was too high to efficiently produce a high-resolution time series data set for Southeast Asia.
Innovation Through Machine Learning
To create wind resource data covering onshore and offshore areas of Southeast Asia at a resolution fine enough for wind energy development decisions, NREL's researchers needed to downscale the resolution while also reducing computational burden. To solve this problem, NREL researchers used an emerging machine learning approach called Generative Adversarial Networks, or GANs, to produce equivalent-quality data with greater efficiency.
GANs use two machine learning networks: a "generator" and a "discriminator." The generator learns to create realistic high-resolution data from the coarse 9-km WRF data. The discriminator learns the details of atmospheric conditions from high-resolution training data and evaluates the data created by the generator. The discriminator rejects data that appear synthetic and do not capture the atmospheric conditions it was trained with. After rounds of review, the generator learns to capture these physical processes and produce outputs that the discriminator accepts as realistic, effectively creating 3-km, 15-minute wind data with 16 times better computational efficiency than WRF on its own.
"This approach is a paradigm change in how continental scale wind resource assessment is done," said Galen Maclaurin, the NREL researcher who led development of these data. "We integrated the most common and trusted approach of using the WRF model with an emerging machine learning model called GANs.
"Bringing together these two methods for producing accurate time-series wind resource data enabled us to produce a 15-year data set at 3-km, 15-minute resolutions in a fraction of the time and computational resources it takes with the WRF model alone."
Before the introduction of GANs, creating regional wind data was prohibitively expensive and time consuming. By using machine learning, NREL researchers developed a novel system that efficiently generates high-resolution, highly accurate wind data. With USAID's support, these data are made free to the public through the RE Data Explorer.
Quality Data Enables Renewable Energy Deployment
One of the primary objectives of USAID and NREL's Advanced Energy Partnership for Asia is increasing the use and availability of high-quality data to drive energy sector analysis and decision-making in Southeast Asia.
With the launch of the wind resource data set, in combination with the previously released high-fidelity solar irradiance data, the Advanced Energy Partnership for Asia is empowering policymakers, energy analysts, and the private sector to advance the energy transition in Southeast Asia. These data help developers design and site wind and solar photovoltaic projects in the best locations and illustrate the reliability of their projects to financers.
"USAID and NREL released the solar resource data set in 2021. After that, we started focusing on the applications of these data to further support policymakers and the private sector," Maclaurin said. "Floating photovoltaics are gaining interest across the region, so we assessed the technical potential and the opportunities for deployment.
"The missing piece was enabling wind energy modeling with the same level of detail. As we design and plan for the energy system of the future, we need to be able to model solar energy and wind energy with the same fidelity and quality of data."
RE Data Explorer users can download the wind and solar data to use with other analysis tools to inform economic and market potential. These data sets are available through NREL's application programming interfaces and highly scalable data services where they can be accessed through Python or other scripting languages. Additionally, these data sets are directly compatible with NREL's System Advisor Model to evaluate system performance and estimate project costs.
By making the Southeast Asia Wind Data Set accessible in the System Advisor Model, developers in the region can use the data to model potential wind farm sites, develop project plans, determine risk, and pursue financing. Policymakers and advisors can model the resource potential at regional and national scales, allowing them to develop future energy deployment targets and commission national grid integration studies.
Driving Southeast Asia's Clean Energy Transition
Users in Southeast Asia have already shared how valuable access to high-quality renewable energy resource data is.
Technology startup Okra Solar uses RE Data Explorer's Southeast Asia solar irradiance data to optimize their solar microgrid designs and accelerate distributed photovoltaics deployment in remote communities around the world, including Indonesia, Cambodia, and the Philippines. The data set allows Okra Solar to compare cost savings metrics generated by their proprietary microgrid technology applications over traditional microgrid system designs.
"We have helped provide 24/7, 100% renewable electricity access to more than 3,000 people," said Oscar Aitchinson, power systems engineer at Okra Solar. "RE Data Explorer, in conjunction with the System Advisor Model, has been very helpful with solar insolation modeling for our unique technology."
Open-access data repositories, such as RE Data Explorer, are key to enabling the individuals working on the ground in Southeast Asia to advance data-driven decisions and drive the region's clean energy transition.
Read the fact sheet to learn more.
Visit www.re-explorer.org to use the data and explore the site's trainings, knowledge products, and resources.